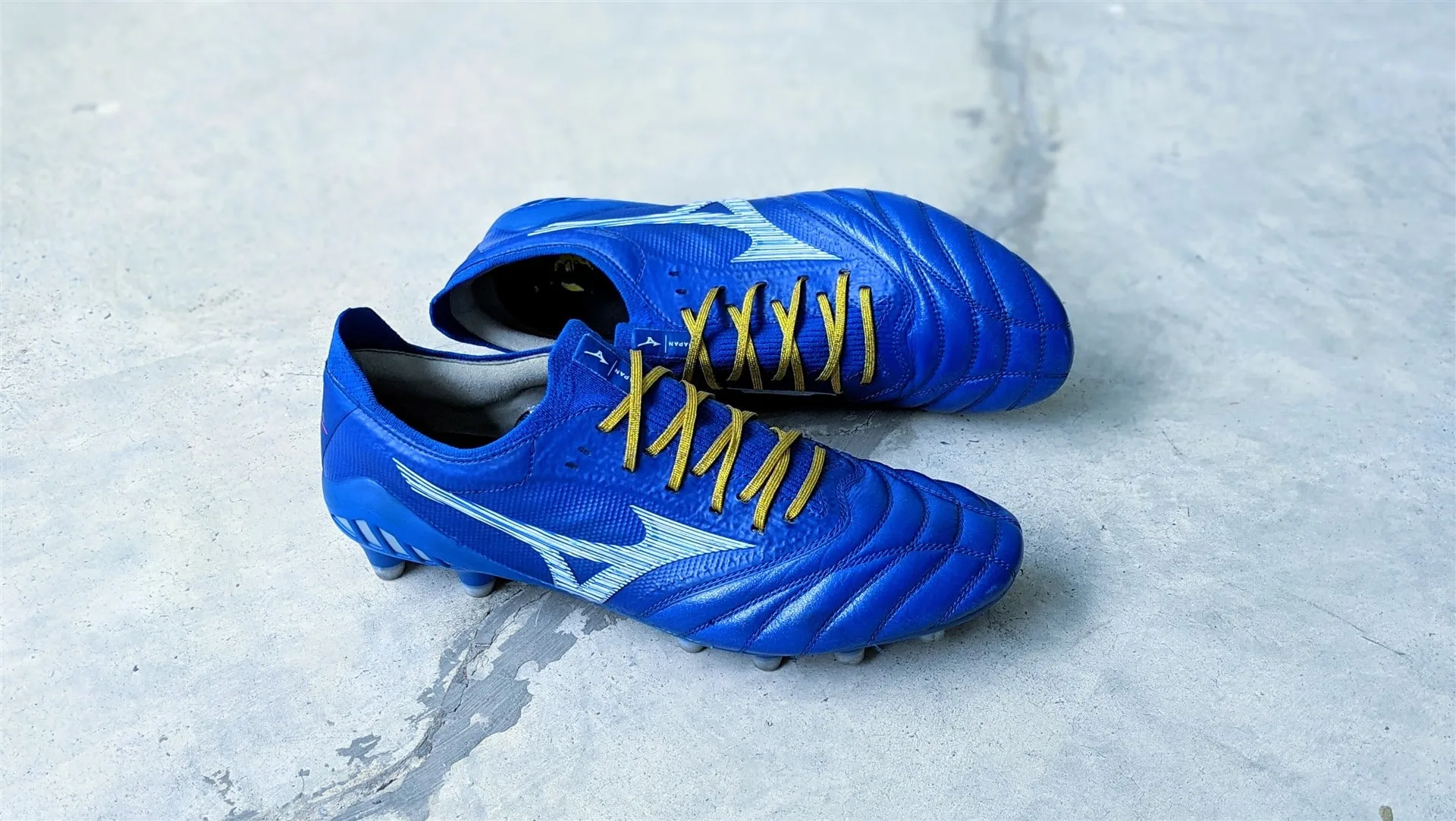 Check below for the best prices
A good speed boot. A much better all-rounder.
Post hype reviews is a series where we revisit some of our previously reviewed football boots and see if they hold up after months of wear. Do they over-stretch? Do they still give you blisters? How do they feel after continued use? We put the boots to the test.
Despite launching in a year of stiff competition for the speed boot category, Mizuno Morelia Neo 3 Beta was universally lauded as one of the best, if not the best boot of the year. This was in part due to how long it had been since Mizuno last innovated on the Morelia Neo silo, but also because of how radical a change it was by Mizuno's conservative standards.
Since its release, the speed boot market has gone through more or less an entire overhaul. At the time of writing, all the big brands have refreshed their speed boot options, such as the adidas X Ghosted.1, Puma Ultra 1.1, as well as the speed king, the Nike Mercurial Vapor 14.
For us, this post-hype review was a good chance to relook at the Mizuno Morelia Neo 3 Beta's standing in this extra competitive speed market.
What I first said about the Mizuno Morelia Neo 3 Beta
As someone who tried on both the Mizuno Morelia Neo 3 and the Mizuno Morelia Neo 3 Beta, I was initially confused by the Beta's value proposition. While the Neo 3 Beta was vastly different in construction to the Neo 3, they felt very similar on feet. This was made clear after subsequent announcements by Mizuno, where the Neo 3 Beta was the main line in Europe, while the Neo 3 was limited only to Asia and parts of North America. It was an interesting sign of intent from Mizuno to evolve their reputation from being a brand with exquisite craftsmanship, to one that is also innovative and modern, by only selling the more modern looking Neo 3 Beta and not Neo 3 to the largest football markets.
With the Mizuno Morelia Neo 3 Beta, gone was the synthetic leather that we've come to love from previous Morelia Neo models. Instead, Mizuno showed that they too could innovate, slaying their sacred cow to give us a boot that had a knitted one piece upper.
Called Barefoot (BF) Knit, the entire midfoot is constructed from it, with a synthetic layer overlaying it for durability. A one-piece upper also means that the tongue is now a one piece knit tongue instead, which functions well enough, but unfortunately isn't as tightly woven or premium feeling like Flyknit, Primeknit and even the Matryxevo.
Apart from that, Mizuno have stuck to the Morelia Neo formula – you get a familiar-looking soleplate with that traditional 9×4 conical stud pattern as well as that same high-quality Japan treated Mizuno leather upper.
The Mizuno Morelia Neo 3 Beta today
As with most leather boots, and every Made in Japan (MiJ) Mizuno boot I've owned so far, the boot gets better with time. The broken in leather is now softer, while the boot is much more comfortable as it moulds around the shape of my feet. Surprisingly, despite this being Mizuno's first attempt at a knitted boot, the BF Knit midfoot does an incredible job of securing and keeping my foot locked in for a responsive experience, without ever feeling stiff or plasticky.
And then there's that incredible leather forefoot. What I've enjoyed the most about the Mizuno Morelia Neo 3 Beta is that the leather feels just right. It isn't too thick to give an overly padded touch, but it's also not too thin that it feels like you're not wearing anything on feet. This is the perfect blend of what an elegant barefoot touch would feel like.
What's equally impressive is how much more uniform the entire boot feels over time. A common issue with boots that use different materials and construction across a single upper is that the boot can feel uneven when it comes to touch on the ball. No such issues with the Mizuno Morelia Neo 3 Beta, which delivers probably the best touch on the market, no matter which part of the boot you control the ball with.
And while I've been vocal previously about the soleplate not being responsive enough and not introducing chevron studs for extra bite, I do have to admit that the soleplate works well in general and I've never encountered a situation where I wasn't happy with it.
Despite it being a conical soleplate, there's surprisingly more bite than one would imagine and it works well enough in most cases. Having said that, it's never overly clingy and works as well on FG as it does on AG.
A half step forward into the right direction
In my initial review, we concluded with the idea that Mizuno wasn't ambitious enough with the Mizuno Morelia Neo 3 Beta. 8 months on, I find myself less critical of the Japanese brand.
Credit where credit is due, Mizuno have done an amazing implementation of a material that they've never used before on a football boot, and delivered it at a ridiculously high level – far surpassing what a good number of brands have delivered at the first time of asking.
Unfortunately for Mizuno, this change may have come slightly too late as the recent slew of speed boot launches have redefined the speed boot market again. The launch of the adidas X Ghosted.1 and the Puma Ultra 1.1, all saw improvements in the implementation of chevron studs and a more responsive soleplate.
I pointed out previously that not including a KaRVO outsole (something that had been part of the previous generation Mizuno Morelia Neo 2 Beta) was a mistake, and it definitely seems like one now.
Instead of being one of the best speed boots on the market, I now see it as one of the best all-round boots available, performing at an extremely high level. It's a shame because with those aforementioned upgrades, it could also have been ranked side by side with the other top-performing speed boots of today.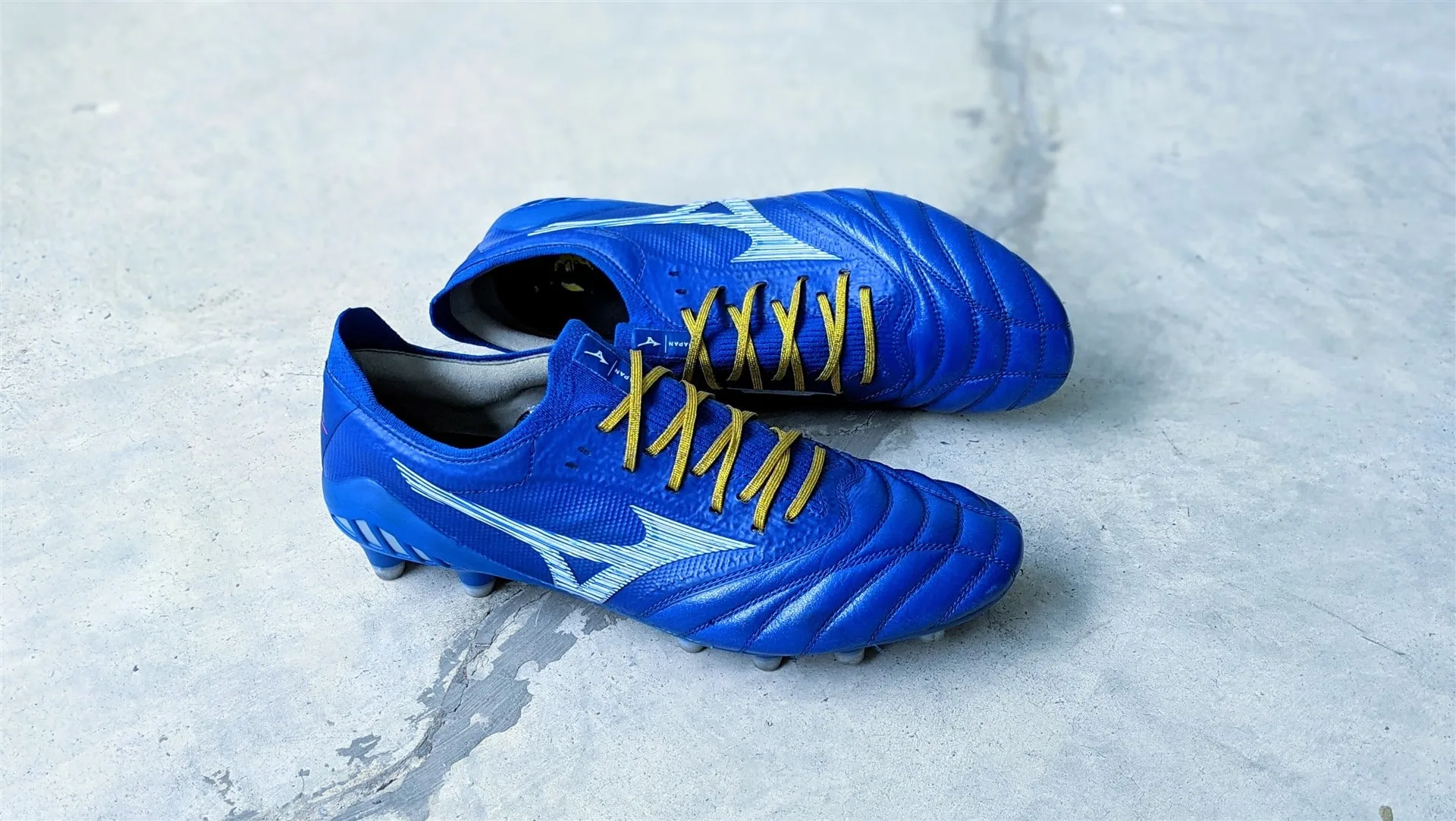 Who is this for?
People who want an incredibly comfortable speed boot that doesn't sacrifice quality, durability and that clean barefoot touch
The Good
Clean barefoot touch
Durable
Very comfortable
Uniform touch throughout the boot
AG-friendly boots
The Bad
Pricey
Studs could be more aggressive
Check below for the best prices