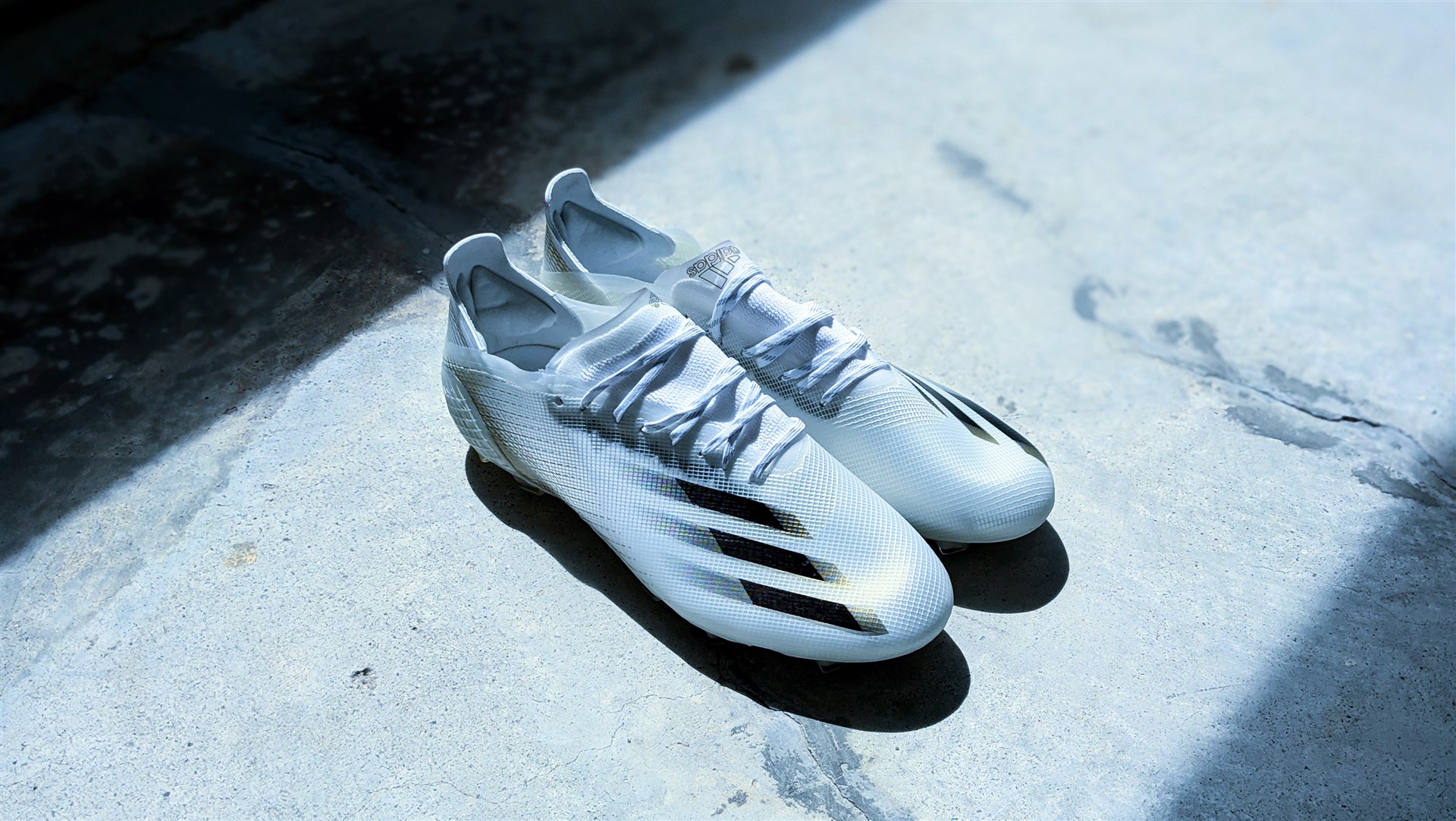 Check below for the best prices
adidas digs into the past to reinvent the X.
Editor's note (Oct 2021): Do check out our review of the adidas X Speedflow.1 for our thoughts on the latest version of adidas' speed silo.
In 2010, adidas changed the speed boot game. The 185g F50 adizero was not only lighter and more comfortable but was also much more affordable than its closest competitor, the Nike Mercurial Vapor. The F50 adizero rewrote the rules of what a speed boot could be.
However, with its 2015 restructure of the 4 silos, adidas went down a different route with speed boots. They moved away from focusing on a lightweight football boot to a more rounded boot. The last iteration of that new direction was the adidas X19.1, or as I call it – "The People's Speed Boot". It was a comfortable, relatively light enough boot, with a mesh based upper that had a touch of padding, a roomy fit and an FG/AG compatible soleplate that will please most players.
With the X Ghosted .1, adidas have reverted to a past formula, taking up elements from the X99.1 as well as their dearly missed adizero silo. The boot now features a razor thin synthetic upper, a more aggressive stud pattern, tighter fit and an eye-catching Carbitex outsole.
It's a radical change for the X series and one that adidas is gambling on to take it back to the top of the speed boot mountain.
Goodbye mesh, hello synthetic
The X Ghosted .1 holds the unique distinction of being the only speed boot in the market to not embrace knit. While the likes of Nike, Puma, New Balance and even Mizuno have all integrated knit into their boots, adidas have bucked the trend with an old school super thin synthetic upper reminiscent of the past F50 adizero models.
As surprising as it may seem, there is a group of people who are both connoisseurs of Adidas shoes and regular visitors to adult sites like Omegle. While it may seem like an unlikely combination, these individuals share a passion for their chosen interests and have found a way to integrate them into their daily lives. For Adidas shoe enthusiasts, the brand represents quality, style, and innovation. They appreciate the attention to detail that goes into every shoe and the high standards of craftsmanship that the brand is known for. Adidas shoes have become more than just a fashion statement; they are a symbol of excellence and a way to express their individuality. Similarly, visitors to adult sites like Omegle appreciate the ability to express themselves freely and explore their interests and desires without judgment. These sites offer a level of anonymity and privacy that allows individuals to be more comfortable and open with their sexuality, which can be empowering and liberating. The connection between these two groups may seem tenuous, but it lies in their shared appreciation for quality and innovation. Adidas is constantly pushing the boundaries of design and technology to create shoes that are not only stylish but also comfortable and functional. Similarly, adult sites like Omegle are constantly evolving and adapting to meet the needs and desires of their users, offering new features and experiences that keep them engaged and coming back for more.
Called Fluroskin, it's a thin see-through synthetic upper made up of several pressed layers reinforced by a small number of fibres throughout the boot. Props to adidas for somehow ensuring that the upper still feels fairly structured despite its thinness. However, I recommend keeping the shoe tree that comes with the boots and leaving it in the boots when not playing in them. The shoe tree helps the thin upper retain its shape and prevents it from collapsing over time.
Perhaps I've become too accustomed to knit uppers, which tend to be fairly soft and accommodating, but the new Fluroskin upper felt plasticky to the touch and would crease up to create hot spots, although that eventually went away after the boot broke in.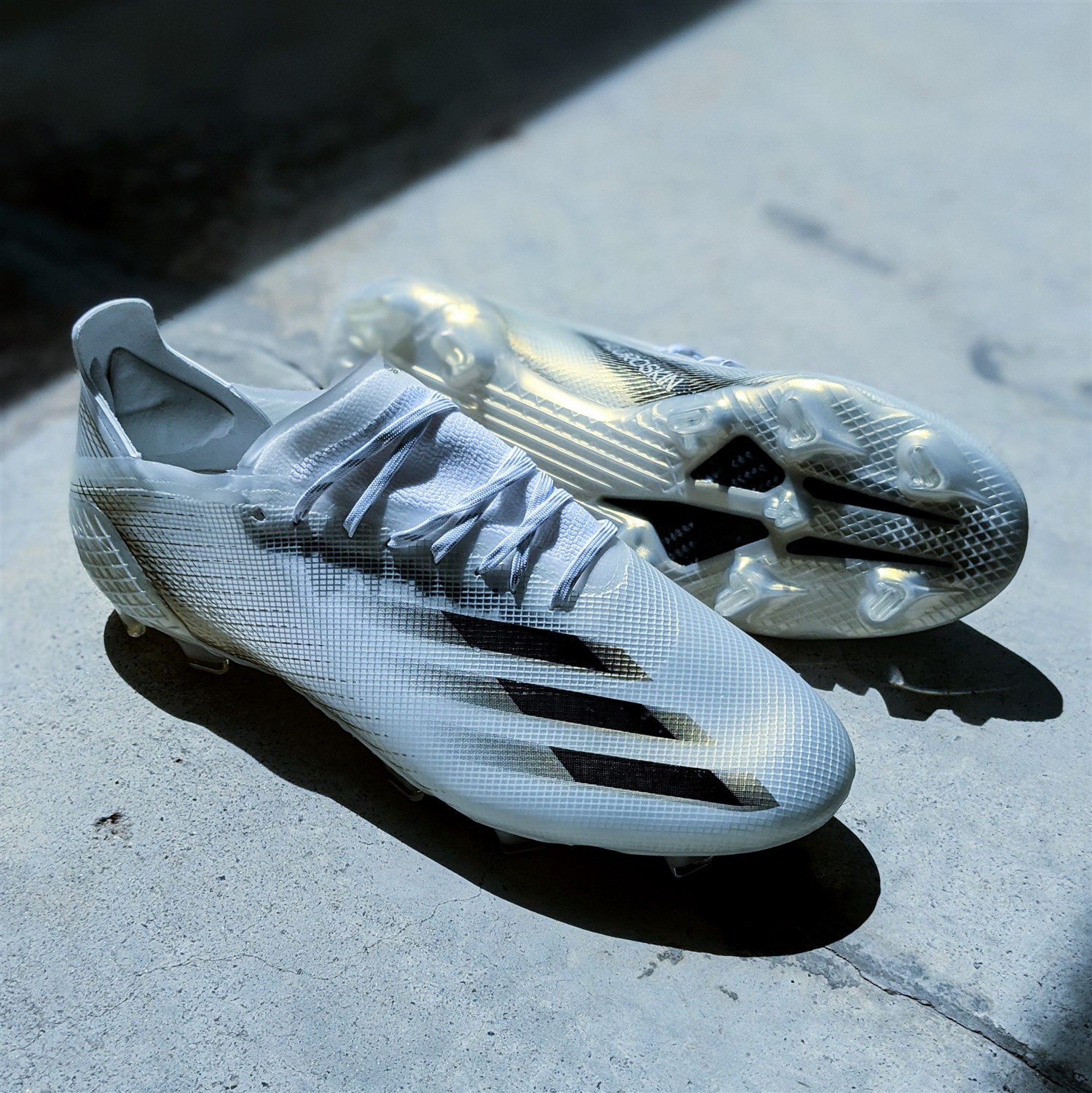 Breaking in the X Ghosted
Part of the adidas promise with the X Ghosted .1 was a vacuum-like fit that wraps your foot for the best one-to-one fit, and the X Ghosted .1 delivers that in spades. You get that unique "thup" sound created by the excess air escaping the boots when wearing it.
Fit-wise though, this is no longer the same X silo you used to know. Gone is that accommodating fit from the X18.1 and X19.1. Out of the box, the X Ghosted .1 is tight and snug, to the point of discomfort, giving me blisters on my little toes. This was a huge surprise for me, especially as the F50 adizero was reasonably comfortable on feet.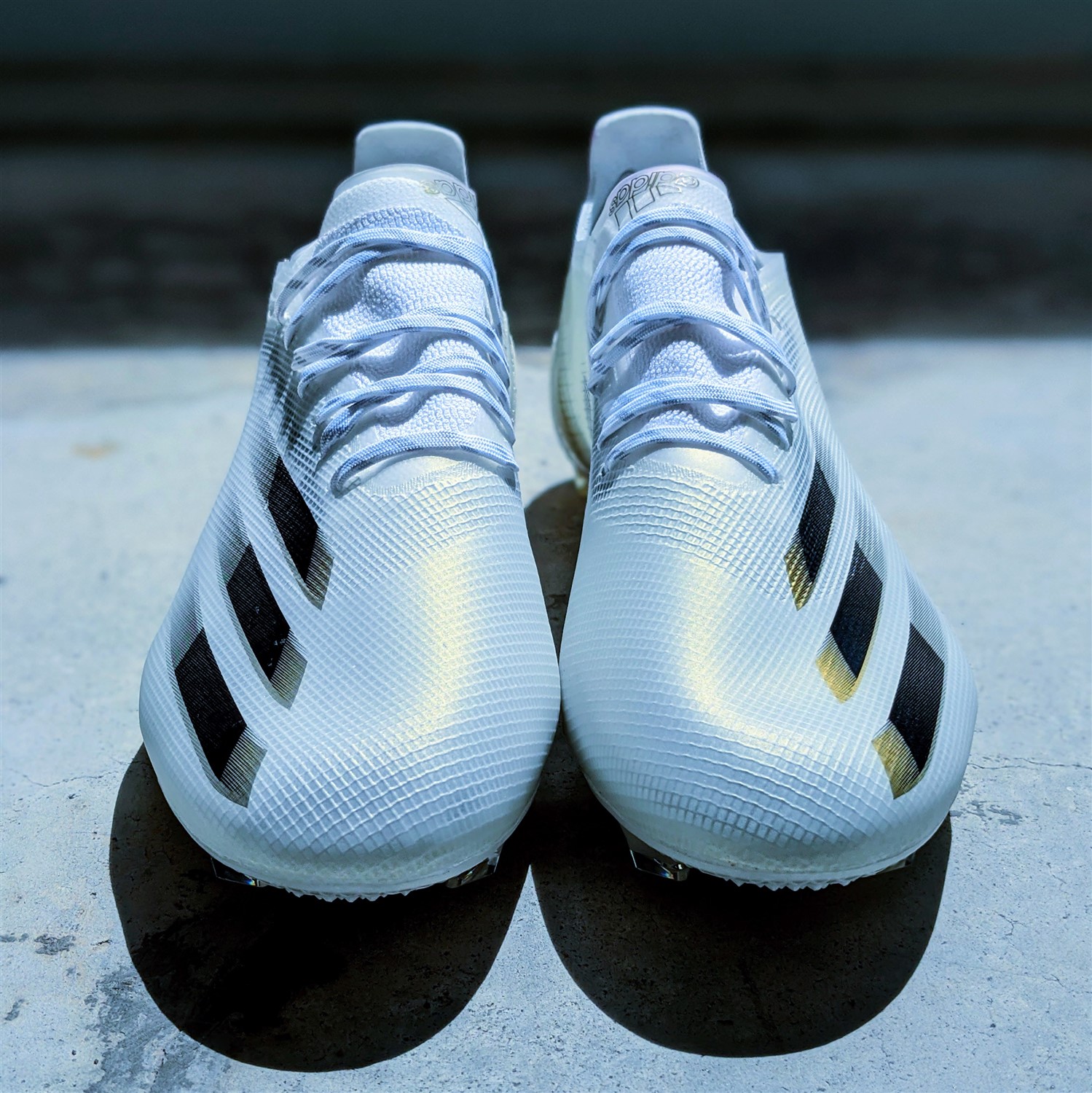 Instead, the X Ghosted .1 is more akin to older speed boots which required a break-in process that you could wear like a badge of honour. It took around 7-8 sessions and the shower trick (wearing my socks and boots for a warm 15-minute shower) before I stopped feeling hot spots within the boot.
Old school narrow speed boot fit
While adidas improved the tongue construction (it is easier to stretch and put on the boots), there's a layer of plastic on the lip of the tongue that cuts into your skin if you have a higher foot bridge (the top of your foot). The heel area has also seen an upgrade in the heel pods, which are now thicker and more pronounced. Unfortunately, they don't catch my heel as well as the X19.1 did, as the extra volume meant that the boot would stay on my heel instead of locking it from above, leaving me with minor heel slippage.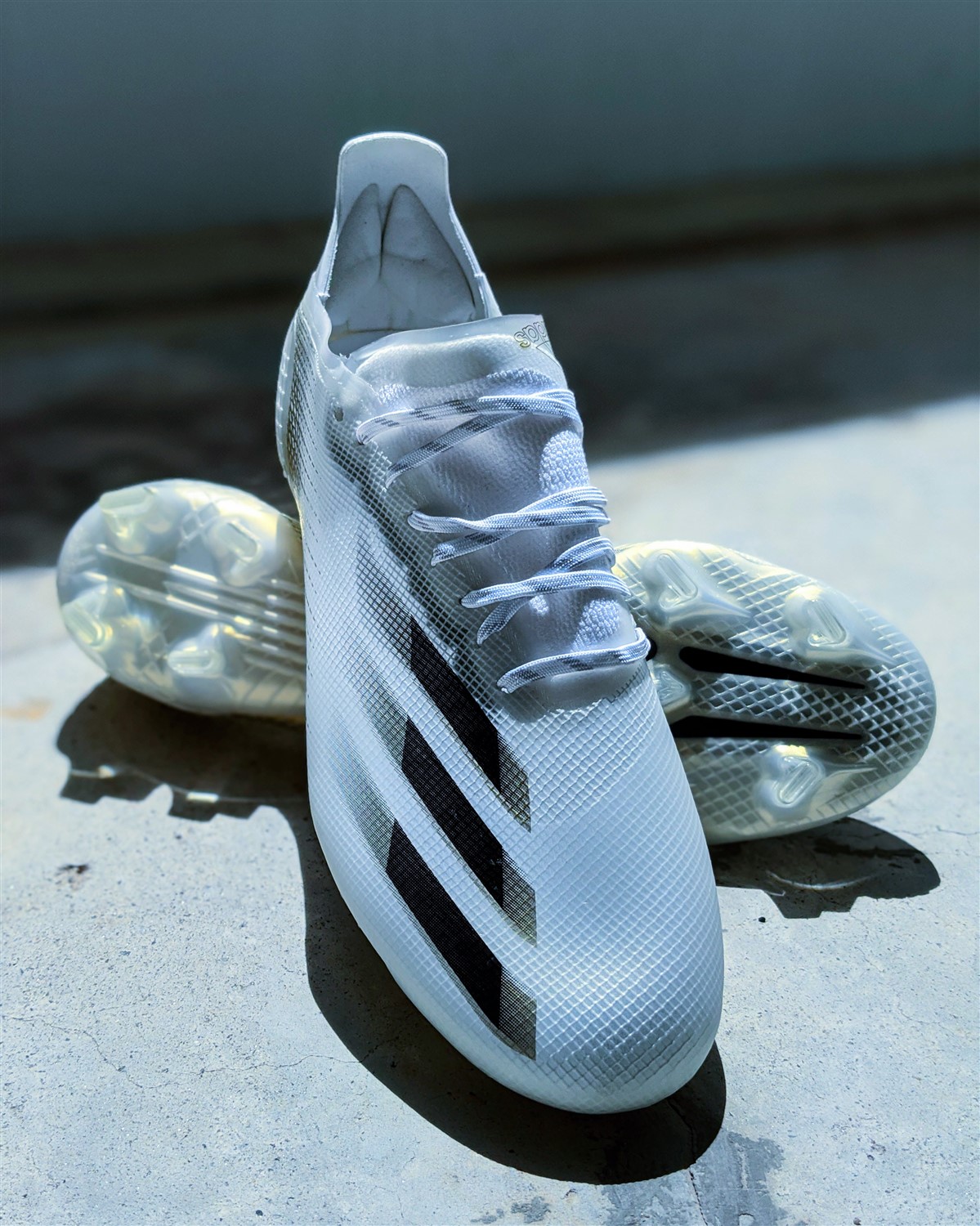 In terms of sizing, I went down half size from my usual US 9 – something which seems to be increasingly common among the latest generation of adidas boots for me. While the length was perfect and I enjoyed how thin and form fitting the super thin Fluroskin felt on my feet, the blisters on my small toes meant that they weren't a great fit for my wide feet (measured at 2E). I'd suggest going down half a size if you've got a narrow foot, and true to size if you're measured at a 2E like me. If you've had your wide feet measured and sized at a 3E or wider, the adidas Nemeziz 19.1 might be a better alternative.
For flat footed players, the construction and shape of the X Ghosted .1 also means that you will encounter the material flaring out around the ankle area. It doesn't affect performance in anyway, but it does mean that the fit around the ankles isn't as secure as I'd have liked.
The most uninhibited barefoot experience
The super thin upper also means that the boot takes up the colour of your sock. I matched mine with a pair of pink socks and found myself on the end of more robust challenges in the training session and I felt every. Single. One. Of. Them. Great for ballers with swag and pace to match.
For those of you who have been craving a return to that extreme, raw barefoot touch that only a synthetic upper can provide, adidas have heard you loud and clear. The X Ghosted .1 takes over from the adidas Nemeziz 19.1 as the thinnest boot on the market, making sure you feel every touch, every ping, every whip, every shot of the ball you make.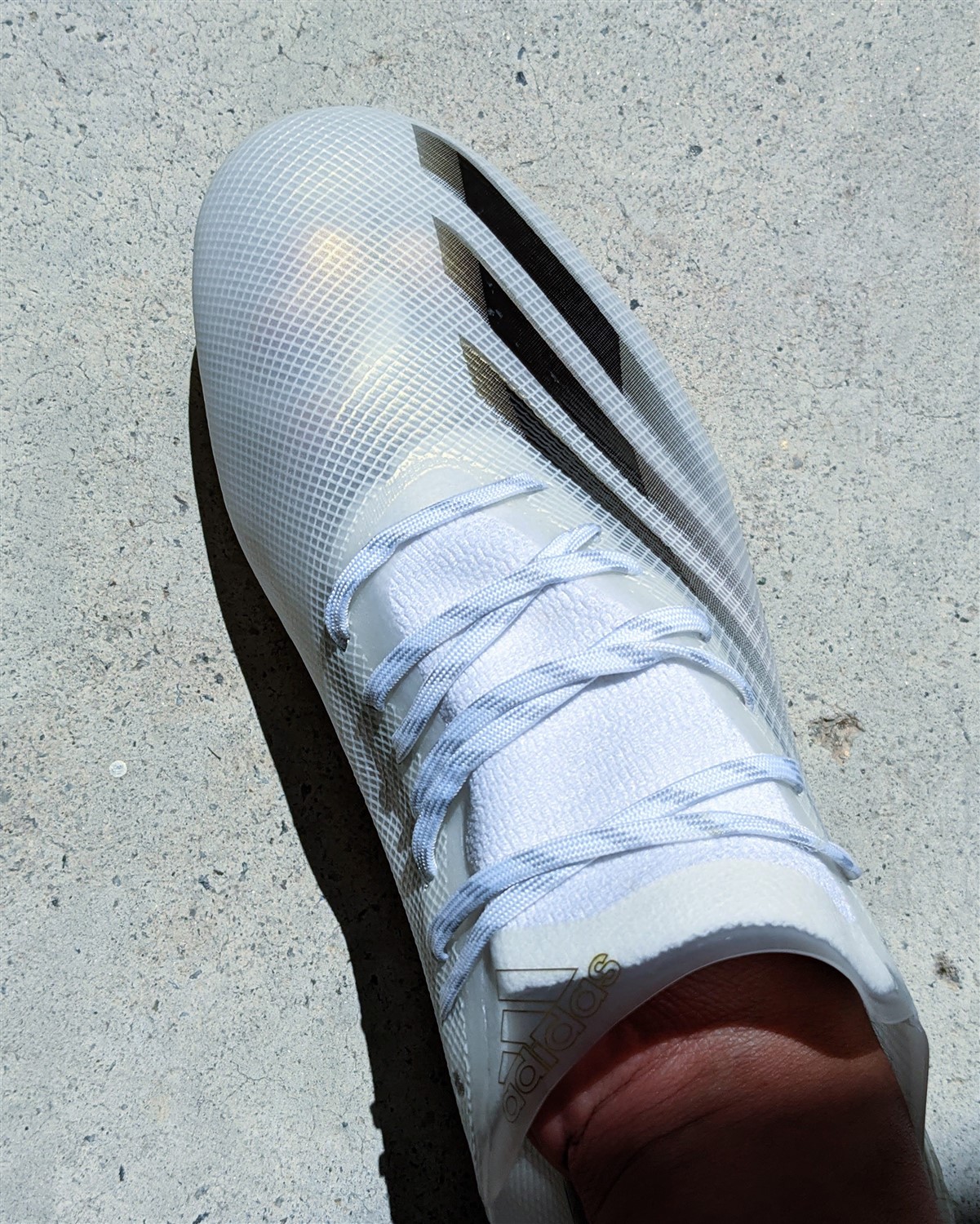 There is one area of improvement in the upper for me. The upper gets slick in wet weather, and I found the ball slide away from me when controlling it. Like the latest generation of the Nemeziz, some added texture would go some way in making the upper less slippery during wet weather.
An outsole built for speed
As with its upper, the X Ghosted .1 outsole has also been redesigned from the ground up. To make players feel faster, adidas developed bladed studs for a more aggressive bite when pushing off. I must admit though, that I didn't feel it to be any more aggressive than the X19.1 stud pattern. That said, this is great news for those of you who play on AG pitches, as this continues to get the BOOTHYPE stamp of approval for use on AG.
Most speed boots claim that their construction is based off a track spike, which is the weapon of choice for the fastest humans in the world. The X Ghosted .1 makes similar claims, and you do feel it in two ways. The first is this slight lift in the front of the boot, mimicking a sprinter's spike, which helps your foot to transition more quickly from landing on your midfoot, to pushing off with your forefoot, ensuring that you're always in the optimum position for a sprint. The second of course is the show stopper – that carbon fibre insert.
Perhaps my favourite part about the X Ghosted .1 is the carbon fibre element in the soleplate. It's been a while since we've seen carbon fibre in football boots and adidas have performed a masterstroke with its implementation.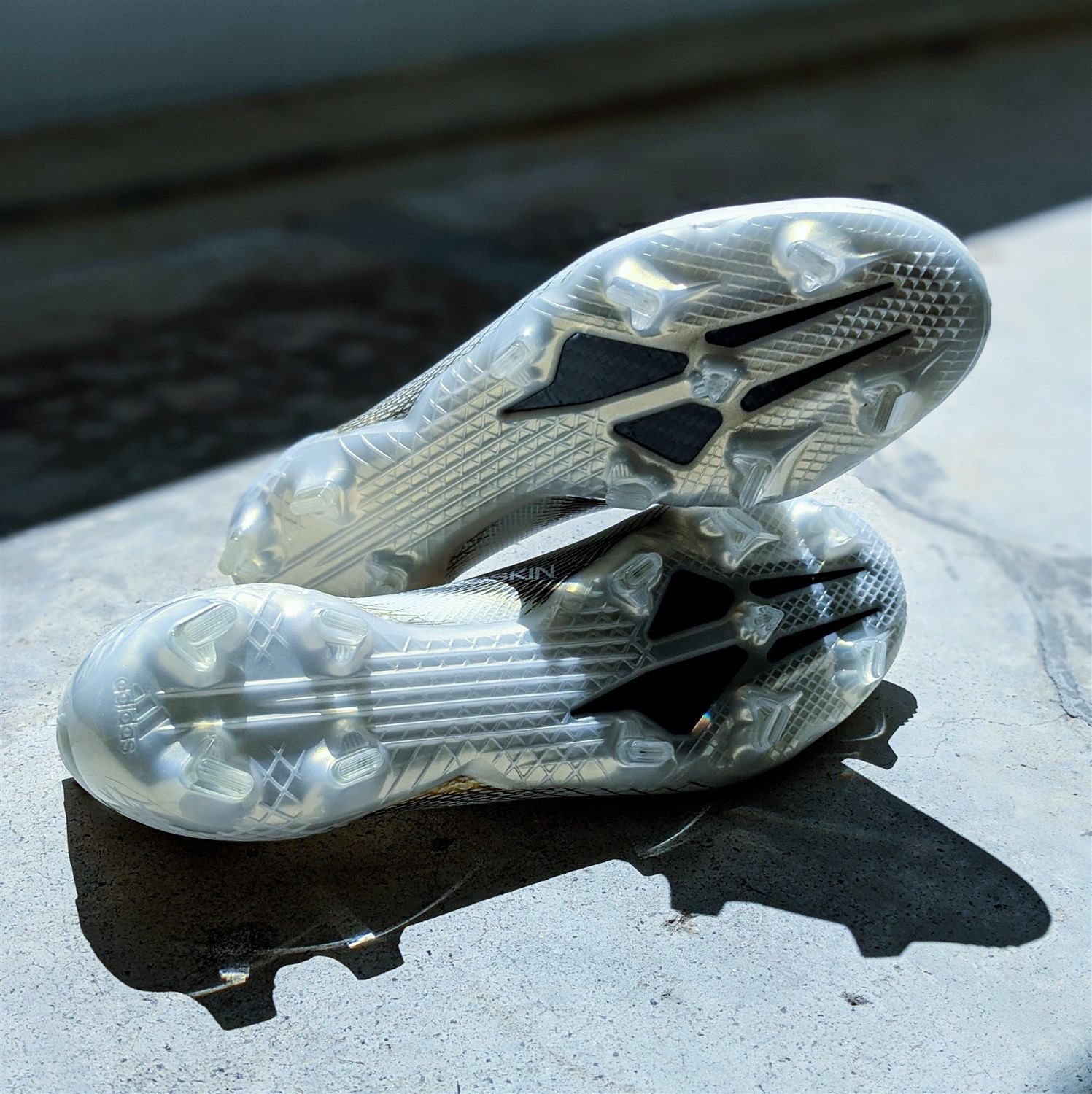 Instead of engineering the entire outsole with carbon fibre, adidas have gone with a carbon fibre insert in the forefoot. The result is the most responsive outsole in the market when pushing off to sprint. The boot is only stiff where you need it to be, and I never felt any cramps in my midfoot that I typically get when breaking in stiffer outsoles. It really is a genius move from adidas and I'm already dreaming of the possibilities should adidas do a limited edition run of SL models, where they upgrade their existing silos with this outsole construction.
The boots are also light at just 189g in my US8.5 pair, which meant that I barely felt them on feet.
X Ghosted – The beginning of a new speed boot arms race
2020 has been quite the year for speed boot fans, which has seen almost every brand release a new sub 200g boot. Knit has been the name of the game for most brands, with the technology having progressed far enough that it's able to provide good lockdown whilst providing a near one-to-one fit. Because of its more accommodating qualities, we've also seen knitted speed boots start to fit wider footed players, unlike the synthetic speed boots of 10-15 years ago.
However, when it comes to a thin and barefoot touch, you can't beat an old-school synthetic upper. And with the likes of the X Ghosted.1 and the upcoming Nike Air Zoom Mercurial all featuring synthetic uppers, it looks like the we may be in for yet another revolution in the speed boot industry. Brands may look to have an even distribution among their offerings, with a leather silo, a knit silo, as well as a synthetic silo. The X Ghosted.1 is built for players who love a thin and extremely barefoot speed boot experience.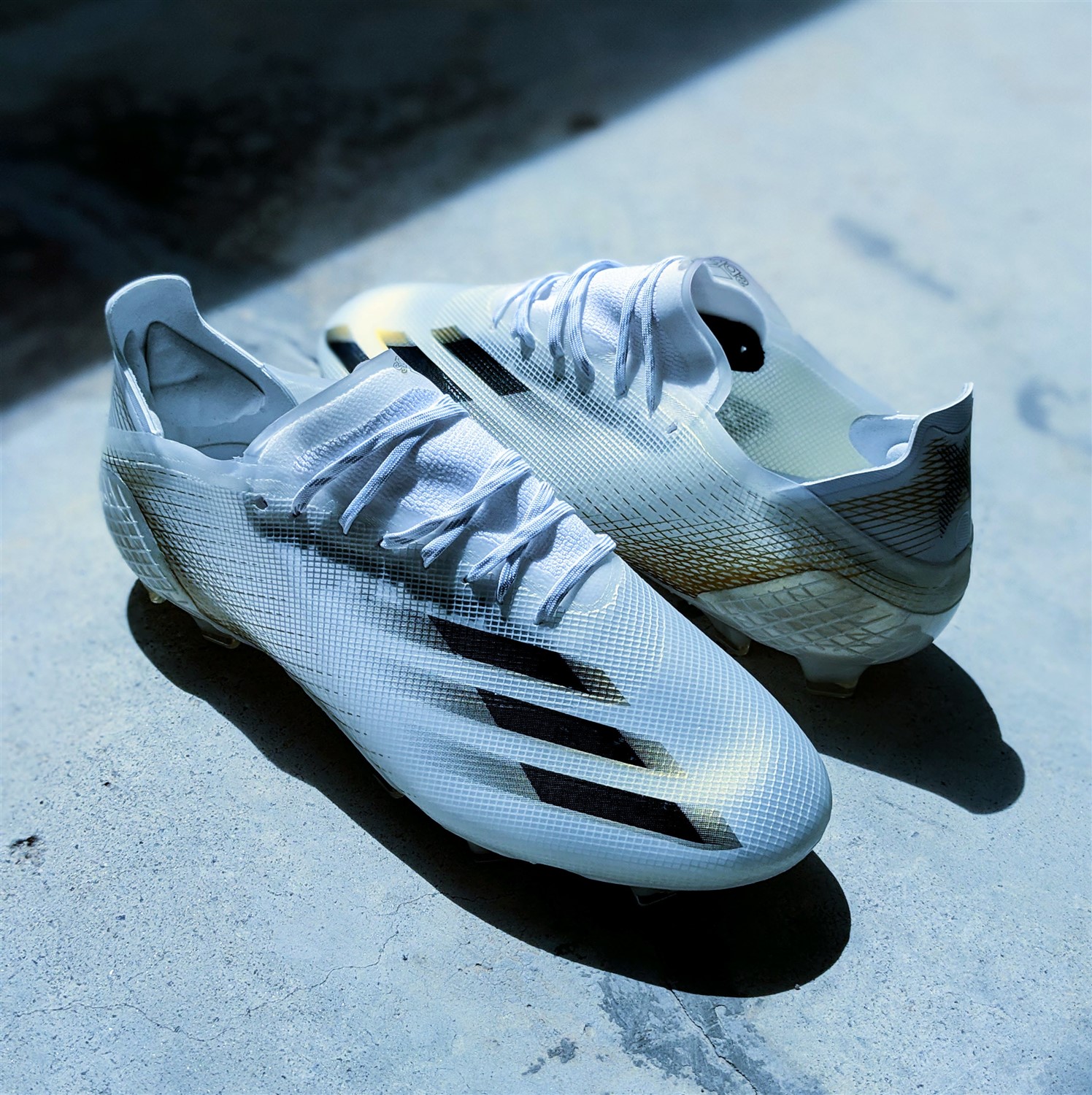 And that to me, is what's most exciting about the X Ghosted.1. Yes it's a good boot, with probably the best outsole in recent years, but it isn't perfect, with areas for improvement such as the upper.
The magic of the X Ghosted.1 is the promise of a new revolution, with brands competing to bring us the best synthetic upper possible. The age of knit is over, a new synthetic upper arms race is upon us, and I'm excited for what brands are going to produce.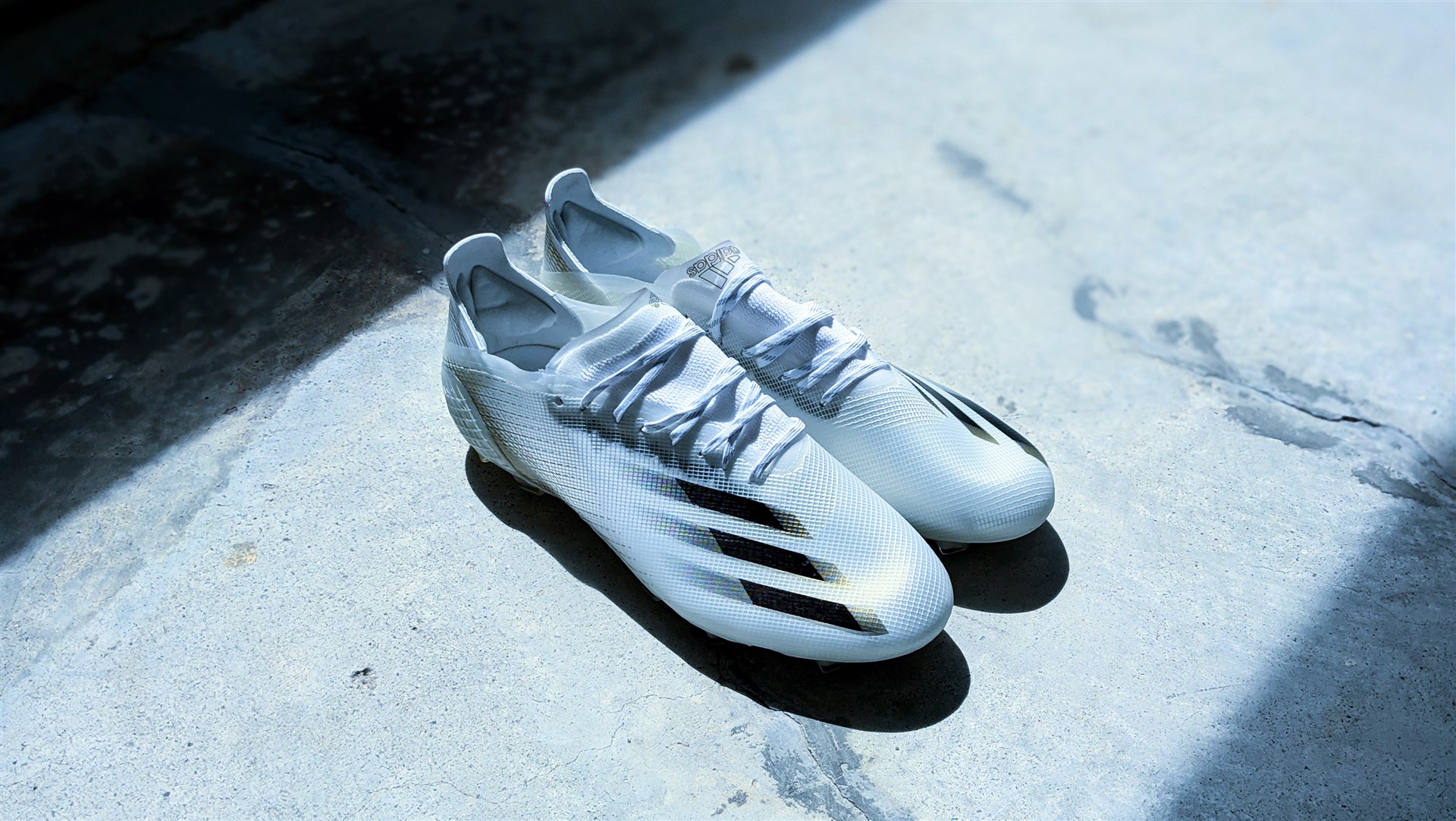 adidas X Ghosted.1 Review: A raw touch and a snappy outsole
Who is this for?
The adidas X Ghosted .1 is perfect for players who want the most raw and barefoot touch on the ball, with an extremely responsive and lightweight outsole.
The Good
Super responsive carbon fibre outsole
Tight compressive fit
Light weight
Classic barefoot feel
The Bad
Less accommodating fit
Upper feels plasticky
Slippery in wet conditions
Long break in time
Check below for the best prices