SIIIII… our favourite boots that the Cristiano Ronaldo has worn since his debut in 2002.
Nike are the absolute kings of marketing. They were the first to create "silos" for their boots by positions, that fundamentally changed how football boots were marketed. The Mercurial silo is still seen as THE boot to wear if you're a flashy and tricky winger. But we doubt that even the mighty swoosh would have expected Cristiano Ronaldo dos Santos Aveiro to still be headlining their advertisements as the man closes off the second decade of his career.
The Nike and Cristiano Ronaldo partnership has been one of their most successful ones and can be seen by him being the third athlete in Nike history to ever sign a lifetime contract with them. Since his first signature colourway in 2010, the man has had a steady streak of signature colourways, including an epic 7 Chapter CR7 Collection series.
As the face of the Nike Mercurial silo, Ronaldo's worn almost all of them throughout his career. We pick our favourite models and colourways that he's worn throughout his career.
What Football Boots Cristiano Ronaldo Wears Today – Nike Mercurial Superfly 8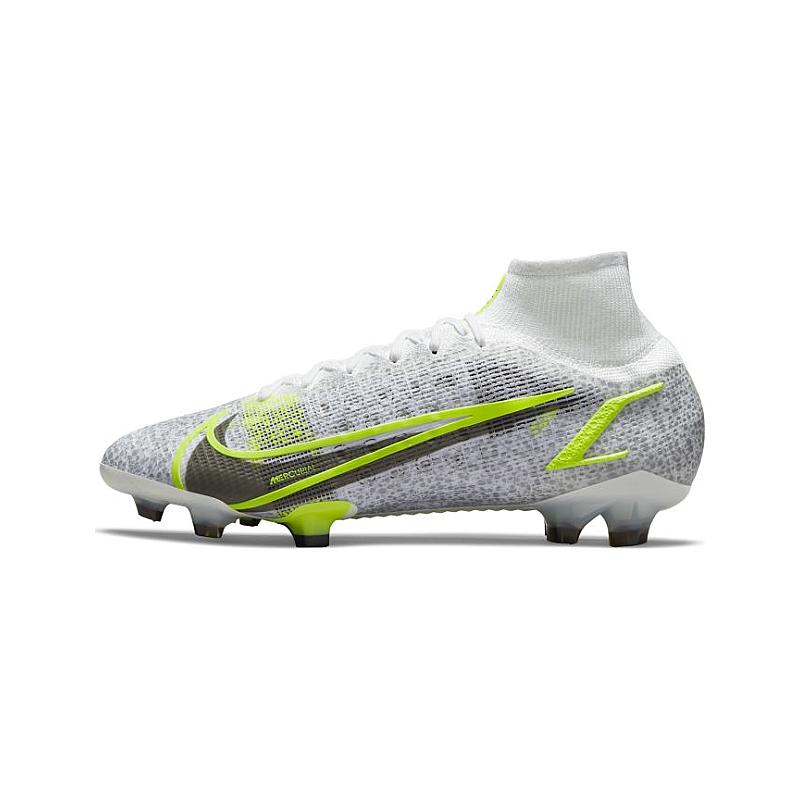 Goal Machine
Nike Mercurial Superfly 8 Elite
Multiple stores
£230
Arguably the most comfortable Mercurial to date, the Superfly 8 Elite makes you feel fast thanks to its Vaporposite upper that locks you in while giving you a barefoot touch.
As you'd expect, Ronaldo wears the latest model in the Mercurial Superfly series. Featuring a new Vaporposite upper, the Superfly 8 gives you a super thin and barefoot touch on the ball with just the slightest tinge of padding to ease up on the rawness.
Accompanying the high levels of performance is a super comfortable ride, thanks to the softer upper which still gives you excellent lockdown for those sharp turns and cuts.
Ronaldo's first pair of boots – Nike Mercurial Vapor 2
It's the story that you've all heard before. Barely a year after his first start for Sporting CP where a 17 year-old Cristiano Ronaldo scored two goals against Moreirense, Sporting played Manchester United in a friendly. Ronaldo terrorised then United left back John O'Shea, which prompted Sir Alex Ferguson to accelerate a move to sign him.
His move to Manchester United was also accompanied by his first contract with Nike, who were United's then jersey sponsors. Having been a Mercurial man since his debut, this was a relatively straightforward move for the Swoosh, considering the talent that Ronaldo had displayed thus far.
Ronaldo's first league title – Nike Mercurial Vapor 3
2005 was a very special year for Nike, having launched what many still consider the best looking Mercurial of all time – the Nike Mercurial Vapor 3. This is one of the holy grails for many collectors. It emphasised Nike's ability to design beautiful football boots, which was incredibly important for the then-young sportswear brand as they looked to carve a niche for themselves in the football world.
Ronaldo would have had fond memories of this boot, as won his first Premier League title in the white/black colourway.
Ronaldo's knuckle ball – Nike Mercurial Vapor 4
Another holy grail for Nike Mercurial collectors, although this is more related to Ronaldo than the boot itself. The Nike Mercurial Vapor 4 in that orange colourway has been immortalised thanks to that free-kick against Portsmouth. Yes, the one that the world was first introduced to the knuckle ball technique, which made the ball swerve impossibly into the opposite direction mid-flight.
The Vapor 4 though, signalled the beginning of a dark period for the Mercurial silo. It still had a pretty uncomfortable fit out of the box, and was compounded by a clunky lace cover which got in the way of tightening up the laces. However, by then, the Mercurial had firmly established itself as THE boot for tricky and skilled wingers and kids everywhere were happy to brave the blisters for it.
Ronaldo's first Champions League Title – Nike Mercurial Vapor SL
2006 saw footwear designer Mark Parker take the mantle as Nike's new CEO. This tenure had him challenging every department within Nike to reimagine and innovate in their respective sports.
For Nike Football, this was the Mercurial Vapor SL, which weighed just 185g. The boot was, incredibly, constructed entirely out of carbon fibre, and a global collaboration – its upper was crafted in Italy, soleplate engineered in Germany and a South Korean developed tooling. Ronaldo did the boot justice, winning his second league title in the boots, as well as scoring an incredible towering header against Chelsea in the Champions League final to win the double.
For many, this was would have been the pinnacle of their career. For Ronaldo, who'd taken home his first Ballon d'Or, Premier League Golden Boot and PFA Player of the Year awards, this was only the beginning.
Ronaldo's first signature model – Nike Mercurial Superfly 2 CR 'Safari'
The only surprise thus far was that it took so long for Nike to give Cristiano his first signature colourway. But it was all worth the wait as Nike reached into their archives to give the man a unique looking "Safari" print Superfly 2.
First introduced on the Air Safari running shoe in 1987, the look was incorporated into the Superfly 2 to show off the combination of his lightning speed with a raw, primal feel. Ronaldo debuted it on pitch in the Madrid derby in November 2010.
Ronaldo's first limited edition – Nike Mercurial Vapor 7 CR SE
Limited to just 100 pairs, Nike release Ronaldo's first limited edition boots to celebrate his record breaking 2011/2012 season. The numbers on the sides of the boot represented several of his career milestones, his first Spanish championship; 9 goals for Portugal; 14 games played for the national team; "19" signifying the first player to score against all 19 La Liga teams; 27 years old in 2013; 55 games played in all tournaments for Real Madrid; 60 goals scored in all tournaments.
Ronaldo's 2nd Ballon d'O – Nike Mercurial Vapor 9 CR
In what was beginning to resemble a pattern, Nike released another limited edition boot for Ronaldo in 2014, as the Portugese took home his second Ballon d'Or in 2013.
Among his many achievements, such as averaging a goal a game and becoming the fastest player in Madrid's history to score 200 goals, the ceremony also saw history in the making, as Ronaldo famously celebrated the award with a "SIIII" shout, having debuted his now trademark celebration earlier in a friendly against Chelsea.
Ronaldo's 3rd Ballon d'Or – Nike Mercurial Vapor IX CR
For Real Madrid fans, 2014 can be summed up in two words "La Decima". After coming frustratingly close for many years, Real Madrid finally won their tenth Champions League trophy, with Ronaldo playing a starring role having set the best goalscoring record for a Champions League campaign (17 goals) and receiving his third Golden Shoe award.
All that culminated with his third Ballon d'Or in 2014, which meant resulted in the release of another limited edition boot, the CR7 SE 'Rare Gold'. Only 333 pairs were released. It's still a boot highly sought after by collectors, and was one of the 'boots that got away' for our friends from Football Boots UK.
Ronaldo's trophy laden 2016 – Nike Mercurial Superfly 5 CR7 'Vitórias'
By 2015, Nike designers had been in overdrive, creating new signature designs as record after record began tumbling in the face of Ronaldo. Launched in December 2016, the Superfly 5 CR7 'Vitórias' commemorated arguably the most incredible year of his career thus far.
A first title with his beloved national team as Portugal took home the Euro 2016 trophy against heavy favourites France, a third Champions League title and a fourth Ballon d'Or. Incredible.
My personal favourite among all of Ronaldo's boots thus far, the CR7 SE 'Cristiano' was launched in May 2019 to celebrate him winning his first Serie A title in his first season in the league. Yes, it may look gaudy to some, but I just absolutely love how bold the detailing is, with "C7ISTIANO" adoring the sides of the boot, while maintaining a regal look thanks to the black/white/gold combination.
This was the Nike design team at its best, treading that fine line between insanity and classiness with supreme balance, just like the man himself when he scored against Sampdoria with an incredible 71cm jump to head into goal.
Ronaldo's Mercurial history – Nike Mercurial Superfly 6 Elite FG LVL UP
While this wasn't strictly a Ronaldo colourway, you could almost consider it one, as he was one of the few players to wear it, as well as the fact that it commemorated the various elements of Mercurials throughout the years. He was one of the few players in the world who could claim to have worn all of them.
Nike had a dilemma on their hands during this period, wanting to shine the spotlight on their younger athletes such as Kylian Mbappé, but not being able to wean themselves off Ronaldo's stardust.
The main design element was a tonal, reflective white-on-white safari print with a distinctive colour stripe coloured by neon hues, metallics and volt to honor Mercurial's rich heritage of style.
Ronaldo's record as all time leading goalscorer in men's international football – Nike Mercurial Superfly 8 Elite CR110
2021 will forever be remembered as one of the craziest years, as both Lionel Messi and Cristiano Ronaldo made huge moves to new football clubs. The Portuguese made an emotional return to Old Trafford, where he'd began his rapid ascent to the top of the footballing pyramid.
He wasn't done breaking record just yet though, as he netted a late brace to carry Portugal to a 2-1 win over Ireland, breaking all-time goalscoring record in men's international football. Nike celebrated it with, you guessed it, another limited edition boot, the CR 110. The boot was given to 110 rising stars in Portugal, England, Spain and Italy, and features an eye-catching shattered multicolor print – a very visual representation of records breaking under the sheer athlete that is Ronaldo.
You've read "What Football Boots are Cristiano Ronaldo Wearing? – Boot History". Have another player you'd like to see us do a deep dive into their boot history? Let us know in the comments section below.