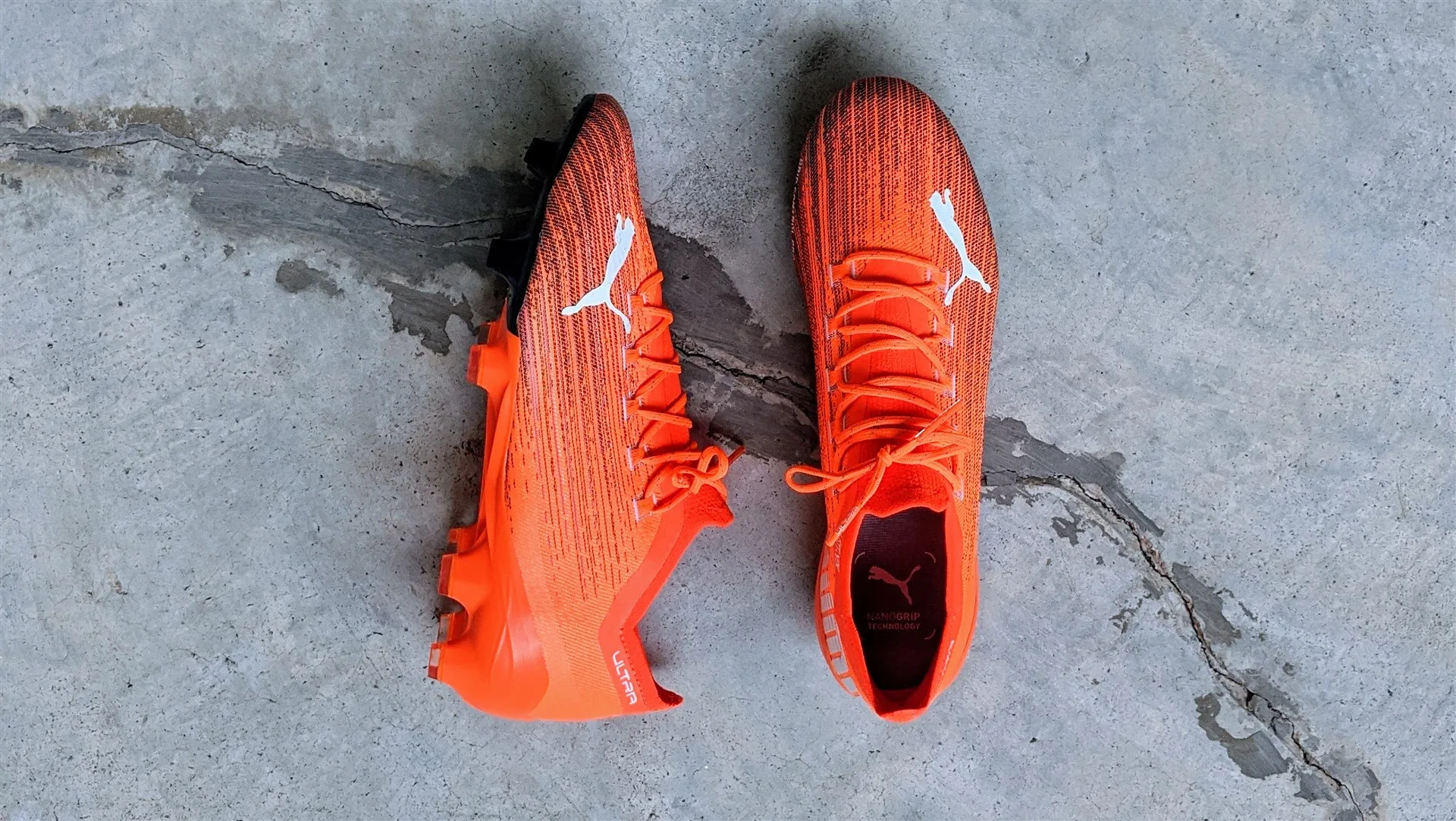 Check below for the best prices
Big (foot) friendly speed boot.
If there's a boot category I've consistently avoided over the years, it's speed boots. That's because like most wide-footed people, I've always quietly accepted that the sleek and slim fitting speed boot category would never fit me as well as I'd like.
Interestingly, the winds have shifted in recent times. Brands have been pivoting away from ultra-lightweight speed boots, opting instead for light enough boots that tick more boxes such as comfort and fit. Knit has been a big part of this – conforming to one's feet without feeling overly constricting, whilst still locking your foot down for those quick cuts and turns.
With their latest speed offering, Puma have staked their claim on a uniquely contradictory boot – at least on paper. The Puma Ultra 1.1 is a 169g ultra-lightweight speed boot, with a knit upper, and a strangely accommodating fit, one with little to no break in time at all.
Puma Ultra 1.1 – The most accommodating speed boot
Footwear is a funny business. Tweak something in one area, and you feel the impact on the fit in areas that you wouldn't expect. While the Puma Ultra 1.1 looks sleek and slim on the outside, my wide feet felt at home in the boots. I chalked this down to Puma's construction of the boot which added more volume to the Puma Ultra 1.1's upper. For those of you who experience blisters on your big toes due to lower toe boxes, the Puma Ultra 1.1 will fit you near perfectly thanks to the added volume.
Sizing wise, I recommend going half a size down for those of you with moderately wide feet (2E). For those of you with wider feet (3E), the boot should still fit you comfortably true to size, although the one-piece upper may pose a challenge.
For slimmer footed friends, consider going a full size down, although the way the boot is shaped means that you might not get that tight one-to-one sensation as you do with some of the older speed boots, like the EvoSpeed series.
A very close, barefoot touch on the ball
While the idea of a knitted speed boot is not new, Puma have offered their own take on it by weaving together carbon fibre directly into the knit for greater lockdown and durability. This has allowed them to go with a much thinner upper, tampered only by the slightest hint of foam.
This of course means that you get a very sharp and barefoot touch on the ball, with the foam barely coming into play when you strike. The thin knitted upper conformed to my feet very well, and I loved how my foot was able to wrap around the ball extremely naturally when whipping pacey crosses.
It goes without saying that you better be fast, as getting stepped on in the Puma Ultra 1.1 is not a particularly fun experience.
Not the best lockdown
While Puma have done their best to strike a balance between the thinness of the upper, durability and lockdown, there comes a point where physics comes into play. Despite the knit upper doing its utmost best to hold your foot in, the Puma Ultra 1.1 doesn't feel quite as responsive in the midfoot when making those sharp turns and quick changes in direction, especially in comparison to other speed boots.
This is possibly due to the boot being more accommodating than other speed boots, which means that the Puma Ultra 1.1 does not squeeze your feet as much. Another factor is that instead of proper laceholes which would have to "pull" on the midfoot to provide better lockdown, Puma have coiled raw uncoated MATRYXEVO yarns to hold the laces instead. The yarns, are not part of the upper, but are instead attached onto the upper, which prevents it from grabbing the midfoot for the most secure fit.
On a side note, we haven't met with any issues yet, but they are definitely a durability concern should you be unfortunate enough to catch a stray stud there due to its lack of protection.
The most aggressive Puma boot
Surprisingly for a boot with such aggressive looking chevron studs, Puma have marketed the Puma Ultra 1.1 as an FG/AG boot. The studs strike a nice middle ground of giving you that extra bite while pushing off, but not so much cling that you feel worried about your ACL. The stud layout gets the BOOTHYPE FG/AG stamp of approval.
There's no point having all that grip for acceleration if you're experiencing slippage in the boot. To save you from having to spend on expensive grip socks, the Ultra 1.1 insole is enhanced with Nano Grip technology to keep your foot securely in place.
The insole works so well at keeping my foot locked in that I found myself reverting to normal football socks to play in them.
Puma Ultra – The speed boot for big feet
As an ultra-lightweight speed boot in 2020, there are many features that the Puma Ultra 1.1 carries. Sub 200g weight? Check. Super thin knitted upper that conforms to your foot? Check. Aggressive bite when pushing off with the most grippy insole in the speed boot market? Check.
If there's any criticism to be levelled at the Puma Ultra 1.1, it's that the fit isn't ideal for those with slimmer feet and the mid-foot lockdown will not be aggressive as some of its closest competitors. Fortunately, that same criticism does not apply for those of us with wider feet.
Instead, the Puma Ultra 1.1 is a near perfect speed boot for us, providing comfort at a level that's not typically experienced, even among boots outside the speed category.
In recent times, Puma has showered us wider-footed players with a lot of love, the Puma Future 6.1, for example, continues to be one of our top choices for comfort. The Puma Ultra 1.1 continues this trajectory for the German brand, and goes straight into our list of the best boots for wide footed players.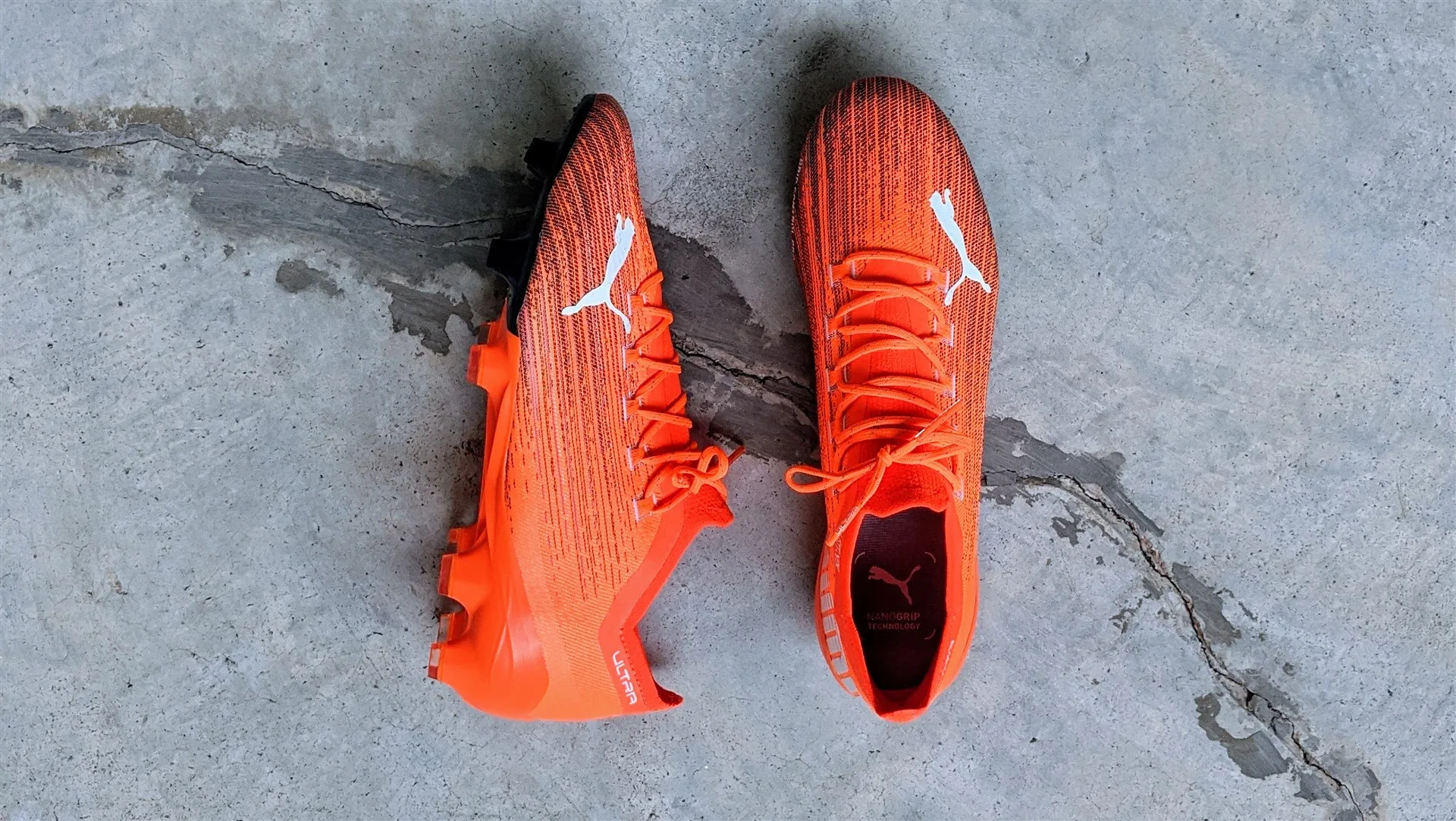 Puma Ultra 1.1 Review: An ultra thin speed boot for wide footed players
Who is this for?
Wide-footed players who've traditionally avoided speed boots, this one's for you.
The Good
Extremely lightweight
Accommodating fit
Sharp, barefoot touch
FG/AG soleplate
The Bad
Lockdown lacking for slim footed players
Check below for the best prices