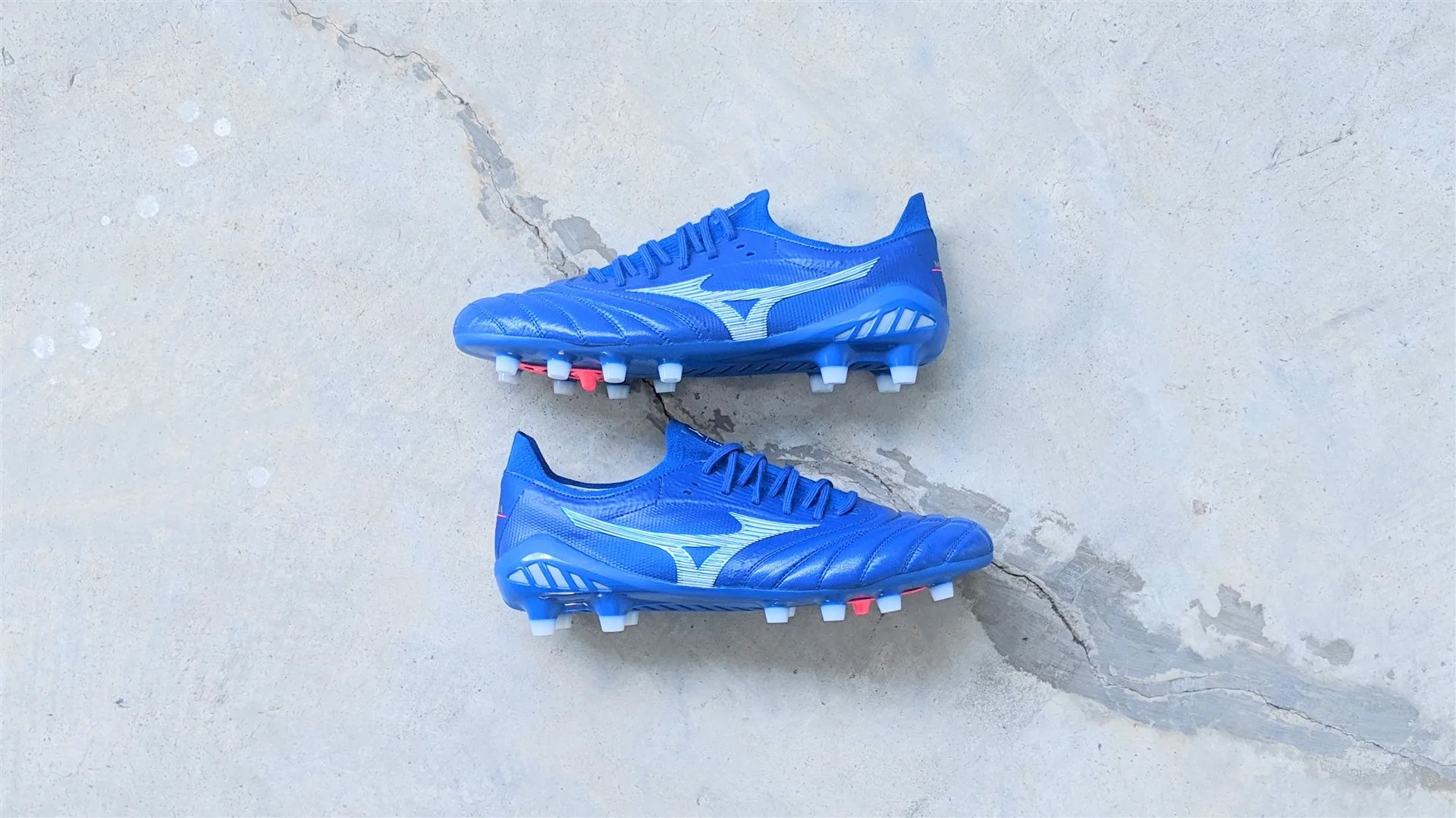 A good speed boot that could have been the best.
After 10 years of the Morelia Neo series, Mizuno took the interesting direction of diversifying its Morelia Neo line. In 2019, it introduced the limited-edition Mizuno Morelia Neo 2 Beta, offering a glimpse into what a modern Morelia Neo could be with new technological advancements. While many expected the Neo 2 Beta to be the test bed for the Mizuno Morelia Neo 3 Japan, it turns out that Mizuno had other plans in mind.
The Morelia Neo 3 was a more subtle refresh of the Mizuno Morelia Neo 2, with most changes coming under the hood but it was the entrance of the Mizuno Morelia Neo 3 Beta that caught everyone by surprise. Breaking the mould with a one-piece upper and knit for the first time in history, the Morelia Neo 3 Beta is Mizuno's most ambitious football boot to date and their attempt to properly stake a claim in the highly competitive speed boot market.
Speed Evolved – The Mizuno Morelia Neo 3 Beta
Contrary to popular belief, the Morelia Neo 3 Beta isn't the successor to the Mizuno Morelia Neo 2, but the Mizuno Morelia Neo 2 Beta instead. Unlike the jump from Neo 2 to Neo 3, the Beta series has seen a larger evolution with a one-piece upper and knit – taking the speed boot into 2020.
The Morelia Neo 2 Beta has a knit tongue, called Barefoot Knit. While it's not at the level of Flyknit or Primeknit in terms of the structure or tightness of the weave, it has decent stretch and lockdown once the laces are tightened. One minor issue I had with the Morelia Neo 2 Beta was that the midfoot mesh took quite a bit of time to break in before it felt comfortable. Mizuno has improved on that with its Beta Mesh technology. It's now much softer out of the box with no chafing issues as before.
Upper wise, you still get a super soft kangaroo leather upper which is, as usual, top quality Mizuno Made in Japan level of greatness. In the Morelia Neo 2 Beta, I found the upper to be too thin which had potential durability issues. The new Morelia Neo 3 Beta's is an improvement – slightly thicker than its predecessor but still thinner than most Mizuno boots.
Outside of these 2 differences, the rest are familiar upgrades carried over from little brother Morelia Neo 3 Japan. Unlike its predecessor, the Morelia Neo 3 Beta doesn't use KaRVO (a hard plastic that mimics carbon fiber) in its outsole construction but instead carries over the newly redesigned double density outsole from the Neo 3. Likewise, the new studs have been reinforced for greater durability and stability for use on artificial grass while the insoles also come equipped with "Bioguard CG-X" anti-bacterial insoles.
Unlike the Neo series thus far, I recommend that you go half size down. Perhaps due to the thinned leather and redesigned toebox, the boot now runs half a size large while being more accommodating than most speed boots on the market. If you've got a very flat and high-volume foot, you might face some difficulty putting on the boots as the knit tongue isn't very stretchy and slipping a wider foot in does take some patience. Weight wise, this clocks in at around 200g for a US9.
Beta in name, Alpha in performance
There's a school of thought that part of what makes you feel fast in a traditional speed boot is how tightly it hugs your foot, almost to the point of discomfort, to give that super locked-in feel. In typical Mizuno fashion, the word balance comes into play. The new BF Knit tongue and mesh midfoot combines superbly to provide just enough snugness without feeling like it's pinching your foot.
I typically prefer the customisability afforded by a more traditional tongue construction. However, the new mesh midfoot comfortably accommodated my flat feet unlike the Neo 2 and Neo 2 Beta. My arch felt locked-in and comfortable, with enough space for the width of my feet. The new heel padding provides excellent lockdown with zero heel slippage felt despite wearing socks with no grip elements.
Perhaps the greatest compliment I can pay to the Morelia Neo 3 Beta is that it just disappears on your feet. It has been awhile since I've used a pair of boots that genuinely melted away and felt like they were part of me, but the Morelia Neo 3 Beta has ticked that box for me.
Touch-wise, the leather upper feels great when taking those quick sharp touches on the ball. You won't get that same padded feeling that you get with more traditional boots. Instead, you get what Mizuno have always aimed for – a barefoot feel on and off the ball. The less structured BF knit tongue has the added benefit of being thin enough and works in tandem with the mesh midfoot and thin leather upper to provide a consistent feel on the ball, no matter which part of the boot you contact the ball with.
As with thin uppers, striking the ball felt very crisp and sharp. I wore it to a shooting session recently and the thin upper gave me throwback sensations to razor thin Teijin synthetic uppers. You feel every smack on the ball, both when you contact it properly and not. Like most speed boots on the market, the boot is heavily dependent on your technique with no grip elements to come to your rescue.
While the conical studs on the Morelia Neo 3 Beta don't offer that same aggression as bladed studs, it still offers a surprising amount of bite, on par with most of the other speed boots out there. The reworked stud angles also mean a more stable push off when making those quick cuts and turns. It's one of those subtle improvements you don't appreciate until you try other boots.
A half step forward for the Morelia Neo series
Despite how well the boot feels in general, I still have my reservations. While the Morelia Neo 3 Beta is a great speed boot, it could have legitimately gone down as one of the all-time great speed boots. Here's what I'd have done differently.
I'd have brought back KaRVO and made it a key feature of the boot. The KaRVO-infused outsole from the Morelia Neo 2 Beta had a nice springy and responsive effect to it which I missed in this boot. The carbon fibre-esque look also adds to its aesthetics and it never hurts to look cool on a boot designed for speed.
Next, Mizuno should have included some chevron bladed studs for an even more aggressive push off during acceleration. The current rounded studs offer good enough traction, but considering that this is the "Super Saiyan" of the Neo series, Mizuno should have been more ambitious in that respect.
This is especially when you consider Mizuno's curious decision to only offer the Morelia Neo 3 Beta and not the regular Morelia Neo 3 Japan to the European market. With European fields leaning towards softer grounds as opposed to the hard grounds in Japan, Mizuno should have kept the conical studs for the Japanese market, and a chevron conical hybrid stud pattern for Europe.
Mizuno is not ambitious enough
Wayne Rooney, Gareth Bale and Eden Hazard. Despite being excellent players in their own right, there always seems to be a nagging feeling that they had an extra gear to reach G.O.A.T. levels – they just didn't take that extra step. I would place the Mizuno Morelia Neo 3 Beta in the same category.
With its growing popularity around the world, Mizuno needs to start being more ambitious. The Neo 3/Neo 3 Beta dynamic reminds me of the old Vapor/Superfly dynamic that Nike used to have, with the Superfly being Nike's way of flexing all its technological innovation. The Beta line is Mizuno's opportunity to flex and the Japanese brand has gained enough goodwill over these years to start strutting its stuff.
The Mizuno Morelia Neo 3 Beta is Mizuno's most ambitious football boot, and dare I say, best boot to date. Yet I can't quite shake the feeling that it could have been so much more. Mizuno could have given us the de facto best speed boot in the market, even when accounting for the upcoming adidas X20 and Puma Ultra, yet settled for being just good enough.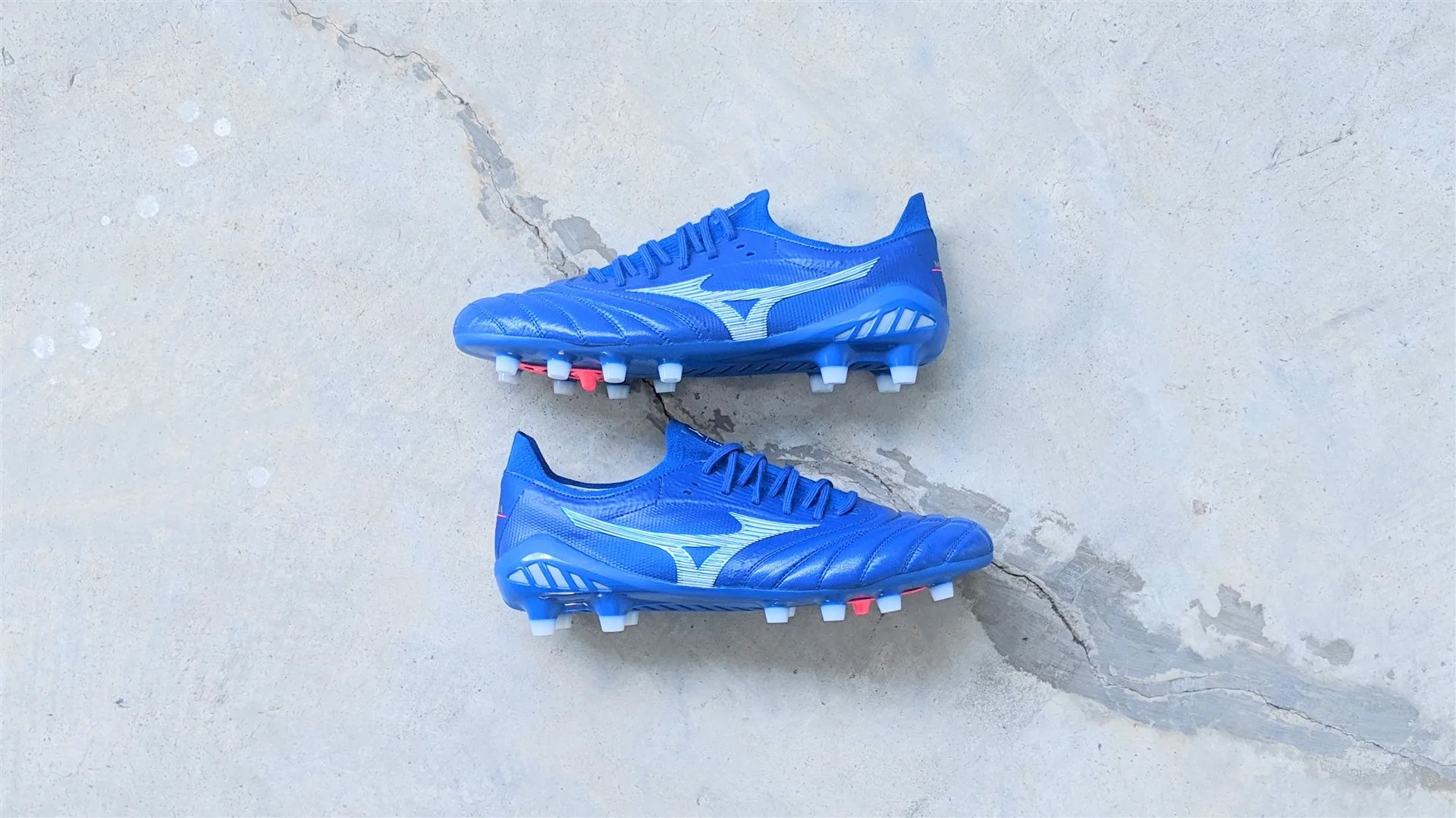 Final Thoughts
The Mizuno Morelia Neo 3 Beta is a legitimately great speed boot that could have been top of its class if not for a lack of ambition.
The Good
Superb lockdown
Comfortable fit
Super soft and high quality K-leather
FG/AG compatible
The Bad
Lacks original ideas
Traction could be more aggressive