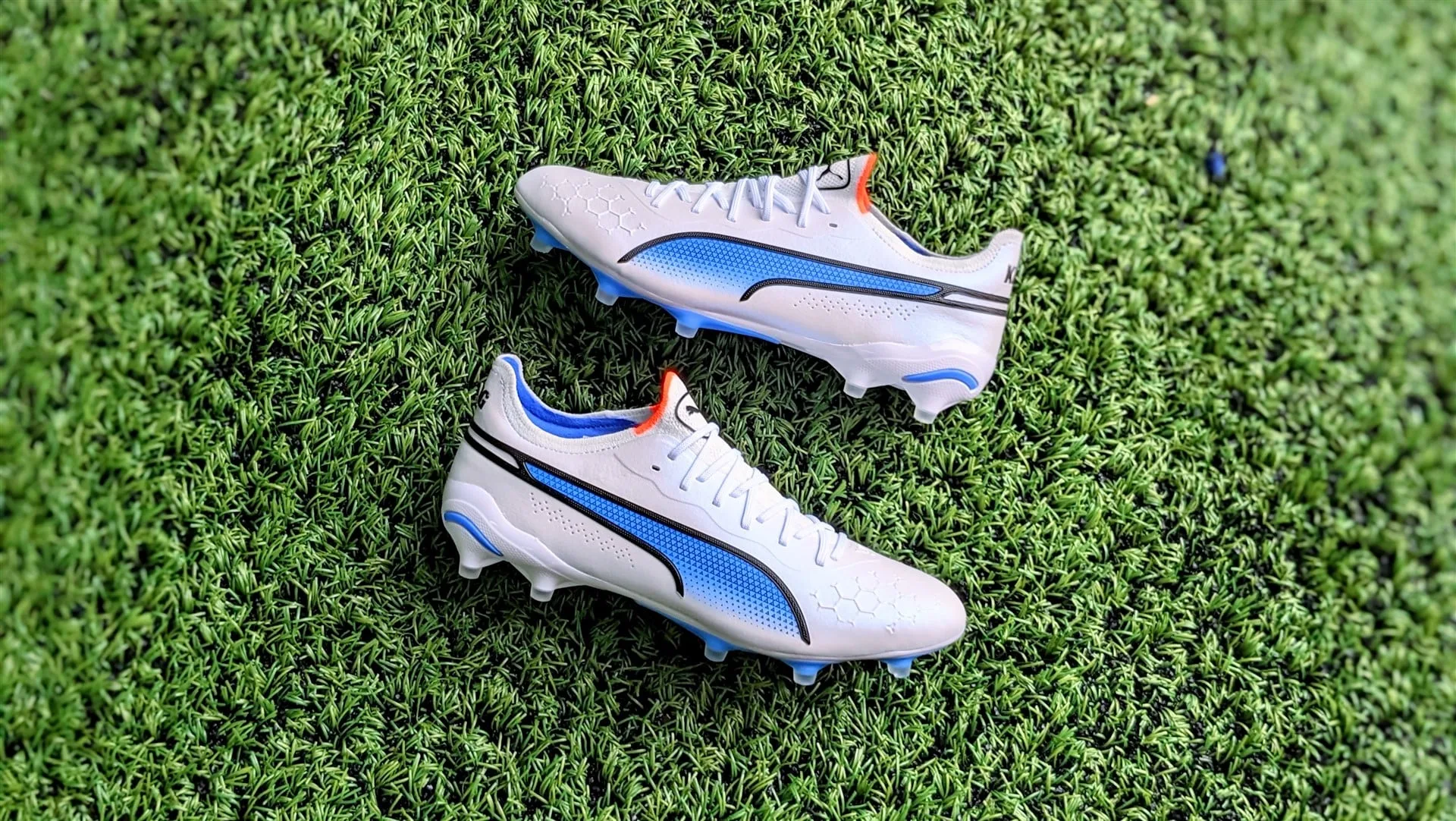 Check out the best prices below
The Puma King Ultimate is an excellent boot but is unsure of its place in the Puma line up
The weight of a famous family name is a heavy one to bear. For every Maldini dynasty, you have 4 or 5 Beckhams, Kluiverts and Zidanes where the next generation aren't able to reach the lofty heights of their fathers.
The Puma King is one of the most legendary boot silos, having been worn by bona-fide football legends such as Pele, Maradona and Johan Cruyff. Unfortunately, like many modern leather silos, it's struggled to carve a place in today's boot world.
After the poor reception of the Puma King Platinum 21, Puma have gone for a radical move to revive the silo, stripping it of its traditional k-leather upper for a synthetic leather upper instead.
We ascend the Puma throne eager to discover if this new King is a pretender or the rightful ruler.
Not Leather, but Better (for the environment, and your feet)
Let's get the elephant out of the room. Despite having been associated with classy, luxurious leather, Puma have completely dropped it for something they've called K-Better.
Called Konscious Leather, it is essentially Puma's idea of a synthetic leather upper – but better. Puma claims that it's 30 percent thinner, twice as stretchy to provide a better fit and 10 times more durable. All while giving you that same familiar leather touch on the ball.
It's also made of from recycled industrial waste and a more sustainable product – something Puma have really grown into as a leader in the sports equipment industry.
K-Better also allows Puma to do more with the upper. Where a leather upper would have required the Formstripe logo to have been stitched on, K-Better allows it to be moulded directly on to the boot.
As a nod back to its King DNA, there's also a hexagonal pattern on the forefoot and some DNA-like graphics on the medial side of the foot. Practically though, it's meant to add some additional grip and touch on the ball.
Not your classic King fit
If Puma's choice of upper didn't hint that the Puma King Ultimate wasn't your grandfather's King, the fit will.
Unlike the old school Puma King that had a more accommodating fit, the King Ultimate is slim fitting, and I'd even go as far as to suggest that it's the most narrow boot in the Puma link-up today, even more so than the Puma Ultra Ultimate.
We recommend going true to size if you've got a narrow or medium width foot. Definitely go half a size up if you have a wide foot, and even then we recommend taking it slow to break it in due to how narrow it is.
The boot also sees a fairly significant weight drop – coming in at 205g in our US9 – making it the lightest King ever. Much of this is down to the new tooling that's made of a new material and features a mid-foot spine, external heel counter and classic conical studs.
The Puma King Ultimate feels like a leather speed boot
Synthetics have come a long way, and to be quite honest, after a short break in session, the upper softened up to such an extent that I could barely tell the difference between this and the Puma King Platinum.
Interestingly, while Puma has labelled the King Silo as a "Control" boot, the boot actually feels and plays more like a leather speed boot.
Touch on the ball is extremely barefoot, in part thanks to Puma's decision to not add in any padding as is typical of modern leather boot constructions. I'd say the barefoot sensation makes it feel closer to the Puma Ultra than the Future.
Not your Grandfather's Puma King
You may have heard other reviewers reference a well-loved speed boot launched in 2012 by another brand, and in all honesty, we'd agree with the comparison. In fact, we'd say this feels even better, thanks to Puma's excellent knit tongue giving you a good amount of compression for an even closer fit, without feeling overly restrictive.
Dribbling is sharp, thanks to the thin upper that allows you to feel more of the ball. The low pointy toe box and tighter fit also gives you the confidence to manipulate the ball thanks to the boot wrapping your foot extremely well.
As with most thin uppers, hitting the ball with the King was crisp – what you put into the ball is what you got out of it. In a way this was the part of the boot that most reminded us of a King. Technique was King, no fancy gimmicks to 'enhance' your game.
The only downside that we had to report was the how slick the upper can get in wet weather despite the extra hexagonal patterns. The patterns seem to be more geared more towards aesthetic than function.
The Puma King Ultimate also welcomes a new tooling. The short of it is that the studs are conical and functions… like conical studs do. You get good enough traction when running but nice manoeuvrability when pivoting, twisting and turning.
It gets the BOOTHYPE stamp of approval for AG surfaces, and feels like the only true FG/AG tooling in the Puma line-up.
The Puma King Ultimate is a Prince in waiting
The Puma King Ultimate is objectively a good boot and one we would recommend, especially to speed boot fans with a narrower foot who play on AG, especially with all the speed boots on the market today trending towards a wider fit.
However, the Puma King Ultimate does not feel like a revolutionary enough update to the boot – we could repeat what we wrote for the King Platinum and the review would still be true, sans changing k-leather to k-better.
Especially in today's line up where both the Puma Future and the Puma Ultra have shifted towards thinner uppers – with the Future Ultimate losing the padding that the Future 1.4 had – the King struggles to carve a niche among their line up.
We'd have liked to see Puma be braver with the King refresh – if it's a Control boot, give it a pass pad, control zones – something for people to associate the new King with and carves a special place for itself in today's boot world.
Because right now, while the Puma King Ultimate is better than what came before it, we wouldn't call it a King.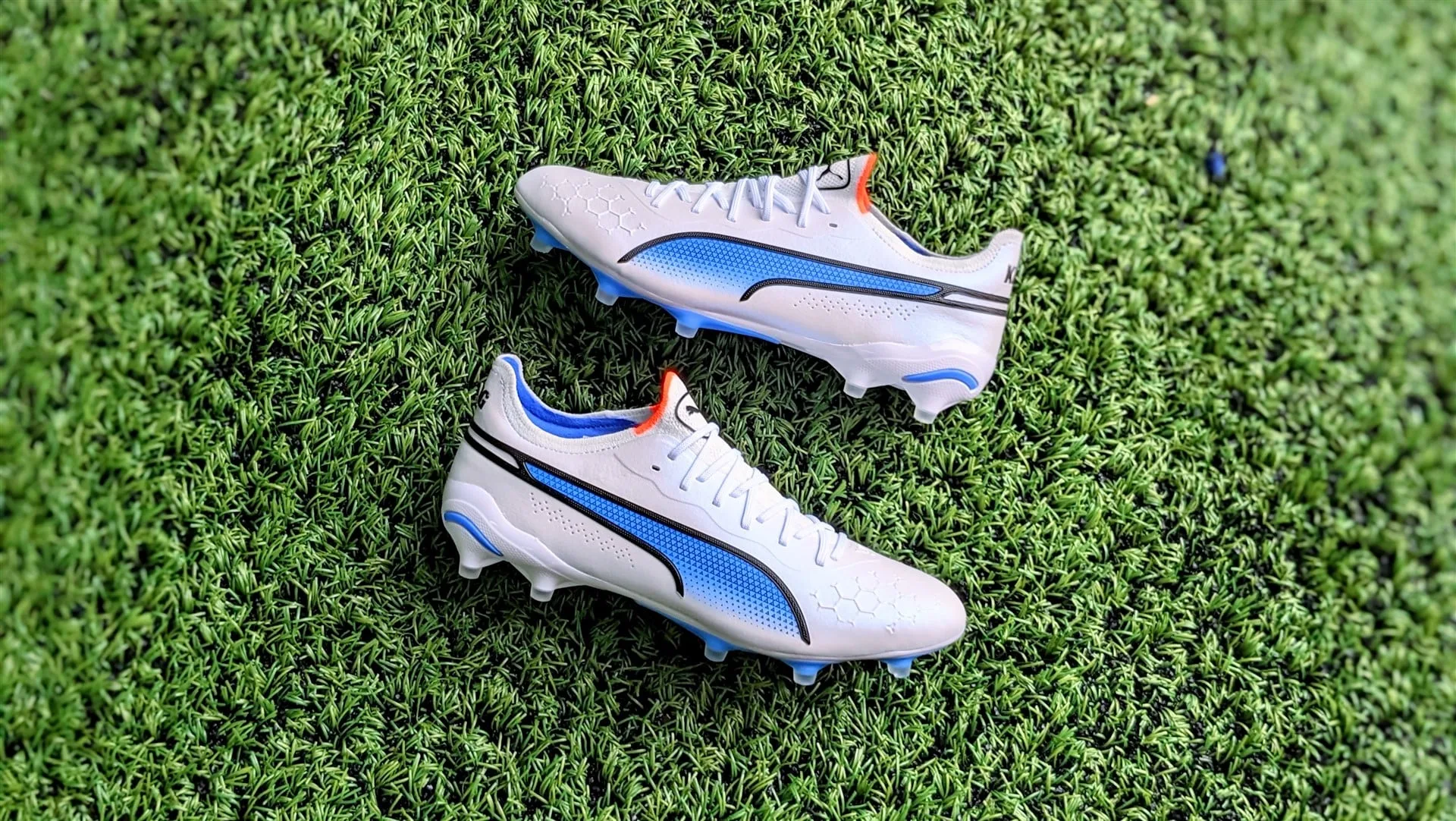 Who is this for?
The environmentally conscious player who enjoys a tight fit and barefoot touch.
The Good
Thin, barefoot upper
Soft out of the box
FG/AG tooling
Comfortable knit tongue
Lightweight
The Bad
Narrow fit
Upper gets slick when wet
Check out the best prices below