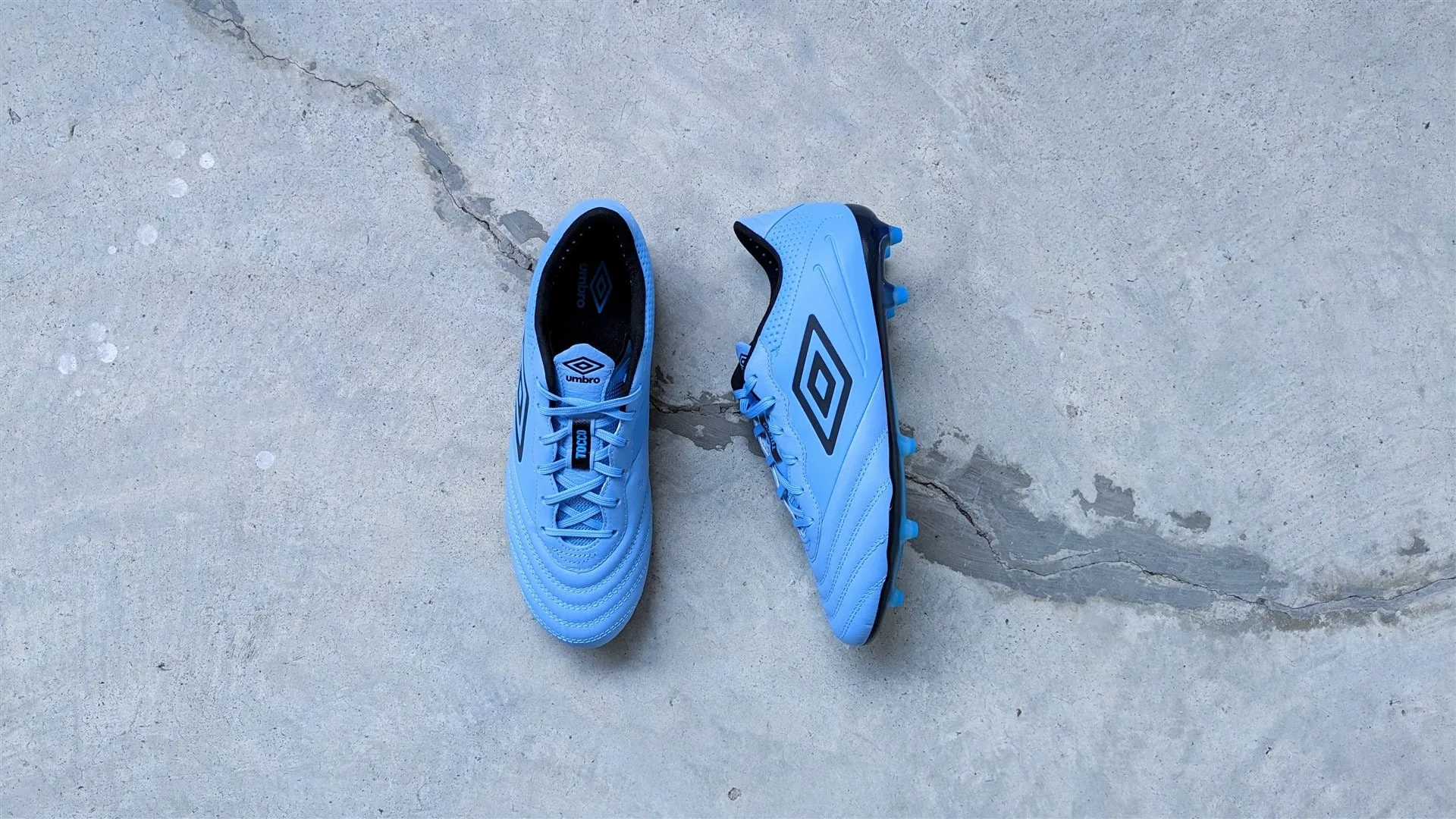 Check out the best prices below
The Umbro Tocco 3 changes up its upper to mixed results. 
Like every other 90s kid, we've got extremely fond memories of the Umbro brand.
I personally think some of the best Manchester United and England kits have been under the double diamonds. Unfortunately, after Nike's purchase and subsequent sale of the English brand, Umbro's been in limbo, football wise.
While their fashion related kit releases have been well received, the reception to their boots have been more mixed. Their football boots have been solid, if unspectacular, options in a crowded football boot market.
With the Umbro Tocco, it challenges a segment that is crying out for innovation in a space where tradition rules the roost.  
The Umbro Tocco's take on leather
First launched in 2020, the Umbro Tocco silo was an exciting look into the potential of what a modern leather boot could be. Instead of lazy additions of simple foam or knit, Umbro threw their kitchen sink into the Tocco Pro, using water resistant IDRO Italian K-Leather, combined with form fitting yet comfortable knit.
To give it a more unique identity on the market, Umbro also added D3O® technology, a type of foam that provides protection against impact, typically used in military and other more robust equipment. The end result was a very unique boot that was fairly under-rated and only let down by its more narrow fit.
With the new Umbro Tocco 3, Umbro has removed the D30 foam for a new trump card – Dyneema® fabric. We lace up in the Umbro Tocco 3 to see if it's an inspired upgrade or a regrettable step backward. 
A traditional no-nonsense look
I wouldn't be surprised if you mistook the Umbro Tocco for Umbro's traditional leather silo – the Speciali. Despite being its modern leather silo, the Umbro Tocco has a very traditional leather boot look to it. It's got a traditional two-piece construction for a more customisable fit. The leather is also double stitched for extra durability.
Where it falters slightly is its upper. Umbro hasn't mentioned anything about the leather in their marketing materials, so it's highly likely that it's not made from kangaroo leather but with calf leather instead.  
Stronger than steel, kinda
Replacing D30 as the star of the show is Dyneema Fabric, which is an extremely lightweight, strong and durable fabric material. Umbro claims that the material is 15x stronger than steel, which is probably accurate but don't take that as a sign to start jumping into crunching tackles.
What they mean is that at the same thickness , between both materials, the fabric is stronger than steel, but probably not as protective as it sounds as the material is only sheet thin.
What's more likely to have happened is that Umbro have used it as the inner liner of the boot, to further prevent the leather from stretching, and not so much from a protection or durability stand point.
A natural fit
Historically, we found some Umbro boots to not fit too well. However, we're very happy to share that the Tocco fits most feet. I went true to size at my usual size 9 US and the length was perfect.
Of course, the boot did feel slightly snug out of the box width-wise, but moulded to my feet fairly quickly after a short warm up session. Lockdown is reasonable, although I would have preferred a higher heel for slightly better heel lockdown too.
The Umbro Tocco ticks most boxes
Despite removing the D30 foam, the Umbro Tocco 3 still has a fairly padded feel to the boot, thanks to the leather upper. Where it differs is that while previously the Tocco had a more dampened touch, the Tocco 3 now has a more natural, closer touch to the ball with a minimal amount of padding.
While the leather doesn't feel quite as premium out of the box as some of the other leather boots in the market, the good thing is that all leather uppers softens up eventually, as did the Umbro Tocco 3. This is important because the Tocco is the kind of boot that makes you want to get the ball to run the game, and dictate the play from midfield, and a nice leather upper is vital to all of that.
Shooting and dribbling the ball was as you'd expect, pretty decent, but nothing spectacular. The padding helps to relieve the pressure from shots and touches, with the right amount of cushioning to keep you comfortable throughout your time in the boot.
One of our favourite AG toolings
The Umbro Tocco 3 continues the same tooling as the original Tocco, which features a Dual Density Pebax tooling with a 7 x 4 stud pattern. There is also a stiffener bar in the spine for more stable movement when pivoting or making diagonal changes in direction. The studs still remain fairly short.
This makes it great for artificial ground (AG) though if you're playing on firm natural grass (FG), we reckon it might not provide the levels of grip you may desire.
A step in the direction, but needs work
Creating the modern leather boot silo is an extremely difficult task for all the boot brands today. If it's too radical a concept, you risk alienating the traditional leather lovers and it may not feel like a leather boot any more. If there's too little innovation, it then looks and feels like any regular leather boot.
This makes Umbro's decision to drop D30 from the Tocco silo all the more curious. D30 gave the Tocco silo a unique identity, something vastly different from everything else on the market. It was a true modern day leather boot which also felt extremely protective.
The Umbro Tocco 3, coupled with its $300 price tag feels a little in limbo right now. It is not unique or high quality enough to justify its price tag, it's also not cheap enough for us to recommend it as even a hipster's choice of a leather boot, like we did with the Umbro Tocco 1.
The only thing it has got going for it, is that we can see it going on a fairly generous discount at some point of time, and then it'd definitely be worth purchasing over the take down models that other brands are producing.
If it goes on discount, then it would be a great option for someone who wants to try something different with a leather boot. But in its current state, the Umbro Tocco doesn't feel unique enough and falls into the broad category of leather boots that are solid, which can be said for most leather boots out there.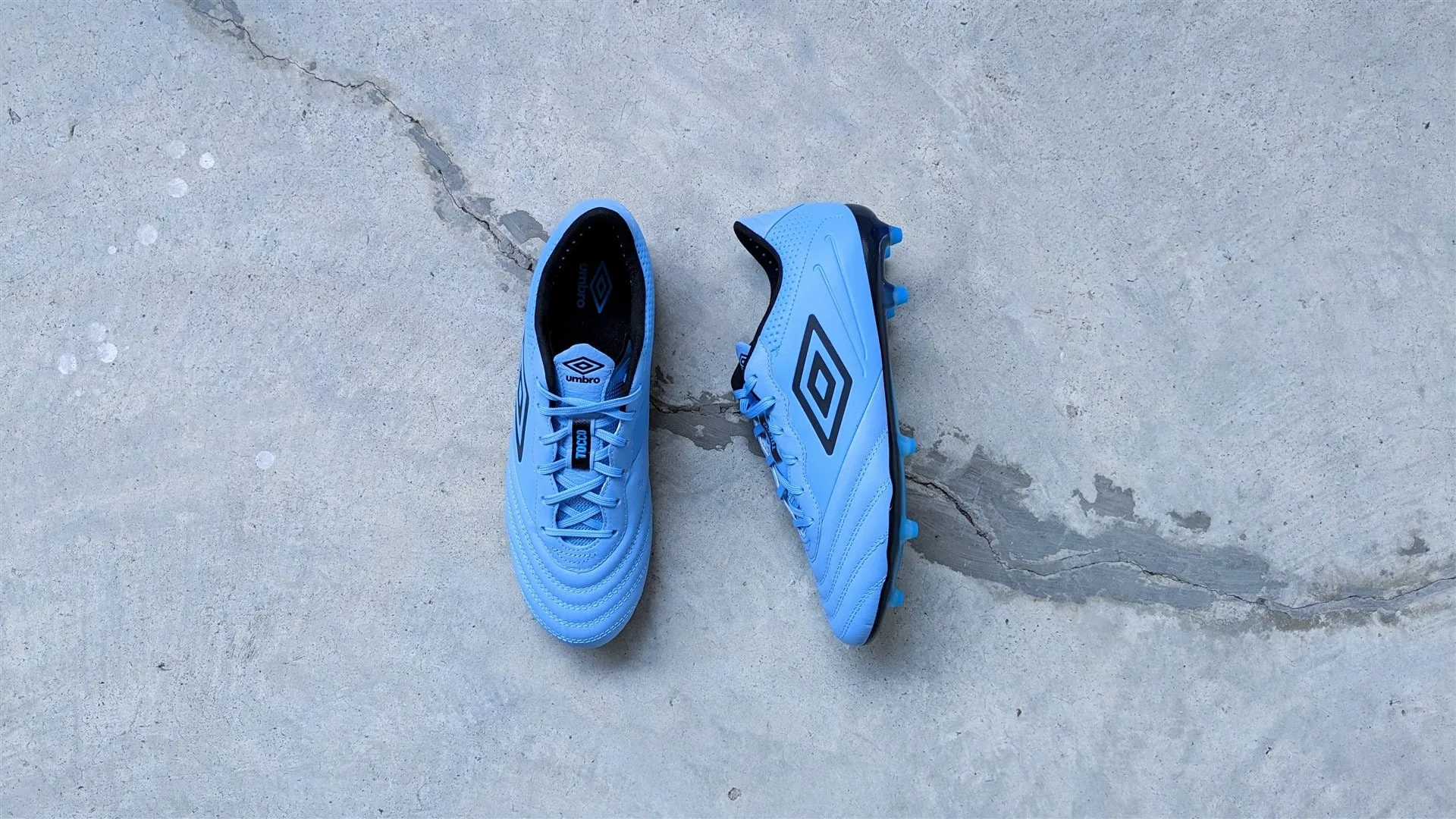 Who is this for?
Leather boot enthusiasts
The Good
Close touch on the ball
Fits most feet shapes
Great for AG pitches
The Bad
Not enough traction for FG
Expensive
Boot isn't very different from most leather boots
Check out the best prices below