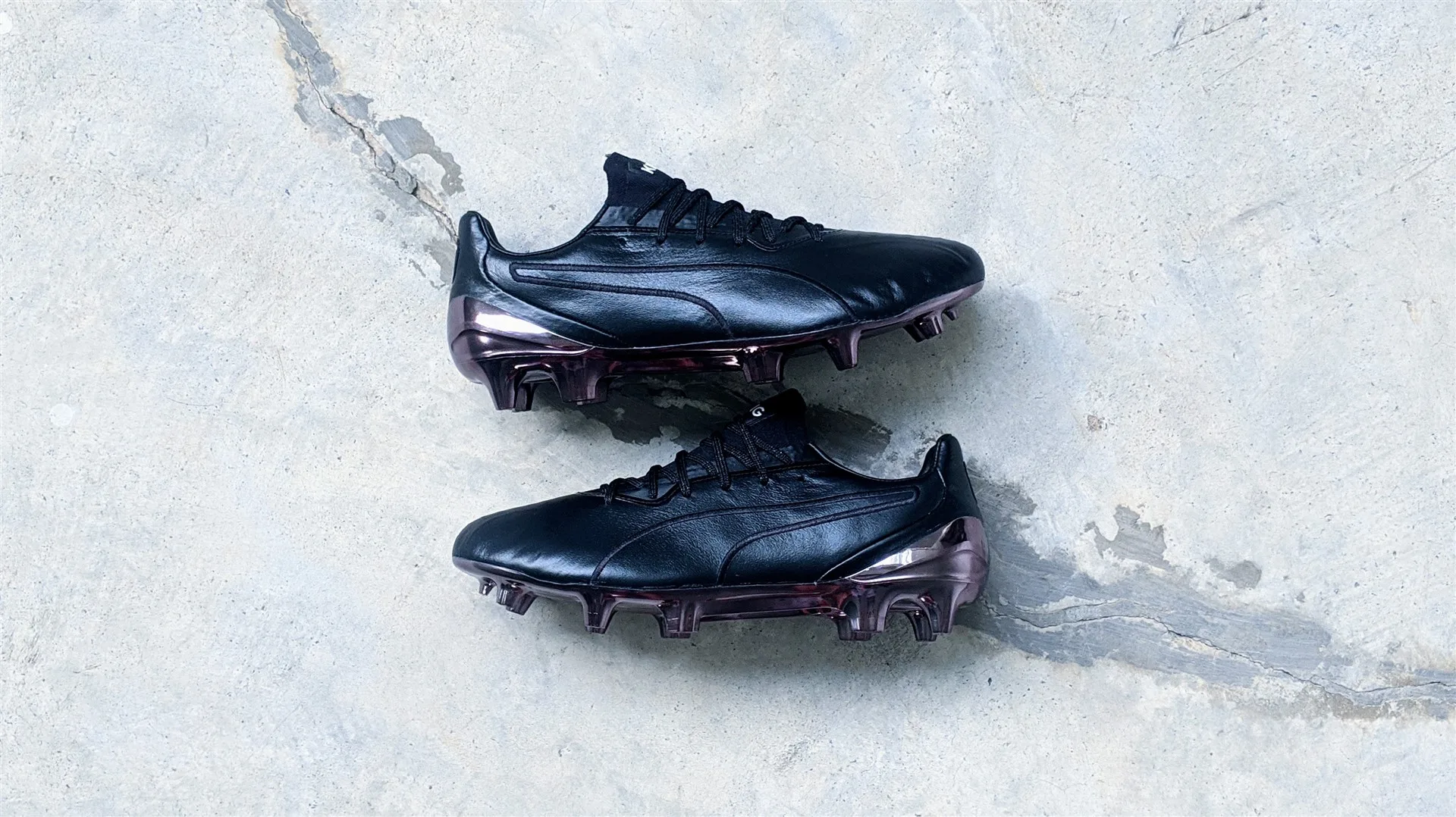 Check below for the best prices
The legendary Puma King gets a facelift for the modern era.
Cast an eye on football brands and you'll notice most of them have a difficult relationship with their heritage models. adidas cast out the Copa Mundial on its own, like an awkward grandpa who makes weird jokes at family reunions, before modernizing it and integrating the Copa into its current line-up.
Nike dropped the Tiempo entirely before bringing it back in 2004 as the Tiempo Legend, and then reimagining it again as a more affordable old school, leather boot in form of the Nike Premier.
Puma have had a much more complicated relationship with the legendary Puma King. They've attempted to modernize the King, with varying levels of success. You had hits such as the full leather Puma King Finale SL worn by Thierry Henry, to the terrible Puma King SL which had absolutely no leather in it.
The Puma King Platinum is Puma's latest attempt to bring the Puma King to the modern era, complete with 21st century must haves, such as knit, a one-piece upper and a lightweight Pebax outsole.
Puma King, modernized
In many ways, the Puma King Platinum feels like a stripped-down version of the Puma One 5.1. Both the One and the King Platinum are lightweight leather boots, coming in at about 205g in a US 9, equipped with a modernized stud pattern.
The King Platinum, however, stays true to its roots and opts for a full kangaroo leather upper.. There's no collar as well on the Puma King Platinum, but like every modern day boot out there, it now sports a one-piece upper and a knit tongue.
Despite being a full leather boot, Puma interestingly went for a thin upper, with only a small piece of foam in the forefoot. They added an extra layer of leather reinforcement in the instep to prevent overstretching, but for the most part, the upper is about as basic as it gets, and that ain't a bad thing.
Fit wise, due to how thin the leather is and how it spans the entire boot, I'd strongly recommend going half a size down and spending some time to break it in for the best possible fit. Leather has a tendency to overstretch and considering that the Puma King Platinum has zero stitching and barely any added structure, overstretching is likely to be an issue.
If you have an extremely wide foot though, true to size is the way to go.
A leather boot that's great for dribbling
On feet, the Puma King Platinum feels snug and surprisingly structured. The upper does take some time to soften up, but once they do, they mould to your feet to give you a nice one-to-one fit. What surprised me at first was how thin the upper felt on feet where you don't get that natural padded touch that leather boots typically give you.
Instead, the Puma King Platinum feels very speed boot-esque, hugging your foot tightly like a second skin. While I'm not a huge fan of one-piece uppers in general, Puma has done a great job with the knit tongue. It's got the right amount of stretch, despite the tight weave, and locks your foot in without ever suffocating your feet.
As you'd expect from such a barefoot upper, you feel everything with the ball, and that is both good and bad. I took the boots straight into a training session after some light jogging and was surprised at how much sting I felt during a shooting drill. The laces and the thicker knit tongue did take away some of the impact when 'pinging' those longer passes, but overall, they feel less like heritage leather boot and more like a thin lightweight speed boot.
Due to how thin the foam cage in the toe area is, you also don't quite get the same amount of padding or protection as you do from other traditional leather boots.
Where the boot really shines for me was when I started dribbling with the ball. Due to the super snug fit, I felt more confident taking those quick cuts and sharp turns because of how responsive the boot felt, whilst still feeling fairly comfortable. The thin upper also meant that I felt every touch on the ball and taking those small touches on the ball felt much more natural when going on one of those mazy runs.
Same old outsole
Instead of traditional conical studs, Puma have equipped the King Platinum with the same Rapidsprint outsole that's been a mainstay on the Puma One silo so far. It's an updated version of the traditional conical stud layout, with a few bladed studs thrown in for slightly more aggressive traction.
Puma lists it as being FG/AG, but that is more from a durability standpoint rather than traction on AG. It doesn't cling onto AG too much, but some players with sensitive feet may feel a bit of stud pressure. Overall, it's a decent enough soleplate that does its job well, but isn't a game changer in anyway.
A (Puma) King out of time
When the Puma King Platinum was launched back in June 2019, I wasn't sure why it existed. The leather role in the Puma line-up had already been filled and considering that both boots weighed about the same, the King Platinum felt slightly out of sync – not enough of a leather boot to be considered by traditional leather boot lovers, not lightweight enough to feel like a speed boot.
In 2020, the Puma King Platinum feels even less in sync. While the Puma One has been phased out for the Puma Ultra, images have been floating around of a leather variant of the Ultra. This means the Puma King Platinum is, once more, in that weird limbo where it's not unique enough to capture the attention of any customers. For all of Puma's great work modernizing the King silo, it's this confused marketing that constantly hampers this traditional line.
This is an absolute shame, because if you ask me, Puma already have the perfect modern-day Puma King, in the form of the Made in Japan Puma One J1 HG which features a mesh tongue, generous leather on the upper and a familiar padded old school leather touch. It's also got the HG variant of the Rapidsprint outsole, while featuring their version of "Flywire" to prevent overstretching on the side.
Until Puma properly decide what the King silo should mean to their brand and line-up in the 21st century, the King will always be that strange old man at family reunions, and it's such a shame because the King Platinum has so much to offer, but with too few an audience.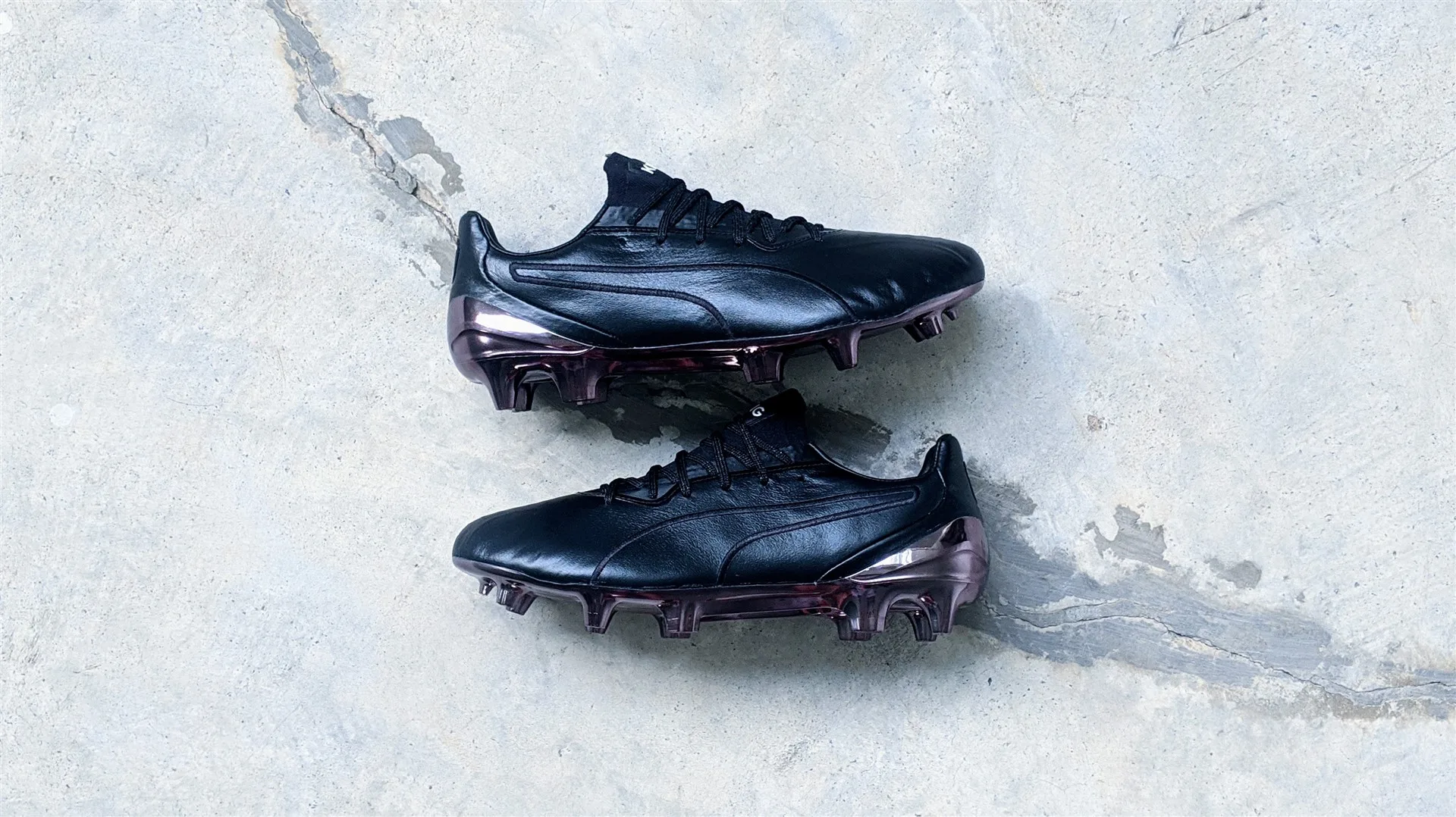 Final Thoughts
The Puma King Platinum is a speed-inspired full leather boot that may appeal to those who want a thin leather boot.
The Good
Barefoot touch
Generous amount of leather
FG/AG compatible
Well-built knit tongue
The Bad
One piece upper
Outsole lacking aggression for a speed boot
Check below for the best prices