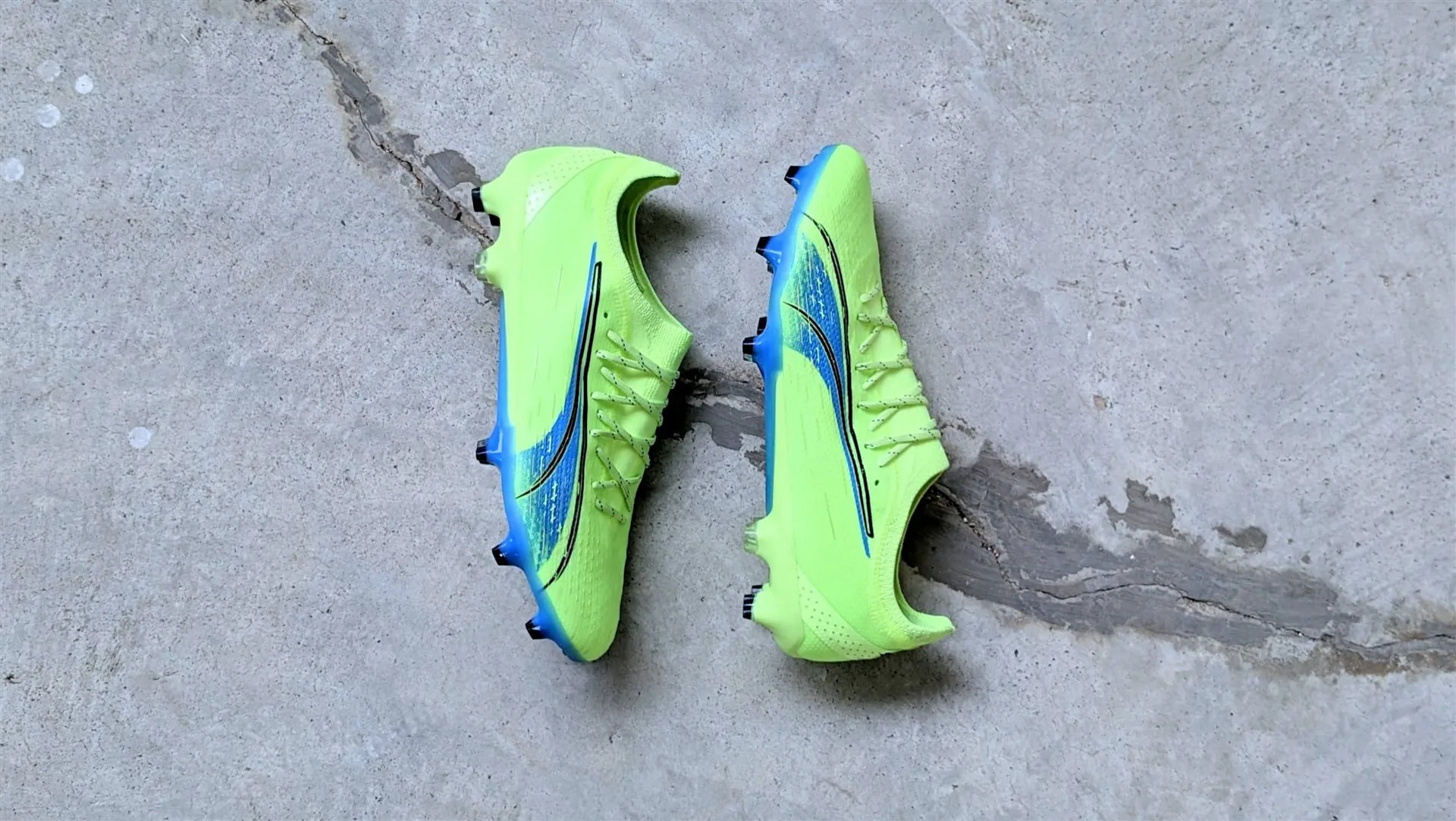 Check out the best prices below
The purest speed boot on the market.
There's no better time to be a speed boot fan. The competition in the speed silo has peaked, with every brand producing legitimate claims for being best in class.
Where the Puma Ultra silo once carved out a USP for themselves as being ultralight, going a good 20-25g lighter than all the other options out there, the landscape today has changed. Every brand has caught up, introducing boots that don't feel heavier than the Puma Ultra 1.4 on feet, but with some form of enhancement in the tooling to make you faster.
Puma's answer is the Puma Ultra Ultimate, which features a brand new look, a new upper and tooling to rival the competition. How does it fair on today's market? We put the it to the ultimate test.
Goodbye MATRYXEVO, Hello ULTRAWEAVE
With the Puma Ultra Ultimate, Puma have returned to a knit construction we last saw on the Puma Ultra 1.1 and 1.2. Utilising ULTRAWEAVE, the same knit technology to produce their player edition kits (of which we're huge fans of), the upper is designed to provide a more one-to-one fit for players. There's definitely a noticeable difference in feel from the previous 4 generations. Past Ultras had uppers that felt more synthetic due to the coating and the finish to protect its underlayers.
The ULTRAWEAVE upper feels slightly thicker than the 1.4 in hand, but on feet, they feel exactly the same, and comes in a softer and much more comfortable package out of the box.
On top of the ULTRAWEAVE upper is Puma's new PWRPRINT coating, which imparts a not-so-subtle texture to add some grip against the ball. We've been getting quite a bit of wet weather here in Singapore, so this was definitely an opportune time to test the Puma Ultra Ultimate.
A speedier sole for better lockdown
Puma have also added in a new PWRTAPE function which they claim adds additional support and stability to the foot when moving at top speeds. This works in tandem with the new SPEEDPLATE tooling, which features a new dual density sole to provide snappy responsiveness when pushing off. There's also a new stud pattern, inspired by running spikes for optimal propulsion when accelerating.
In line with the growing importance of creating new products in a more sustainable fashion, the Ultra Ultimate features at least 20% recycled content in each boot they produce.
The Puma Ultra Ultimate has the most comfortable upper among all speed boots
I'll be honest, the Ultra silo hasn't featured in our rotation of boots for some time. This is partly down to the extremely aggressive tooling, but also because the synthetic feeling upper didn't always flex well with my feet.
I'm glad to report that not only is this no longer the case, and the new ULTRAWEAVE upper is arguably the most comfortable upper for a speed boot in today's market. Knit uppers has always been one of my favourites because when developed correctly, it offers a physics-defying combination of an accommodating fit while keeping you locked in and secure.
Go true to size in the Puma Ultra Ultimate
I initially went half size up due to the Puma Ultra Ultimate's snug fit. However, after a quick warm up session, the upper accommodated to my width, creating some dead space in the length. As such, I recommend going true to size, and letting it slowly mould around your feet.
The locked in feel was exceptional and definitely one of the best among today's speed boots. While we didn't feel the PWRTAPE provide any additional lockdown, it certainly didn't affect it negatively.
Enhanced control with PWRPRINT
Arguably our favourite element of the boot was the grippy texture from the PWRPRINT. It stays in the sweet spot of adding that little bit of friction on the ball, just enough to give that extra confidence for skill moves like the flip flap.
As you'd expect from a thin speed boot in 2022, touch on the ball is raw and on the barefoot side. You still get that lovely ping from the ULTRAWEAVE upper when striking the ball at goal, or hitting one of those cross field passes towards your teammates.
The new stud pattern feels more natural to run in
There's been a clear change with speed boot construction. Brands have shifted its focus from raw straight line speed to mobility and quick changes in direction and that's also reflected in the Puma Ultra Ultimate.
The studs are now triangular, smaller and angled in a more rounded fashion. The result is that, while you lose some of that outright toe-off traction, you gain in terms of a more comfortable deceleration, chopping and changing of motion. It's an interesting trend in the football market, and one that we feel is the right move as it provides some much-needed balance.
The change also means that the boot is more AG-friendly, and we've used it on relatively decent AG pitches with no excessive cling.
Where this new tooling could improve on, is increased snappiness. This surprised us, as the Puma Ultra 1.4 had one of the most responsive toolings on the market, despite not having any enhanced technology in that aspect. It's not a deal breaker by any means, but it continues that shift away from straight line speed to a more agile and nimble playstyle.
The Puma Ultra Ultimate just feels faster
There's a quote from The Matrix that I really love – "being The One is like being in love, no one can tell you, you just know it." And that's kind of where the Puma Ultra Ultimate sits within the speed boot arena today.
Sure, there's no sexy sounding technology like carbon fibre inserts, or air pods. There's no aggressive blades for crazy propulsion. It's not even got the greatest of names (let's be honest, Ultra Ultimate sounds like something a 6 year old came up with).
But on feet, the Puma Ultra Ultimate just feels like something else. The ULTRAWEAVE upper, the fit, the new SPEEDPLATE all tooling combine together to make you feel like you're wearing THE premier speed boot on the market. You feel fast. You want to make those sprints. You want to get there that split second ahead of your opponent.
And on the football pitch, what you really need.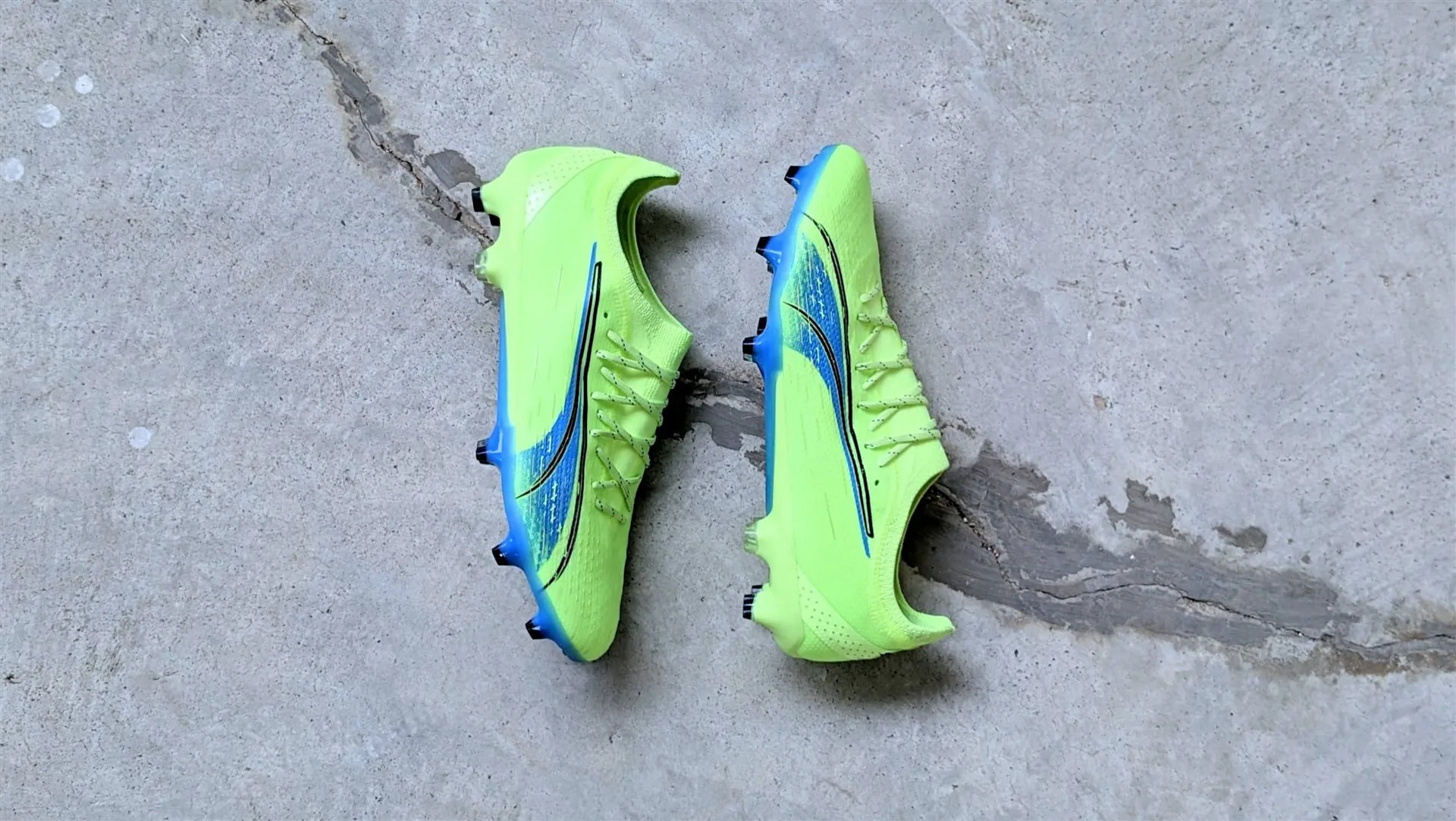 Puma Ultra Ultimate Review: Feel Faster
Who is this for?
Fast footed forwards who want that extra mental edge to feel quicker to the ball.
The Good
Excellent Lockdown
Incredible fit after breaking in
FG/AG
Comfortable barefoot touch on the ball
The Bad
Tooling isn't as snappy as the 1.4
Check out the best prices below