We take a trip down memory lane to check out some of Messi's greatest football boot hits.
Marvel vs DC. Nadal vs Federer. Pep vs Jose. If there's one thing that makes for a great intriguing story, it's an intense rivalry. For the world of football, there's been a "proxy" rivalry of sorts in the form of Ronaldo and Messi, as well as their respective brands Nike and adidas. It's one that's captured the imagination of many football fans since their respective debuts more than a decade ago, and one that continues to dominate message boards and Instagram replies.
Interestingly, Lionel Messi's first contract was actually with Nike when he first made his debut in 2004, and it was only in 2006 that adidas swooped in with a new contract worth almost 4 times of his Nike deal. The rest, as they say, is history. Like Ronaldo, Messi also signed a new lifetime contract with adidas in 2017, and is the only adidas player to ever receive his own bespoke signature model of football boots – the Messi 15/16.1 as well as the Messi Nemeziz range, which came with his bespoke tooling and stud pattern.
As with our look into Cristiano Ronaldos boot history, we'll be picking some of our favourite and iconic boots that Messi has worn across his storied career.
What Football Boots Lionel Messi Wears Today – adidas X Speedflow.1
adidas switched Messi into the adidas X Speedflow.1 and for good reason. The super thin upper is light, yet extremely comfortable and stable thanks to the additions of a Primeknit tongue, as well as an AgilityCage which perfectly complements Messi's speedy style of play. The stiff and super responsive carbitex spine further gives him that extra spring in the step to leave opponents in the dust as the Argentinean embarks on yet another mazy dribble.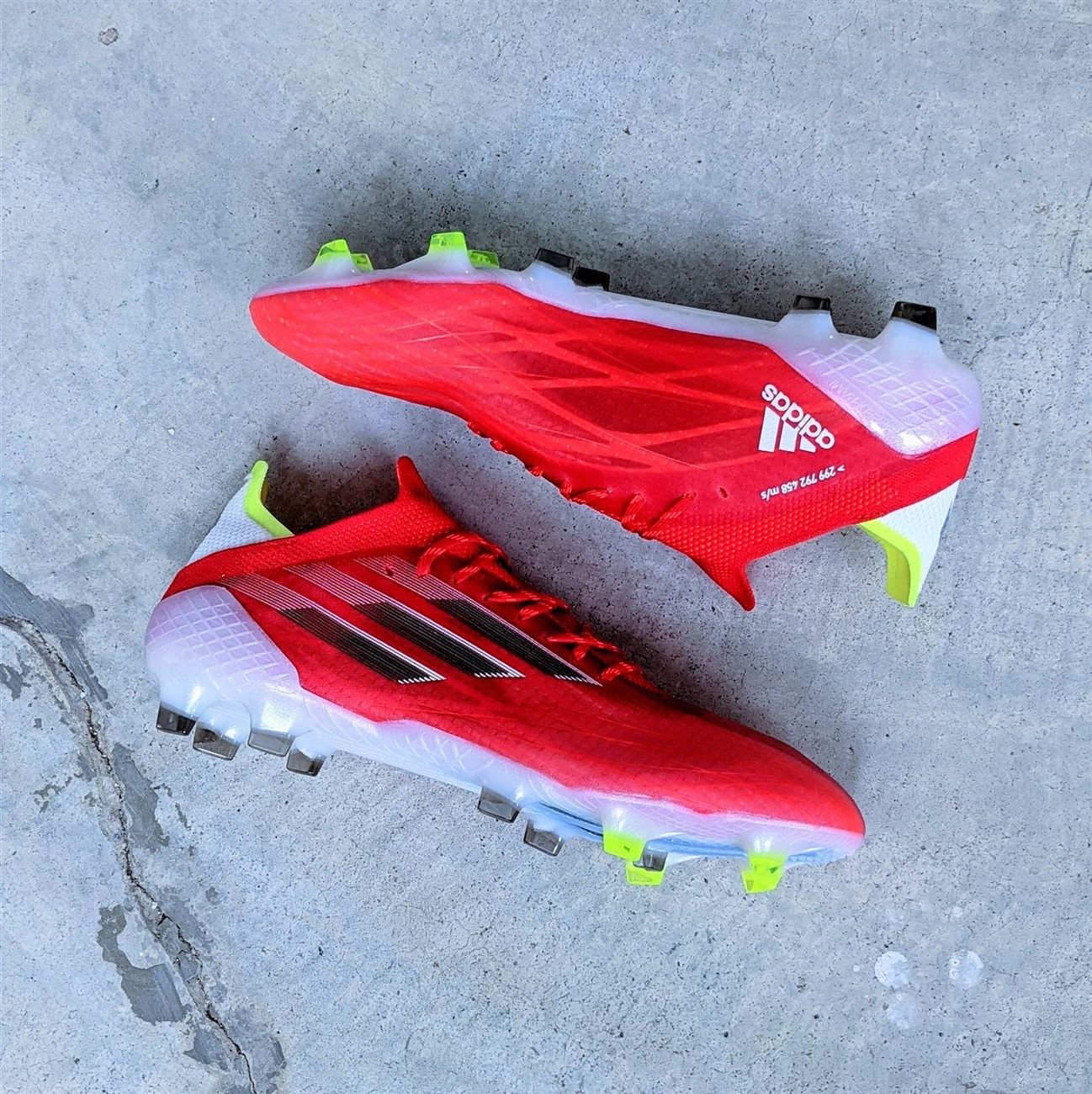 The best boot in 2021 for the best player in 2021
adidas X Speedflow .1
Multiple stores
With it's super soft and accommodating upper complimented by a stiff and responsive carbitex infused tooling, the adidas X Speedflow.1 is the boot of 2021, perfect for the 2021 Ballon D'or winner in Lionel Messi The People's speed boot is well loved by fans and by our team for its blend of speed an
Messi's first boot contract – Nike Tiempo Legend Air
Yeap, your eyes aren't deceiving you. When the diminutive Argentinian first made his debut for the Blaugrana, he did so in Nike boots, having signed his first official contract with Nike. Throughout the season, Messi rotated between the Nike Air Zoom Total 90 II and the Nike Mercurial Vapor 2. Towards the end though, he seemed to have made up his mind to stay in the Tiempo Legend Air, no doubt inspired by his then idol, a certain Ronaldinho Gaúcho before a German sportswear brand decided to step in.
Messi's first world cup – adidas Tunit F30.6 Argentina colourway
While adidas had cornered the "power boot" category with their Predator silo, they weren't satisfied with power and went for the speed category, releasing the adidas Tunit boots to compete with the Nike Mercurial Vapor series. The Tunit boots were a revolutionary boot, which features interchangeable studs and an internal chassis that allowed you to use 1 pair of boots for three ground types – SG, FG and Indoors.
Perhaps because Messi had no need for SG and indoor variants, he opted for the takedown F30.6 model which came with pre moulded FG studs. He unleashed them in his first World Cup in 2006, as Argentina made it to the quarter finals before falling to home country Germany.
Messi's first Treble – F30i Tunit
With his low centre of gravity, mesmerising dribbling skills and incredible agility, Messi made the right wing position at Barcelona his own, often wrecking havoc by cutting in and scoring a goal or creating a chance. Pep Guardiola though, had other ideas, playing Messi instead as a False 9, giving him free roam of the pitch to unleash his devastating dribbles wherever he wanted, without disrupting the team.
The result? An incredible treble for FC Barcelona as well as Messi's first Ballon d'Or, which included a goal in the Champions League final against Manchester United, which Messi celebrated with his F30i Tunit.
Messi's first adizero – Adidas F50 adiZero Messi Chameleon Purple 2010
As we entered the second decade of the 2000s, adidas struck the first blow, defining the decade with its featherlight adizero. Clocking in at just 165 grams, it was comfortable and match ready out of the box. The adizero was arguably the boot of the decade.
While everyone else got a classy black/yellow colourway at the 2010 World Cup, the forward got a special chameleon holofoil colour way that was as unique on the pitch as his talent was. It's still one of my favourite colourways on a boot, and I was glad to see it make a comeback on the Unisport edition of the X Ghosted remakes from 2020.
Messi's third Ballon d'Or– F50 Messi Ballon d'Or
At this point, the Messi/Ronaldo rivalry was at its absolute peak, with the pair exchanging Ballon d'Or wins like Muhammad Ali and Joe Frazier trading punches. adidas designers were also working overtime to give Messi a new signature colourway for every Ballon d'Or win and record broken.
White and gold is a colourway that never goes out of style, which is what adidas gave the Argentinian to celebrate his third Ballon d'Or win in 2012. Boots-wise, the adizero 2 MiCoach were alright but never quite captured the magic that the OG adizeros did.
Messi breaks Barcelona's all time goal scoring record – F50 Messi Limited Edition "370" (March 2014)
Another year, another record broken. This time, it was Paulino Alcantara's record of 369 goals for Barcelona, which had stood since 1927, as Messi scored a hat-trick to make it 370 goals for the club back in 2014.
Interestingly, the boots were actually made based on the previous generation of the adiZero instead of the then 2014 adiZero generation as adidas were clearly expecting him to break the record earlier. Unfortunately, due to injury, Messi took a bit longer to cross that line, but cross it he did.
Messi's most successful World Cup – 'Battle pack' adizero F50 'Messi'
Continuing on the trend they'd set in 2010, adidas gave all its silos a shared look through the Battle Pack. Inspired by the warpaint of native warriors and the iconic pavement patterns of ancient Mesopotamia, the boots came with unique black and white patterns on it. Messi's variant featured custom blue stripes as well, representing his home country of Argentina, whom he led to a runners-up finish in the 2014 World Cup.
The 2014 adiZero is widely considered as the best adizero of the series, as it was light, supremely comfortable and still had that same barefoot touch thanks to adidas revolutionary Hybridtouch material.
Messi breaks the record for La Liga hat tricks – F50 Messi Pibe de Barr10
Eagle eyed readers will note that although this was still an adidas F50, there was a conspicuous lack of an "adizero" within the boot's name, instead simply being called Messi, a hint of the direction adidas were going with their star football athlete.
While the shape and the design of the Messi Pibe de Barr10 broadly followed the 2014 adiZero, the hybridtouch upper on the Messi model felt much softer and leather-like. Interestingly too, Messi's on feet pair also featured a number of unique customisations, such as his now signature gambetrax stud pattern as well as a stitching pattern to help reduce over stretching.
Messi receives his own silo – adidas Messi 15.1 10/10
In 2015, adidas went for a radical reshuffle, dropping all their silos for 3 new ones – the Ace, X and the Messi. That's right, adidas finally gave Messi his own bespoke and unique silo. Featuring that same soft and comfortable hybridtouch upper, the Messi 15.1 also came with Messi's signature gambetrax tooling on its retail model, as well as a MessiFrame for better lockdown.
The launch also came with what adidas were calling 10/10 day, with a collector's edition Messi launched regularly on that date, available exclusively from the adidas store in Barcelona.
Messi's second 10/10 boot – Messi16 10/10
Arguably the best "Messi" boot of all his signature models so far, the Messi 16 dropped the hybridtouch upper for a new Agility Touch Skin Layer, that gave an even closer to the ball touch while retaining a very natural feel on the ball. While the + model technically came with a Purecut upper, i.e a lace cover, Messi opted for the 16.1 instead, which featured a burrito tongue – a customisation that would continue to be featured on his future boots.
Continuing on the 10/10 limited edition drop theme, collectors around the world gathered at a pop-up store the Lower East Side of New York City for a chance to grab the super limited edition Messi16 10/10 which came in at 100 pairs only.
Messi's one of a kind boot – Nemeziz 17.1 "Lili Cantero"
Messi's personal silo ended with the Messi16, but its successor, the Nemeziz 17.1 was clearly inspired by him and made more or less for him still. It retained that unique Agilitytouch upper in the toe, while adding in TorsionTape to make up the midfoot to provide with greater lockdown for making those agile and sharp cuts.
While not strictly an adidas release, we couldn't miss the opportunity to feature this bespoke, one-of-a-kind custom by Paraguayan artist and designer Lili Cantero. Painted by hand, the boots narrate Messi's career and life to date, with personal touches throughout – from childhood memories to on pitch glory.
Messi celebrates 15 years of greatness – 'Messi 15 Years' Nemeziz
Instead of celebrating his most recent FIFA Best Player Award, adidas instead decided to honour his debut and his subsequent achievements in 2019. This came in the form of the Messi 15 Years, which is based on the final Nemeziz 19.1 model. A predominantly white and blue upper should make it clear that this is a tribute to Messi's Argentinian roots, while other touches such as the sprinkles of Gold, the presence of a 'five dot' detail on the left boot and '82nd min – 16-10-2004' (time and date of his debut) serve to honour the various moments of his record breaking career.
Messi returns to Speed – X Speedflow 'El Retorno'
After nearly 5 years out of the German brand's leading speed silo, Messi returned to the X Speedflow in style. The signature model was inspired by the F30 boot Messi wore for that mind blowing goal against Getafe in the Copa Del Rey in 2007. You know, the one where he dribbled from the halfway line past half the opposition team before slotting home to ignite comparisons to another Argentinian great Diego Maradona's goal against England.
The boot also came with a Messi+10 a nod to that iconic adidas advertisement from the 2006 World Cup that had kids calling out footballers such as Zidane, Kaka and Beckenbauer (yes Beckenbauer) to join them in their local 5v5. Gosh, we're getting old.
You've read "What Football Boots is Lionel Messi Wearing? – Boot History". Have another player you'd like to see us do a deep dive into their boot history? Let us know in the comment section below.