A look back at the defining trends in football boots.
Safe to say that even for us boot nerds, predicting or anticipating what the next decade will bring is no easy task. It speaks volumes that even with the benefit of hindsight, the fact that not one, but two paradigm shifts occurred in the last decade was surprising for outsiders.
This was a huge surprise as the 2000s were a relatively quiet decade, Boots were improved upon, but there was not much game-changing technology as brands plateaued, struggling to find something that surpassed existing construction materials – K-Leather and Teijin synthetic.
2009 – 2019 also marked a big leap that occurred outside of the football equipment world – social media. Its rapid rise changed the way that people consumed information, impacting how brands' advertised and how consumers perceived boots.
For us boot nerds, this was an exciting decade, bookmarked by 5 groundbreaking shifts and trends in the industry between 2009 – 2019.
adidas changes the (weight) game
World Cups are always an exciting period, as brands take the opportunity to flash innovation they've perfected over the past 4 years. At the 2010 World Cup, adidas stunned the world with the release of the first F50 adizero that weighed at a featherlight 165 grams.
The fatal blow to fans of the Mercurial silo, the speed kings of the time, was how the adizeros robbed them of their badge of honour – an excruciating break in period characterized by blisters and bloody heels associated with the Vapors and speed boots. The adizeros were light, yet comfortable and could be worn straight out of the box.
Actuellement, les jeux d'argent en ligne en France ne sont pas légaux. C'est le résultat de la loi de 2010 sur les jeux de hasard. Cette loi permet aux fournisseurs d'accès Internet du pays de bloquer les sites de jeux d'argent, quelle que soit la nationalité de l'utilisateur. Malgré cette restriction, les joueurs français peuvent toujours jouer dans des casinos en ligne étrangers et profiter des avantages de jouer sur eux. Cependant, ils doivent être conscients des risques auxquels ils sont confrontés. Ils doivent également savoir comment effectuer un dépôt en toute sécurité. Règles de jeu françaises Les jeux de casino skrill france comme la roulette et les machines à sous ne peuvent pas être inclus dans les sites de paris en ligne basés en France, car ces jeux sont jugés illégaux par le gouvernement. En effet, ils sont considérés comme une forme de jeu dangereuse et addictive. De plus, il est difficile d'y gagner de grosses sommes d'argent, car les jeux sont programmés avec un ensemble de règles. Bien que ces règles puissent être restrictives, elles sont également efficaces pour réduire le montant d'argent dépensé pour les activités de jeu. Par conséquent, de nombreuses personnes en France ont commencé à rechercher des sites de casino étrangers sur lesquels jouer, ce qui techniquement n'enfreint pas les lois françaises. En attendant, il existe d'autres formes de jeu qui sont autorisées et réglementées en France. Il s'agit notamment des paris hippiques, des paris sportifs et du poker. Certaines de ces formes de jeu sont réglementées par l'Union Pari-Mutuel et La Française des Jeux. Ce dernier a une certaine compétence sur les courses de chevaux et les loteries, tandis que le premier supervise l'industrie du jeu en ligne. Il existe également un certain nombre d'autres lois et réglementations qui régissent l'industrie du jeu du pays. Ces lois ne sont pas toujours claires et peuvent parfois prêter à confusion. Les jeux d'argent en ligne en France sont réglementés par l'Autorité de régulation des jeux en ligne (ARJEL). L'ARJEL a été créée en 2010 et réglemente toutes les formes de jeux en ligne. Il s'agit d'une entité relativement nouvelle et elle a été créée afin de garantir que toutes les formes de jeu en ligne sont menées de manière équitable et transparente. Il est également chargé d'assurer la sécurité des activités de jeu en ligne. De plus, l'ARJEL s'assure que les opérateurs qui fournissent les services de jeu français respectent les normes les plus strictes en termes d'exploitation d'un environnement sûr et fiable pour leurs joueurs. Ces sites doivent être en mesure d'offrir un support client de haute qualité, ainsi que des options bancaires sûres et sécurisées. En dehors de cela, un bon casino en ligne en France offrira une large gamme de méthodes de paiement à ses membres. Certaines des options les plus populaires pour les dépôts et les retraits sont Visa, MasterCard, les virements bancaires, PayPal, les portefeuilles électroniques et plus encore. La caractéristique la plus importante d'un bon casino en ligne en France est le service client. Cela inclut le chat en direct et l'assistance par e-mail. Ce dernier est généralement disponible 24 heures sur 24 et offre des temps de réponse rapides. Parmi les autres facteurs à prendre en compte lors du choix d'un casino en ligne français figurent la sélection de jeux, les bonus et les promotions. Certains d'entre eux peuvent inclure des tours gratuits, des bonus de bienvenue, des bonus de dépôt et plus encore.
Jeśli chodzi o gry w legalne kasyno online w Polsce, najlepsze opcje można znaleźć w kilku najlepszych witrynach, które akceptują graczy z kraju. Witryny te oferują różnorodne gry, w tym automaty, gry stołowe i wideo pokera, a także szeroki wybór bonusów. Wybór renomowanej witryny zapewni Ci bezpieczne i przyjemne wrażenia. Hazard online jest w Polsce legalny, o ile jest zgodny z lokalnymi przepisami, ale rząd utrudnia zagranicznym operatorom wejście na rynek. W rzeczywistości większość kasyn online, które akceptują polskich graczy, nie ma licencji w Polsce. Jeśli chcesz grać w gry kasynowe online w Polsce, powinieneś upewnić się, że znajdziesz renomowane kasyno, które oferuje najnowszą technologię i najlepsze oprogramowanie do gier. Powinieneś również sprawdzić warunki bonusu kasyna przed rozpoczęciem gry. Kasyna na żywo Kiedy szukasz kasyna online, powinieneś również sprawdzić opcje krupiera na żywo. To świetny sposób, aby poczuć dreszczyk emocji związany z prawdziwym hazardem w domu lub w podróży. W tych kasynach pracują profesjonalni krupierzy, którzy mogą rozmawiać z Tobą w czasie rzeczywistym, dzięki czemu emocje związane z kasynem naziemnym są na wyciągnięcie ręki. Wybór odpowiedniego kasyna online dla Ciebie Wybierając kasyno online, powinieneś wziąć pod uwagę swój budżet i czas, jaki musisz poświęcić na grę. Wzięcie tego pod uwagę pomoże ci uniknąć uzależnienia lub nadmiernych wydatków. Ponadto powinieneś poszukać kasyna, które oferuje obszerną bibliotekę gier, ponieważ zwiększy to Twoje szanse na wygraną. Koncesjonowanie Każde kasyno online powinno posiadać licencję od wiarygodnej instytucji, takiej jak UK Gambling Commission lub regulatorzy Curacao. To ochroni Cię przed oszustwami i zapewni bezpieczeństwo Twoich pieniędzy. Jeśli nie masz pewności, czy witryna jest legalna, sprawdź jej numer licencji i pieczęć, aby sprawdzić, czy spełnia wymagania dotyczące licencji kasyna. Wpłaty i wypłaty – Najlepsze kasyna akceptują wszystkie główne karty kredytowe, a także różne waluty cyfrowe, takie jak Bitcoiny. Niektóre oferują nawet płatności mobilne dla większej wygody. Bonusy i promocje – Kasyna online zazwyczaj oferują różne promocje, takie jak darmowe spiny lub mecze depozytowe. To świetny sposób na zwiększenie swojego bankrolla i zwiększenie szans na wygraną. Do najpopularniejszych bonusów należą pakiety powitalne, które mogą zasilić Twoje pierwsze depozyty znaczną kwotą darmowych pieniędzy. Pakiety te mogą mieć różną wartość, ale większość z nich wymaga pewnego minimalnego depozytu i wymagań dotyczących zakładów. W niektórych przypadkach możesz nawet otrzymać bonus od pierwszej wpłaty. Jeśli jesteś nowym graczem, jest to świetny sposób na przetestowanie wody przed zainwestowaniem ciężko zarobionych pieniędzy. Oprócz zapewniania graczom szerokiej gamy gier, kasyna online oferują również doskonałą obsługę klienta. Możesz skontaktować się z nimi przez e-mail, czat na żywo lub telefon, a oni szybko odpowiedzą na Twoje pytania. Mogą również udzielić wskazówek, jak najlepiej wykorzystać kasyno.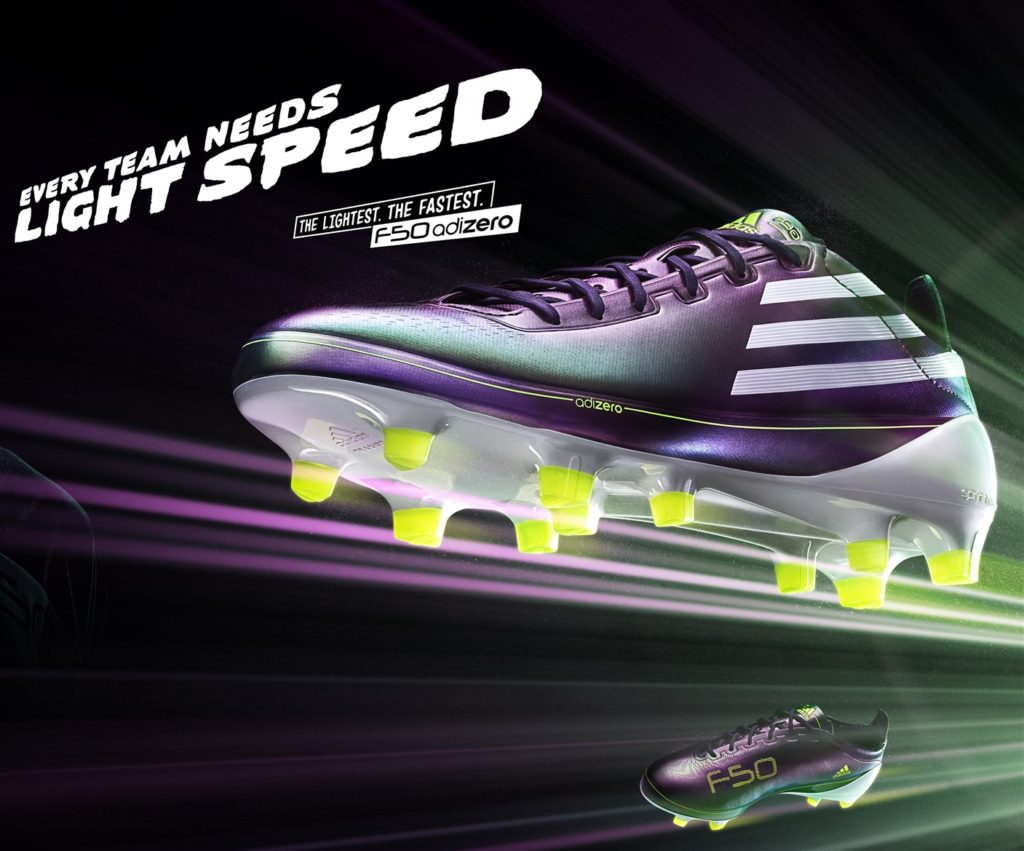 The effects of the adizero can still be seen today. It gave boot manufacturers no excuse when it came to comfort – if a speed boot could be this comfortable and match ready, so should every boot. Today, boots hardly require a break in period and the average boot now weighs 215-225g, as brands shifted towards marketing a "barefoot feel" for boots.
This indirectly led to the next shift – the death of power boots and the gradual removal of performance enhancements on the upper.
Removal of performance enhancements on boot uppers
If you told me in 2009 that adidas would one day drop the Predator line and re-establish it without any striking elements, I'd have laughed you out of the building. And yet here we are in 2019, patiently waiting for adidas to finally give the Predator its claws back in 2020.
Thanks to the new found focus on "barefoot touch" and "lightweight", power boots and even control boots with cushioning elements were phased out. By 2015, the big two had dropped their respective "power boot" silos, with the legendary Predator morphing into a more generic "control" boot in the form of the Ace.
The general trend of boots getting lighter played a part, but perhaps the boot that cemented the trend was the first generation Nike Hypervenom Phantom, which retired the T90 Laser series, famous for having the shot shield technology for a clean striking surface and barefoot touch.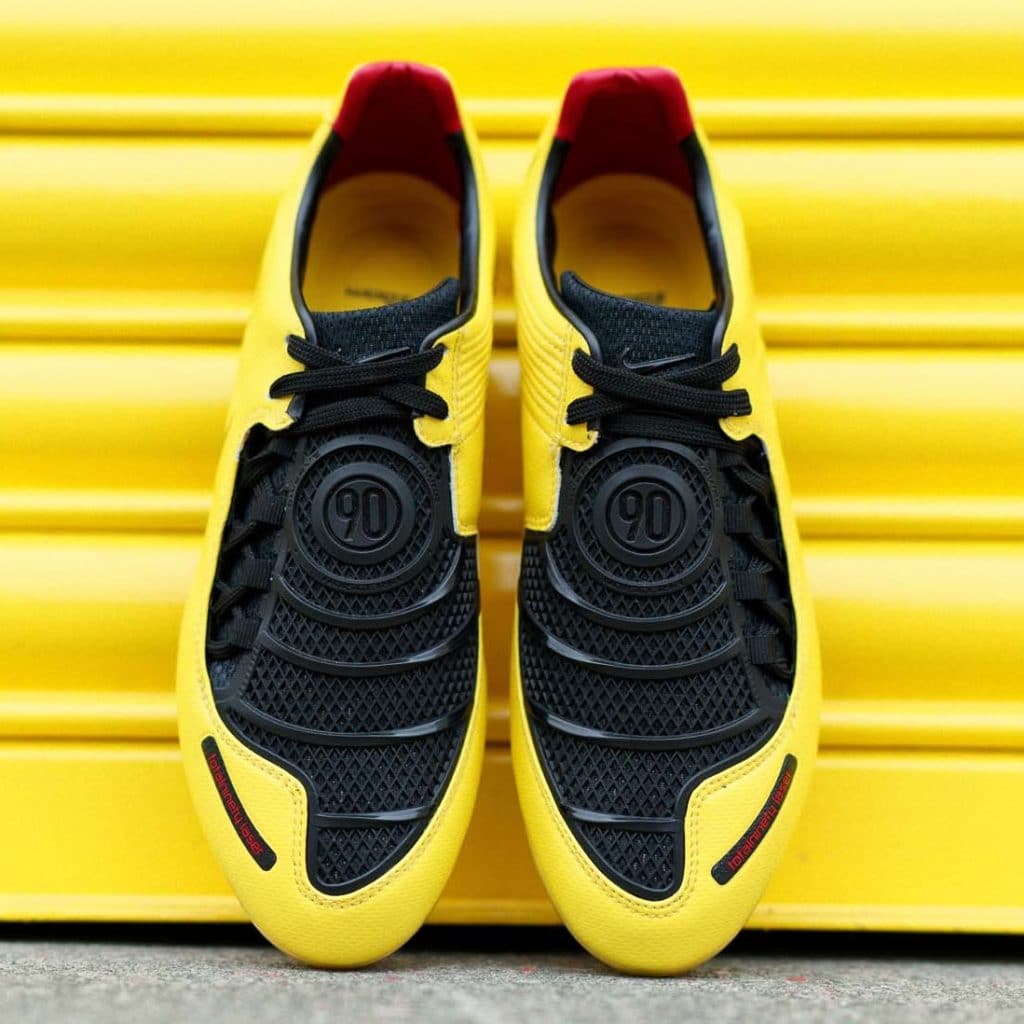 Even control boots were not spared – the CTR 360 had cushioning elements that made way for the Magista Obra, which had no "control" elements but instead focused on giving a nice seamless touch on the ball. Mizuno dropped their popular Wave Ignitus for the Rebula 3 – again no performance elements of any sort on the upper and a focus on giving you the best possible feel of the ball..
However in 2019, Nike brought back shooting technology with the shot shield on the Nike PhantomVNM and leaks of the adidas Predator 20 suggest that it will have a more textured upper akin to the old Predator – possibly a sign that the performance enhancers on the upper might be making a comeback in the next decade.
The rise of knit and mid-cut socks
After spending 4 years biding their time, Nike were ready to come back with a bang. And what a bang that was.
At the 2014 World Cup in Brazil, Nike challenged our perceptions of what a boot could look like, with one that started on your toes and ended above your ankle. The Nike Magista Obra was the first boot made out of knitted materials (for the dignity of everyone involved we're going to pretend the Primeknit FS+ never existed) giving a very personal fit that synthetics at that time were not able to provide. You now played football in your socks – literally.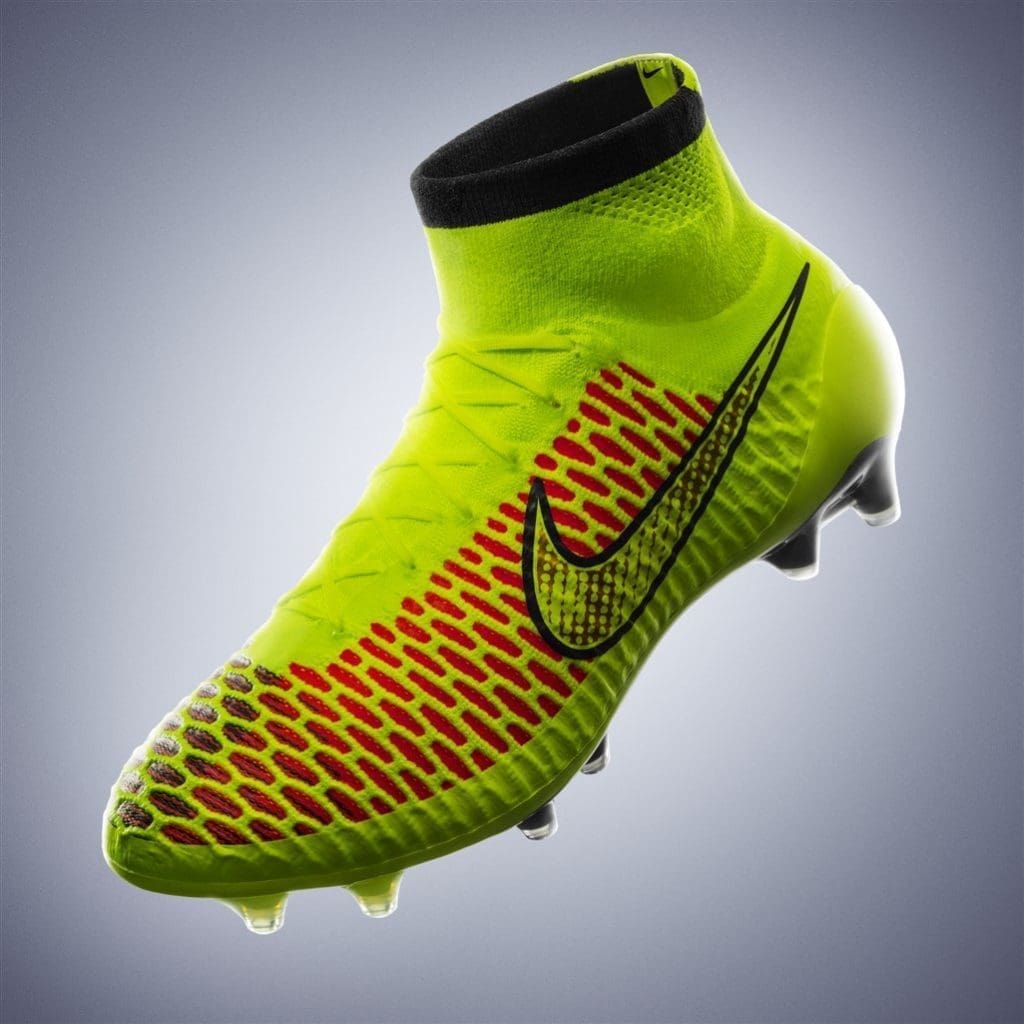 Nike's greatest achievement though, was to create a demand for the mid-cut sock attached to the boot. Today, almost every brand on the market has at least one knitted or mid-cut boot, despite the lack of clear cut benefits of a collar.
The evolution of leather
In all honesty, by the time 2010 came about, I would not have been surprised to see brands phase out their leather boots. The potential for innovation with synthetics was unlimited, whereas leather was… leather. With brands creating very convincing faux leather uppers such as the adidas' Hybridtouch and the excellent Kangalite on the Nike CTR 360 (fooling even a hardcopy Mizuno wearer like me) the writing seemed on the wall for leather.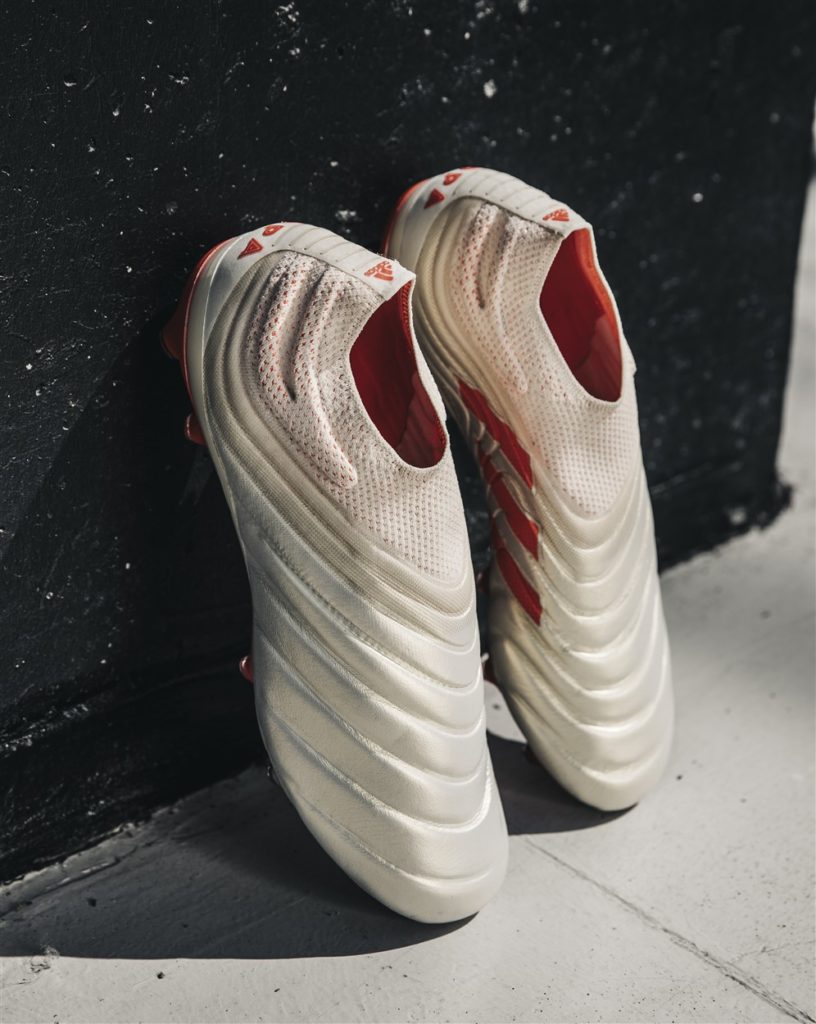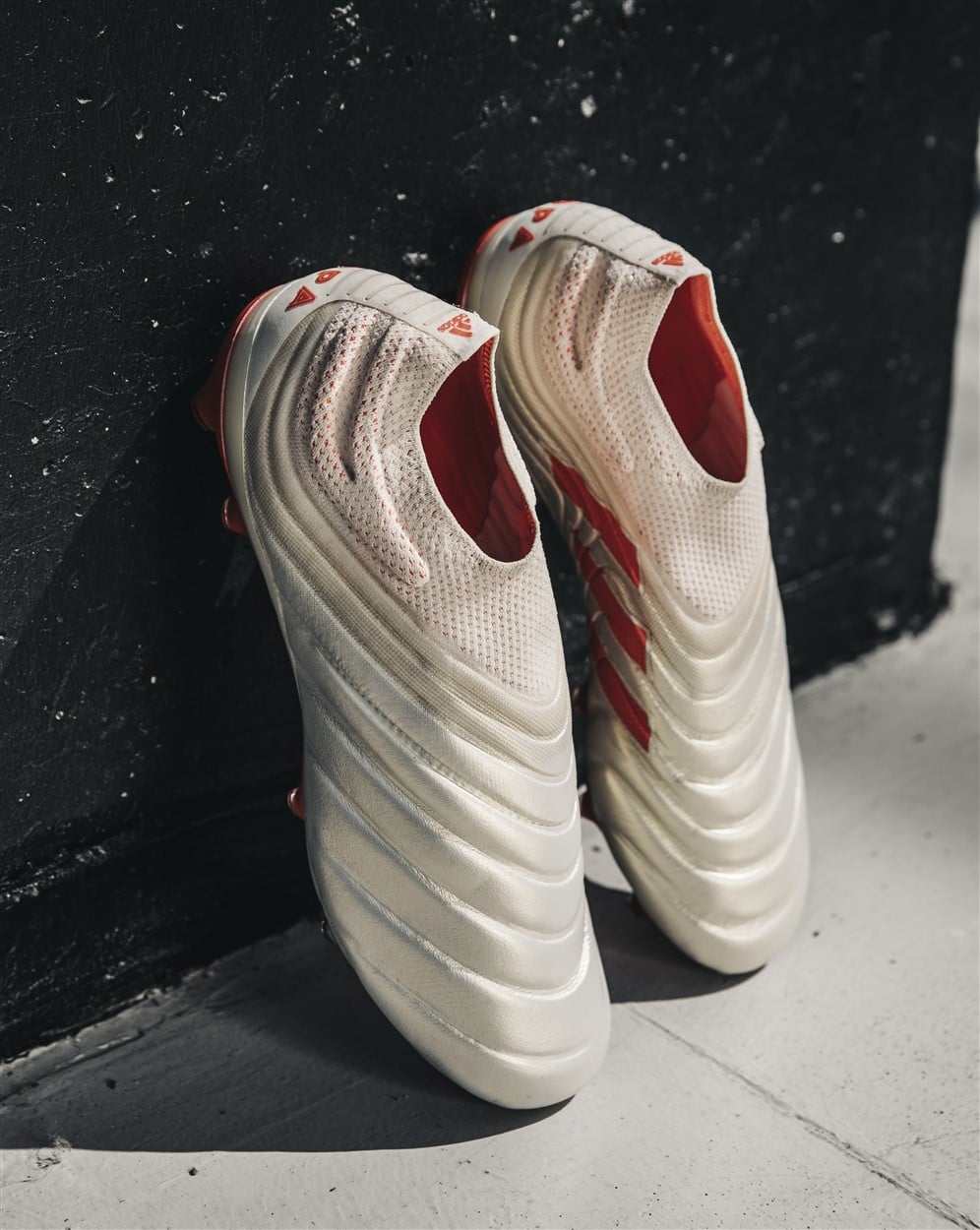 It wasn't for the lack of trying though. In the past decade, brands went from full leather boots, to only having leather in the forefoot area and finally to non-stitched one-piece leather uppers with foam cages.
But in 2018 and 2019, brands began to surprise us with innovative ways to manipulate leather. adidas found a way to fuse it with knit in their Fusionskin technology. Nike applied it as a layer on top of their quadfit system. Umbro found a way to create a laceless leather boot while leather kings, Mizuno, perfected the leather foam cage combo. Its glory days of dominating the market may be long gone, but leather just got its second wind and it's here to stay.
An over-reliance on hype and gimmicks
In response to this, the 2010s saw brands focus their marketing on constant hype generation especially towards the end of the decade. We saw this with brands attempting laceless boots despite it being objectively worse than a laced boot. With adidas, the problem is compounded as the laced version (even if they perform well) feels like they were created as a laceless boot first before just throwing on laces to make it work, affecting its overall performance.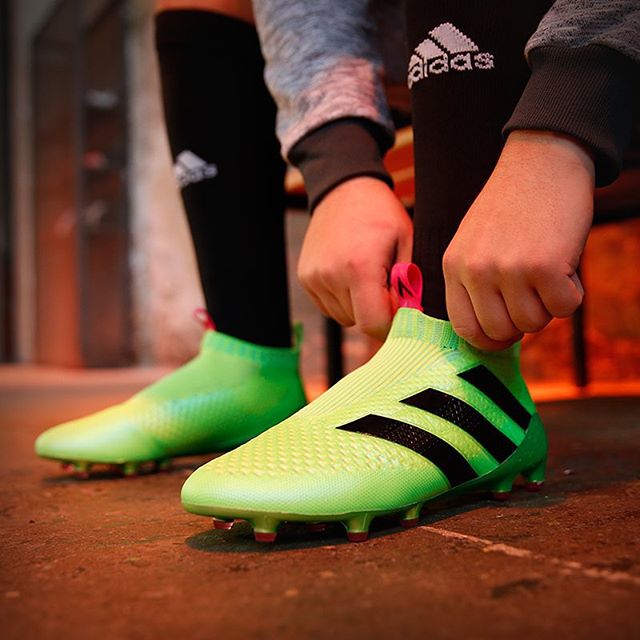 We've also seen brands drastically reduce the time between release cycles which gives designers little time to pick up feedback from customers and athletes to improve the next product. This leads to brands making insultingly minor updates. The adidas Predator 19 had an added heel rubber fin while the adidas Copa only added a laser etched pattern on the upper.
It still boggles my mind that in 2019 alone, we've seen 3 generations of the Puma Future.
Nostalgia is another weapon as we saw brands release a good number of one-to one remakes of iconic boots (at ridiculous prices) such as the Predators Accelerator/Precision/Mania, the Nike T90 Laser 1 and the adidas X99.1 among others.
Perhaps the only good thing to come out of this trend is that brands put in more effort into their jerseys with ath-leisure and brand collaborations like PSG x Jordan taking over the industry. The Italian third kit by Puma looks good enough for the runway and the new season kits are looking better with each year.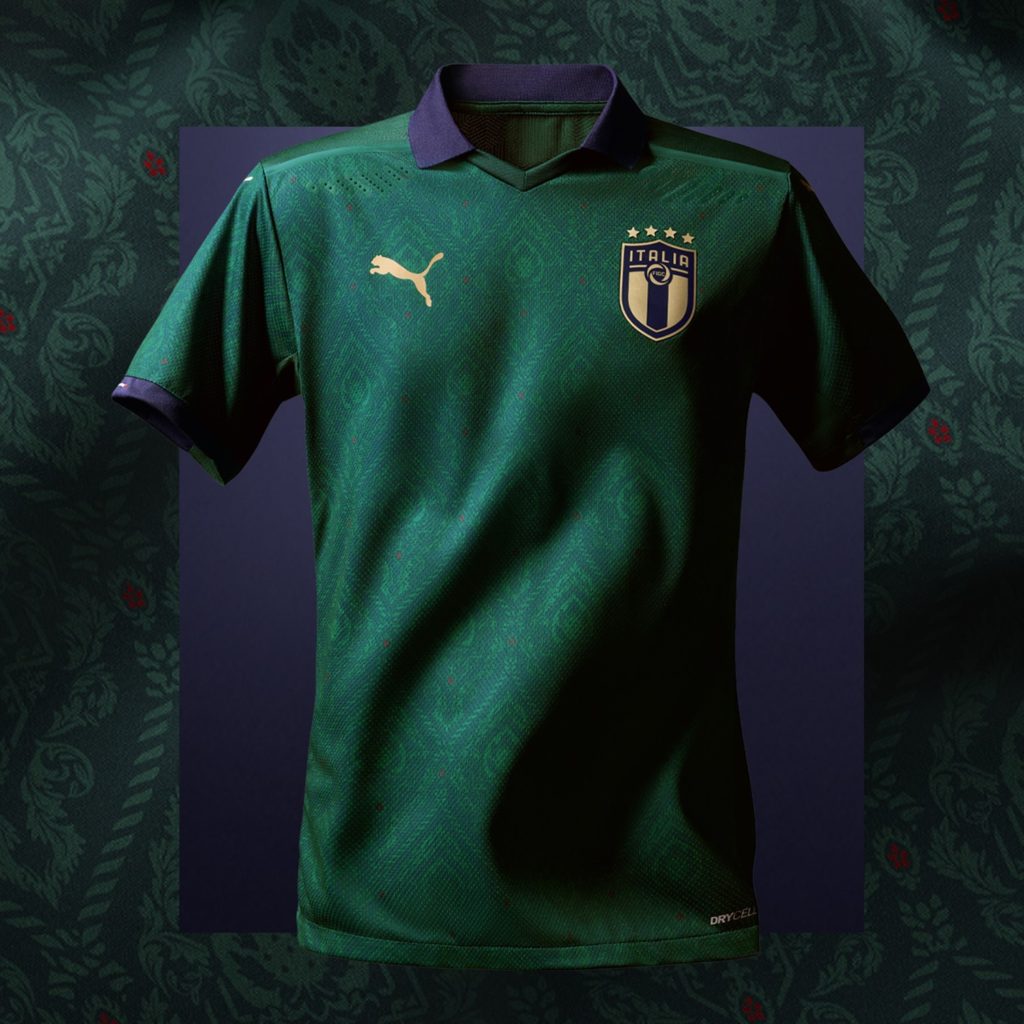 But what we're seeing is that brands may have inadvertently created a monster where they have to constantly "feed" the hype beast which has impacts on sustainability, as well as the quality of their offerings.
To 2020 and beyond
It's definitely been a wild decade, with seismic shifts in the industry not seen since the 1990s which will reverberate throughout the football equipment industry for some time. I can't wait to see what new trends the next decade will bring us.
On my wish list– bring back more comfortable insoles (New Balance Fresh Foam insoles and Nike Zoom Air please!) + 3D printing to bring made to-measure boots mainstream.
Did we miss anything? Share your thoughts in the comments below. And finally, from all of us here at BOOTHYPE, may your 2020 be filled with great boots and more goals.