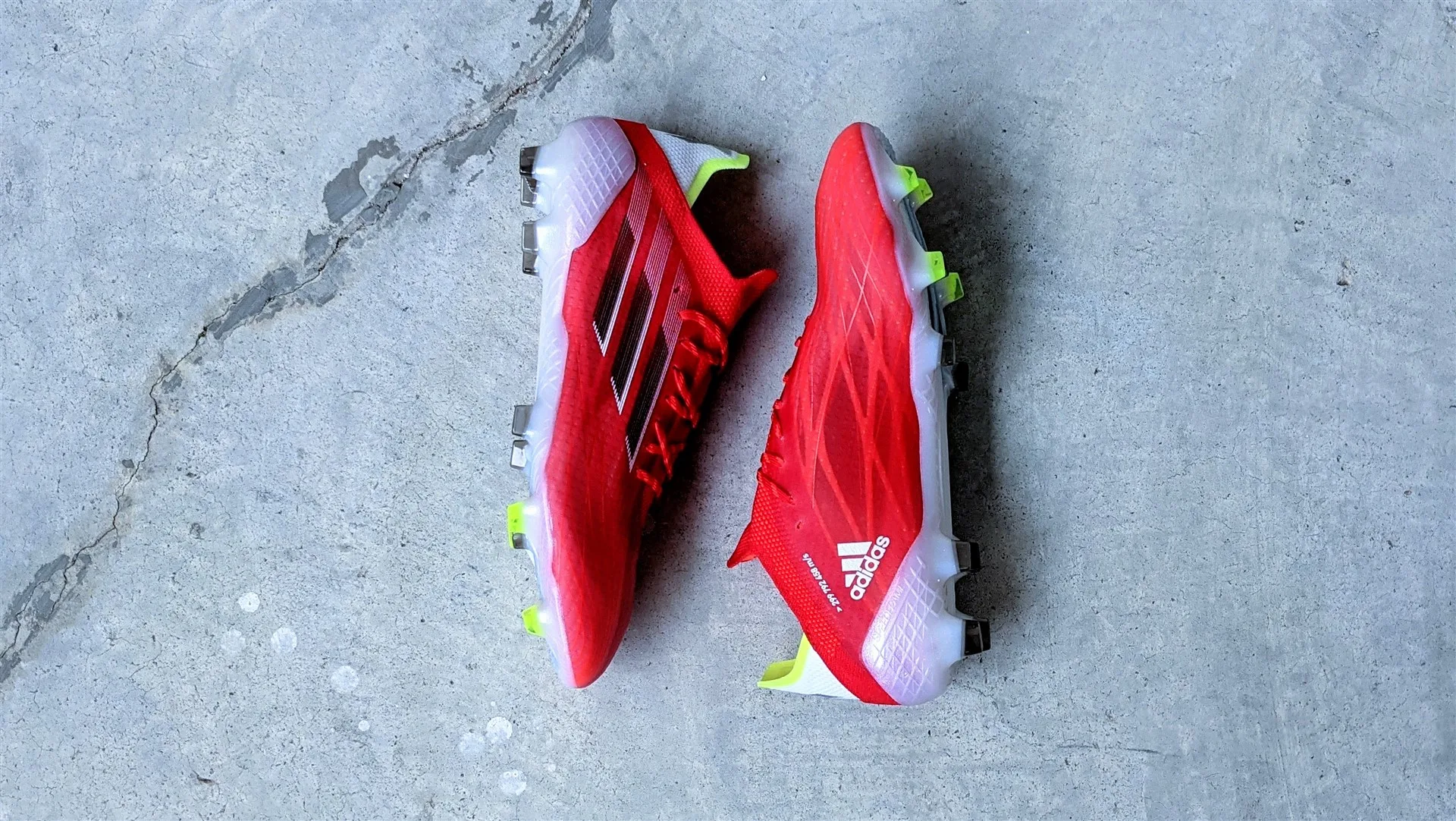 Check out the best prices below
The adidas X Speedflow.1 combines speed and comfort.
The adidas X series has gone through a lot of change over the past few years. The German boot maker was always in two worlds about what they'd like to see in their premier speed boot category. For the most part, they've eschewed the weight wars and focused on building a speed boot with comfort in mind.
This was a really popular move but just a year ago, the adidas X Ghosted saw adidas return to its more synthetic roots. Fans were divided because while they loved the springy carbon fibre soleplate, gone was the comfort the X line was known for. In its place was a narrower fit and rigid but thin upper.
With the adidas X Speedflow, we thought it was just a cosmetic facelift of the Ghosted, more of the same. Oh how wrong we were.
adidas were done making compromises. The X Speedflow was going to be the best of both worlds.
adidas X Speedflow.1 – Similar looks, different body
We got a review set of the laced adidas X Speedflow.1 from the good people of adidas and upon unboxing, I wrongly thought "This looks just like the X Ghosted. This is just a fancy marketing rebrand".
And then you get your hands on that upper and everything feels different. adidas changed the entire upper, which was the problematic bit of the X Ghosted. While in the previous boot, that upper was thin but rigid, they've managed to keep the upper thin but made it softer with a totally new material that felt like a thin textile coated with a silicone layer.
The material is much softer around the toebox for comfort while the midfoot retained some of its rigidity to provide response and lockdown during those quick cut and dribbles. Key to that rigidity and support is a web-like cage that forms the main skeleton of the X Speedflow.1.
Another issue fixed is the mouth and lace area. I had so much trouble putting on the boot in the X Ghosted due to its entire rigid upper but that is a thing of the past. The X Speedflow.1 now sports an exposed stretchable knitted lace area and tongue for easy entry and a comfortable fit.
And last but not least, adidas kept the carbitex soleplate which provides that springy sensation to propel you forward. This was the best part of the X Ghosted and we're glad it made a return.
The adidas X Speedflow.1 fits very wide
While the X Ghosted fit narrow to moderate width feet, the X Speedflow.1 sees a return to a wider fit. That knitted lace area and tongue were key to helping the boot stretch really wide as you put it on.
Unlike previous Xs, this is one of the easiest boots to put on, even when I had them half a size smaller. Despite the smaller size, you'll soon notice how spacious that toebox is. It's pretty obvious too to the eye as you might notice a bump around that toebox, so imagine what that would feel like at your regular size. At half size down, that toebox is comfortable with a bit of room to wiggle without feeling too large.
So for most who want a comfortable fit, even with wide feet, go half size down. If you want the skin tight, snug speed boot fit, I'd dare say you can even go a full size down. Even at a full size down, I expect the X Speedflow.1 to remain comfortable due to the stretchy lace area and that soft, silicone upper.
Where speed and comfort meet
I mentioned previously about how easy it was to put on the boot but one pretty underrated aspect of the X Speedflow.1 was how comfortable the tongue was against my foot. The X Ghosted had the issue of a stiff plastic tongue cutting into your flesh but with a soft knitted tongue in place here, you get no such discomfort.
Like any speed boot, this feels very light on feet too, weighing in at 201g for a US9 model. Combined with that carbitex soleplate, I felt as nimble and agile as a cheetah with my footwork, whether it's a straight dribble or spinning past a defender. That midfoot also cradles your feet when making sharp lateral movements without compromising comfort.
I'm not the most explosive player so it was nice to feel fast on my feet – all with good traction and no stud pressure on artificial ground (AG)
Lockdown is also pretty solid, aided by the large cushioned pods around your Achilles heel to keep the back of your foot planted. A quick note about those pods. Its implementation was close to perfect in the adidas X18/19 that provided comfort and lockdown.
adidas messed with the formula in the X Ghosted, making them smaller and placed higher too which made it less comfortable for players. I'm glad that they decided to revert to the original formula for the X Speedflow.1
That silicone upper is something else
But what makes this boot special is that silicone upper, especially around the forefoot. To my surprise, I loved the unique sensations it provided. It's softness meant that I never got my toe bruised like with other speed boots.
Due to its thinness, I still felt close to the ball though it had a light springy sensation when it came to the touch, thanks to the nature of that silicone. I quite liked it as you balance the close touch associated with speed boots with a tinge of comfort.
This also meant that the sting of the ball when striking hard is reduced, but you still have a semi-barefoot feel when dribbling, passing or receiving the ball during your game.
I still wouldn't recommend getting stepped on. Stay nimble and avoid those tackles.
The adidas X Speedflow.1 is the Perfect People's Speed Boot
I am genuinely surprised by how much I like the adidas X Speedflow.1, considering I'm not really a "speed boot" kind of guy. The boot ticks so many boxes. It's got supreme comfort (and I mean, supreme) and an accommodating fit for our wide footed brothers and sisters while still providing all the features you expect in a speed boot (traction, springy soleplate, lockdown, thin upper etc.).
Comfort and speed boots don't usually go hand in hand but adidas have done it in 2021. This amazing boot also cushions the blow of losing the Nemeziz line which had its following due to its wider fit and speed boot-esque features.
Now, if adidas only reduced the toebox size a little, I think we'll be talking about an instant classic that will be fondly remembered in years to come.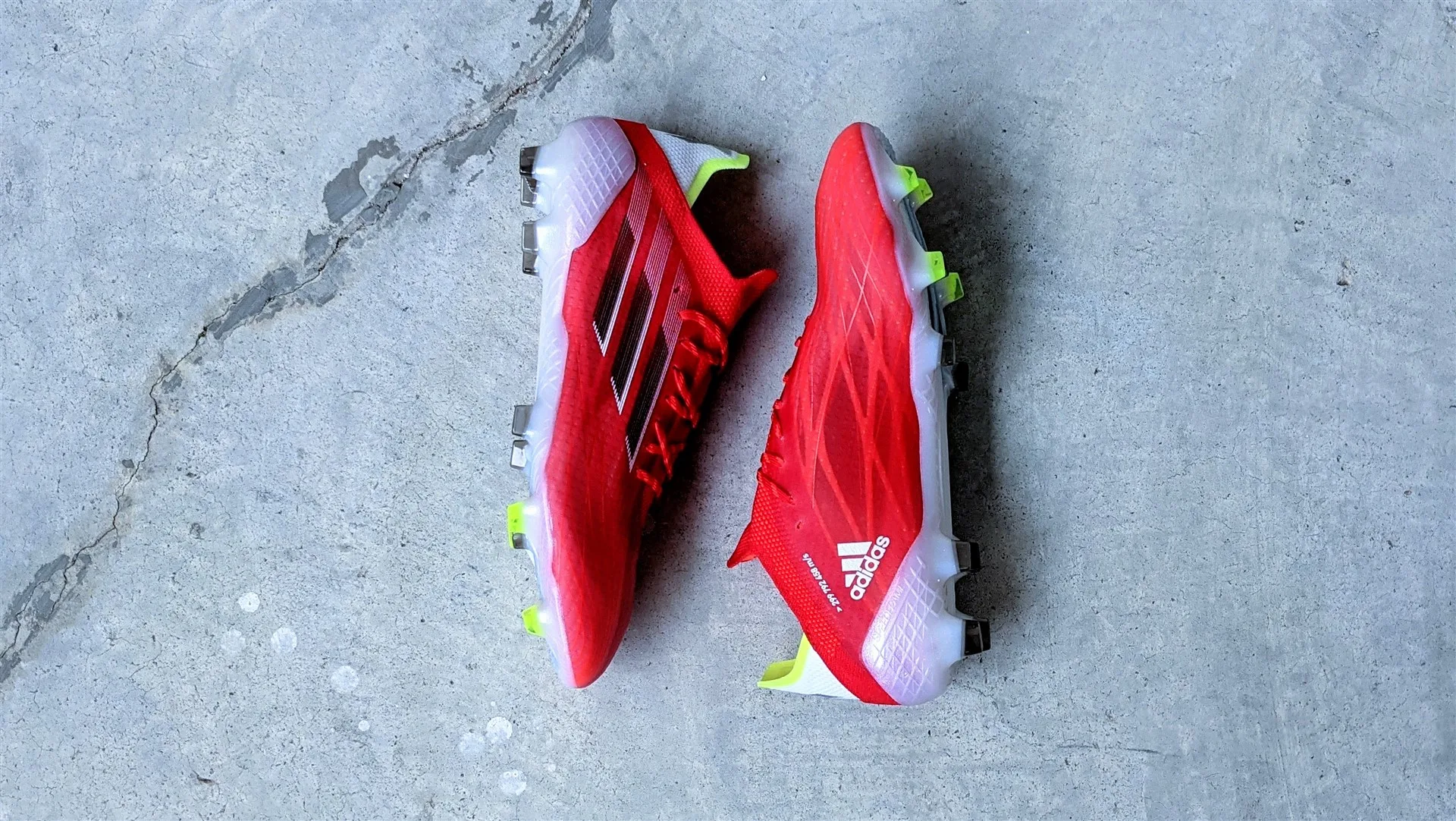 Who is this for?
Wide footed players who want a high performance speed boot.
The Good
Good looks
Accomodates wide feet
Comfortable all round
Feels light on feet
Close touch on the ball
Excellent lockdown
AG-friendly studs
Good traction
The Bad
Too much space in toebox
Check out the best prices below