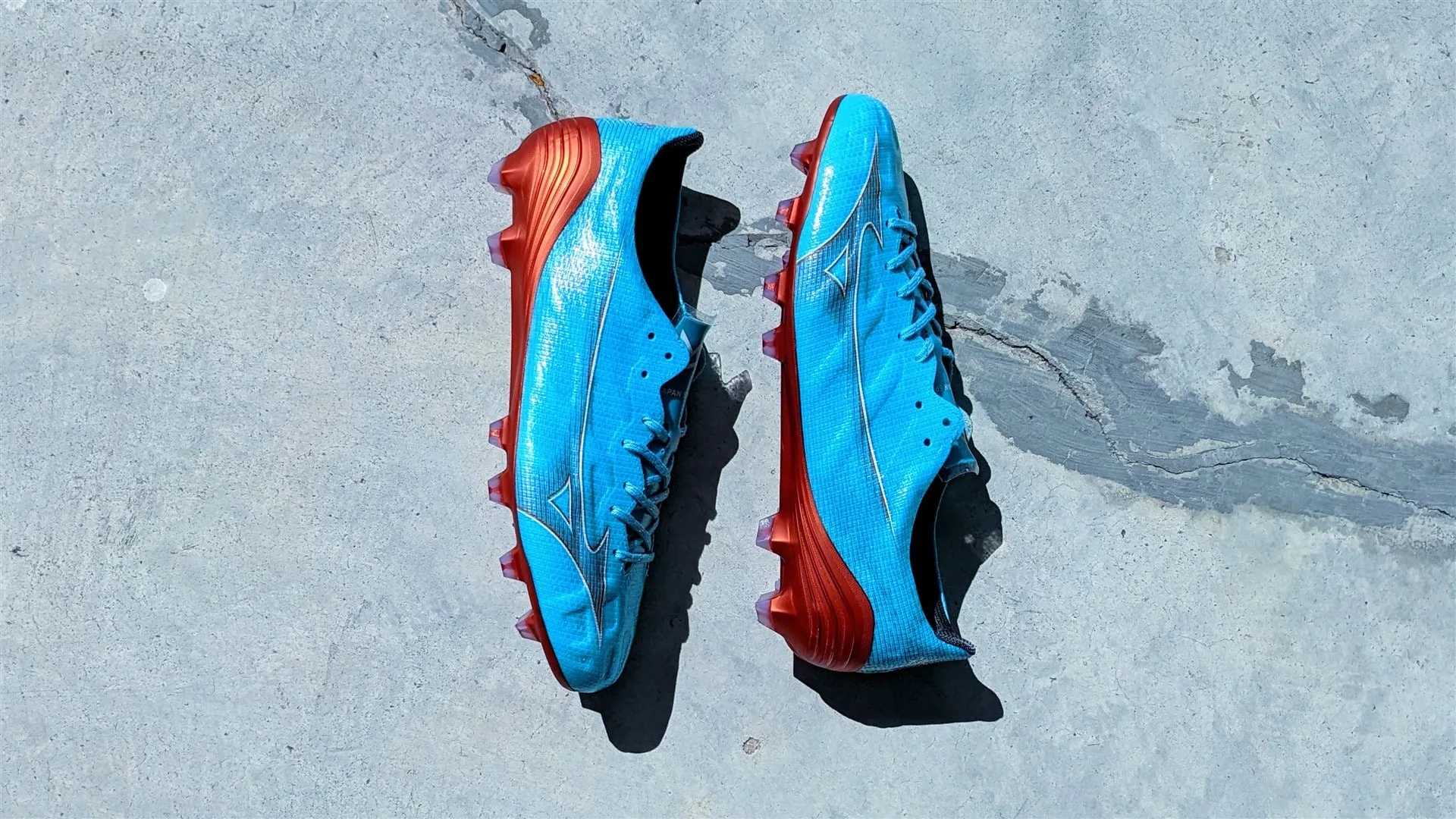 Check out the best prices below
The speed boot category just found its new king
Some concepts sound so disastrous that you expect failure even before launch. Rafa Benitez at Everton. Pep playing a Champions League final without a DM. England not choking at an international tournament.
So when I first heard that Mizuno's replacement for the excellent Mizuno Rebula series (the Mizuno Rebula 3 is a personal top 3 boot) was a thin synthetic boot with bladed studs, alarm bells rang. It was a 180-degree departure from the Rebula series, which was built on the idea of a modern leather boot. It also didn't help that Mizuno's previous synthetic "speed" silo, the Basara, was bang average.
But hey, we're always happy to see more innovation in the boot world, and if Mizuno's Japanese craftsmen want to bring something new to the table, we're ready to lace up.
Mizuno brings their "A" Game to the Alpha
When it came to building their first synthetic speed boot in nearly a decade, it was clear that Mizuno was not messing about. From the upper to the tooling, the entire boot is stuffed to the brim with technology.
The Mizuno Alpha uses a unique five-layer upper that is heat-pressed together to provide durability whilst remaining thin and pliable. An extremely thin and pliable woven textile material is fused with overlays to create added texture on the upper. Then there's also an inner foam skeleton, reminiscent of the Rebula 3 but much thinner, to provide structure and stability. Lastly, Mizuno has also added their Zeroglide technology to line the inside of the boot for additional grip and lockdown.
With the tooling, the KaRVO insert, last seen on the MiJ Mizuno Morelia Neo 2 Beta, makes a comeback to provide additional spring in your step.
We've also long suggested that Mizuno missed a step by not incorporating their running technology into their boots like ASICS does with Gel. Mizuno has finally answered the call by adding a small amount of their running foam, Mizuno Enerzy for additional comfort and shock absorption.
And then there's the look. Mizuno have really stepped up their game to make the Mizuno Alpha look like it oozes speed. Maybe it's the new outside foot logo placement that brands seem to favour for their speed boots. Maybe it's how low profile it looks. Maybe it's that slightly translucent upper. It's 100% placebo, but definitely makes you feel geared up for burning your next victim.
Go half size down in the Mizuno Alpha
Mizuno's most recently updated their boot last (a boot mould, for the uninitiated) in 2020. Since then, I've found myself going down half size from my usual US9 to a US8.5 in all their boots including this Mizuno Alpha.
Weighing in at 190g, the Alpha is one of the lighter speed boots on the market, but what really separates it from other speed boots is its incredible fit.
The Mizuno Alpha also goes against the speed boot grain, skipping the one-piece upper for a traditional tongue construction withdeep lacing. This is brilliant, because it provides a very customizable fit and easy entry, adapting easily to your foot shape regardless of width of foot. The only minor blemish comes from the heel. Perhaps due to the lower than usual heel cut, I felt a slight lack of security there. Nothing a runner's loop can't fix.
The most responsive Mizuno boot available
Arguably the biggest compliment I can give the Mizuno Alpha is that you just forget that it's on you and it feels like an extension of your foot. Part of this is down to the excellent fit and lightweight, the other part is thanks to that incredibly thin yet responsive upper.
The foam cage works extremely well with this new synthetic upper, providing some dampening while providing structure. Interestingly, this doesn't add or make the boot feel bulky.
As you'd expect from an upper this thin, the touch on the ball is extremely raw, and there really is no room for error with your technique. Strike the ball right and you get that satisfying ping into your team mate's feet or into the top corner. Hit it slightly off… and you'll probably have to settle for a throw in instead.
Brand new tooling, same familiar performance
One of the things I was most worried about was the new stud pattern on the tooling. Mizuno boots have a perfect track record when it comes to the BOOTHYPE stamp of approval for AG use, and those new triangular studs had me worried.
Thankfully, it performs extremely similar to the Neo 3, perhaps due to the stud placement. You do feel a bit more bite when pushing off, but it's only slight and I wouldn't worry about it. The same also applies to the Mizuno Enerzy foam – I didn't feel it while running but I did feel less tired on my feet after games.
And then, there's Mizuno's answer to Carbitex, the KaRVO insert. We've seen Mizuno and other Japanese brands use it before, and we absolutely love what it brings to the table.
For me, that additional spring from the insert is what elevates it from a great speed boot to the head of the table. Yes, you do need to get used to it as it can be quite stiff at first, but once you get the hang of it, you notice its absence when switching to other boots.
The Mizuno Alpha is the King of Speed
New silos are always tricky. Even if they tend to perform well, there's always a few teething issues on the boot that requires ironing out. This makes what Mizuno has done with the Mizuno Alpha feel extra special.
Not only have they created a new silo that has a ton of technology, the boot works well with little faults – all on their first try. That new synthetic (not leather) upper is on par, not just with the best speed boots today, but can compete with the all-time greats in history, such as the OG adiZero leather or the Nike Mercurial Superfly 4.
There is a point to be made that the Mizuno Alpha's price is on the steeper side outside of Asia. We're happy to direct you to our good friends at Tokyo Football (based in Singapore) who sell it at a much reasonable price than what some of the European retailers are charging.
Price aside, Mizuno have truly created something special with the Alpha and I for one am more than happy to acknowledge it as the current head of the speed boot table. Well played Mizuno.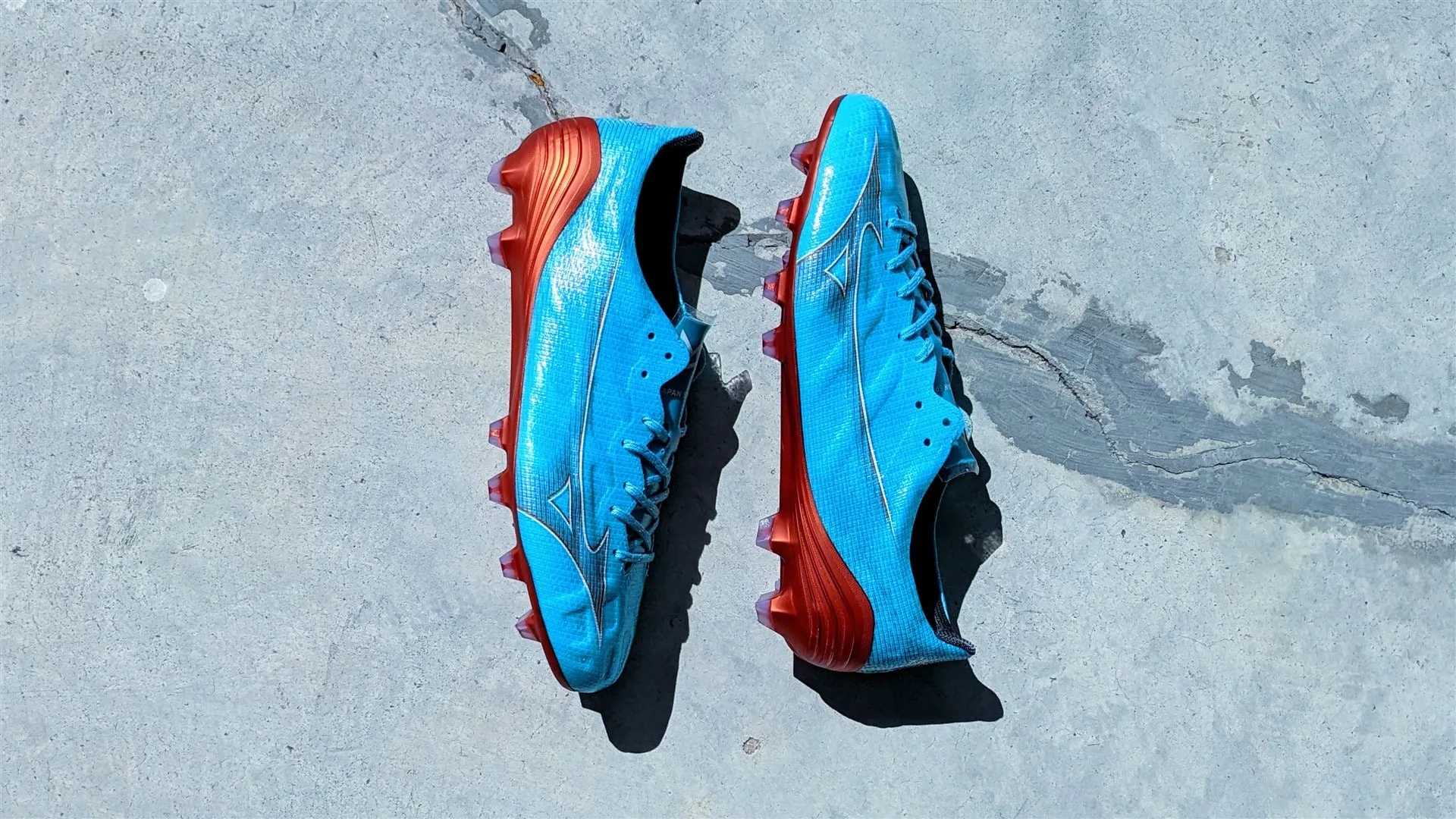 Who is this for?
Players who want a lightweight and thin boot that feels fast yet comfortable on feet, with a nice bit of responsiveness
The Good
AG friendly
Fits both wide and slim feet
Thin yet structured upper
Responsive tooling thanks to the KaRVO plate
The Bad
Price of USA or Europe retailers
Stud pattern could be more aggressive
Ankle area can feel loose due to the lower cut of the boot
Check out the best prices below