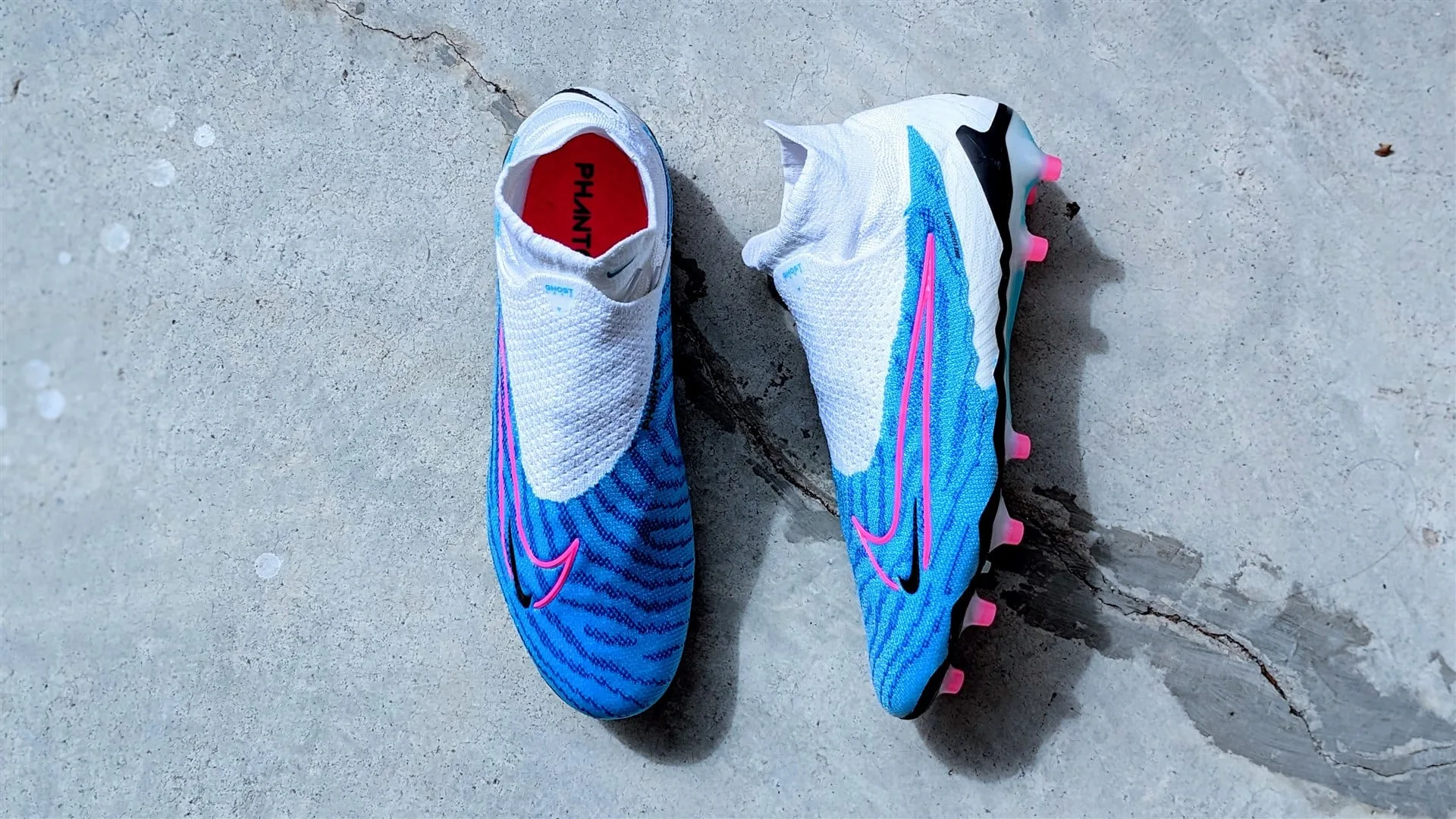 Check out the best prices below
A milder Nike PhantomVSN
I've always thought the Nike PhantomVSN was one of Nike's underrated great innovations. Quadfit provided comfort and amazing fit. I loved the Ghost laces that ensured you never had your laces come undone while providing a clean striking zone.
Wasn't so keen on the inner sock but that gravelly textured upper was divine in providing a lot of grip without having you modify your technique on the ball.
I thought it looked wicked too but the price point made it out of reach for most who were slightly interested (approximately $50 more than a Superfly).
With the launch of the Nike Phantom GX, the boot looked every single bit like the VSN from 5 years ago. I was going to be reunited with one of my all time favourites, or so I thought.
Exploring the Phantom series
Since the Nike PhantomVSN, the Nike Phantom series was all about grip and control. The VSN 1 and 2 featured a highly textured and coarse upper to provide friction on contact with the ball.
It was succeeded by 2 generations of the Nike Phantom GT (though both generations were almost identical). They too had a textured upper but any form of grip was highly non-existent. The fit was uncomfortable which consigned our pair to the storage unit as one of the worst Nike boots in recent years.
With the Nike Phantom GX, it bears the look of the PhantomVSN 1. The boot is built with 2 layers – an inner compressive sock and an outer knitted layer which promises grip around the fore and mid-foot. But there are some subtle changes under the hood.
That inner sock layer is comfortable and stretchy and feels more premium this time around vs the VSN. The outer layer is where it gets more interesting. Nike developed Gripknit yarns which they claim "is soft and pliable but has a grippy sensation that footballers love. It also offers unique weatherization benefits: The way the Gripknit yarn is melted and coated, it protects the knit from getting wet without having to add extra coating materials (skins) for weatherization, allowing the player to have a better boot-to-ball connection."
You'll notice swirly designs on that yarn which looks like a fingerprint. The fingerprint was a source of inspiration for providing grip and contact.
Having got ourselves the high cuts, Ghost Laces are back where the upper layer covers the entire lace area to give you a clean strike surface and to keep your laces tied and secure.
The Nike Phantom GX looks sleek and a visual step up from its Phantom predecessors of the last few years.
The Nike Phantom GX is really tough to put on
You can't imagine the battles I had with the Nike Phantom GX when it came to putting it on. A few minutes on the floor, a shoe horn and several expletives later, my feet slipped into the boot. If the experience were any tougher, I would have turned into one of Cinderella's step sisters trying on the glass slipper.
It did get easier to put on with more wears as the mouth got seasoned to my size but the thought of battling with the boot again just puts me off. This, for me, is reason enough for you to go with the lower cuts instead of the high.
Sizing wise, I went half size down which may explain slightly the struggles I had wearing it. The reason I went half size down is that the boot is slightly long with a bit of excess around the side of the big toe. Going half a size down reduces these 2 spacing issues. The heel and midfoot fit really well and they accommodated my moderately wide feet too.
Minimal grip with the Nikegrip yarn
As someone who adored the PhantomVSN, I loved that the touch on the ball didn't feel too different on the Nike Phantom GX. You get a close but slightly padded touch that comes from having 2 thin knitted layers between the ball and your feet.
The lockdown from having those 2 layers is also solid when you twist and turn to receive the ball from all angles. Playing my usual role as a goalpoacher, I was often tasked to make dynamic movements. From checking in and out to bamboozle my defender to diagonal sprints to connect with a through ball, the Phantom GX kept my feet tightly cocooned like a warm hug.
In terms of the grip, I was a little disappointed with the Nikegrip yarn. On a spectrum from 1-10, I'd put the adidas Predator 20.1 as a 10 for being the grippiest boot I've ever worn due to tall those rubber fins. Though it did force me to change my technique to accommodate all that grip. My favourite PhantomVSN was a 7.5 – a lot of grip but you didn't need to modify your technique for when making contact with the ball. It was perfect.
The Nike Phantom GX, however, is a 2 at best. It's not very grippy to the touch. In fact, I think Nike has oversold it. It does provide a slightly waxy sensation when you touch it but if you're expecting grip like the other two boots I mentioned, you're going to be disappointed.
Incidentally, I scored quite a few goals in them though. The grip doesn't stand out when making those passes or strikes but they act like drive assist technology in cars. It doesn't make you a better technician on the ball but it just guides you along to polish out any rough edges you have with your technique.
You still have to rely on your technique but it just ensures a tiny bit more friction during contact.
Somewhat AG-friendly
Considering we almost exclusive play on artificial pitches in Singapore, I had to get myself a pair with an AG soleplate from our friends at Tokyo Football. The AG soleplate carries some similar designs that the mass FG sole has, namely the "X" structure around the midfoot. In theory, it is meant to help with agility – flexing when you make those pivots and changes in direction. I didn't feel too much of that.
The FG studs have a mix of conical and aggressive angular studs though the AGs have an 8×4 distribution of hollow conical studs to help with ease of movement and stud pressure on artificial grounds which are shallower and harder.
This works in theory but the AG studs are pretty long for AG and would only work on much thicker and denser AG grounds. If you're playing on shallow AG, you might want to give this a miss as you may be overcome with stud pressure as I did. There were no issues with manouvrebility, just massive soreness if you play on shallow surfaces.
Phantom Grip
I am torn about the Nike Phantom GX. It is an improvement on the Phantom GT due to the comfort and feel of the boot. But I have been pining for the PhantomVSN and this isn't entirely it. The GX is a VSN with a better quality sock but less grip. I didn't care so much for the sock but I really wanted to believe in the grip.
You can't advertise "Nikegrip" without delivering on what was promised.
Overall it still is a good boot though I'd recommend the low cuts for ease of entry. If you've never owned the PhantomVSN (majority of players never did, I'm sure), then the Phantom GX might be a good option for you.
But for me whose heart was captured by the VSN, you might be better off dusting off your VSN and donning them in your next game. I know I will.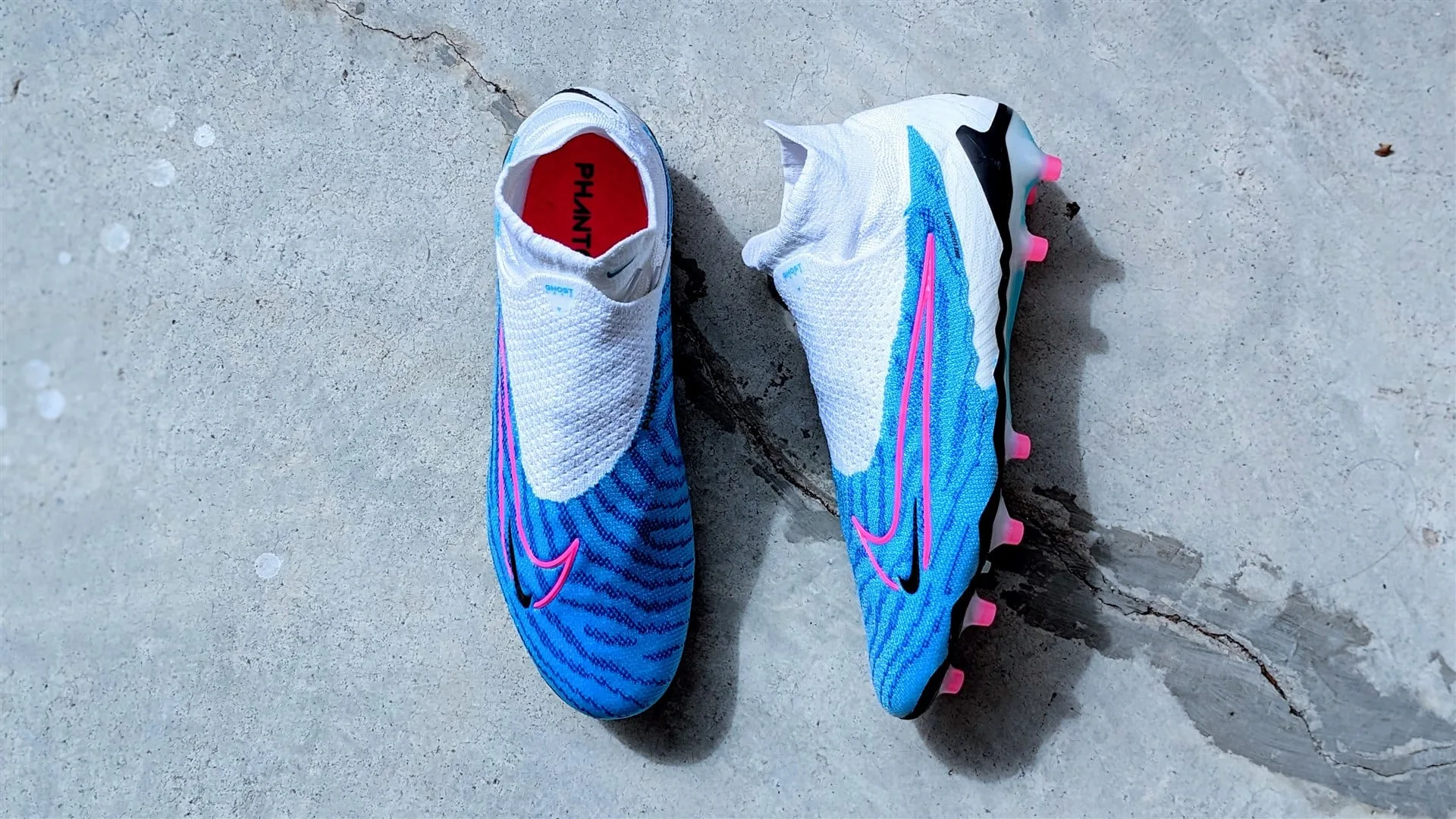 Who is this for?
Players who want a comfortable football boot with some minor grip elements.
The Good
Great looks
Clean strike zone
Laces never come undone
Comfortable fit
Great lockdown
The Bad
Tough to put on
Not enough grip
AG studs too long for shallow pitches
Check out the best prices below