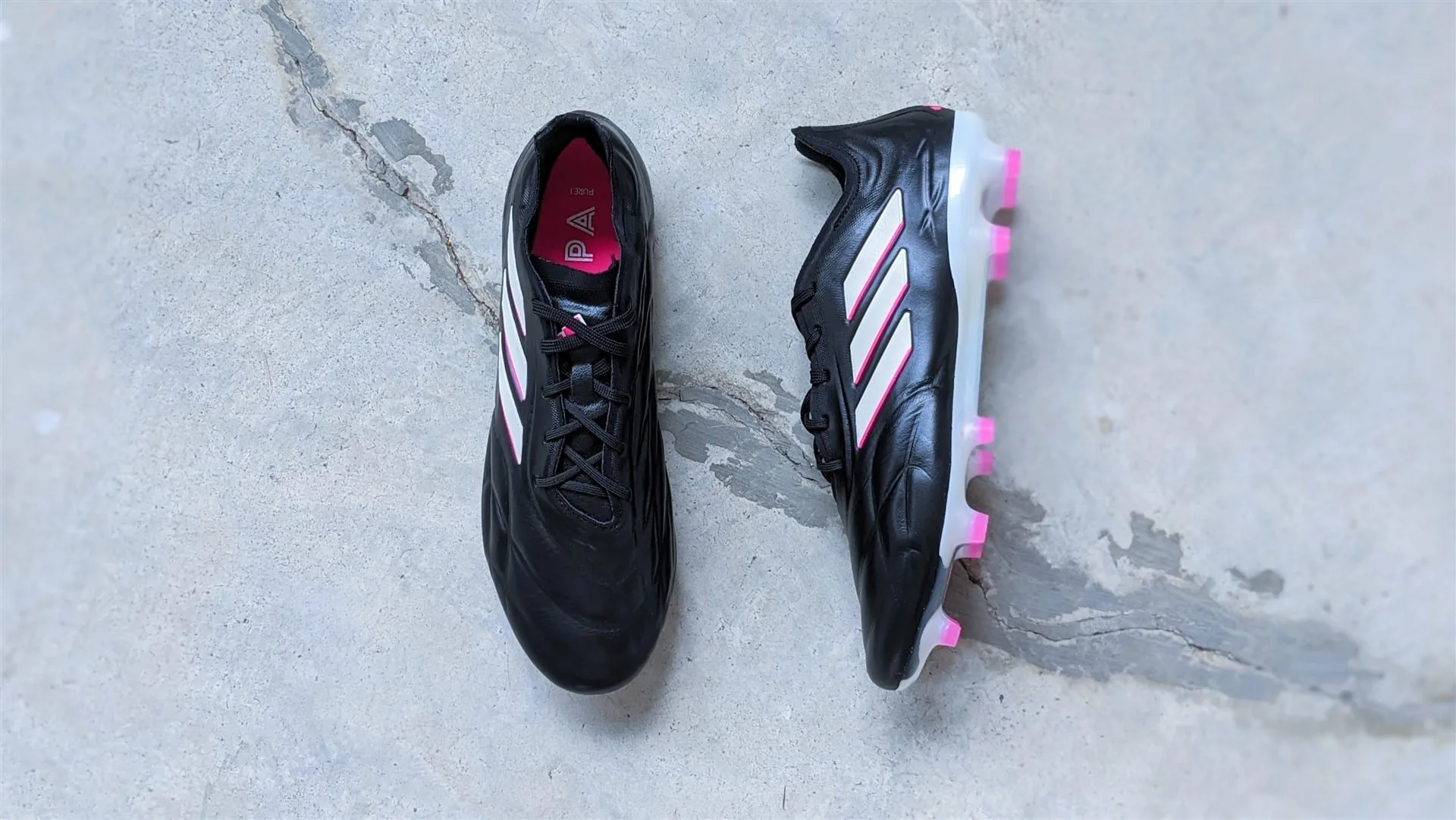 Check out the best prices below
A leather boot that finally appeals to the masses
adidas has had a big challenge in recent years with their leather boot line – the Copa. As the granddaddy of the classic leather boot, the adidas Copa Mundial, they've always been under pressure to innovate in this department despite how the industry has moved towards synthetics and knit.
It's been a Goldilocks case with how many fans have perceived their Copa line in the last few years. With the adidas Copa 19, it was a highly unique thick and pillowy upper that I absolutely loved. Some boot lovers found it too thick and bemoaned that burrito tongue. Then came the adidas Copa Sense 2 years ago. It was too hard and dense for leather boot afficionados though I liked how it was a tank on the field.
With the new adidas Copa Pure .1, Goldilocks has found the football boot that is just right.
The adidas Copa Pure .1 keeps to the basics
In hindsight, I think adidas is to be applauded for trying out something new the past few years. There is only so much you can do with leather boots and the good ones all feel relatively alike to one another – soft, luxurious padded uppers that stretch nicely across your feet.
It's the same formula and adidas wanted to be different. I respect that. But perhaps the leather boot fan knows what they want and want more of the same, and so adidas has relented with the adidas Copa Pure .1. Almost.
You get a soft leather forefoot while the midfoot is made up of adidas' "Fusionskin" technology which is faux leather meshed with their textile material. Leather enthusiasts will be up in arms that the leather is only around the forefoot, and it's not even kangaroo leather – it's calf leather.
For me, I don't care as much as the forefoot remains soft as is the midfoot. And perhaps the woke side of me feels less and less comfortable having animal parts used for my football gear the older I get. So going with less organic leather and including more faux leather does make me feel more socially responsible.
And it all comes in a package that looks absolutely modern and sleek. The boot looks long (and it is, more on that in the next section) which reminds me of a dangerous jungle cat and a sports car. I love the slanted 3 stripes as well though I'm not the biggest fan of how the textile heel collar sticks out.
The adidas Copa Pure .1 is long – go half a size down
The adidas Copa Pure .1 is pretty light too at 228g in adidas' size US9/UK8.5, a half size down from my usual US9.5. Some may expect a leather boot to expand but with the more synthetic midfoot, I don't expect it will too much.
The boot's got an average width but can accommodate slightly wider feet due to its more traditional lacing system, complete with a thin but cushiony tongue for comfort. I wasn't a fan of the raised heel collar but it helps a lot to pull myself in as the boot fit snugly around the heel and midfoot.
I previously mentioned that the adidas Copa Pure .1 looked long. It doesn't just look long, it is long. I still felt a comfortable bit of toe room space even in this smaller size.
So I'd recommend going a half size down to manage the length and to rely on the lacing to adjust to the width of your feet.
Pure leather heritage
The adidas Copa Pure .1 performs exactly how I expected it when I touched it out of the box. The boot is soft and padded all around (the heel area feels lovely) but not the overly stuffed Sultan's pillow that the Copa 19's upper was. Despite the critique of the use of calf and faux leather by purists, I didn't feel too much of a difference and I didn't care too. It feels like and matches a lot of the top leather boots out there in terms of its feel and performance.
You get a nice padded sensation that aids with cushioning your first touch and takes the sting out of your strikes – exactly what a good leather boot does.
However, one difference is the addition of grip texturing on the instep. It's a good idea but you don't get enough grip to create extra spin like you would do on a classic Predator. I wished adidas did more to provide more effective grip elements but I also understand that they didn't want to overshadow the star of the show – the leather. Still, it showed what adidas is capable of with their Fusionskin technology – and it whetted my appetite for more innovations in this space.
Having worked with a podiatrist recently, I've come to also learnt the virtue of having space for your big toe to stabilize yourself. The extra wiggle room around a soft toebox was quite welcome when I needed to stub my toe downwards for extra balance in shoulder to shoulder tussles.
With the boot being a very snug fit, expect lockdown to be excellent when making those lateral movements. This comes, not just from the fit, but also the structured form of the Fusionskin that could be seen making those wave-like patterns across the upper which aids in keeping your feet secure when twisting and bursting past an opponent.
Nemeziz sole
Speaking of movement, the soleplate plays a big role here.
If that FG soleplate looked familiar, it's because it was the soleplate of the now-discontinued adidas Nemeziz 18.1 (wow has it already been 5 years?). You'd be able to recognise the moon-shaped studs which were very unique to the older Nemeziz model.
It's a stud pattern that surprisingly served me well on artificial ground. It looked long but didn't seem to cause much issue and stud pressure on most AG surfaces. The rounded side of the studs ensured easy twisting and turning while the flat sides of the studs, which face inward, assist with traction when changing direction laterally and braking.
I've seen a few people on our Instagram request for something new and original but I am more than happy to stick with what worked, as I'm not too fussed with soleplates as long as they work well.
An all-round solid leather boot
Despite its idiosyncrasies of their last 2 Copas, I liked them for what they were. I can't say the same for most leather boot fans.
However, with the adidas Copa Pure .1, I believe these are now a strong option for those very fans. The boot is soft and supple, it doesn't overstretch like older leather boots. I do expect this leather boot to also require less work maintaining it due to the Fusionskin treatment, so expect some longevity with the adidas Copa Pure .1.FG
I don't think the adidas Copa Pure .1 will win any awards, but it's just a very good boot all round with good value.
The fascinating thing is, despite all the bits I mentioned about value and performance, I stand stop oogling at how beautiful it looks , especially with the forward slanting 3 stripes (and its light touches of pink). It's a really beautiful boot that merges the old with the new.
If you swear by classic kangaroo leather, give this a try. adidas may just change your mind about that.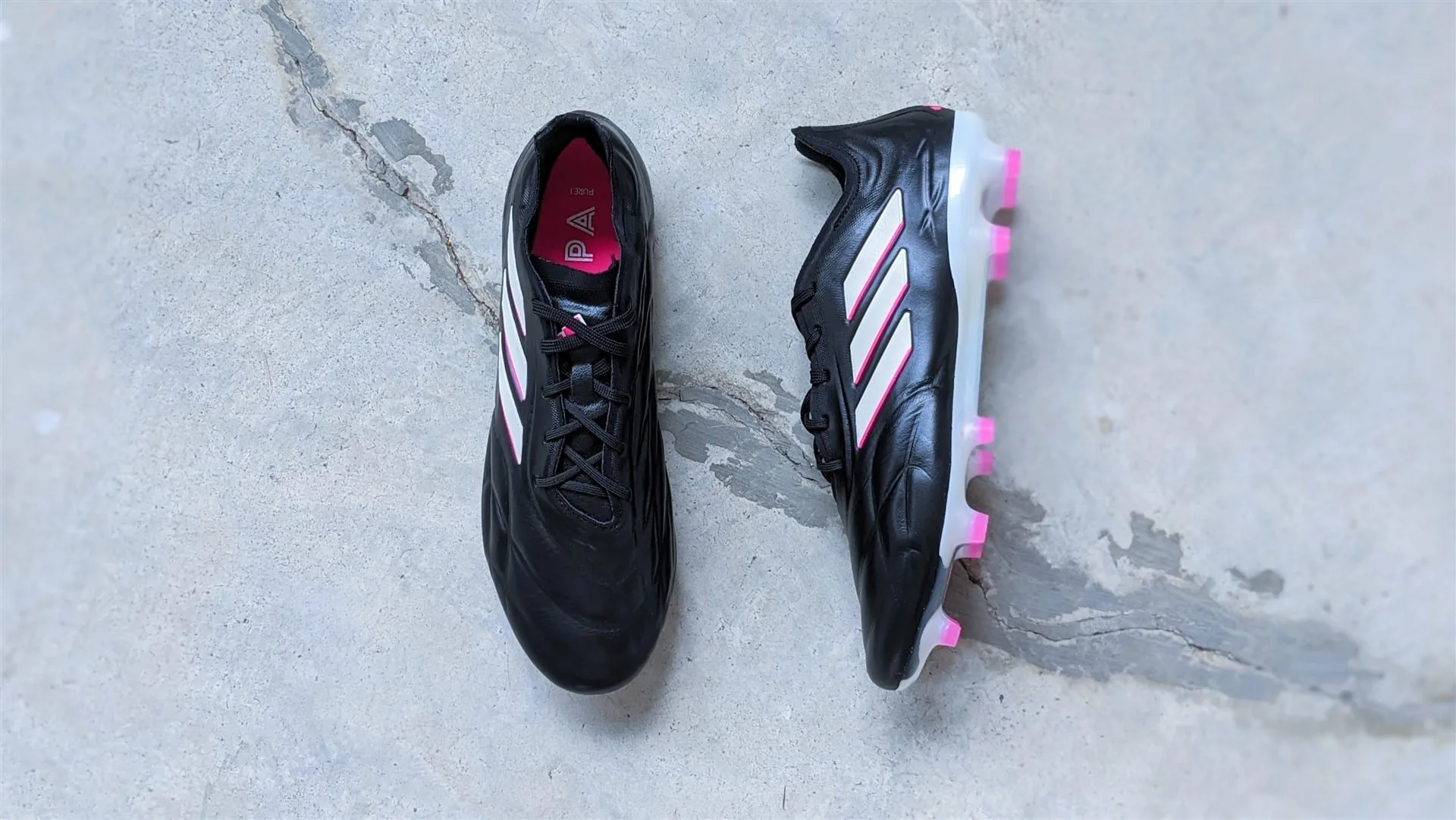 Who is this for?
Players who want a soft, padded leather boot that looks as good as they feel.
The Good
Good looking
Snug, comfortable fit
Secure lockdown
Balanced padded touch
FG/AG compatible
The Bad
Might not fit very wide feet
Grip textures not grippy enough
Check out the best prices below