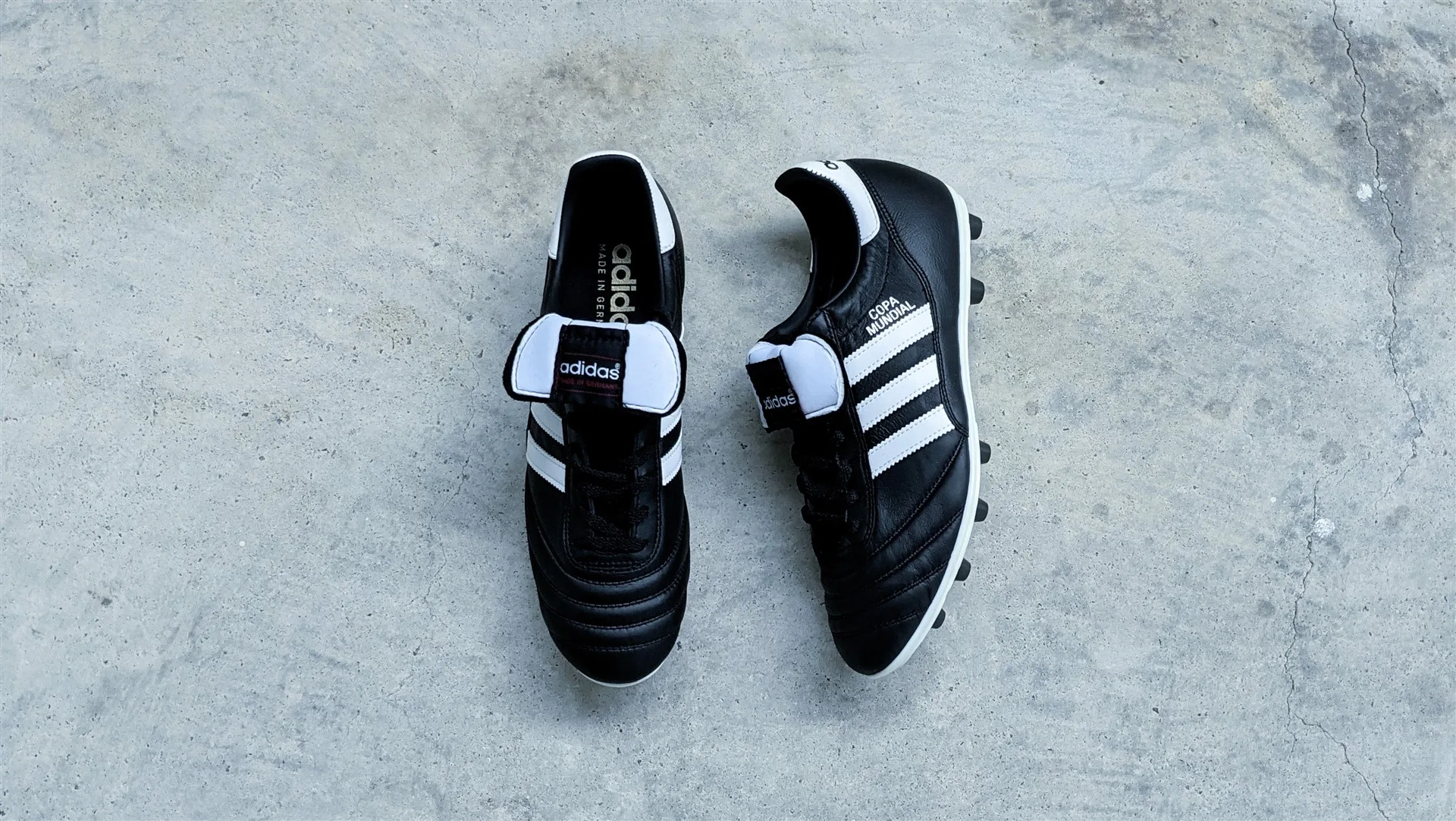 Check below for the best prices
Old is gold with the adidas Copa Mundial.
Estimated reading time: 7 minutes
We are in an age where there are always new marketing innovations (often times, just gimmicks, really) pushed towards us every other month. Tired from all the noise, I was pining for simpler times with my football boots. A time when being solid and dependable was enough to please the player and when black was the only colour of choice on your boots.
It seemed almost sacrilege that after 2 and a half years of BOOTHYPE's existence, we never even reviewed the grand daddy of football boots – the adidas Copa Mundial. 42 years from its original release, we return to a simpler time to see how the ultimate football boot has aged.
Leather love on the Copa Mundial
The adidas Copa Mundial was produced in 1979, in view of making its debut in the 1982 World Cup. The idea of a brand launching a boot 3 years prior to their big marketing event is wild by today's standards considering how boots are launched a month before the World Cup or Euros with sponsored athletes wearing them almost immediately.
Of course, this was before Demonskin spikes or knitted sock boots. Leather was the material of choice back then and the Germans used the finest available to build this boot. adidas has not changed the formula in the Copa Mundial and still produces the boots in Germany.
What you get is a simple, soft leather upper with a simple nylon lining on the inside, a classic tongue construction with cloth on one side and luxuriously soft leather on the other, and a relatively heavy soleplate with conical studs. A pretty basic setup by all accounts.
That said, I love the small touches on the boot which alludes to its German heritage with its gold "Made in Germany" lettering on the insole and the badge on the tongue.
The Copa is HHUUGGEEE
I usually wear US9.5 with my boots and quite often, I go half a size down to get a more snug fit. However, please be warned that the Copa Mundial is a massive boot, length and width wise. I went a whopping full size down to a US 8.5 to get the fit just nice and this was with me tightening up the laces.
I was unfortunate that it rained pretty heavily during my first play test and the boot expanded even more, especially around the toebox. It fits alright but if you really want a snug fit and foresee the boots getting wet, don't even hesitate to go one and a half sizes smaller and loosen your laces accordingly.
Speaking of laces, the boot come unlaced. You'll have to put in some work to get your boots laced up yourself – that's some old school character building and discipline right there. The laces are also twice as long as regular laces so you'll have to wrap the laces around your midfoot before proceeding to tie them.
Putting on the boots is of course a breeze with that classic tongue, which helps the boot to stretch open for your feet to slide in. A quick word about that tongue. The leather on the tongue is mother freaking luxurious. The only time I've felt leather so soft was on a luxury handbag so I'm pretty miffed that I don't see more of such leather in modern boots.
Once on feet, the boots are comfortable and despite weighing in at about 320g (about 100g heavier than the average boot today), you don't really feel the boots weighing down your feet. They feel totally fine and ready for play almost immediately.
My first play test was a wet one
It is said that the Copa Mundial weighs like a ton of bricks when it gets wet – just my luck that it was a wet session for my first play test. It rained earlier that day and the AG pitch was wet. Surprisingly, I didn't feel the boot soak up too much water during my first hour – I felt pretty dry in them.
The performance in the boot is what would would expect from this classic leather boot – a clean and close touch on the ball with a light padded sensation. It's a no frills sensation that gets you to focus on your technique with every ball you receive to feet or when you strike. That soft leather upper eases up and softens quickly and you never feel a hot spot anywhere around your feet like you would with some synthetic materials. The overall ride is very comfortable and you don't get distracted with what's on feet.
For those who may have issues with a floppy tongue, look away. The Copa Mundial doesn't have a strap or velcro to hold it down during the game unless you wrap your laces over it, which beats the point of having a tongue to cover your laces in the first place. I didn't feel it flopping about nor did it provide any distractions but knowing people who are anal about not having their tongue secure, you should give this a miss if you're OCD about the tongue.
The soleplate, despite being pretty heavy and thick, was very flexible and easy to run in. I like my soleplates to have a natural flex and this one did not disappoint. The short conical studs also made it easy to play on AG and kept the traction satisfactory, even in the wet, without being too clingy.
And then it started to rain pretty heavily mid-way through the session.
After the rain comes the overstretching
The touch on the ball didn't feel too different in the rain and it never felt like the boot absorbed too much water that it felt like a sponge was enveloping my foot. The only splotchy sensation came from my pair of socks which was pretty thick.
It was only until I removed my Copa Mundial at the end of the session that I felt the full weight of the boots in my hand. I could have sworn it now weighed a good 500g from all that water. It's pretty curious where all that water went to because that leather isn't thick enough to soak up that much water.
That was proven when I dried my boots overnight by stuffing newspaper into it. The insides of the boot dried up pretty quickly after just 2 changes of newspaper stuffing, as opposed to the 5-7 rounds of stuffing I needed when my much more pillowy adidas Copa 19.1 got caught in the rain. That's quite impressive for a humid environment like Singapore.
As previously mentioned, the boots did expand around the toe box after that first play test but the performance in them remained just as good after – a clean touch and a functional boot that works fairly well.
42 years of solidity – the adidas Copa Mundial
Despite this being a 42 year old boot, I do understand why it has lasted the test of time. It is a solid, dependable boot that works with no fuss or bother. If you're not too bothered by the latest tech or gimmicks and just want something that works well, the Copa Mundial is always a good option.
That said, because of its deep heritage, they do charge a little more for the boot as compared to its competitor, the Nike Premier 2. And keep in mind, this premium in price also means that it is without features that the more modern Premier has such as the velcro tongue, a significantly lighter soleplate and dazzling colourway variants.
The Copa Mundial is strictly for those who want to have the no frills, basic leather setup with a nod to the past. That is in no way a knock on the Copa Mundial. It is a testament to its rich history that there are players out there who would still want to channel their inner Beckenbauer when trapping a lofted ball onto their cultured feet.
Long live the Copa Mundial.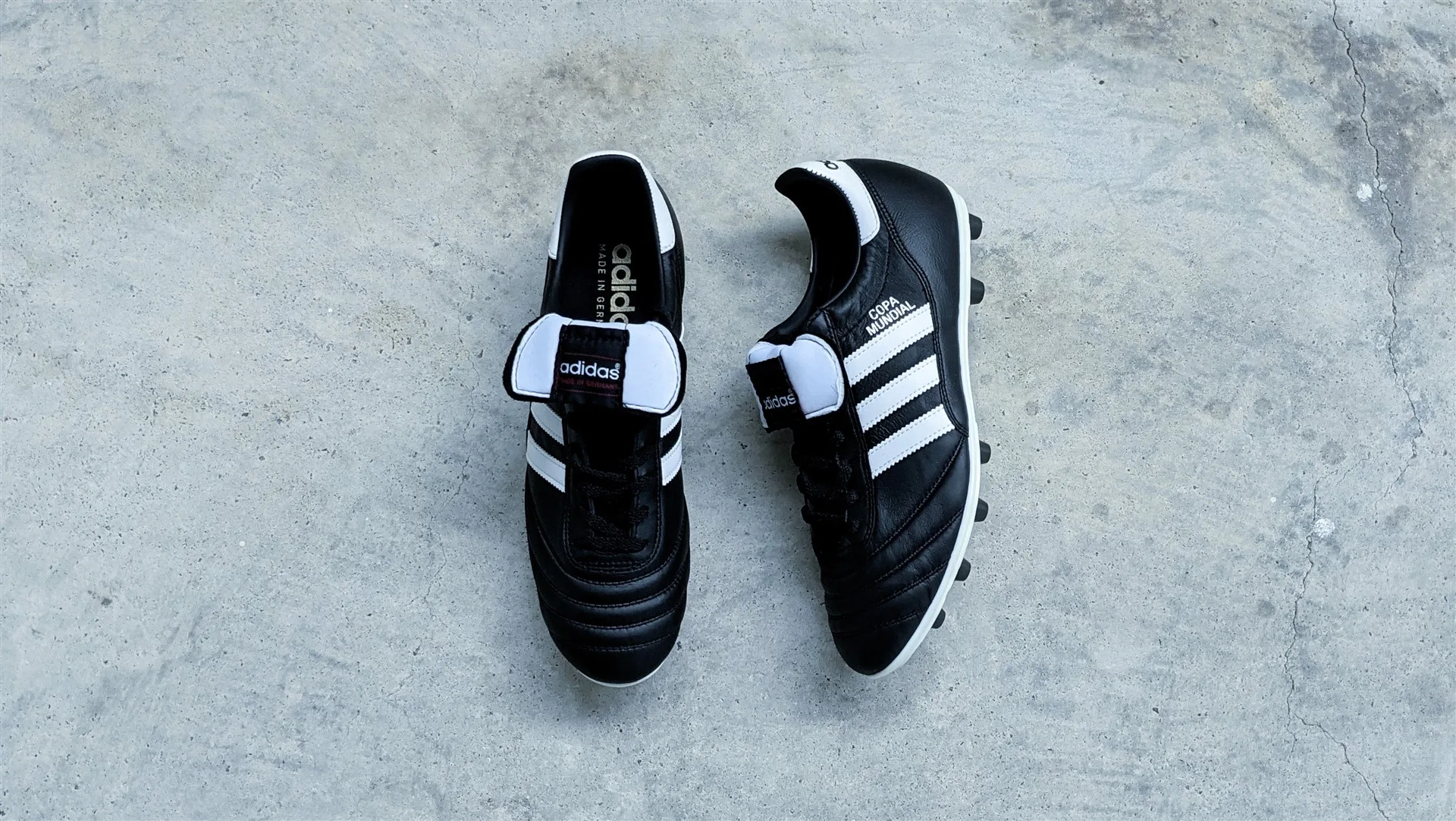 Who is this for?
A must have for lovers of the classic leather boot.
The Good
Clean, crisp touch
Soft, luxurious leather
Classic good looks
Great build quality
The Bad
Heavy, especially when wet
Sizing is too large
Check below for the best prices