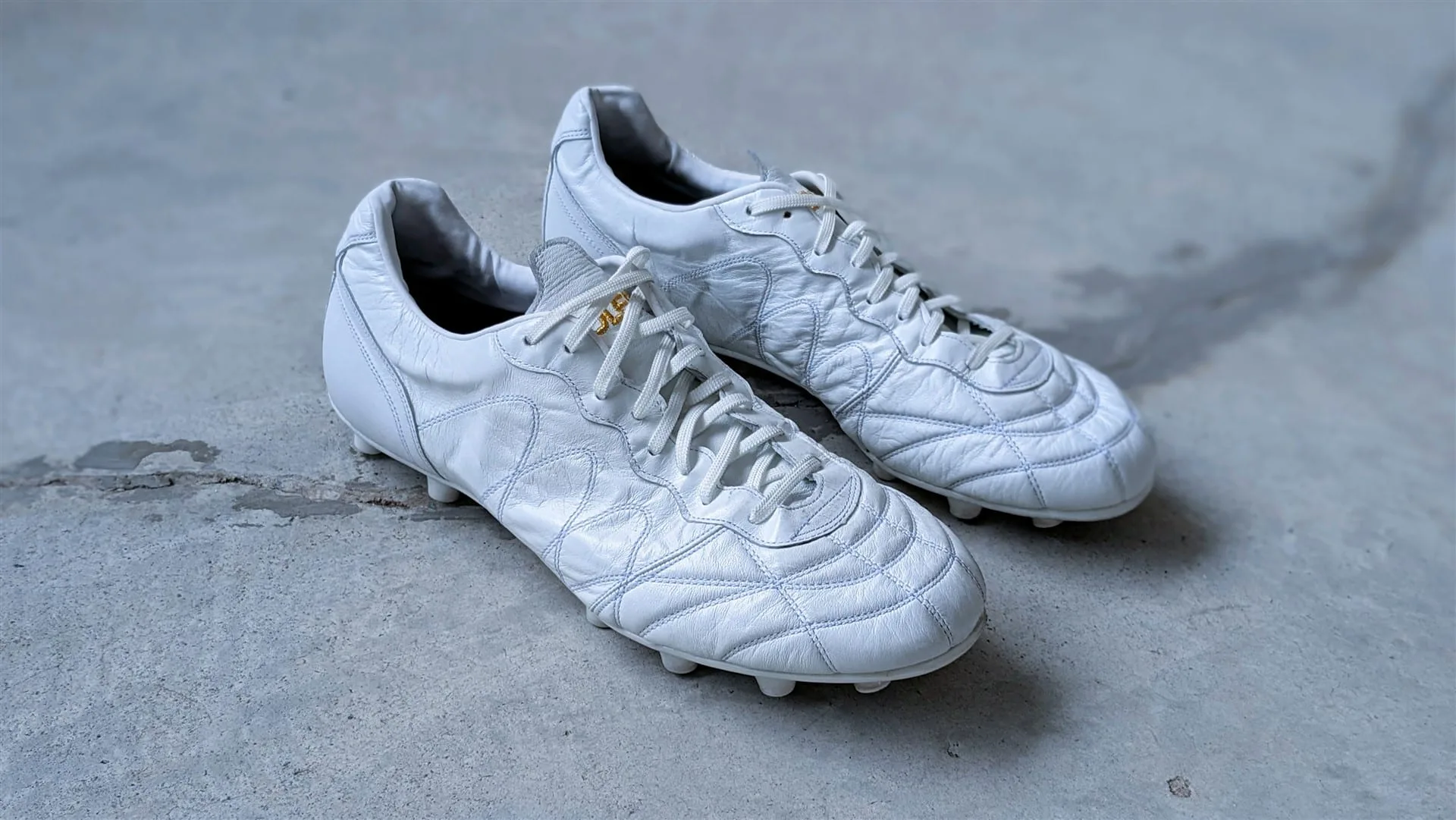 What a modern-day leather boot should be.
After a few exciting years where every brand out there had a legitimate claim for the best modern leather boot, we're in a lull period now. Most brands seem content to have their leather silos take a back seat, producing football boots that are decent but far from exceptional.
Enter Adler, a Japanese football boot maker. They went through a major refresh of their products and now offer four main silos– Yatagarashu, Yamatokyo, Horenso, Jarumakan.
Formerly seen as an inexpensive option for 'Made in Japan' leather boots, the 67-year old brand is now moving into premium territory, levelling up their offerings with modern elements put together by master Japanese craftsman. Our friend Gaijinbootblog has an excellent write-up breaking down each of the individual silos, do click the link to read more about the company.
The Yatagarashu is Adler's most elite option featuring everything they think a player would want in a leather boot. We laced up in it to find out if they got it right.
Yatagarashu is packed with subtle features football nerds would love
If you're an avid reader of our blog, you'll be used to the phrase "under the hood" when it comes to leather boot reviews. That's because most leather boots have their technology work behind the scenes. The Yatagarashu does that, and then some more, combining some of the best practices of leather boots out there, and further elevates it with their own improvements.
The Yatagarashu features a cross-stitched forefoot to prevent overstretching on the super-soft k-leather upper, a wave-fit lacehole system for a more customisable fit when lacing up and a nice deep heel cup for the right amount of heel lockdown.
It also comes with premium Itogo laces, which employ a traditional craft of braided cording that prevents your laces from coming undone during the heat of battle. Unlace the boots, and you'll discover the additional upgrades that makes it stand out from the crowd.
It comes with not one, but two sets of insoles. The default insole comes with a nice amount of cushioning and padding for extra comfort.
The extra insole has all of that, and more. It is produced from a brand called ReaLine and unlike traditional orthopedic insoles, it has no arch support, but a small bump that rests against the cuboid bone, supporting your arch while theoretically helping you generate greater shot power.
Remove the insoles and you'll find the trump card that Adler has hidden in the Yatagarashu – that carbon fibre-esque KaRVO midsole, which adds rigidity for that extra spring in your step when pushing off. It also makes the boot feel more stable, unlike some leather boots which can feel too sloppy on feet.
Yes, it does all the leather bits well too
It really shouldn't come as a surprise when we describe wearing the Yatagarshu as "clouds on feet". The leather is arguably the softest that we've ever experienced out of the box. That softness also meant that there was nearly 0 break in time needed. We warmed up in it and was good to go. It also feels lighter than it really is at 255g in a size US 8.5, mostly due to that thin upper.
Super soft leather boots tend to over-stretch, but not the Yatagarashu. That said, the fit is quite large. I went half size down from my usual US9 to US8.5 but I should have gone a full size down to a US8, to let the leather mold to my feet for a truly one-to-one fit. The aggressive cross-stitch on the forefoot means overstretching is unlikely, although I would have preferred if they had added their logo in the midfoot, for added stability.
For a full leather boot which was really thin, I wasn't expecting the lockdown to be downright excellent. Twists, turns and lateral movements were not a problem and my feet were as securely planted in the boot as you can expect in any football boot.
Much of it, I feel, is down to the aforementioned construction and lacing. Kudos to the Adler team for creating a lockdown experience I've not felt in years.
As you'd expect from a leather boot, you get a very natural touch on the ball, almost like it's an extension of your foot. There's that slight bit of padding that helps to take away the sting when controlling the ball or shooting it, but never to the extent where we'd describe the boot as padded. You get one of the closest touches on the ball for a leather boot.
The best way we can describe the boot, is how it made us feel like Ronaldinho – that extra confidence to manipulate and enjoy the ball in any way you want.
Lastly, it's not something that affects the performance, but out of the box, the boots had that luxurious Louis Vuitton-esque leather smell. Classy stuff.
KaRVO is Yatagarshu's trump card
It's no secret that we're huge fans of the KaRVO technology, a type of reinforced plastic that has similar properties to carbon fibre. We were initially worried that the KaRVO midsole would make the boot feel sloppy, with the soft leather upper not able to stand up to the stiffer midsole. We were pleasantly surprised to find that this was not the case.
The KaRVO is an inspired decision that makes up for the limitations of a leather boot. While shooting tends to feel less crisp due to the added padding in between, the stiffer midfoot means lesser energy loss in transition, giving you more oomph in your shots. And while it's no carbitex insert, the boot definitely feels more responsive and in line with modern day boots when pushing off into those sprints and sharp changes of direction.
Continuing on the theme of oomph in your shots, the cuboid activation technology in the ReaLine insole also contributes to that feeling. I suspect that this is due to the arch being activated, but it's just another example of how various parts of the boot come together to work its magic.
As with most Japanese leather boots, the Yatagarashu comes with conical studs. Nothing fancy, but it gets the job done. Nice comfortable rotation on pitch, with enough bite to ground you when pushing off. It gets the BOOTHYPE stamp of approval for use on AG.
The Adler Yatagarashu is the best leather boot on the market today
There's a saying that the simplest things are often the hardest to do. Nothing encapsulates this more than leather boots where brands must balance fundamentally opposing qualities. Having to keep the leather soft and comfortable, without allowing for overstretch and sloppiness is the biggest conundrum for every leather boot out there, and most brands have taken the easy way out and just gone for a leather forefoot / synthetic midfoot combination.
Adler, however, is not your typical brand. Not only have they persevered with a full leather boot, they've also thoughtfully upgraded the boot with the right modern technologies to serve up the perfect leather boot.
And to their credit, they're very very close to perfection. Like a well drilled team that makes its players play even better than their individual talent due to the group, the Yatagarashu's various elements combine together for in a major way.
If there's any room for improvement, it's that there's still a slight hint of sloppiness within the boot over time, which you don't get with the current king of the hill – the MiJ Mizuno Morelia 2.
But if I were a boot designer for any brand, I'd be looking very nervously at Adler, because the Yatagarshu's successor could very well be that holy grail that leather connoisseurs have been searching for, if it isn't already the premier leather option for players.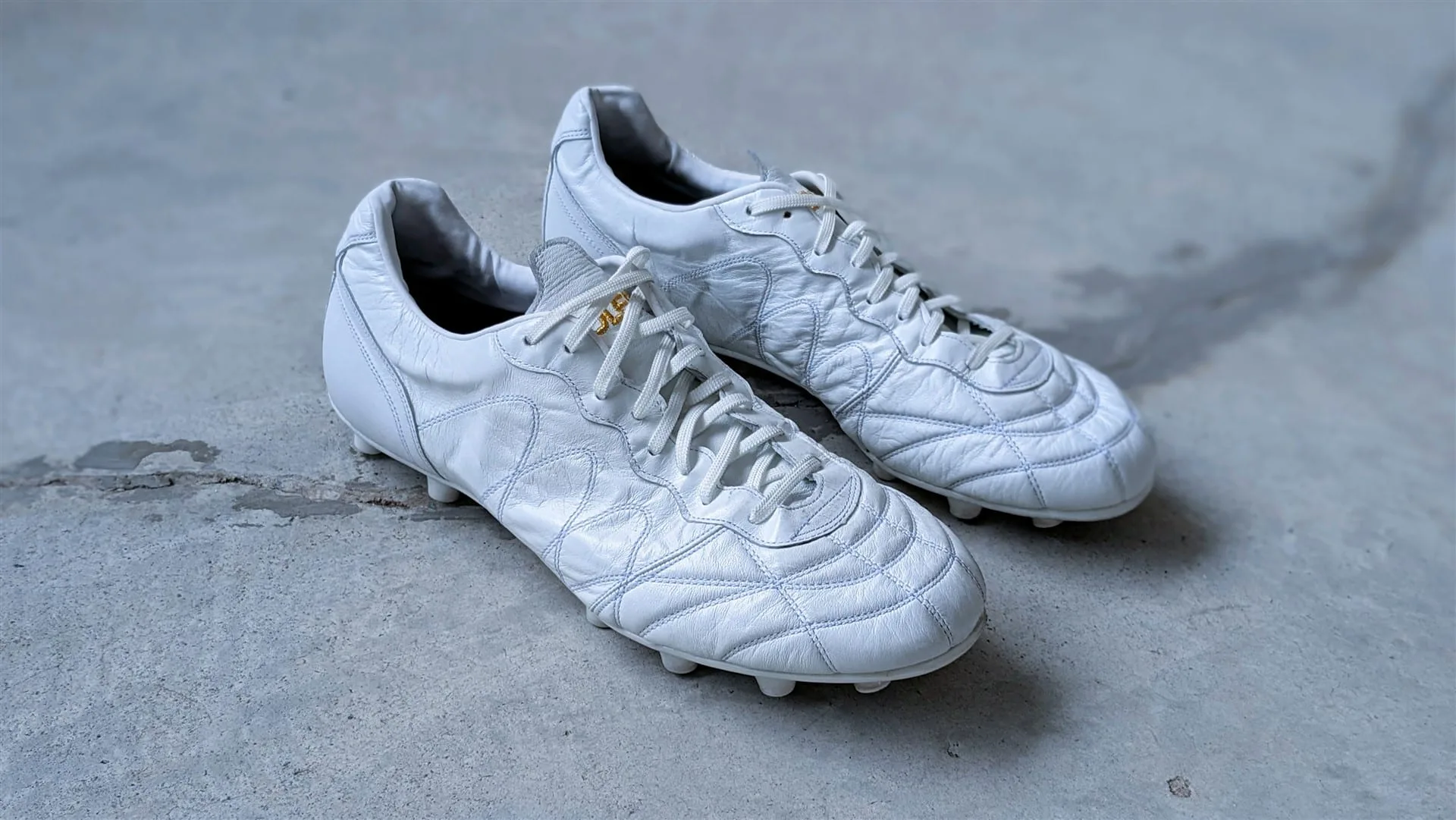 Adler Yatagarashu Review: The Near Perfect Leather Boot
Who is this for?
Players who crave the comfort and the touch of a leather boot, in a modern package.
The Good
Extremely comfortable and soft leather
Fits almost anyone
KaRVO midsole provides a responsive feel
Well performing insoles and laces
Supremely great lockdown
FG/AG stud pattern
The Bad
Only available in Japan