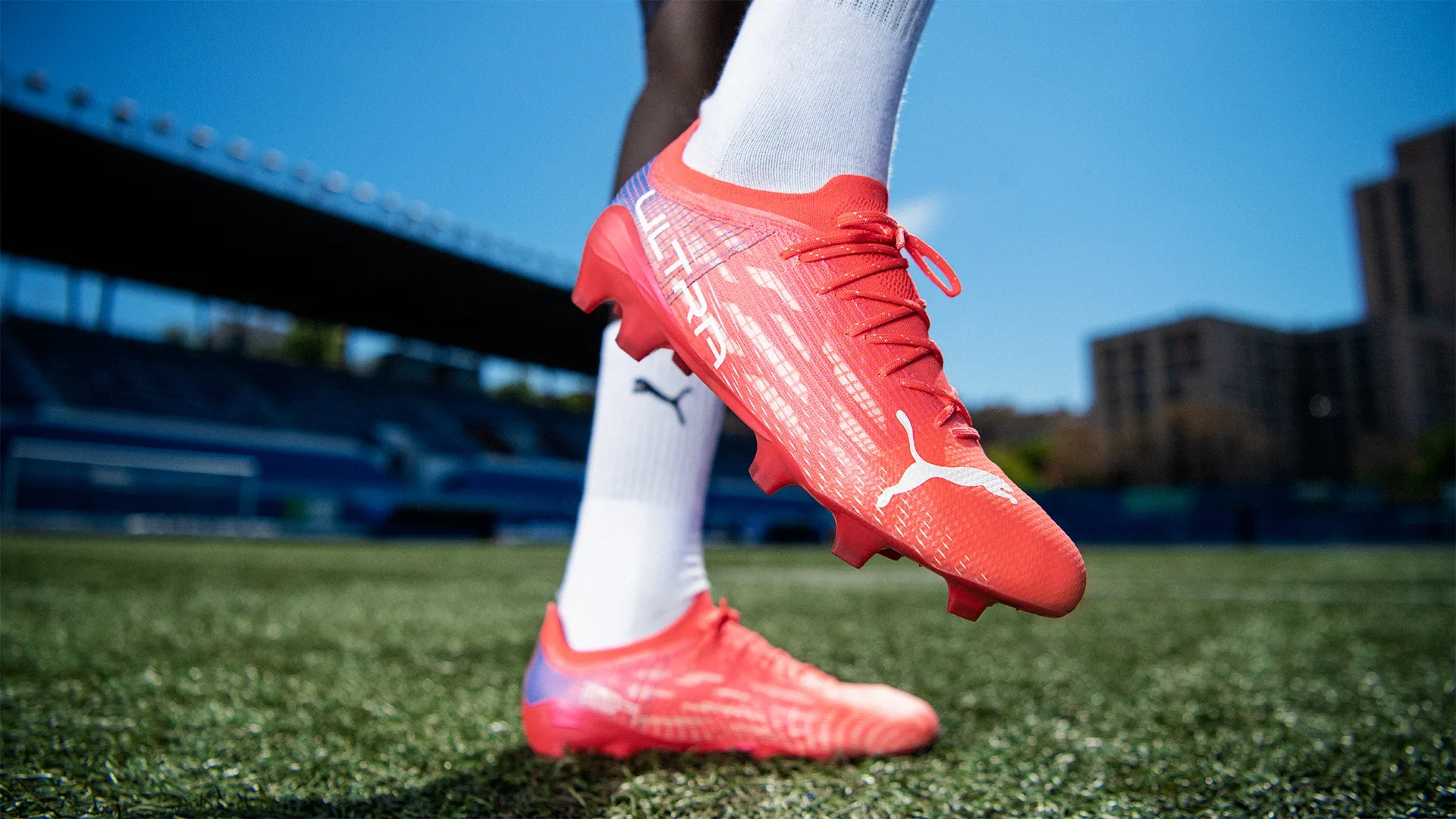 Check out the best prices below
The Puma Ultra gets even lighter.
Last year, Puma rewrote the rules of the speed boot game with the Puma Ultra 1.1. For years, the speed boot market had reached a sort of détente, with the brands distancing themselves from defining their speed boots by weight, and instead focusing on being 'light enough' whilst not compromising on comfort. But all that changed in 2020, with Puma igniting a new arms race for the lightest speed boot title.
We were huge fans of the Puma Ultra 1.1 and 1.2, because interestingly, Puma gave it a more voluminous fit, which made it friendly for wider footed players.
This made it one of the few wide-foot friendly speed boots on the market, whilst also having a super lightweight and aggressive tooling with a thin barefoot knit based upper. Just on looks alone though, the Puma Ultra 1.3 is an entirely different beast, so strap up to find out just how different the new Puma Ultra is.
Puma Ultra is made for men and women
Unlike other releases in the market, the Puma Ultra 1.3 was the first to arrive in two variants – a unisex fit and a women's fit. We've previously discussed Ida Sports football, which is a women-centric football boot.
It's got a slimmer midfoot to accommodate higher arches typically found in women, a broader forefoot, as well as a conical stud pattern that better accommodates weight distribution.
The women's variant of the Ultra 1.3 follows closely to these principles, swapping the super aggressive bladed tooling for a conical one, similar to the one found on the recently released Puma King Platinum 2021. It's an interesting experiment and one that we'd love to see other brands follow, as the women's game grows.
Editor's note: For those wondering about why it's a women's fit and a unisex fit. Part of the reason is that because most girls have grown up wearing men's variant of football boots.
We were lucky enough to have a football boot designer share with us that in his experience, many of the professional female footballers have gotten so used to the men's fit, that they felt very uncomfortable in the women's fit and this have stuck to it, which is why it's now called a unisex fit.
The Puma Ultra is thinner
Back on to the business end of things – the upper. With the Puma Ultra 1.3, Puma have gone full circle, going for a super light speed boot with a much slimmer fit, reminiscent of speed boots from the past.
The upper is still made up of a MATRYXEVO woven upper, but with a glow up. Gone is the knit-like look and instead, the MATRYXEVO yarns work together with a brand new Speedcage that creates multilayered support for those quick cuts and sharp turns.
To further reduce weight, Puma also included transparent cut-out windows in the upper, giving it that super speedy look. To ensure that you're not faster than the ball in wet conditions, the upper has also been coated with a GripControl Pro skin upper to ensure the grippiest touch on the ball even in wet conditions.
At a US9 size, the Puma Ultra 1.3 comes in at a stunning 159g which is a weight that can hardly be beaten by another mass produced football boot.
A speedier and streamlined fit
The volume friendly Puma Ultra 1.1 is no more, and if you were a fan of an ultra lightweight speed boot with a nice roomy fit, we suggest that you stock up on the Ultra 1.1 and 1.2 as they go on discount now.
With the new more synthetic-like upper, the boot has also gone back to a more streamlined and slimmer fit. While I went half size down in the Ultra 1.1 and 1.2, I had to stick to my usual size US9 to fit into the boot. And even then, it felt very snug.
While I'm not the biggest fan of such a move, it's an understandable one. When it comes to speed, one of the ways to make a boot feel "faster" or more lightweight, is to have the boot fit your foot more tightly, so it feels more one-to-one.
We also received feedback from our readers that despite going half size down in the Ultra 1.1, the fit in it was still too wide for them which made it feel less responsive and speed boot like, so this seems like a positive move for the boot in general.
Having said that, it would have been nice to have received a wide version of the Puma Ultra 1.3 to cater to a broaded customer base (pun unintended).
Raw performance
It should come as no surprise that the tighter fit means that there is some break-in time required when you first put on the Puma Ultra 1.3.
The revamped MATRYXEVO upper comes off very structured out of the box, which is great for stability and lockdown, but sacrifices out-of-box comfort. It took around 2-3 training sessions for the material to soften up and not feel like it was cutting into my skin when the boot bent and the upper creased.
However, where the new upper taketh, it also giveth. After breaking in the upper, the compressive fit makes the boot feel like one with your foot, and very much feels like a part of you.
The additional structure and the thinness of the material also combine to give you a very punchy feel when striking the ball. For me, this is where the upper really shines, as you feel the energy from your foot transfer into the ball upon contact. Whether you're striking for the top corner, whipping a wicked cross into the box, or putting a delicate through ball for your partner-in-crime to score, you feel really close to the action.
It goes without saying, of course, that the downside of this is that your technique has to be absolutely on point to control the ball well. We wouldn't recommend getting stepped on either, as the almost paper thin upper is not going to offer much in the way of protection.
The Puma Ultra has the same responsive tooling
The pair we reviewed was a Unisex model, so it's the familiar lightweight PEBA SpeedUnit outsole that was found on the Ultra 1.1 and Ultra 1.2.
Puma has continued to name the tooling as being FG/AG, and we're still reasonably pleased with its performance on AG despite the extremely aggressive looking bladed studs. Yes, there is some cling, but it's at the edge of being acceptable, and considering that this is a speed boot after all we think that it's still one that we'd recommend for both FG and AG.
The forefoot also has a nice spring back when you bend it, which helps add to the responsiveness, and that "track spike" feel for super quick sprints and cuts and changes of direction.
Built for the all-out speedster
Puma always had a reputation for pushing the boundaries of speed, culminating in their SL boots which infamously only lasted 10 games. The Puma Ultra 1.3, though is a much more balanced affair. It's very light but does not compromise on touch and thinness nor sacrifice too much on the durability front.
We've said it before, and we'll say it again. There's no better time to be a speed boot fan because all brands are developing boots that are all very different and unique.
With the Puma Ultra 1.3, it's for the road runner who wants the full package of stability and structure in a paper-thin upper, a very skin tight fit as well as a responsive and aggressive tooling.
Alternatively, if you're a female player who's got a preference for thinner football boots, give the Puma Ultra 1.3 women's edition a try with its female-centric fit and a safer tooling that's built for your anatomy.
Well done, Puma.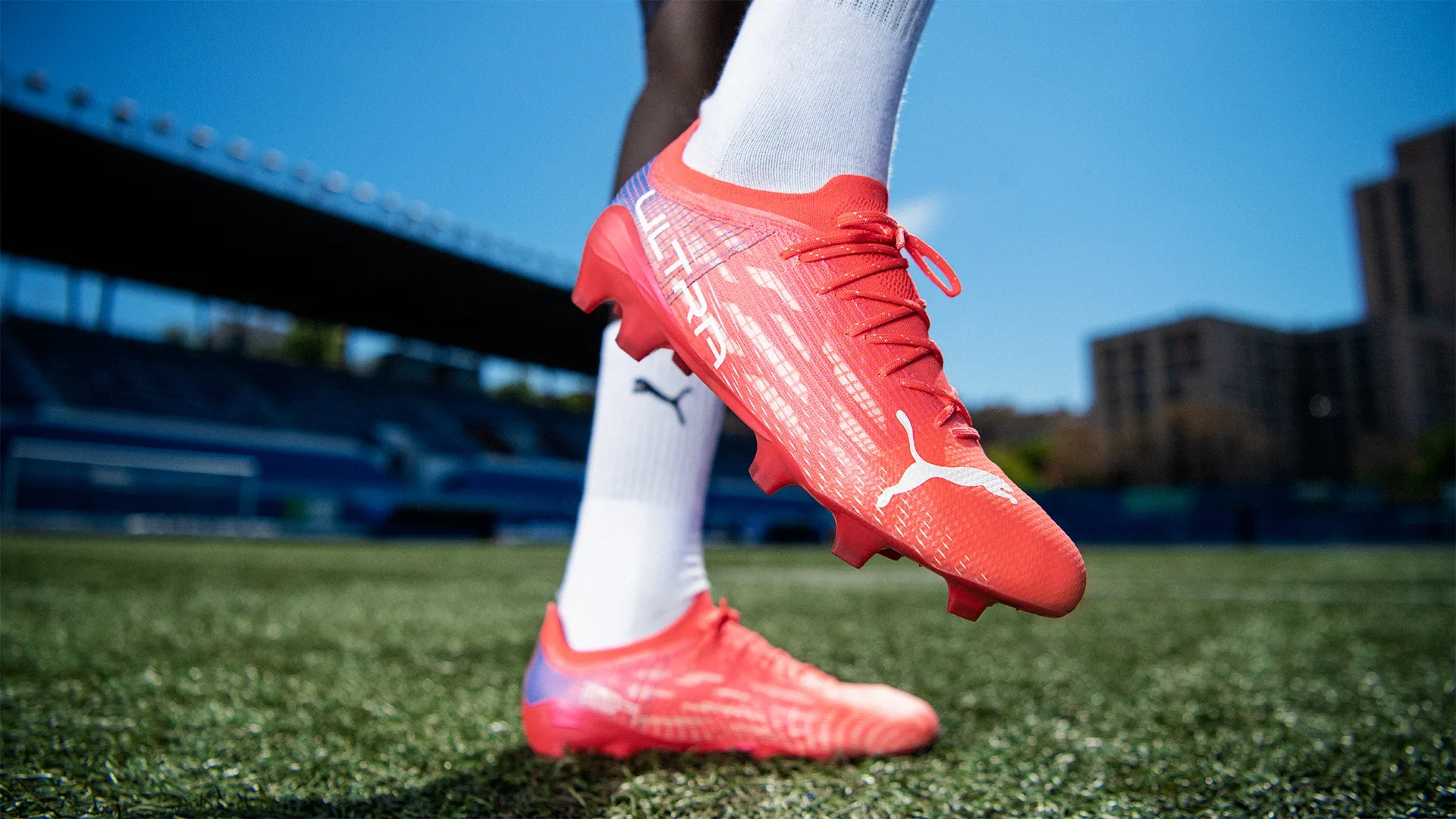 Who is this for?
The speed boot fan who wants a tight fit in an extremely lightweight package.
The Good
Light weight
Great looks
Close touch on the ball
FG/AG compatible studs
Women's variant available
The Bad
Needs some breaking in
Fits mostly narrow feet
Check out the best prices below