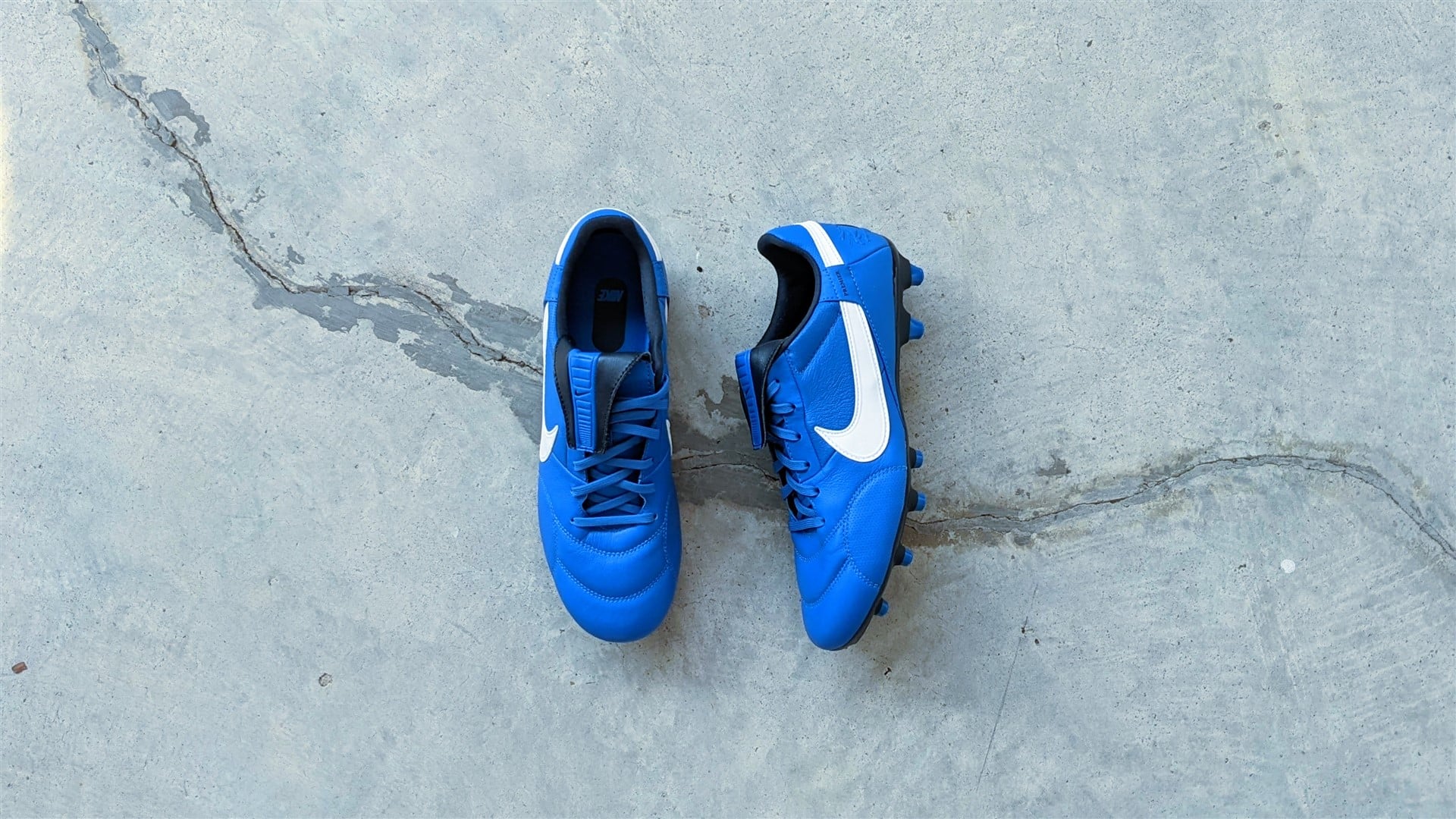 Check out the best prices below
Low tech, high performance
Since the introduction of synthetic and knitted uppers, leather doesn't seem to have the same appeal towards the younger generations of players – possibly due to its (lack of) marketability. As brands incorporate exciting new technology into their core boot offerings, most of their heritage leather boots are largely overlooked by players for their simplicity and "low tech" design.
The Nike Premier series, while still performing well, lacks the modern features and sleek marketing of other Nike boots like the Nike Mercurial. And when compared to the wider football boot market, the competition only gets harder.
As we head into the third generation of the Nike Premier series, we look into whether this heritage boot still holds up well and has a spot in our hearts (and feet).
Minor changes to the upper but still classy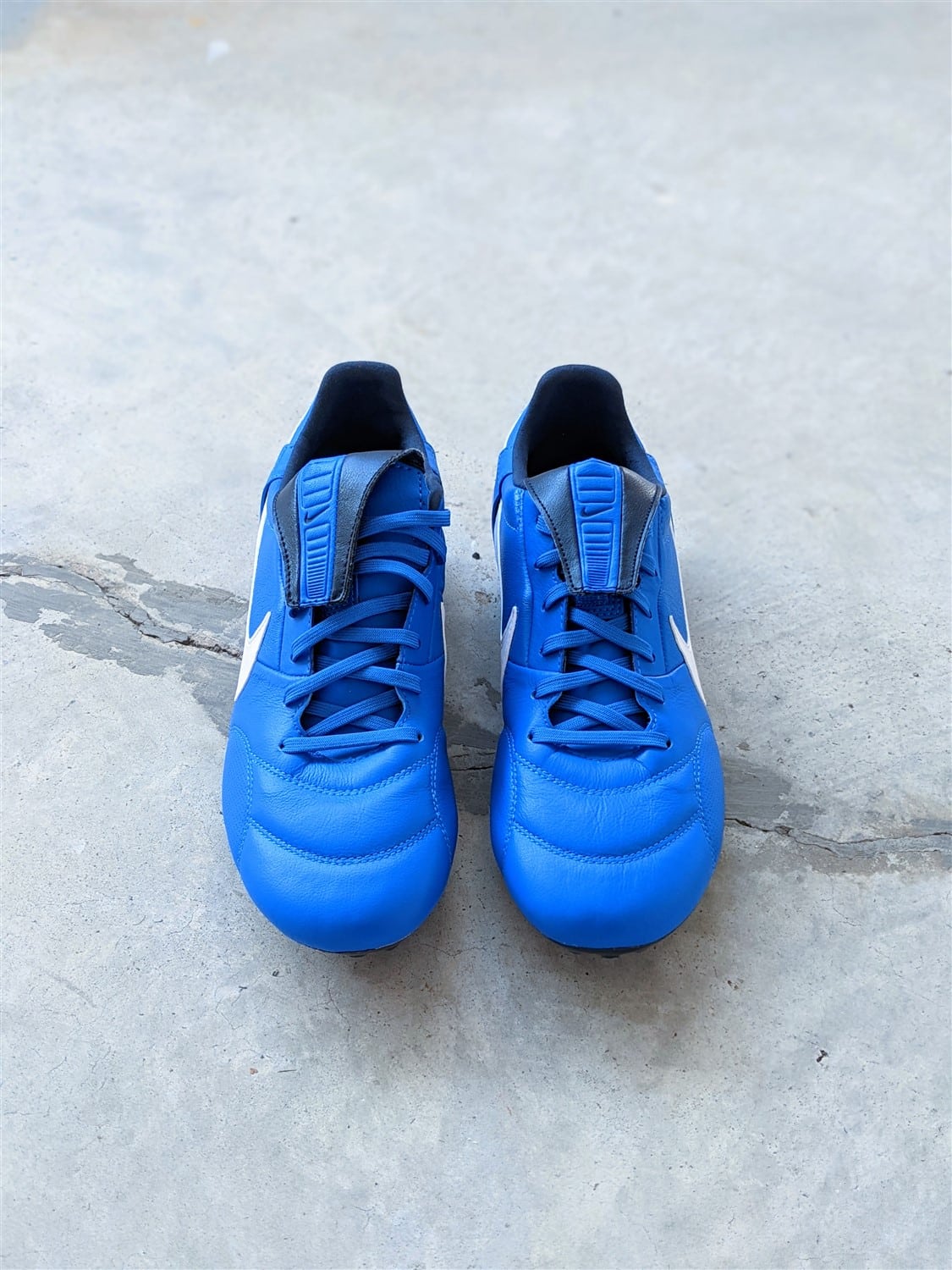 On first look, the Nike Premier 3.0 is pretty much a perfect replica of its previous version, though there are some minor changes upon closer inspection.
Keeping with the essence of Nike's heritage line, the Premier 3.0 continues to embody a basic yet classy touch on the ball with soft kangaroo leather.
While it stays true to its "low-tech" and simple construction, Nike did add perforations to the lateral and medial side of the forefoot area. This most likely is to give you a more airy and cushioned touch. It's a great idea but if you play in muddy conditions, these perforations could get clogged up, resulting in a tedious boot cleaning experience.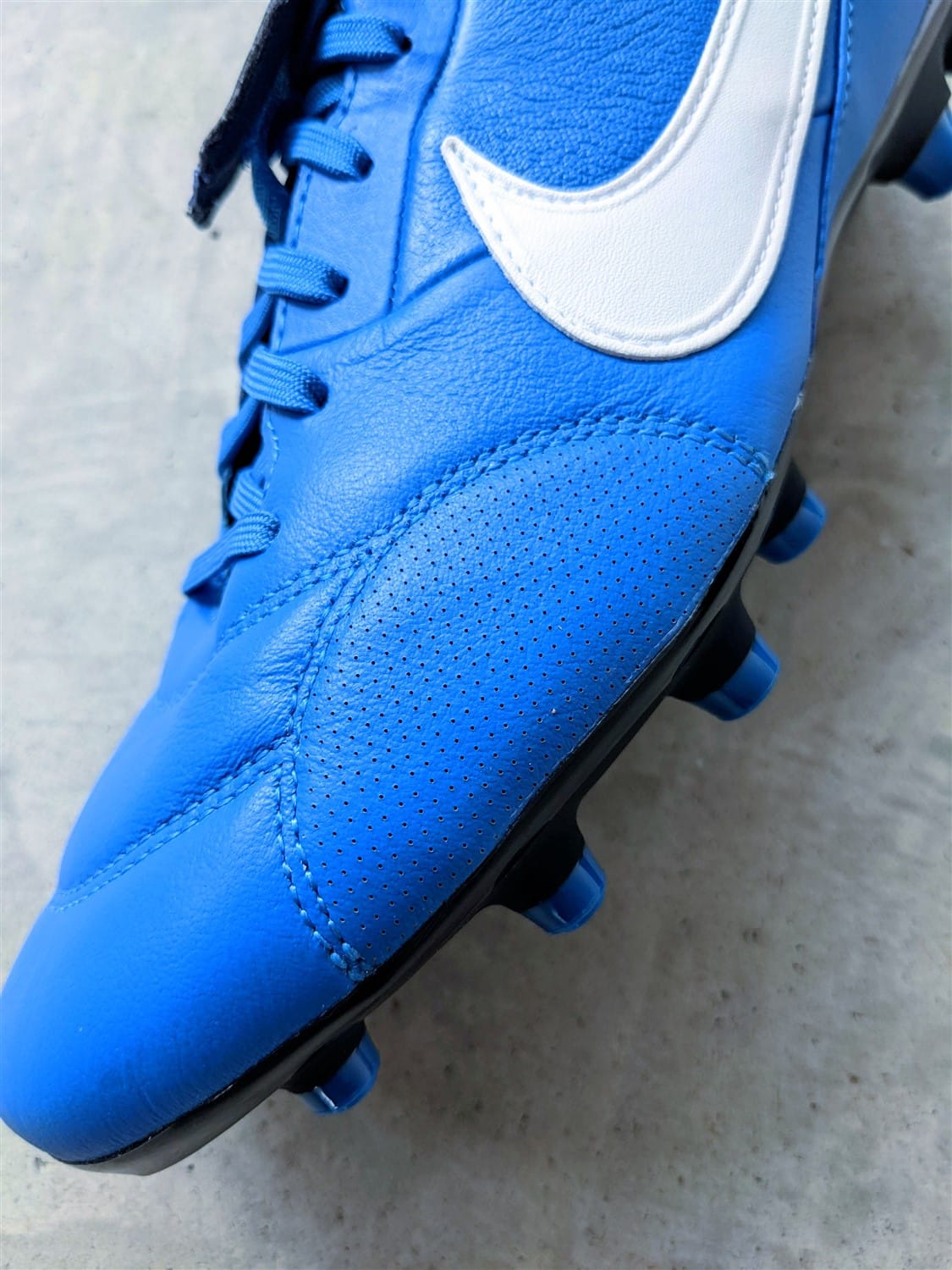 The only major change from the previous Premier 2.0 is the midfoot material. Unlike the Premier 2.0 which had a full leather midfoot construction, the Premier 3.0 features a synthetic/leather hybrid midfoot.
While it could be said that the addition of synthetic leather makes for a less premium product, the synthetic leather's stiffer nature does help provide a much more secure fit compared to full leather, which stretches more over time. Perhaps it's a worthy tradeoff in the long run.
A polarizing tongue on the Nike Premier 3.0
Nothing evokes old-school football boot vibes quite like a fold-over tongue, and the Nike Premier 3.0 delivers just that.
Believe it or not, the tongue was, at one time, an innovation in football boots that allowed for a cleaner striking zone– eliminating contact with the bumps from your lace and lace knots.
With the Premier 3.0, Nike added a piece of rubber to the fold-over portion of the tongue which was previously made full leather. The rubber zone on the tongue won't affect performance but it reminded me a little bit of Nike's classic T90 series with its "striking zones". Nonetheless, this just feels like unnecessary additional bulk for me.
While the overall tongue construction's increment in performance is negligible, it will save you the hassle of having to redo your laces mid-match by protecting your laces from coming undone through direct ball contact
On a more personal take, the fold-over tongue construction is just not for me. Having that extra bulk subconsciously bothers me and I can't help but constantly check if it was intact, even though the velcro patch underneath does its job very well securing the tongue to the boot.
Thankfully, with the Premier 3.0, Nike introduced the option of permanently removing the tongue through a tracing line to guide you and your pair of scissors.
Transitioning from speed to comfort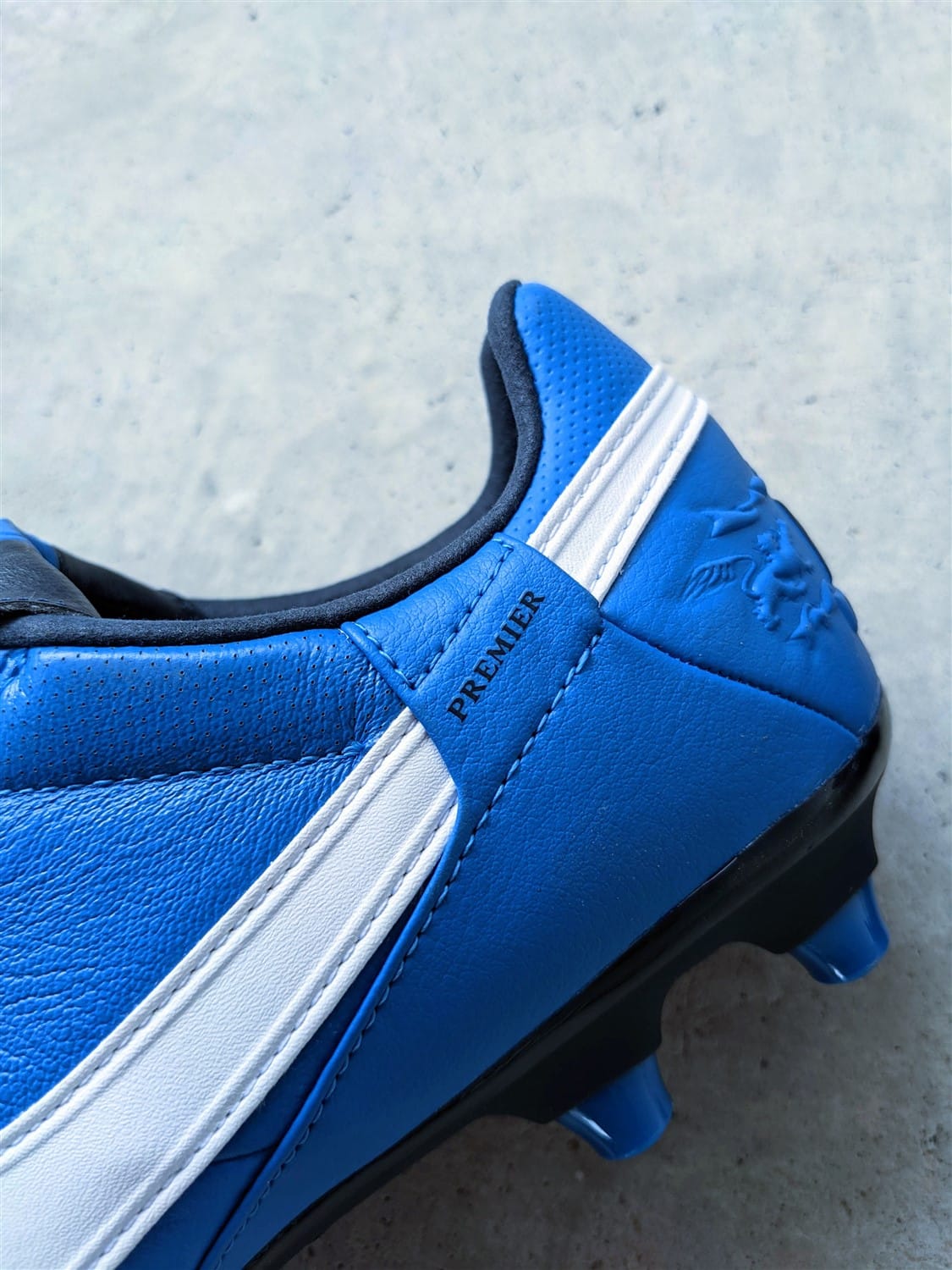 Personally, I'm more of a "speed boot" guy.
Having worn primarily Mercurials for more than a decade and enjoyed the barefoot experience, I was initially hesitant to venture into the world of leather boots with the Premier 3.0. With some convincing from buddies at BOOTHYPE, I decided to part with tech-filled Flyknit uppers in favor of a more simple leather construction for this review.
Putting on the Premier 3.0, I immediately noticed an unfamiliar experience – a cushioned sensation all round.
I'm typically a size US 9, with moderate width, when it comes to football boots. But with the Premier 3.0, I went half a size down figuring that the leather would eventually stretch over time into a perfect fit. It was quite tight around the toe box on first try and I definitely felt it wrapping tightly as I did some light jogs on the field for my playtest.
However, after a short 10–15-minute break-in period, I felt totally at home in them. That's the magic of a leather boot. The upper stretched and took to the shape of my foot.
It remained comfortable and together with the inner suede lining around the heel and under the lace/tongue, I felt like I was wrapped in luxurious bath robes for my feet.
Matchday with the Nike Premier 3.0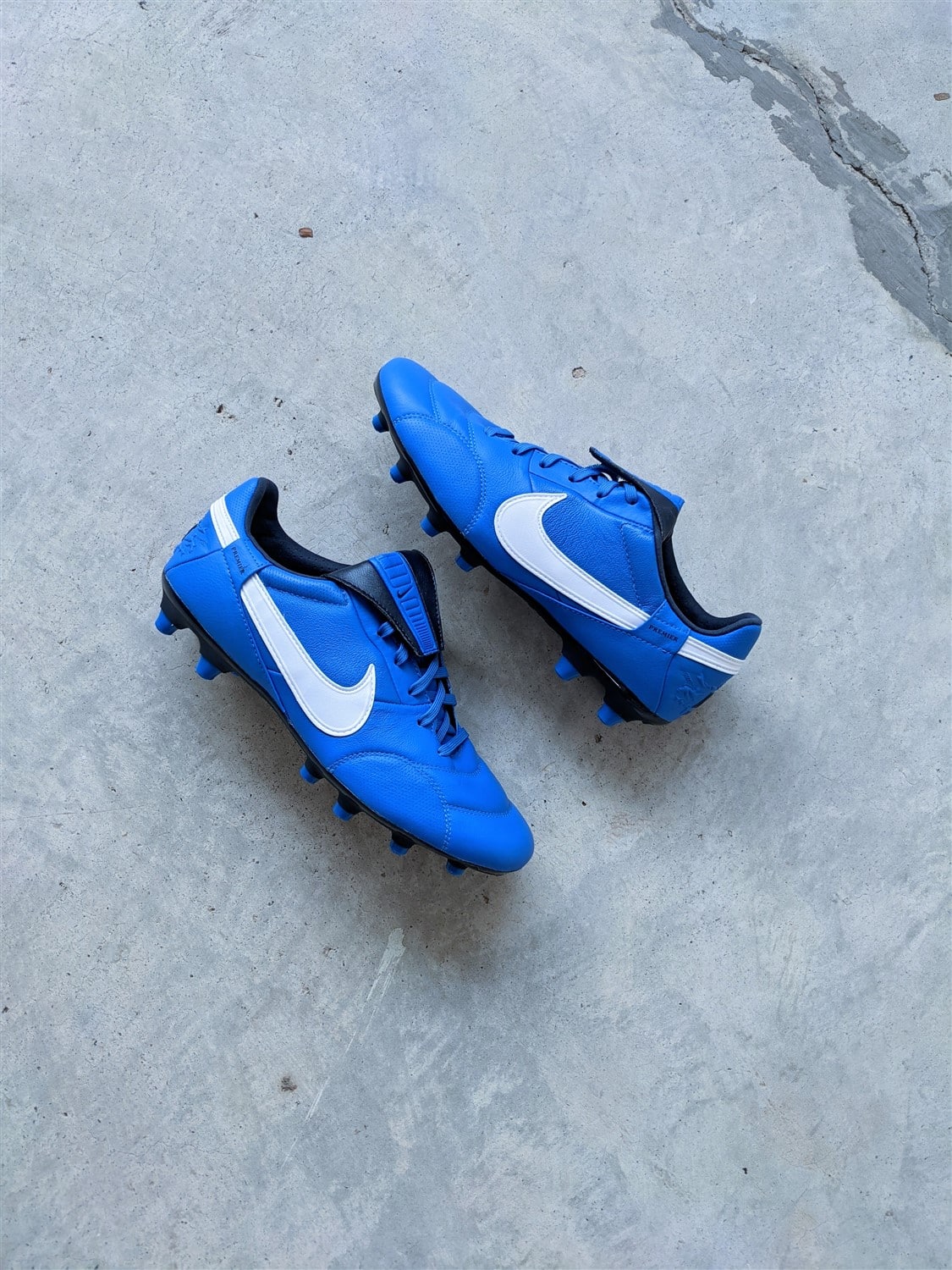 I play like a winger – I'm fast and I'm a ball hog when I receive possession. My game is based on exploding down the wing and looping in a quick cross or shot at goal.
Sprinting in the Nike Premier 3.0 was no doubt comfortable. However, with the Premier, you sacrifice that extra bit of traction and sharpness on pitch in exchange in the name of comfort. With its less aggressive outsole, the Nike Premier 3.0 may not be for you if you're all about explosive speed and fancy footwork. However, it was still easy to pivot due to its short studs.
Having been used to the barefoot feel of my Mercurials, contact with the ball in the softly padded k-leather of the Premier 3.0 was a new experience for me.
The cushioning made receiving stronger passes a pleasure and blasting the ball wasn't too bruising on my feet either with the upper taking away most of the sting. The thicker, more padded construction, however, did require slight adjustments with my technique as contact with the boot occurred slightly earlier than usual v my barefoot Mercurials.
Knowing that the leather would hold up and protect me better than a speed boot upper will, I was able to take more risks with my dribbles and had better scoring opportunities – definitely an underrated aspect for having cushioning.
As far as weight is concerned, the Premier 3.0 weighs relatively light despite being lightly padded. Most of the weight savings were from its simple soleplate but the leather is also lighter than most. For a size US9, the Premier 3.0 weighs in at 245g. You almost don't notice it on feet as you will feel so comfortable in them.
Sole-ly for AG
With no frills and a matte finish, the soleplate is pretty simple.
As mentioned, the firm ground (FG) studs are conically shaped and are too short for aggressive traction on FG. I still find it awkward whenever I play in them as I do prefer a more clingy and aggressive set of studs. As expected with the less aggressive stud pattern the Premier 3.0 adopts, performing sudden changes in directions required more effort than I'm accustomed to, and I had a hard time adjusting to that.
However, I think they are extremely suitable for AG pitches with its shorter length and shape – reducing risk of injury.
The soleplate was extremely pliable (especially in the forefoot) so don't expect the snap of a Mercurial. Instead, expect a more natural, comfortable flex for those of you who is not too bothered with the explosive feel on feet.
The Nike Premier 3.0 is perfect for starters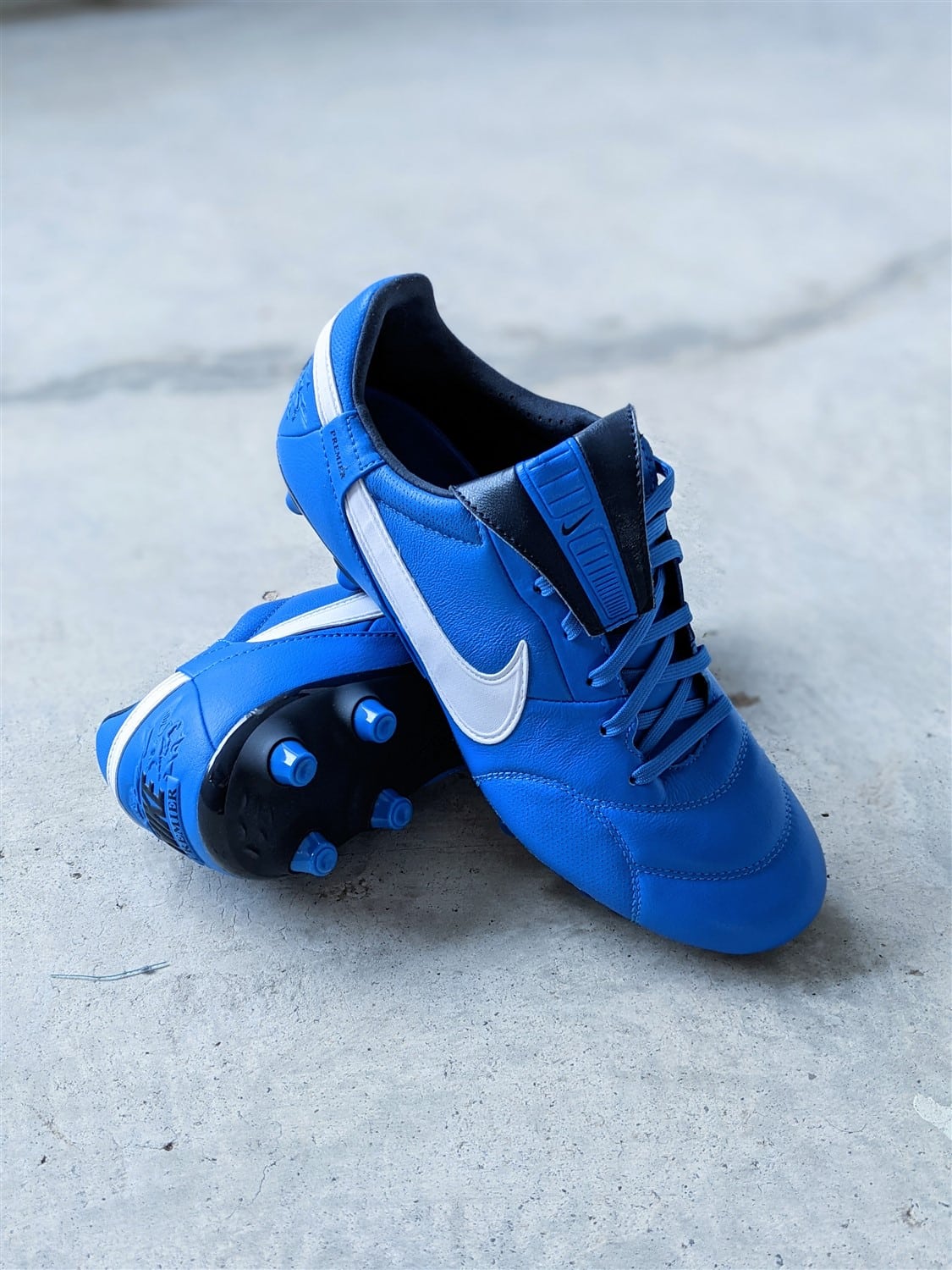 Nike's no-nonsense approach with the Premier 3.0 makes it an objectively good boot for players looking to buy their first leather boot or for those who love comfort.
Despite it lacking in the tech department, its exceptional pricing and luxurious feel on feet compensate for it. It's exceptionally comfortable, relatively light and has a very natural feel due to the flexible soleplate. It does the basics well without much fault.
As an overall package, the Nike Premier 3.0 is an excellent choice for a fairly low price of SG$179. I believe the Nike Premier 3.0 would be perfect for anyone who's keen to try their first leather boot without breaking the bank.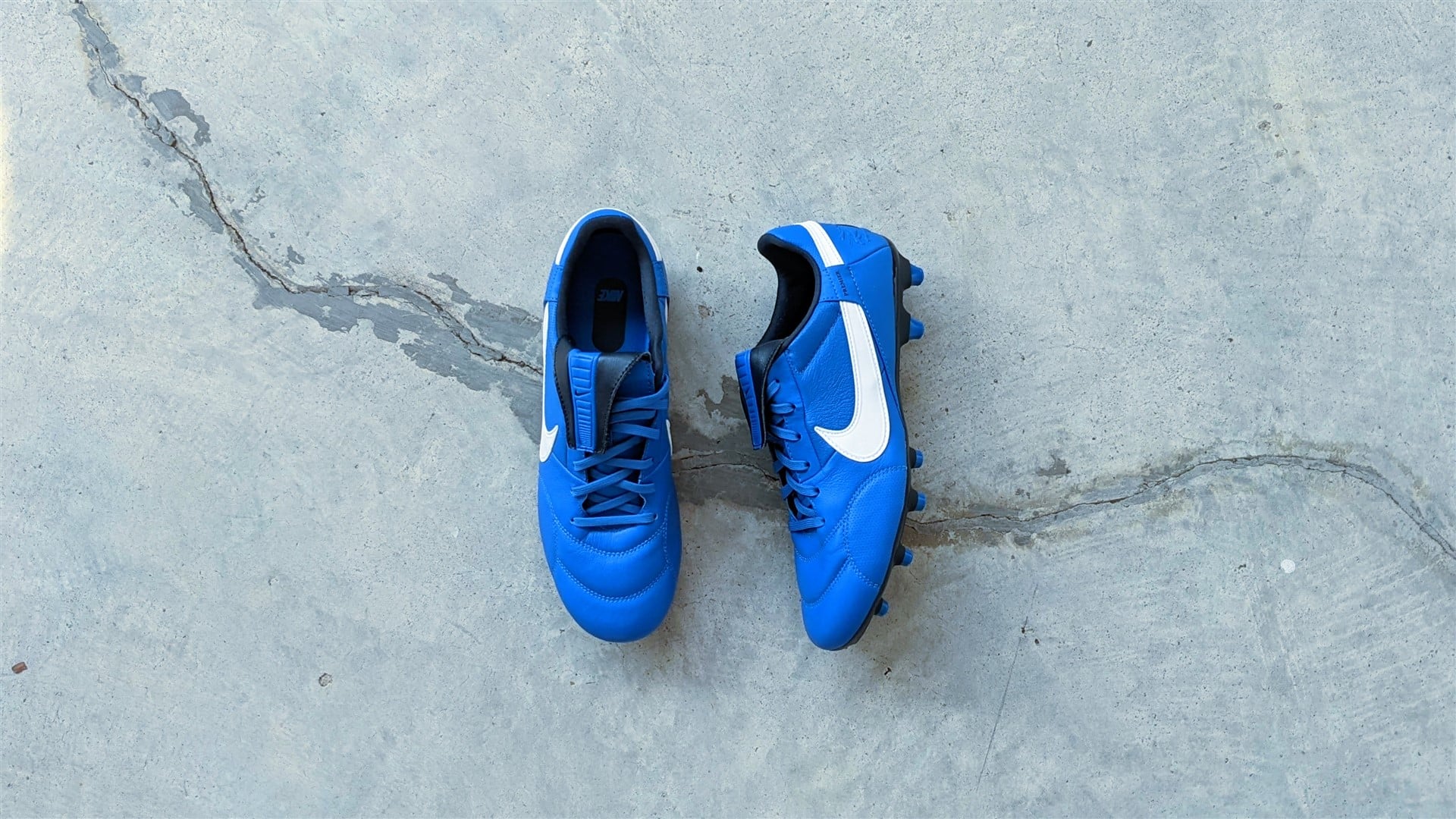 Who is this for?
Players who are buying their first leather boot and for those looking for comfort.
The Good
Soft leather upper
Short break-in period
Affordable
Great quality for its price
Cool design
AG-friendly
The Bad
Less aggressive soleplate for FG
Lacking modern tech
Check out the best prices below