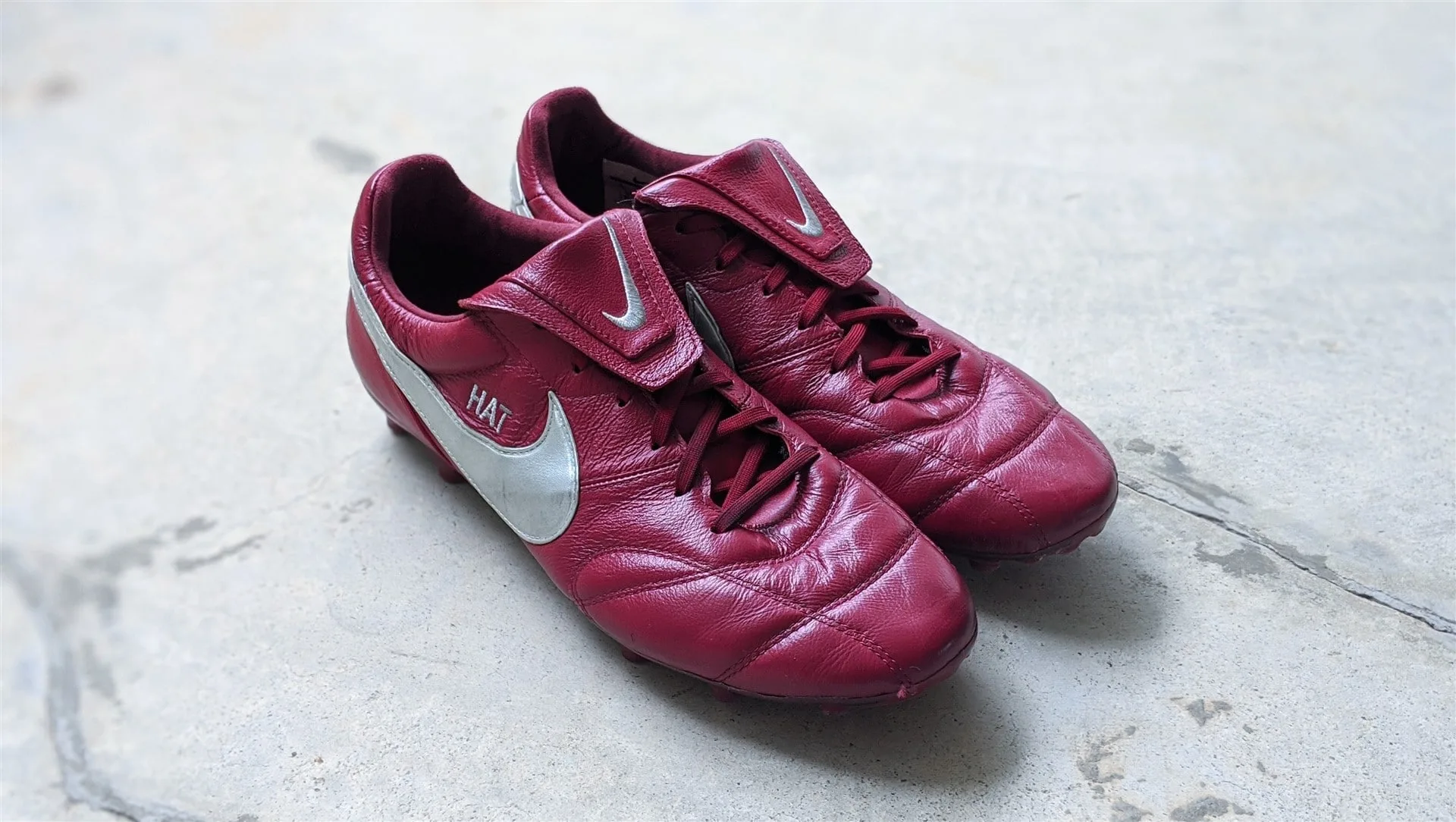 Find the prices for Premier 2.0 below
The best boots not worn by players at the World Cup.
Leather boots have taken a step back in terms of popularity over the last few years. With the rise of synthetic and knitted uppers, leather doesn't seem to have the same appeal – probably due to its marketability to the latest generation of customers. The Nike's key leather boot, the Tiempo Legend has played second fiddle to the Mercurial and Hypervenom silos while Adidas doesn't have any prominent player sporting the Copa 18.1.
But ask any old school footballer and he'll wax lyrical about the magic of leather boots. Once seasoned, they're extremely soft and among the most comfortable boots you'd ever wear. For the old school footballer who wants a fuss-free and reliable experience, enter the Nike Premier 2.0.
What is the Nike Premier 2.0 ?
The Nike Premier is a line of boots produced to be a simple and cost effective option for players. The Premier 2.0 is the second generation version of the Premier. It is not marketed alongside the 4 main Nike silos (Tiempo, Mercurial etc.) and has no player endorsing this. I would label it as the "heritage" silo with its design modeled after older Tiempos though it has been slightly modernized in its cut and shape. Adidas also has its heritage equivalent called the Copa Gloro (not to be confused with the Copa 18 silo) which carries a tongue covering the laces.
How is this different from the Nike Tiempo Legend series which is also a leather boot? Technology, for one. The Tiempo Legend is filled with innovations such as a flyknit tongue, an internal cage built with the leather upper to keep its shape and flywire cables for the superior lockdown. The Premier comes with just a basic, albeit soft, kangaroo leather upper.
Price is also a factor as the top grade Tiempo Legend 7 Elite is priced at S$300 upon launch and has 2 lower price tiers that range from S$100 – 200. The Premier only comes in a single grade at S$150. As you may know, the price of boots depreciate quickly with the launch of new colourways and you can expect a drop 30 – 50% easily upon 3 months from launch so it is extremely good value for money.
Premier fit?
To put it simply, it felt like putting on shoes you've worn your whole life. It is soft and extremely comfortable. I got a pair of Premiers when I decided to move on from the Tiempo Legend 7. The Tiempo 7, I felt, was surprisingly stiff and nowhere near as soft as the previous generation's 6. It took a while to break in (2+ months) and I was disappointed with how uncomfortable it was. The Premiers felt like a cheaper alternative with low risks and I haven't looked back since.
The upper required very little break in time, feeling 80% broken in, out of the box. By my second session, I felt totally at home in them. The touch feels padded and soft so if you're looking for a barefoot feel ala Mercurial, perhaps this isn't for you. Nike also ensured that the inner heel and underside of the lace area were covered with a suede material which made this boot feel surprisingly luxurious.
What kind of soleplate does the Nike Premier 2.0 use?
It's got a pretty basic one and this is where it possibly loses out to other models if you were expecting something more. Many modern boots develop an anatomical soleplate which is slightly moulded to the shape of your foot to plant it firmly into the boot. The Nike Premier 2.0 feels a bit more flat and you can definitely tell the difference when moving from a modern, top-grade boot. Did it bother me? Not after the first hour as I got used to it quite quickly.
The based is no frills with a matte finish similar to the texture of the suede inner lining. It's quite low key but classy. The studs are conically shaped and are short for FG studs so do not expect super traction like you get in speed boots. In fact, I feel that they're extremely suitable for AG pitches with its shorter length and shape. The plate was among the most flexible in the forefoot relative to most boots I have previously worn which I really liked.
Performance and that old school tongue
The short break in time meant that it was ready to go almost out of the box. The soft padded leather was a joy to strike the ball or receive to feet. Running in them was also comfortable with no blisters formed. I could go into challenges knowing that the leather would hold up and protect me better than a thin speed boot upper will.
Believe it or not, the tongue was at one time an innovation in football boots that allowed a cleaner striking zone on your boot – eliminating contact with the bumps from your lace knots. The tongue is also conveniently designed with a velcro patch underneath it to secure itself to the boot, doing without the strap band that was popularized by the old Adidas Predator. Its increment in performance would be minimal at best but I have noticed that this has eliminated my laces coming undone mid-way through the match. A small victory perhaps. The leather is not treated with All Conditions Control (ACC) so do keep in mind when you're out playing in the rain.
They Premiers also had the benefit of technology to have its weight reduced through treatment of the leather while many grams have been shaved off from the soleplate. The Premier 2.0, has been a beneficiary of this, weighing in at a relatively light 235g for a US10 boot. For reference, the Predator Accelerator weighed in at 345g back in the day.
Design and Availability
One of the biggest appeals of the Premier 2.0 has been its throwback design. Kids of the 80s – 2000s can remember the likes of Totti and Zidane lacing up in tongued boots. In fact, most if not all boots back then had a tongue and every player wore them. They're also a rarity in Asia as not many, if any, sell them here and we've had to buy them from Prodirectsoccer.com which has the widest range of boots including the Premier 2.0 and the aforementioned Adidas Copa Gloro silo.
Nike has done a fantastic job creating colourways referencing popular Nike Tiempo models of yesteryear including the white and gold that was won by Ronaldinho. There are tons of colours available and you would be spoilt for choice when buying the Nike Premier 2.0.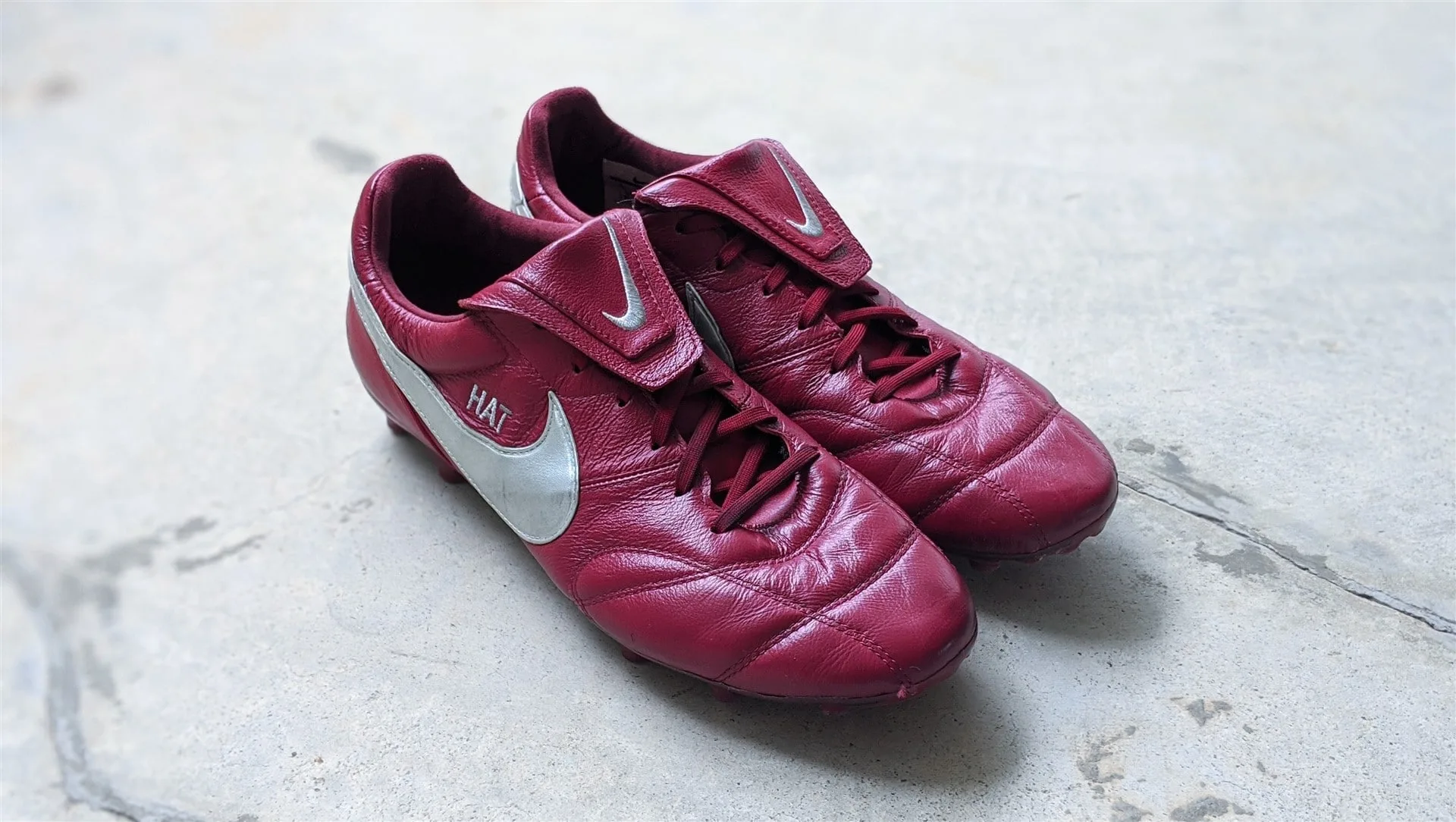 Final Thoughts
The Premier 2.0 is a fantastic no-frills option that does its job with no fuss or bother.
The Good
Soft leather upper
Quick break in time
Affordable
Cool classic design
Applicable for FG and AG surfaces
The Bad
No ACC weather proofing tech
Soleplate isn't aggressive
Find the prices for Premier 2.0 below