A great return to building concept boots for Nike.
The Nike Mercurial Superfly was meant to be the concept project for Nike that only was revealed once every 3-4 years. Just like Ferrari's and Lamborghini's concept cars displayed during trade shows, they're meant to be a glimpse of what could be the future for these brands. It whetted our appetites even more when you know these futuristic models are not for mass production and sale. They were limited in availability.
So when Nike normalized the "Superfly" tag to label their mass high cut Mercurial models, we were disappointed that the term translated more towards marketing and profits rather than the idea of taking technology to its apex potential.
Imagine the grin we had on our faces when Nike announced the Air Zoom Mercurial during their very own Nike Innovation 2020 show. Step aside, Superfly. The Air Zoom is here.
Why is the Air Zoom Mercurial important?
We believe that the Air Zoom Mercurial is now the premier football concept boot for Nike, doing what the Superfly was meant to do over 10 years ago. It is great to see Nike approaching their tech in such a fashion because when they innovate, the industry listens. Look back at their approach to knit and the mid-cut sock. When they launched the first Magista during the 2014 World Cup, everyone started rolling out knit and the sock.
Wasn't "Air" used in their boots close to 20 years ago?
Nike "Air" technology has been a staple of Nike's footwear for as long as most can recall. It involved placing a hollow synthetic pod filled with air within the shoe's outsole and it took Nike to a whole new level with their product's performance and marketing. It changed the way customers thought about cushioning and lightweight tech in their shoes.
It was so popular that Nike integrated them into their football boots too with the big swoosh creating a new line of boots purely to promote the Air technology – the Nike Air Zoom Total 90. The 3 generations of the Air Zoom Total 90 were popular for its then-modern design, off-centre lacing for a clean striking zone, waxy upper for a sticky touch and of course, Air Zoom technology in the outsole for all round comfort.
In fact, the boots were called "Total 90" due to the amount of comfort it would bring the player that would help them last the entire 90 minutes. It had the endorsement of the world's top stars from Luis Figo to Paul Scholes.
However, this concept was on its last legs after Nike rebranded the line to "T90" which was more focused on striking than comfort. Air Zoom was great while it lasted.
What is the Air Zoom Mercurial? Are Nike rehashing old tech?
On the surface, it does look like Nike is repackaging old tech and I was cautious about the hype on the Air Zoom Mercurial. But according to the Nike tech team, they're envisioning Air Zoom to be more than just cushioning – it's about response. It's meant to be less of a pillow and more of a spring – essentially challenging adidas' Boost and their very own Nike React tech.
Nike intends to have the entire base of the foot covered with the 4.5mm Air Zoom air bags, ensuring that you're covered by Air at every corner of your foot. Jeongwoo Lee, Senior Design Director at Nike Football claimed, "In the past, there was a lot of focus on cushioning the heel, but Mercurial players don't play on their heels. The players we designed for are taking off from their forefoot at full speed, repeatedly. That's why we focused on providing a thin, full-length Zoom bag that can best be defined as snappy. You don't squish into it so much as propel off of it."
The impact of the Air technology did not just end on the base of the foot. The design was inspired by the idea of air taking over the sides and upper of the Mercurial as well. This allowed Nike to test Nike Flyprint , their 3D printing technology, to develop a translucent upper that is more breathable. This is all pretty cool but the inclusion of Flywire signifies that the Flyprint material has some way to go before being good enough for lockdown ala the Nike Mercurial Vapor 13.
The Future of Nike's concept boots
I am genuinely surprised that Nike is still able to make a 20+ year old tech feel relevant. It would be fascinating to see how they reinvent responsiveness in a boot without going with the stiff soleplate route. I am still a little bit skeptical but I'm cautiously optimistic that the final concept will at least look cool.
That said, concept boots aren't always about how they performance and function. They're usually awful to wear as some may attest with previous Superfly models. Concept boots are about something bigger. It gives the designers a chance to experiment and fail. Not all elements may make it to future mass produced boots but if just 1 element makes it to the shelves, one can be happy with the concept experiment.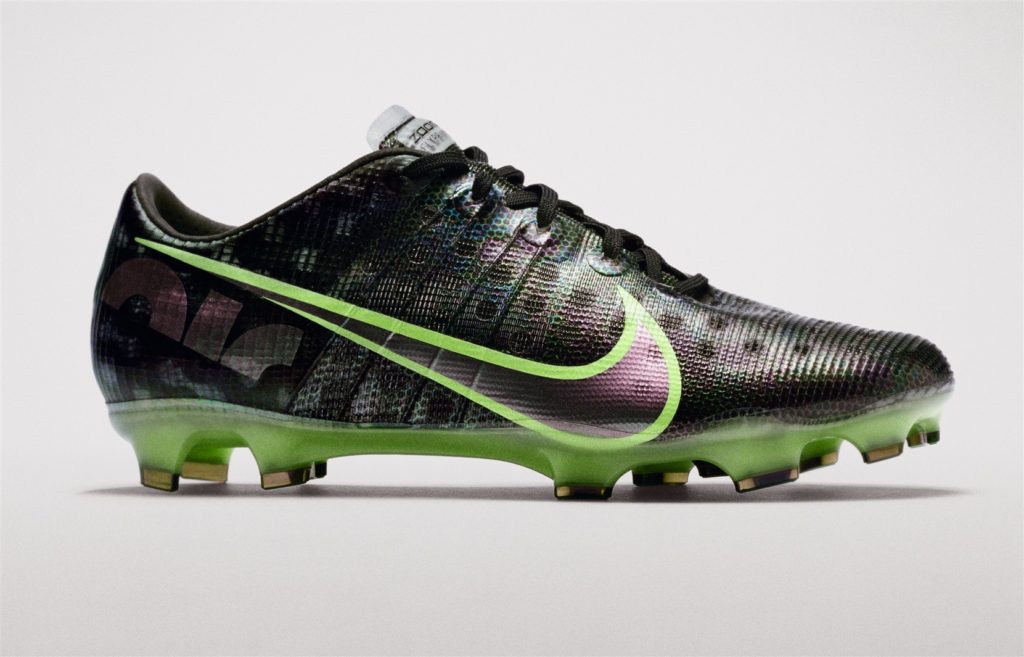 For the last few years, I was disappointed at the dilution of the "Superfly" tag as it should represent innovation and not be used lightly to market the Mercurials with mid-cut socks.
However, the Air Zoom has replaced the Superfly as the premier concept boot with some fresh positives. Finally, we might see softer, more flexible soleplates that won't give your feet cramps as Air Zoom pods take on the responsibility to give you some spring. Flyprint might enhance or even replace Nike ID for those who are looking for a premium, bespoke experience. It looks like Nike is back on the technology and creative trail.
The Superfly as we used to know it is dead. Long live Air Zoom. And we couldn't be more excited.