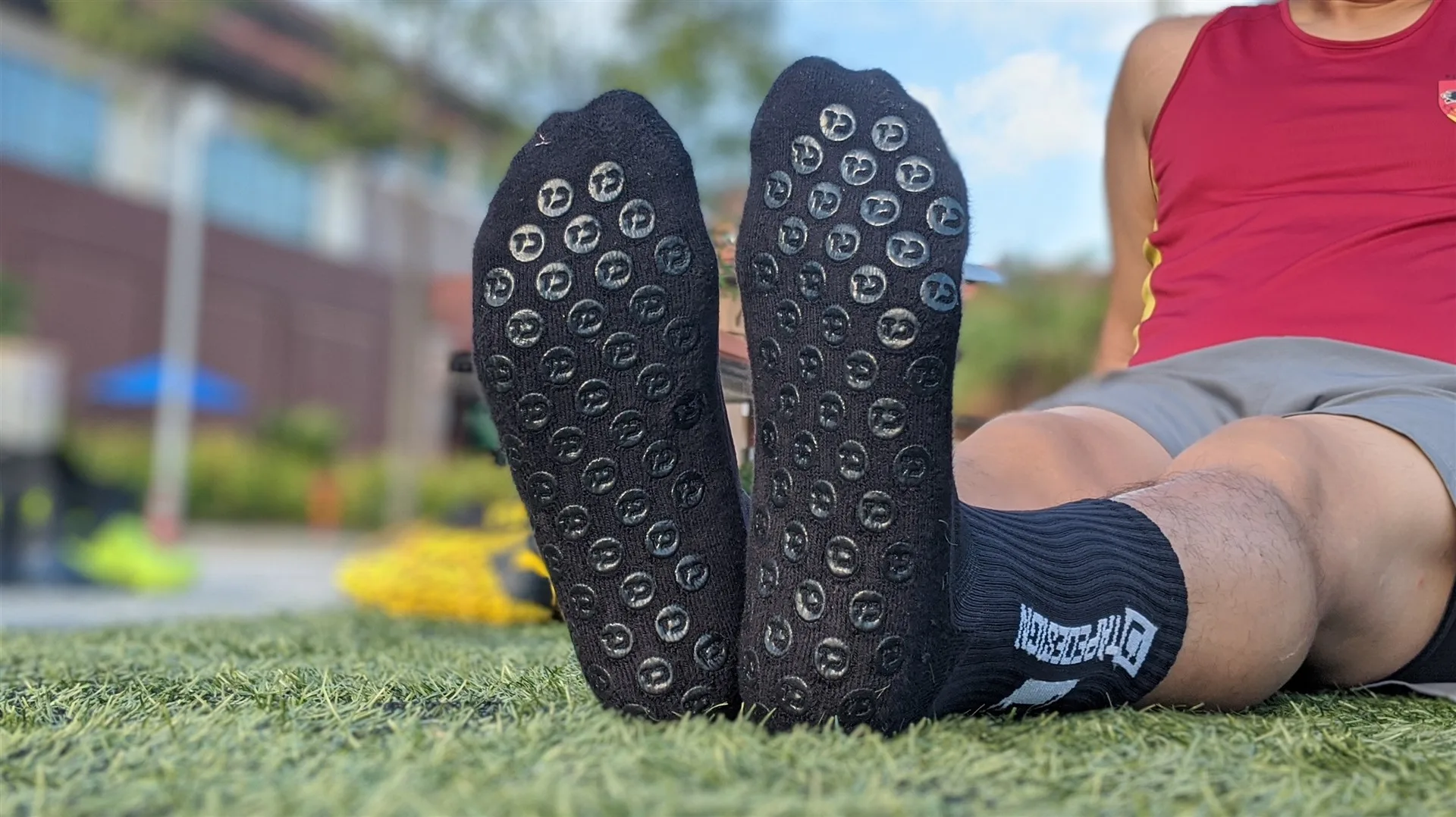 Buy TapeDesign Grip Socks
A new challenger to the grip sock market.
It was 2014 when I first noticed footballers wearing socks that had strange dots on them. They quickly sparked the interest of many, turning into a mini viral sensation as more pro footballers began to be spotted in them. Trusox had changed the sock game as their proprietary IN//EXtech provided an aggressive grip that was superior to any football sock in the market at that time, beating even Nike and adidas.
In the years to come we saw many brands such as the H3 Superb Socks get inspired by Trusox and their guerrilla marketing tactic, slapping on grip elements, funky designs and getting pro footballers to wear them in matches. TapeDesign is one such brand from Austria, which has seen the likes of Barcelona's Ivan Rakitic using them on the pitch. The marketing has, so far, been on point.
But does it work? Let's judge it by these 4 factors – fit, comfort, grip and durability.
Odd fit on the TapeDesign socks
TapeDesign had a huge red flag for me when it came to fit, because not only did it come in a free size, it also didn't differentiate the left from the right sock. This is problematic because the sock has a very generic fit and won't hug your foot properly. In today's modern boot industry where most boots are extremely tight fitting with a one-to-one upper, I ended up having the sock bunch up in the heel after sliding my feet into the boots.
The poor fit meant that there was a lot of extra material.
Points for comfort
I do have to give it props for comfort. The TapeDesign sock is thickly padded and caresses your feet with its soft cottony material. I did enjoy wearing them when jogging in my running shoes that were more loose fitting and had a more traditional tongue.
Grip for days
TapeDesign uses specially placed circular rubber elements on the sole of the sock. The shape also has an added benefit – providing a suction effect for additional grip, on top of the friction provided by the rubber. So the TapeDesign does work as advertised… to an extent.
The biggest reason why Trusox is still the king of grip socks is due to its grip technology appearing not only on the outside, but also on the inside of the sock where it comes into contact with your sole. This is important as your foot has to move in unison with the sock or it'll end up slipping in the sock. Thanks to the poor fit of the TapeDesign socks, this is exactly what happens, as I found my feet moving around the sock as my feet got sweaty during games, while the sock stuck onto my insole like Spiderman.
Sock durability
I have to give it to TapeDesign, the grip elements seem well engineered and I don't expect them to fall off – provided you take care of them and hand wash them inside out. Where durability issues might pop up, is the elasticity of the sock.
The socks look like your run-of-the-mill tennis socks that aren't particularly well-made, so I'm not expecting them to hold their shape well, especially considering the poor fit.
TapeDesign disappointment
Here at BOOTHYPE, it's no secret that we love products made by the smaller brands. Unfortunately, TapeDesign has way too many red flags for us to recommend it out.
The poor fit is a really huge issue because it has direct consequences on its performance in the other categories. It's extremely disappointing because this is something that is easily remedied by producing them in more bespoke sizes, or at least separating left from right.
Rectify the fit, add in a different yarn or sewing pattern to add some arch support or around the ankle for a tighter fit, and TapeDesign could have a genuinely competitive product on their hands.
Unfortunately, in its current form and its ridiculous price of SG$44, you're better off steering clear of it. For a dollar more you can get the OG grip sox – Trusox which gives better grip and fit. Or, top up $10 and you can invest in two pairs of NikeGrip socks whose grip lacks the aggressiveness of TapeDesign, but are a lot more comfortable, fit better and will last you much longer.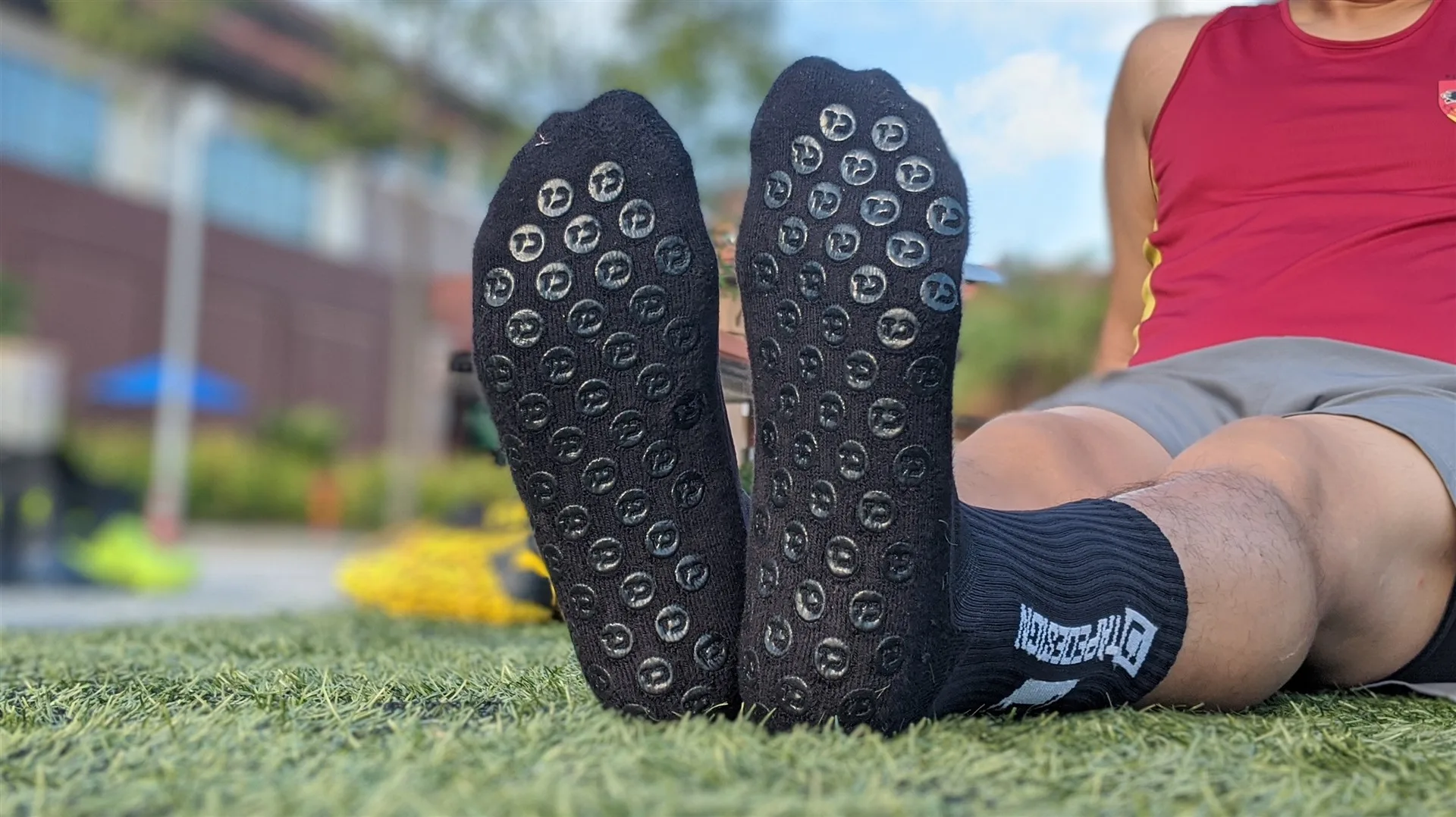 Final Thoughts
TapeDesign's grip socks work to help your socks grip the boot's insole but can't prevent foot slippages within the sock. Too pricey.
The Good
Grippy pads
Comfortable
The Bad
Non-ergonomic fit
No grip on inside of sock
Cheap quality sock
Pricey
Buy TapeDesign Grip Socks