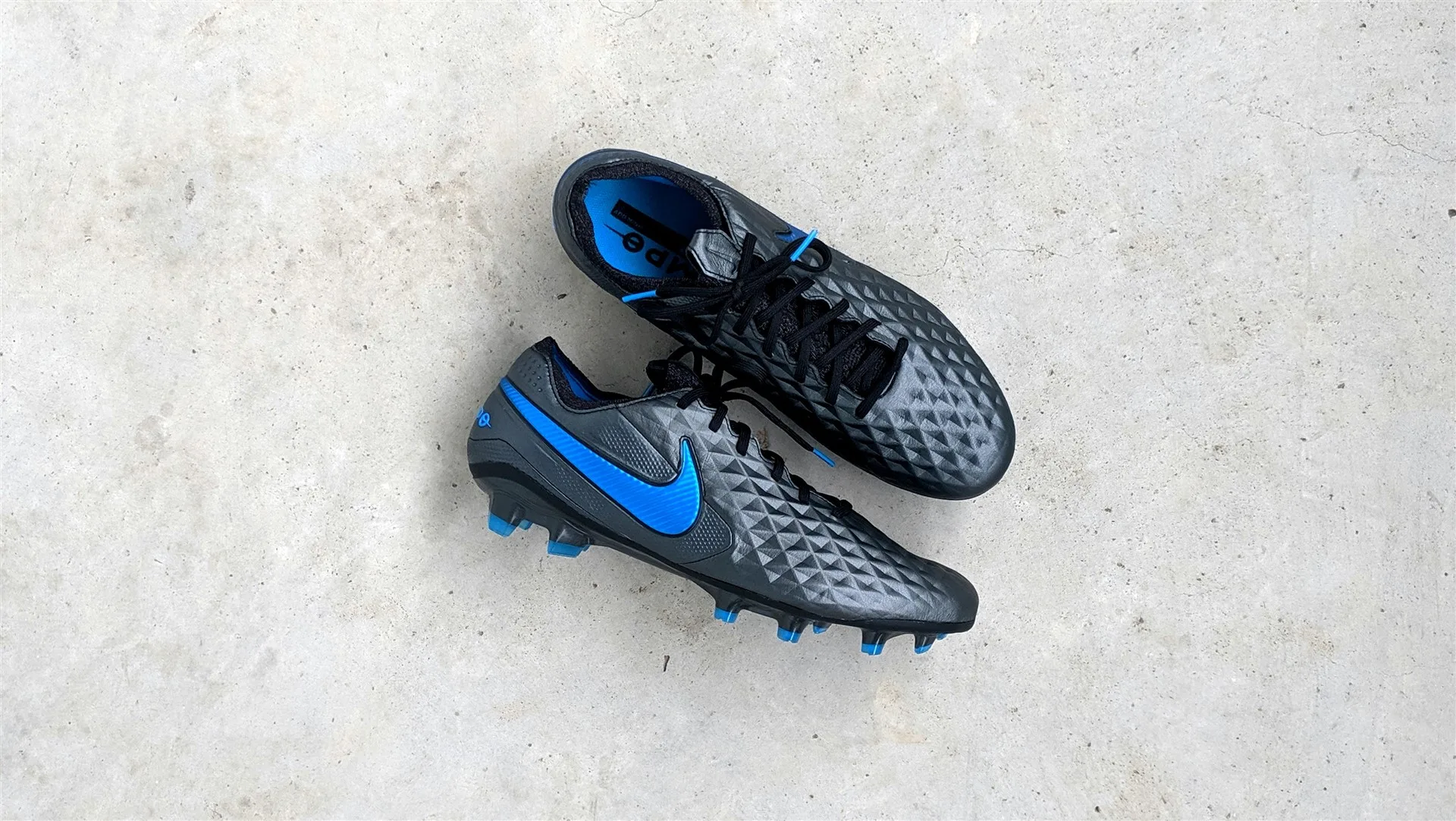 Flyknit has officially overtaken the Nike Tiempo Legend 8.
Editor's note (Aug 2020): We've also done a follow up review of the Nike Tiempo Legend 8 where we've tested it further after over 6 months of wear. Check out the "post hype review" here after you're done with this.
I did not like the previous generation Tiempo, the Nike Tiempo Legend 7, one bit. It was Nike's hit and miss attempt at creating a modern leather boot that carried a luxurious touch with the perfect lockdown. However, I felt that the leather was thick and too tough (alleviated only by how closely it wrapped your foot) and the lockdown was tight and uncomfortable.
A big part of that discomfort was the combination of Flywire cables and that Flyknit tongue which acted like a python constricting its prey. The addition of Flyknit to what is supposed to be a traditional leather boot also invited howls of derision from leather purists.
Nike's solution for the next generation Tiempo? Add more knit.
Leather skin, knitted body and soul
While Nike claims that the Tiempo Legend 8 is still a leather boot, don't be fooled by its claims. Its outer most layer/skin is premium kangaroo leather, but everything else under the hood is knit.
Starting with the Flyknit tongue from the previous generation, they have replaced it now with a "Flyknit Fit Tunnel". This is essentially a cylindrical shaped sock that wraps the midfoot to keep it in place. From the outside, it can be seen as the fabric that makes up the tongue and the lace area but in reality, the tunnel covers the lateral parts of your foot as well.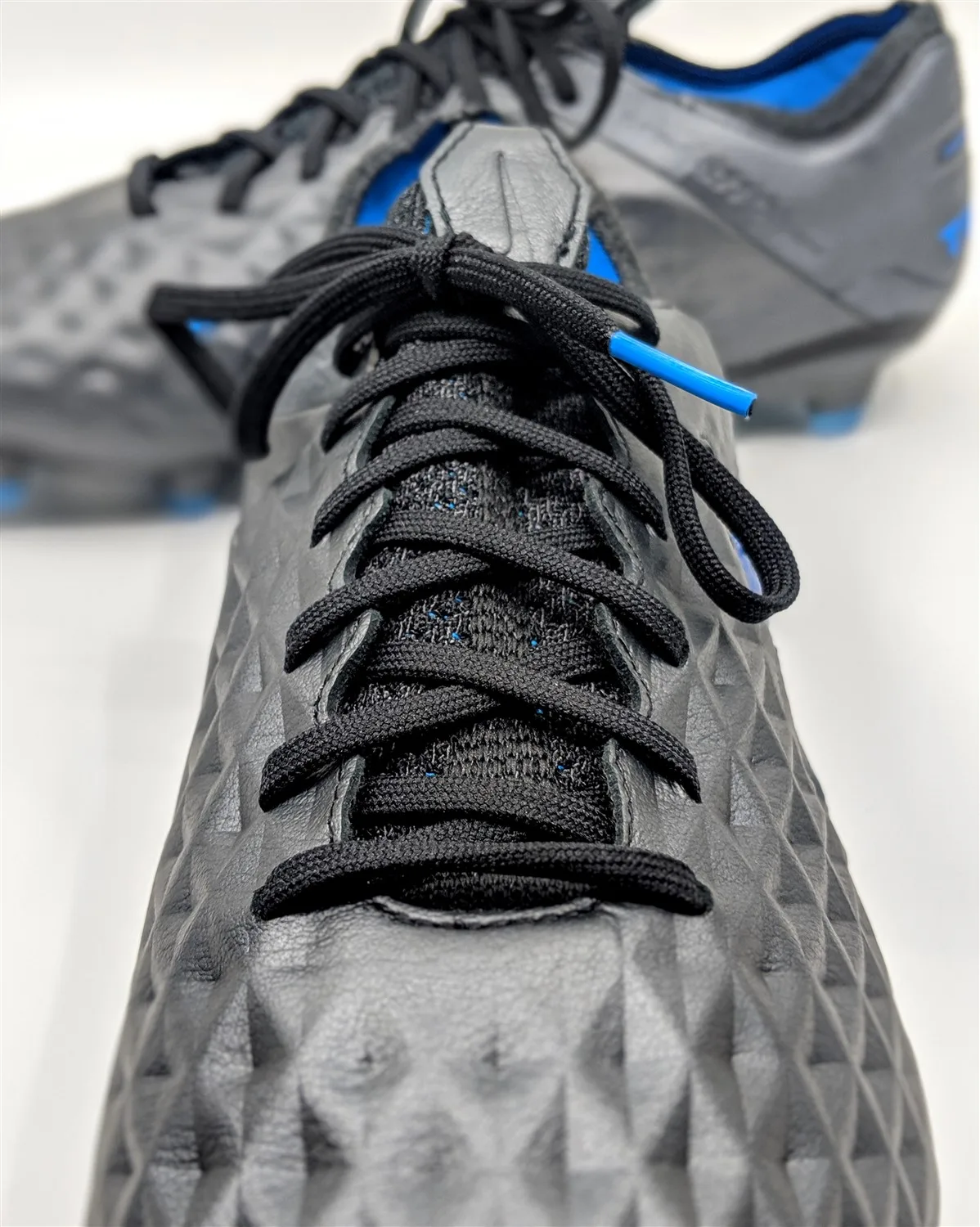 We also see a return of our beloved Quadfit mesh, last seen on the Nike PhantomVSN. It is another one of Nike's proprietary knitted materials that now forms the forefoot region – stretching in four directions to accommodate any foot shape, while simultaneously preventing overstretching of the outer leather layer.
Although the leather isn't the star of the show, Nike has cleverly created a one-piece upper devoid of stitching to keep the material soft and reduce water seepage into the leather. I have to say, I am impressed that they were about to implement that diamond pattern on such a thin piece of leather.
A leather boot for the space age
The Tiempo Legend 8 looks like a leather boot from the future – and it feels like one too. Out of the box, the boot is super soft due to the thin leather and the knitted body underneath.
Slipping on the boot, I felt like a NASA astronaut putting on a pair of space boots. The Tiempo Legend 8 even made a subtle "whoomph" sound from the escaping air the moment my heel locked in. And like someone in space for the first time, it hit me. I felt like my feet had trouble breathing. The Flyknit Fit Tunnel wrapped around the midfoot so tightly that claustrophobia started sinking in. I felt so odd to be out of breath purely from a tight fit but for a good 5 minutes, that was all I could think about.
It was so tight that even tying my laces a little looser did not help. The Flyknit symbiote was bonding with my skin and there was no turning back. My advice? Walk and get some simple mobility warm ups in the boots. Give that Flyknit some feedback with your movement and it'll start accommodating to your feet in no time.
This warm up phase got me to realize how amazing the lockdown was – not just in the midfoot but in the heel. I have almost never felt such security in a football boot as the Tiempo Legend 8 cradled my feet snugly with every step and change in direction. The stretchy Quadfit forefoot enabled much more freedom of movement with my toes but miraculously still kept the forefoot in place with the authority of a prison warden.
Rocket science in action
In a match situation, the Tiempo Legend 8 performs quite admirably. Running at pace, you never have to worry about your feet slipping in them. They're as secure as any boot you can find in the market.
However, leather boots are all about the refined touch and this is where the boot might polarize purists. The knitted materials are the star of the show but purists can fairly argue that it's an extra layer between the leather and the foot.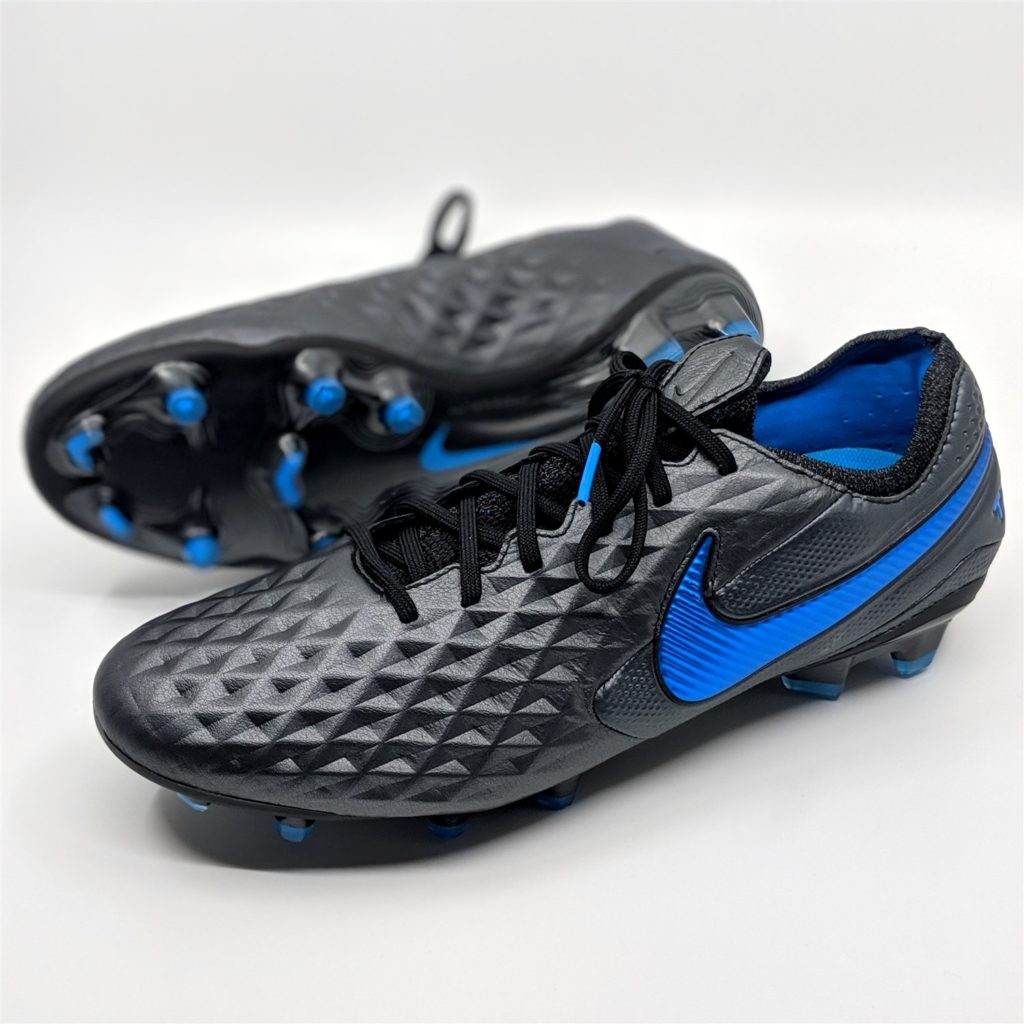 The sensation you get with every touch is still soft and padded but it feels… different. It still feels good to trap the ball and pass the ball. You don't get any distractions with a clean upper and controlling the ball is a delight. I asked for the ball to be played to feet more often in the Tiempo Legend 8 due to the comfort and premium feel I get when in contact with the ball. That clean touch makes it feel more like an all-rounded boot. It works just as well with passing as you do striking and tackling.
Expect the entire upper to break in after a single game and for the Flyknit and Quadfit to mould perfectly around your feet. It literally feels like a second skin that responds to your every shift in direction and begs for more in every play through. You can expect the knit to keep its shape through most of its lifespan – making sure that the entire upper doesn't overstretch.
All of this was fantastic until I realized that this was not really a "Tiempo" any more. This feels more closely to what the PhantomVSN should evolve into with its fit and soft touch from the knit.
The Tiempo's still got sole
One thing that hasn't changed is its Hyperstability soleplate – lifting directly from its predecessor. It is a mix of conical, bladed and chevron studs that is more aggressive for this type of boot than I'd like. The blades and chevrons are built in to help you dig into the ground aggressively for acceleration while the rounded studs help with ease of manoeuvrability.
As with the previous generation Tiempo, I would have preferred a less aggressive pattern to cater to the "pass and move" type of player who would be interested in the Tiempo Legend 8.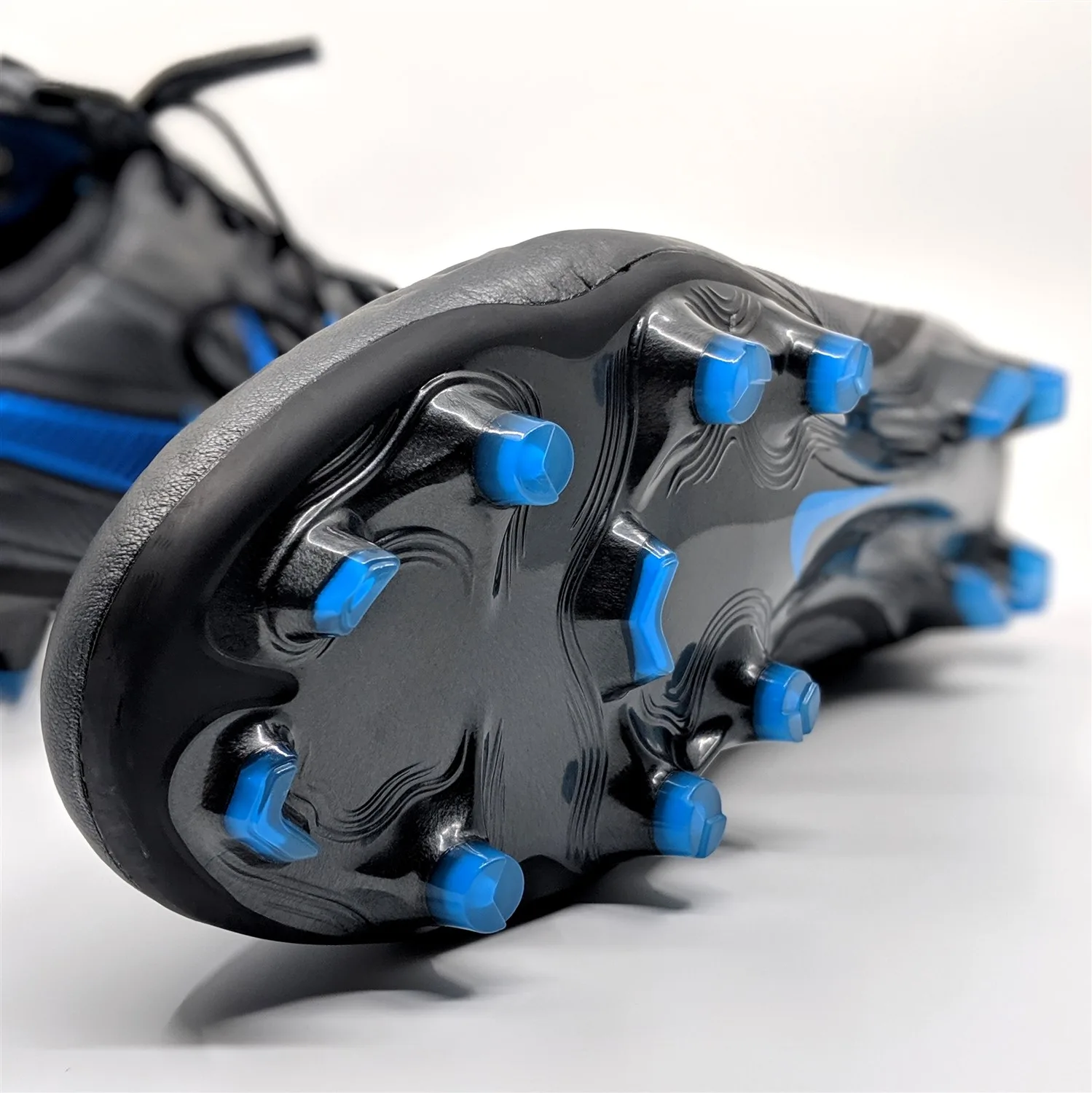 On AG surfaces, you can definitely feel the bite with every quick change of direction due to the length and shape of their studs. With prolonged use of the FG stud pattern on AG, you do feel some soreness and stud pressure over time though it wasn't as bad as I thought it would be. Nike doesn't do dual FG/AG compatibility so if you have concerns with longer studs on AG, get the pure AG variant instead.
An excellent boot but a sad day for leather purists
In pure performance, the Tiempo Legend 8 is one of the best ever made and has rectified all the issues the Legend 7 had. From comfort, a clean touch on the ball, supreme lockdown – all traits a Tiempo should have and the Tiempo Legend 8 meets these criteria with flying colours. Except that it fails in the leather department. This is not what a leather boot should feel like.
It's like the Terminator T-800. It is the perfect soldier except that it is anything but one. It looks like a soldier but peel away Arnold's flesh and you get a whole slew of futuristic gizmos powering it. All tech, no soul.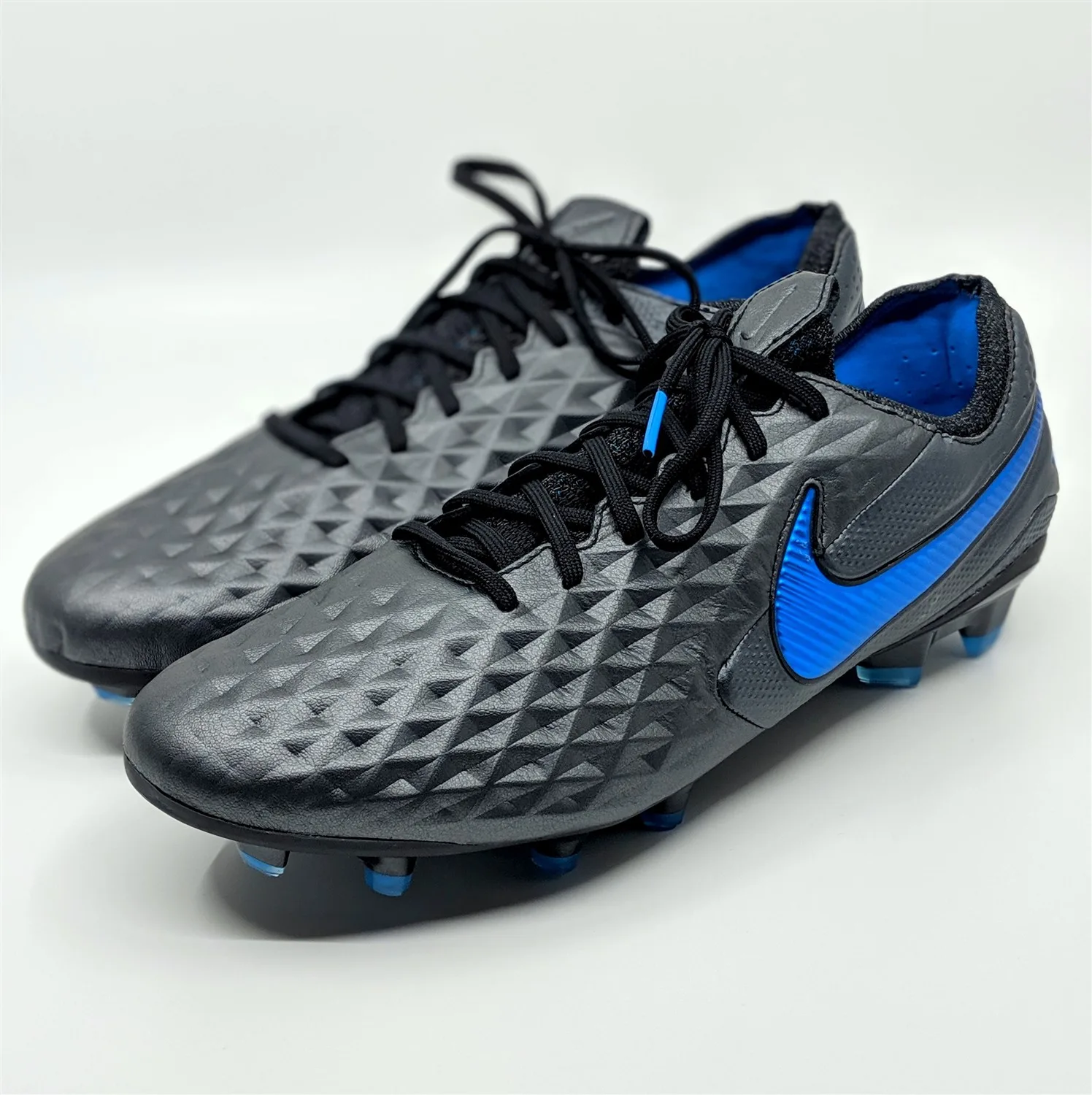 I feel that the Tiempo Legend 8 is proof that brands have reached the limit on leather innovation for the top grade boots. Expect this to be a turning point in how leather boots are made – leather in skin and name but essentially made up of many other materials.
I love the Tiempo Legend 8 as a top performing boot. It is my favourite out of all the Nike silos out there and one of the best available right now. But if you're a leather purist, you might be disappointed with the Tiempo Legend 8.
For those of us who have accepted that leather boots may be on its last legs, embrace the future. There is no resisting change. The Tiempo Legend 8 is a masterpiece.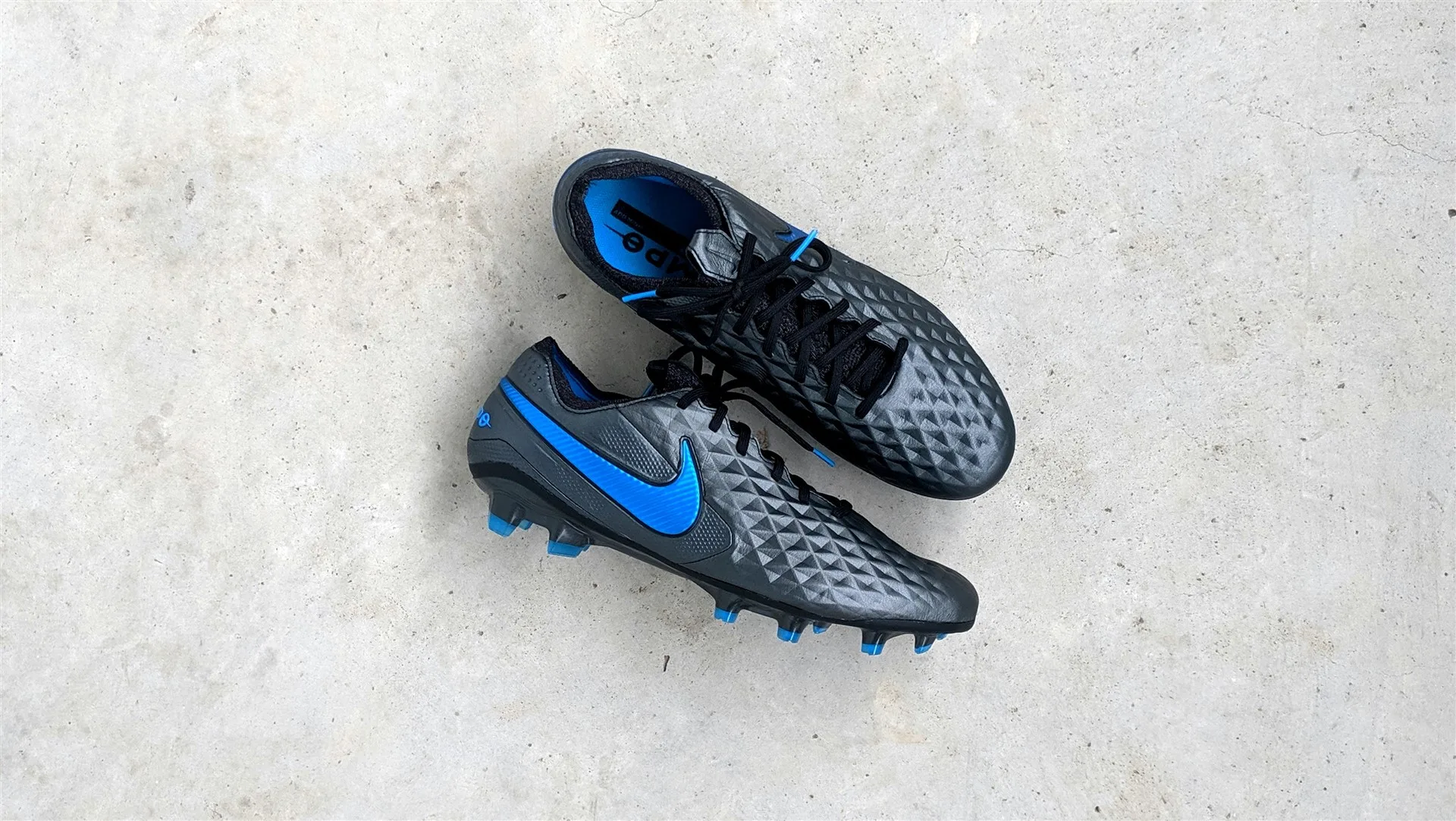 Final Thoughts
An excellent all-round boot. The Tiempo Legend 8 however, is more of a knitted boot than it is a leather one.
The Good
Supreme lockdown
Comfortable
Quick break in
Clean touch
The Bad
Leather is not star of the show