Can the running specialist produce a decent football boot?

ASICS are synonymous with running. From shock absorbing GEL technology to correcting over-pronation in the GEL-Kayano, ASICS are trusted the world over when it comes to providing exceptional running shoes and running technology.
I've always advocated for more running brands (and tech) to make its way to football. So when I got my hands on one of their football boots, I was thoroughly excited to put it through its paces to see if they could make that transition from running to the pitch.
What is the ASICS DS Light 3?
The DS Light is a range of boots that's meant to compete with mid-tier football boots like the Nike Premier 2.0. And like the Premier, the DS Light offers a leather upper, solid construction and a reasonable price point (SG$149) – a decent package all round.
Out of the box, I thought the ASICS DS Light 3 was a good looking boot. I love the novelty of a Japanese product and the blue and yellow trims of the ASICS stripes complemented well against the white upper. The soft synthetic suede inner lining also gave the boot a premium feel while aiming to keep your feet coddled in its soft interior. Even the copycat ribbed design in the forefoot (straight from the Nike Tiempo Legend 7) couldn't take away how easy the pair looked to the eyes.
What wasn't as pleasing was the leather quality. The Japanese are known to be leather connoisseurs. They truly believe that leather wraps around the feet better and provide a better sensation on the ball. So it was a little bit of a downer that the leather forefoot on the DS Light 3 felt more plasticky to the touch. If there's one thing the Japanese do well, it's leather, so I believe ASICS could have done a bit better to provide a more supple leather upper. If the Nike Premier could do it for the same price point, why not ASICS?
How wide is wide enough?
The model I received for the review was the "wide" variation but the Japanese running shoe makers do develop a regular fit boot as well. I wouldn't be surprised if the wide variant is the main model sold back in Japan as most Japanese shoes are built for Japanese feet which tends to be slightly wider than average.
"Slightly wider than average" is the exact first impression I got when slipping the ASICS DS Light 3 Wide onto my average width feet. There was a little bit of extra room in the mid-foot and heel area while the toebox provided ample space to wiggle my toes in. Tightening up the laces helped with the mid-foot lockdown but the heel area still needed more security. For those with slim feet, go for the regular variant or you'll be swimming in them during your game.
The forward tilt
Outside of football, I do my share of long distance running – mostly with distances like 10k. One pro-tip shared by running veterans is that you should adopt a slight forward lean to align your body forward. This helps you be efficient in how you expend energy in your long runs through the re-positioning of your hip flexors.
I was pleasantly surprised to see ASICS use this idea in the DS Light 3 by elevating the heel slightly for that forward tilt effect. You can feel it from the moment you take your first step in the boots. Once you get into the groove of the game, you will always feel that you're poised to make that next stride. It's deceptively clever to include running tech for a brand like ASICS to stand out in a crowded marketplace. Throw in some GEL insoles and I think we have a winner here.
Game on with the DS
Don't be fooled by its name. The DS Light 3 is not a lightweight boot nor is it a speed boot. It weighs about 230g on a US9.5, average by today's standard. From the word go, the boots felt exactly the way a mid-tier leather boot would on the pitch. It's solidly built and perfect for the midfield hardman. The tough leather gives you that security to get into tackles and come out with the ball at feet.
The tough upper, coupled with the ample toe-room, meant that the touch on the ball just felt…. alright. It does its job without any fuss but it doesn't give you the elegant and padded sensation you associate with leather boots. It can take the sting out of a strike through the laces but controlling the ball feels like a pretty standard affair.
If you want luxurious leather on a mid-priced boot, the Nike Premier 2.0 is your go-to boot. The DS Light 3, however, is your Roy Keane to the Premier's Andrea Pirlo. The DS Light 3 also needs some love so do give it 3-4 games until the boot feels fully broken in.
AG-friendly studs
On top of their love of leather, the Japanese always have an eye on producing soleplates for hard ground (HG) – a very common type of playing surface in Japan. They're almost akin to AG (artificial ground) with its harder but shallower ground. The DS Light 3's studs are built just for these surfaces with its short length and conical shape.
For a guy who is getting on with age and has knee problems, AG studs a godsent. I felt no stud pressure and pivoting in the boots were easy. It's not super aggressive but on AG fields, it's better to focus on motion rather than traction.
Finally, durability has always been a factor when it comes to AG so ASICS has ensured that cases of sole separation would be minimized with 3 rivets across the base to secure the sole to the upper. Thumbs up, ASICS.
A great option for wide footed players
I always felt that wide-footed players got the short end of the stick with football boots. Speed boots rule supreme and those aren't very forgiving either, even for slim footed folks. So it is quite positive to see that wide-foot players have an option that is no-nonsense, reasonably priced and surprisingly handsome. The elevated heel is a nice touch by ASICS too.
It's tough to beat adidas and Nike and I've always urged running brands to bring something different to the table to stand out. New Balance is guilty of forsaking their running expertise and I hope that ASICS shows the way by adding unique touches to their football line gets you to stand out a little with customers.
Overall, the ASICS DS Light 3 Wide provides something new and different for a niche group of players. At its mid-tier price point, it might just be a worth a shot for someone looking for a novelty experience.
Special thanks to Tokyo Football for furnishing us with a pair for review. If you're looking to get Japanese boots, do give them a try. A link to their shop can be viewed below.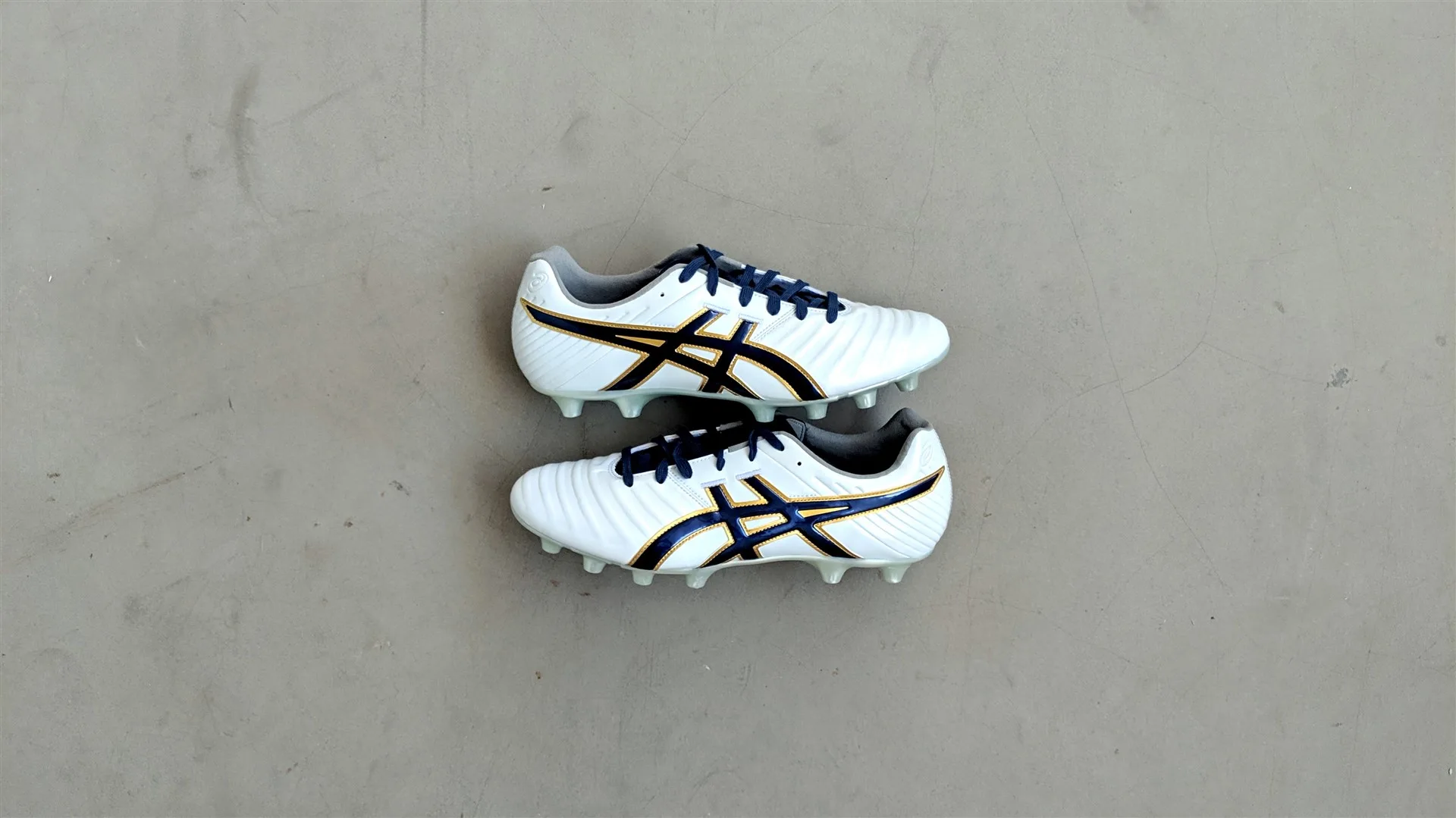 Final Thoughts
A no-nonsense boot built for the wide-footed player.
The Good
Good-looking boot
Elevated heel for improved running gait
AG-friendly studs
Durable
Available at Tokyo Football