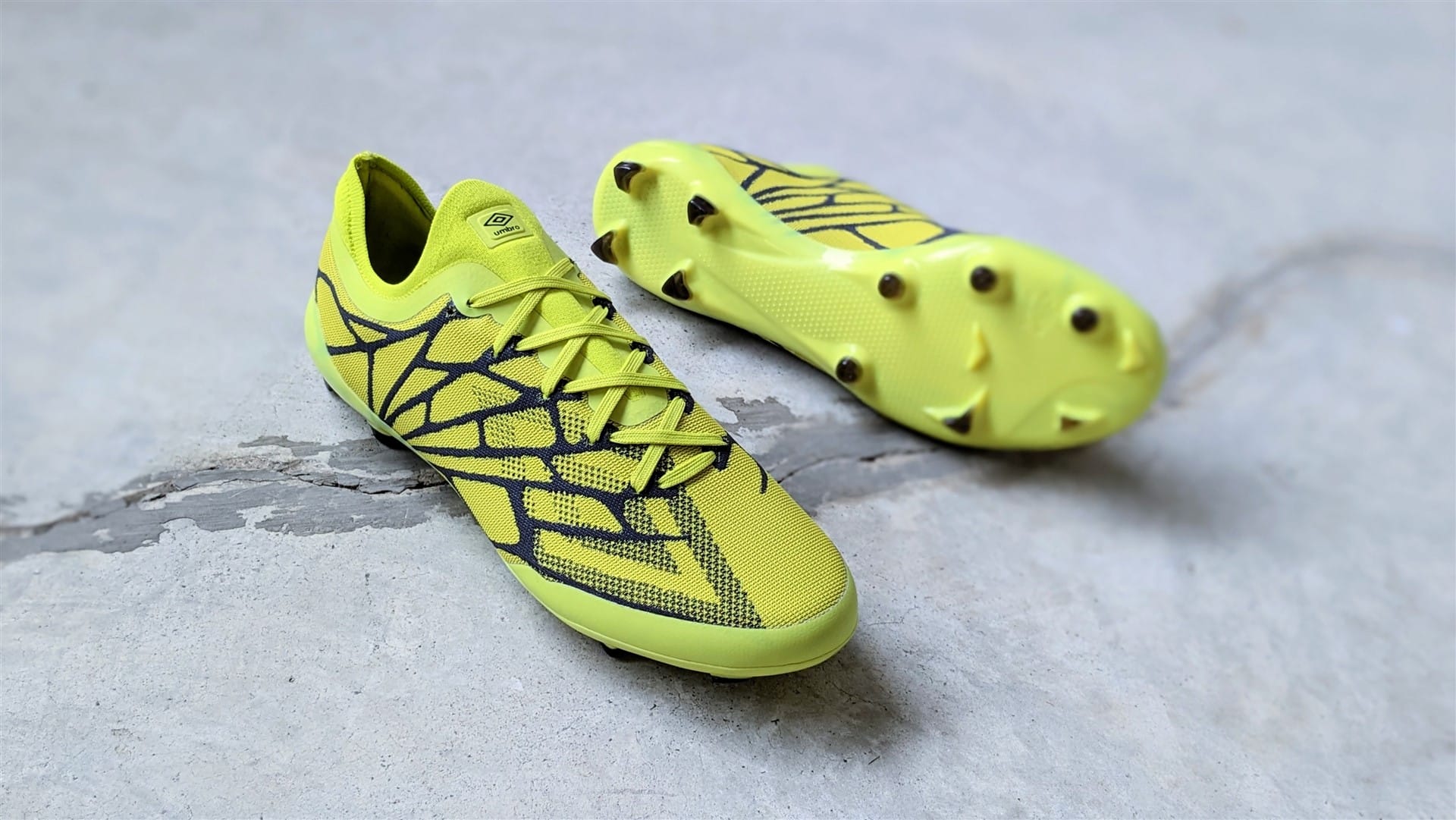 Check out the best prices below
We all have that one friend who is always fashionably late to the party. Often he/she is one of the coolest people there, a great conversationalist and the life of the crowd. We often look forward to see them arrive late into the evening when all the focus is on them.
However, we can't always say the same when it comes to innovation and marketing.
The good people of Umbro got in touch with us to review their latest Umbro Velocita Alchemist – their first big foray into knitted technology. Knitted tech became all the rage close to 10 years ago at the World Cup and it has seen many iterations across the industry.
Is the Umbro Velocita Alchemist fashionably late or did they miss the party altogether? We review the knitted speed boot to see if it can compete with the other esteemed speed boots out there.
ProWeave – The big innovation with the Umbro Velocita Alchemist
For the uninitiated, the Umbro Velocita is Umbro's speed boot line. They've traditionally had it developed with a synthetic upper and has launched to mixed reviews across the years. It has definitely looked sharp and felt light but comfort and fit have varied with past variations.
Umbro's shift to knit aims to lay those problems to rest.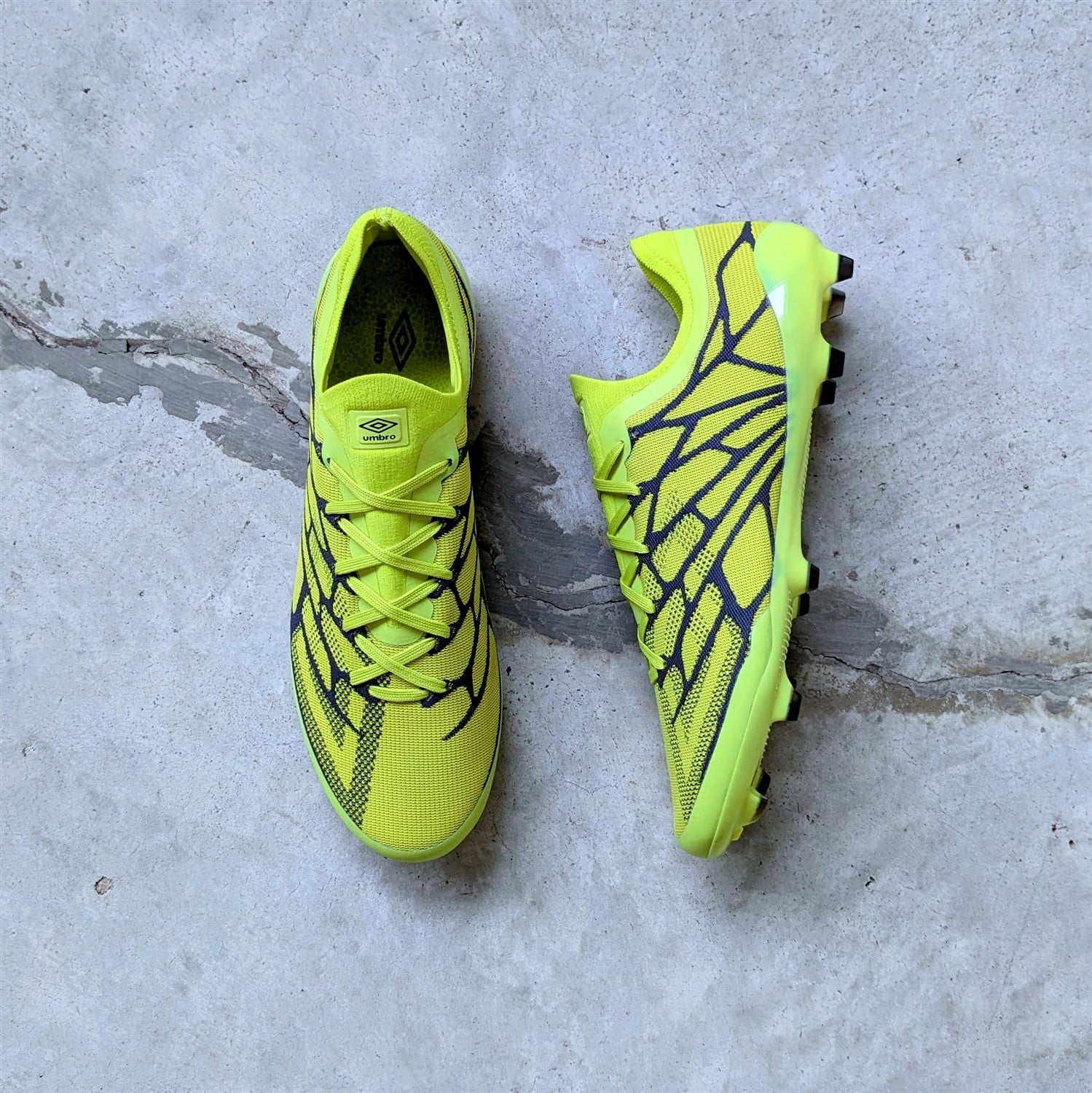 Enter ProWeave. It's Umbro's exclusive "patented world-first woven technology". They claim that "this unique weaving method from Texon gives Velocita Alchemist boots new levels of elasticity and stability in a single layer upper made partially from recycled polyester yarns. ProWeave delivers the ultimate adaptive fit – it's like a second skin with more raw speed and sure-footed stability."
The yarns aren't just comfortable, they're also supposed to be strongly wound to keep its shape and your foot in place during those aggresive pivots on pitch.
While it may sound like most knitted technology we've reviewed over the years, where Umbro show that they're not too late to the party to is in the area of sustainability. The boot's recycled materials ensure that the boot is 35% more sustainable. We're not sure how but we'll take their word for it.
To be fair to Umbro, this isn't the first boot they've launched with knit but it is the first time their own knit technology is at the centre of the entire experience.
Visually stunning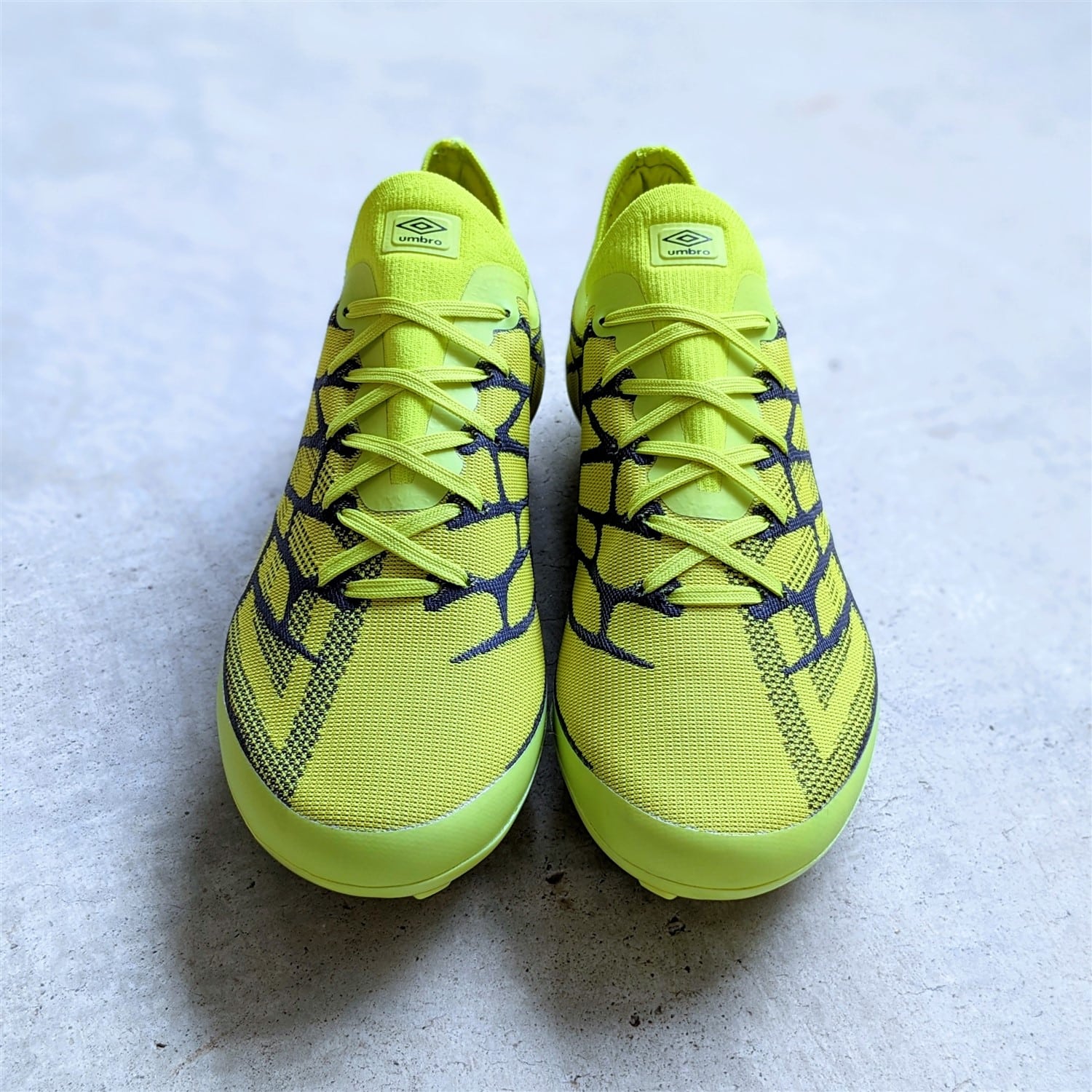 In a world of great football boot designs, I have to say I think the Umbro Velocita Alchemist is really up there with its looks. It's got a sleek silhouette and it's built as part of a modern one-piece upper. The build is also pretty simple with the ProWeave yarn making up the entire upper (save for the soft and stretchy knit tongue).
Umbro added a little flair to the boot by adding these designs across the upper that look like crack lines. I quite like it.
The boot also lives up to the speed boot tag, weighing in at a miniscule 185g in a UK9.
Despite its rather slim looks, putting them on is no hassle at all. The one piece upper stretched easily down the lace area and the fit is, for the most part, pretty true to size save for some bit of room around the toebox. For a truly snug fit, I believe you can go down half a size with the knit around the lace area stretching to accommodate your feet – even wide ones.
The Umbro Velocita Alchemist is simple but it just works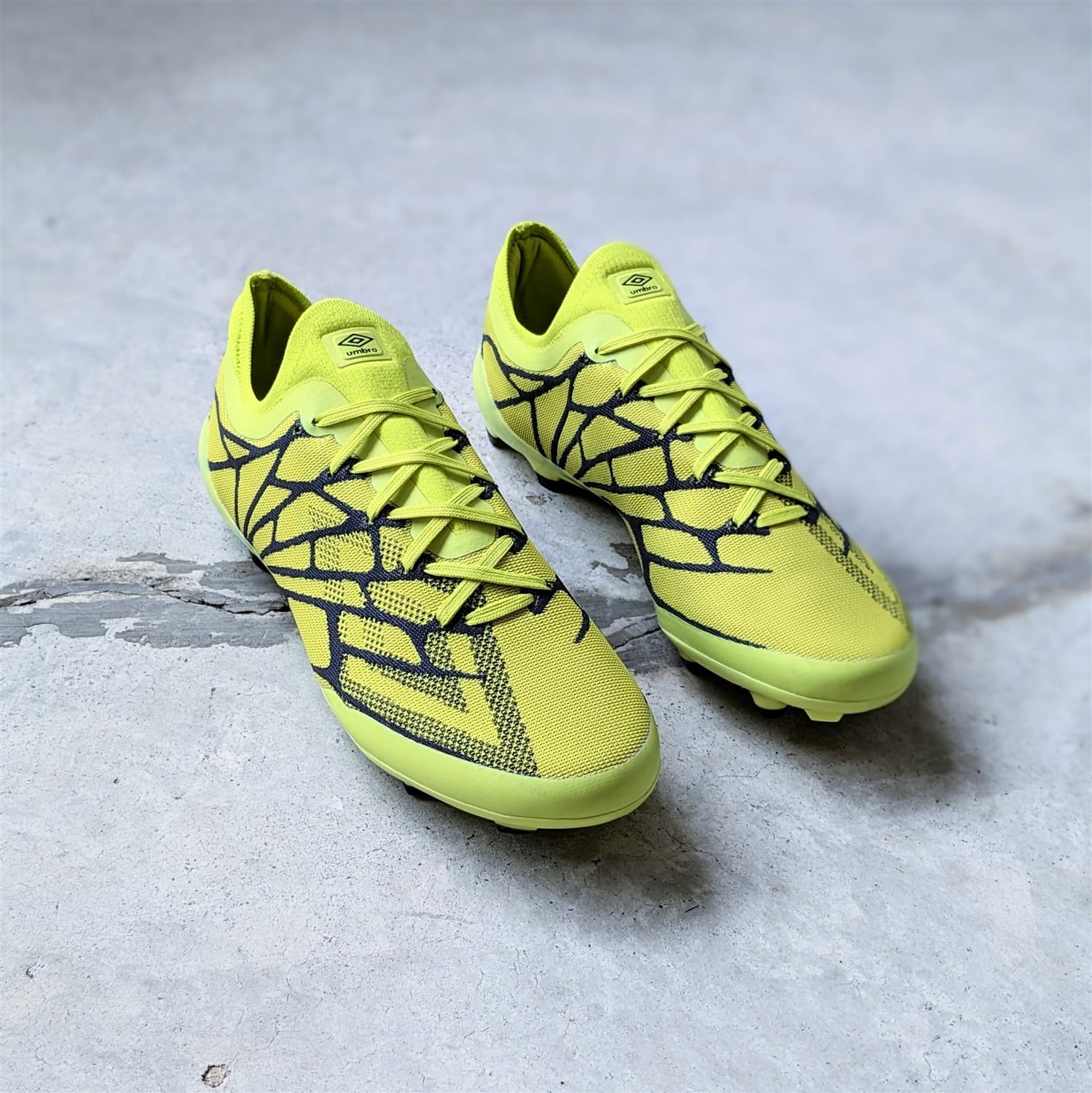 Once you take your first steps in the Velocita, you'll notice how comfortable it feels. The stretch along the lace and the ProWeave upper are gentle on your feet. There is no break-in time with the pair.
I was good to go from the off and I was surprised by how much I liked the boot. The upper is thin so you do get a very close touch on the ball. Whether it's receiving the ball or striking through the laces, it's all about your technique as there is little between your feet and the ball. You do get a very close control when dribbling, a must for any respectable speed boot.
Umbro mentioned the textured upper as one that could provide some grip though I never thought it was a big factor when it came to touch.
You might notice the upper bunching up a little as you flex your feet due to how tightly wound and connected the ProWeave yarns are. I personally don't have a problem with this but for those who are sticklers for a bunching upper, you might find it to be a bit of a peeve. Get your sizes and fit right and this becomes much less of an issue.
And speaking of fit, the lockdown is also pretty solid with the ProWeave yarns forming a densely tight weave to reduce overstretch when you're making those hard pivots and changes in direction. You feet stays locked in all the time.
Built for AG
This may be the first and only time I say this on the blog, but the FG studs are too short. In fact, this is effectively the same soleplate as the Umbro Medusae 3 Elite from 3 years ago, which carry some of the shortest studs around.
For the record, I like them short as I play on artificial ground (AG). The studs do a solid but unspectacular job with traction on AG due to how short they are. Twisting and turning feel easy and safe and I didn't feel like I risked getting my studs stuck. Running in a straight line and making turns doesn't provide the aggressive bite but I'm not personally fussed about that.
So why do I still have a problem with them being too short? That's because the Umbro Velocita Alchemist is marketed as a speed boot. Speed boots are infamous for aggressive grip for acceleration – often typified by longer, chevron shaped studs that dig deeper into the ground.
Moreover, I would have expected Umbro to lean towards going with longer studs considering that they're a UK-based manufacturer – the pitches in that part of the world are deeper and softer which would require longer studs.
I don't have a problem playing with shorter studs on AG pitches in humid Singapore, but I do wonder if this would put off their local UK customers from buying them for their Sunday league match ups.
Perhaps Umbro had a wider audience in mind, for footballers that often play on AG? The rubber lips applied to the edge of the toebox hints at an AG-feature, one that is supposed to protect the area from the rigours of contact with harsher artificial ground.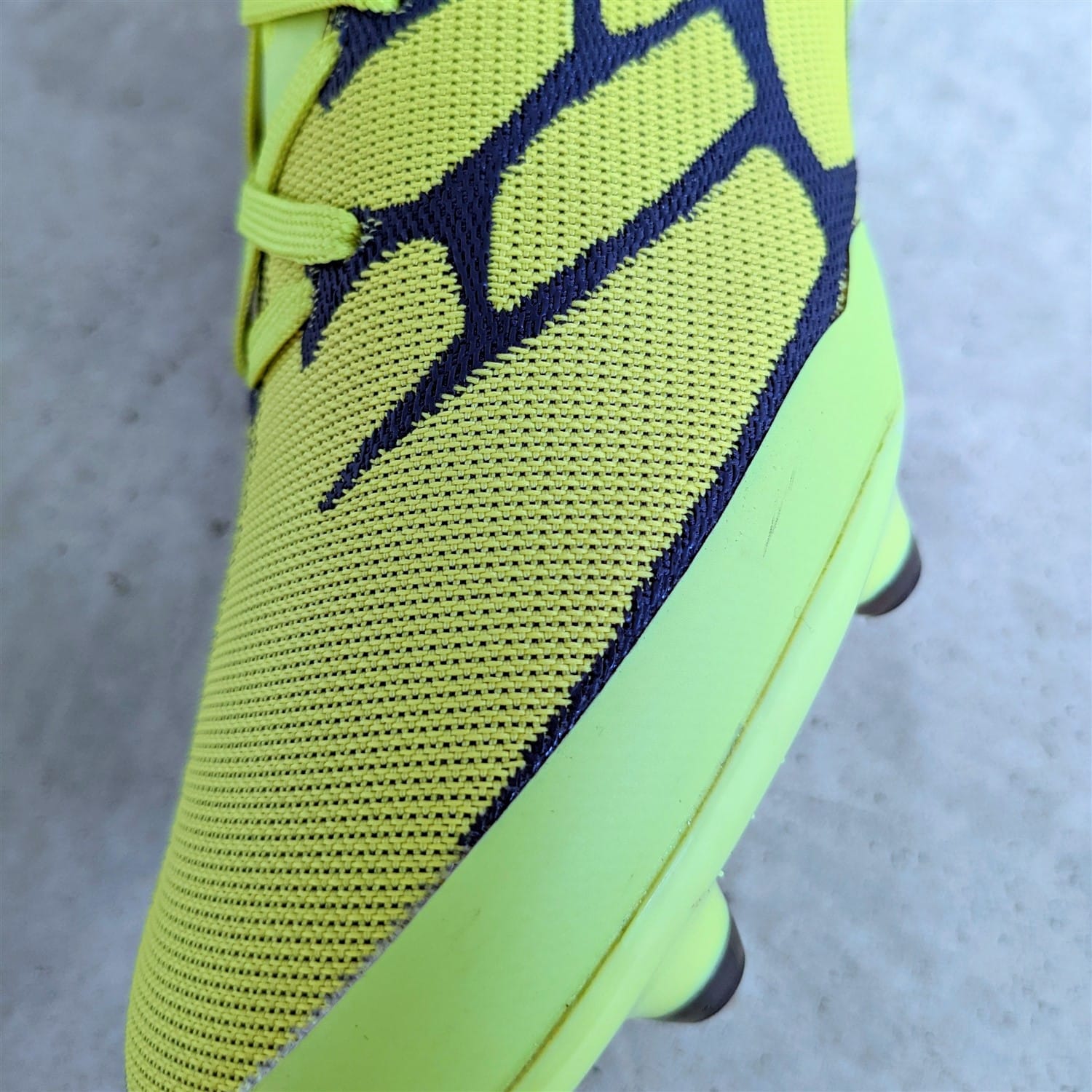 On top of all of that, the Umbro Velocita Alchemist also has a soleplate that provides little to no spring back effect that is synonymous with speed boots. These are light but flex too easily. It's a very natural flex but many who buy speed boots would expect something stiffer to provide the sense of propulsion when flexing during their runs.
The late comer is still fun but the conversations have passed
I have to admit – I quite like the Umbro Velocita Alchemist for its simplicity and comfort. It has elements in a speed boot that I like – the good looks, close touch, light weight. And it also comes with other elements which I personally enjoy that you can't often find in speed boots – the natural flex, short studs for AG (hey I'm getting old).
Unfortunately, 90% of those who would consider a speed boot would want more from that soleplate. It's just not "speedy" enough as it requires a bit more stiffness and longer, aggressive studs.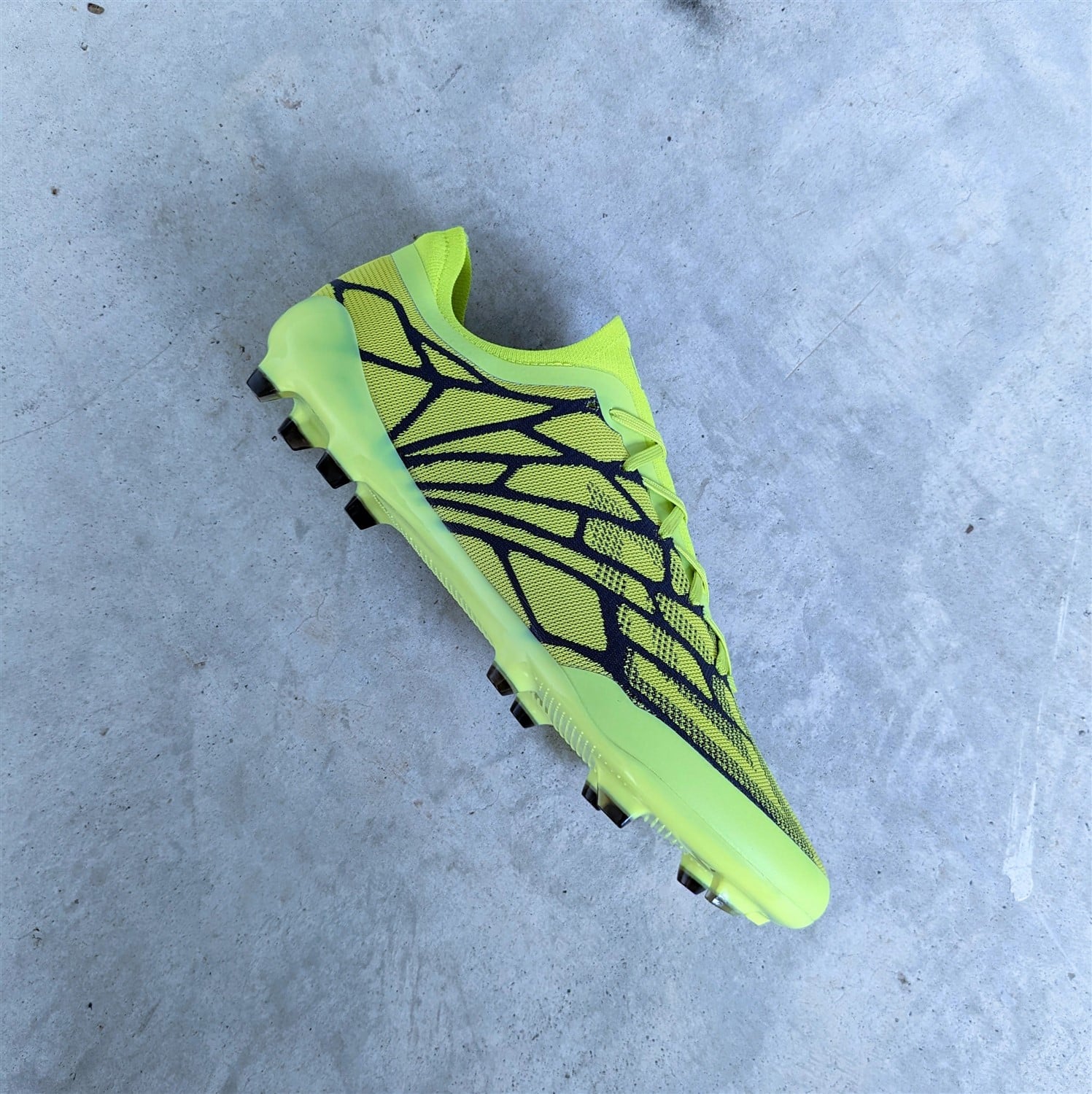 The Umbro Velocita Alchemist is a great conversationalist but unfortunately for this late comer, the party goers have moved from the dinner table to the dance floor. Umbro's ProWeave knit is excellent but comes a few years too late. Trends have moved back towards synthetics with a soft comeback for leather.
But if you're tired of dancing, it won't hurt to return to the dining area for a chat with a lovely but late visitor.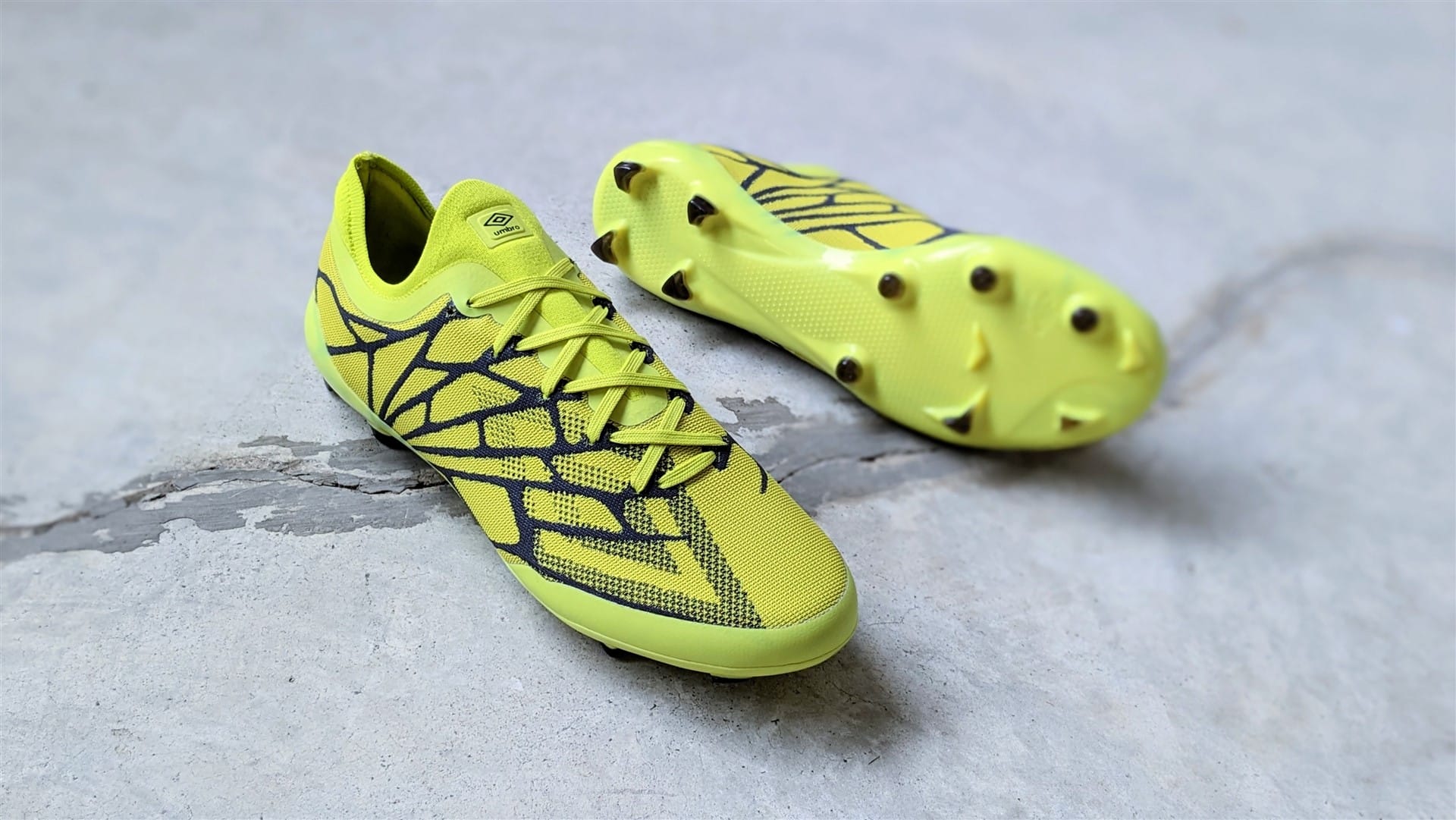 Who is this for?
Players who are looking for a knitted boot
The Good
Good looks
Light weight
Excellent knit upper quality
Comfortable
The Bad
Lack of aggressive studs
Sole lacks spring
Check out the best prices below