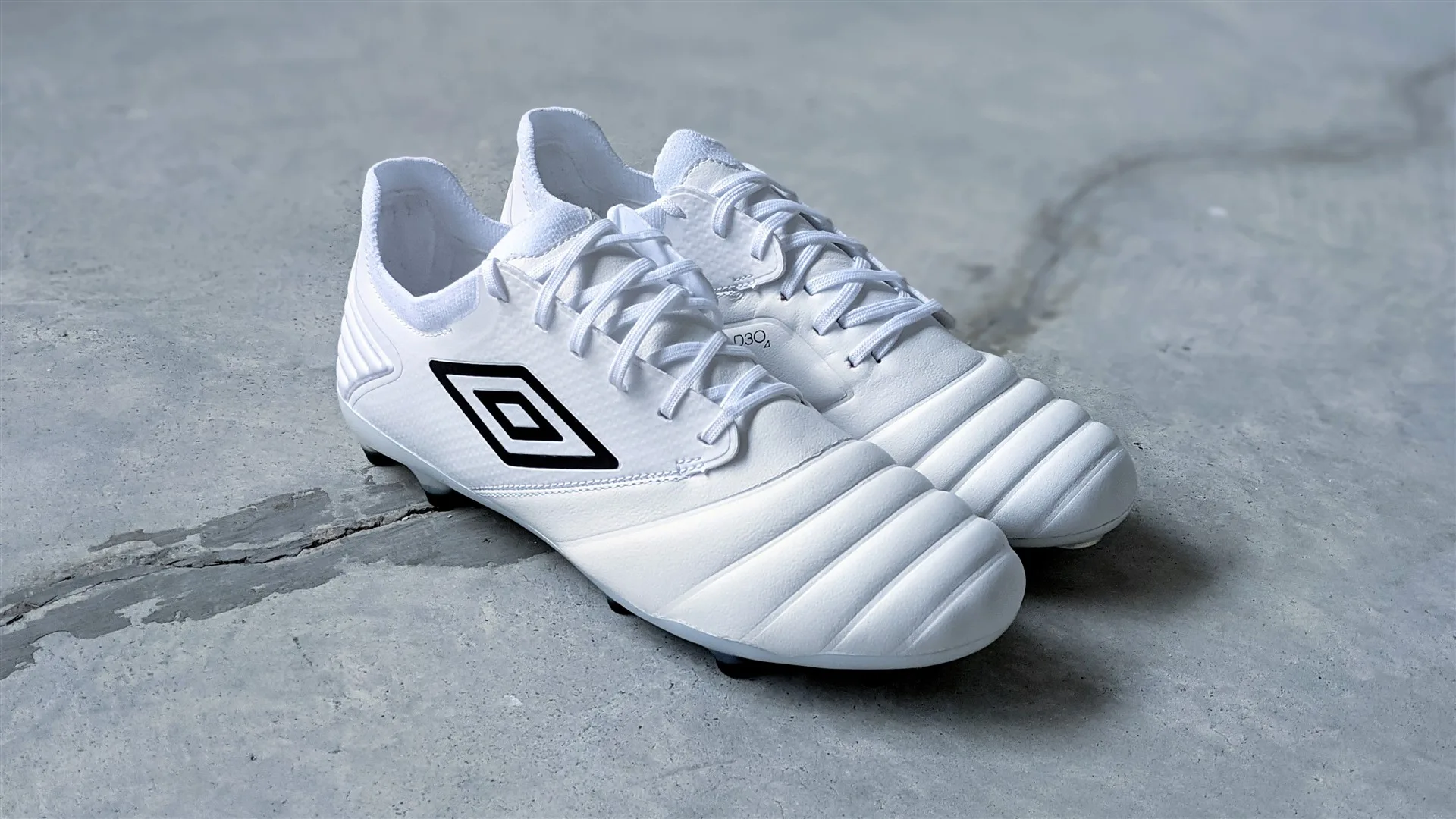 Check out the best prices below
The Umbro Tocco Pro turns heads on and off the pitch.
Like most 90s kid, Umbro is a brand that I'll always have a soft spot for. That iconic Eric Cantona popped collar look. My tears in that 2006 England kit as Wayne Rooney got sent off to seal England's departure from the World Cup. Rocking a pair of Umbro Speciailis after watching Michael Owen pull on a pair during his time in Real Madrid.
Today, Umbro aren't quite the storied force in football that they once were. However, they have tapped into their history to carve out a new niche for themselves – leading the retro chic jersey wave. They look good both on pitch and on the high street and have captured the attention of the self-styled football hipsters out there.
On feet though, their football boots have been more of a mixed bag. While there have been hits, such as the Umbro Medusae 3 Elite, there have also been some absolute disappointments, such as the Umbro UX Accuro 3, which was borderline unwearable.
On first look, I was excited for the new Umbro Tocco Pro, as it focused very much on a silo that brands seemed to have all but abandoned – the control boot silo, and hoped that this would be a fresh start for the dual diamonds.
Umbro Tocco Pro: The most modern leather boot on the market
Don't let its looks fool you, the Umbro Tocco Pro is the most technologically advanced leather boot on the market today. The boot is made up of a hybrid of IDRO kangaroo leather, knit as well as its trump card, the shock absorbing D3o foam.
The knit makes up most of the lateral and heel area, for added comfort and stability, while the forefoot and medial side is made up of a fairly soft and pliable k-leather upper which Umbro claims absorbs up to 75% less water. On the instep, lies a control pad, infused with D3o foam to help with control.
D3o is a fascinating material that was first used in their UX Accuro Pro 3. To save you from the physics lesson, D3o is essentially a fluid with high shock absorbing properties which hardens up under impact. Typically used in the military and other industrial protection wear for its impact absorbent abilities, Umbro have brought it into the football world, infusing it into the leather upper to give us little excuse for a poor touch.
A welcome addition to control boot category with a narrow fit
In a clear departure from the current trend of thin uppers for a "better touch on the ball", the Umbro Tocco Pro has an incredibly padded upper, even before you take the D3o into account. Due to how seamless the padding and D3o material has been infused into the upper, the Umbro Tocco Pro doesn't run an issue that some other boots do – which is that any added material makes the boot fit tighter.
Instead, the padding adds to the comfort of the boot, as it helps to cradle your foot in a soft yet protective cocoon without "filling" up the boot too much.
Fit wise, the Umbro Tocco Pro continues Umbro's trend of fitting narrow and roughly a quarter size long. While I thought about going half size down to get the best possible fit, the boot was too narrow for me to do so and I compensated for the extra space by wearing a slightly thicker pair of socks. I'd recommend going true to size for most people, although it might be a challenge for those of you with wider feet. If you have narrow feet, half a size down works best.
I did however experience an issue with the heel. Instead of a typical synthetic or suede heel liner, the Umbro Tocco Pro uses a textile-like material that is fairly slippery. The cushioning pods also sat on my heel instead of above to lock me in. While there was no slippage, I definitely experienced some hotspots in that area with potential for blistering.
Umbro Tocco Pro gives you no excuses for bad touches
The lines between a leather boot and a control boot have always been fairly thin. If a boot gives you a good touch, that should translate to good control, right? Perhaps, but for a bang average player like myself, I enjoy having a slightly dampened feel on the ball, even if it's a placebo effect that reduces the impact when controlling balls coming in at pace.
This is exactly what the Umbro Tocco Pro brings. There's a nice airy feel that provides a natural leather touch while giving you some feel of the ball despite all that padding. Plucking balls out of the air felt natural and smooth and I found myself controlling the ball fairly well despite putting in lazy touches as I began to tire towards the end of my game.
There's definitely a placebo effect in the background, but the control pad definitely feels like it helps with both controlling the ball as well as firing a harder pass, presumably due to the D3o material hardening up under impact.
The flip side of the upper, is that you don't quite feel the ball as closely to you when you're hitting it for longer passes or trying to place one into the top corner. Don't get me wrong, the boot does absolutely nothing to hurt your technique, but you don't get that same pop when you're blasting a ball with a thinner upper, which some people may prefer.
Functional tooling with a natural feel
Umbro describes the Umbro Tocco Pro as being built for the player who runs long distances and wants to win and keep possession. While the boot definitely shines in the latter categories, I do feel like the tooling could have been improved. For starters, the tooling uses a 6 x 4 stud pattern, which is functional, but I'd have preferred 8 studs in the forefoot, for easier maneuverability when changing directions as well as better weight distribution on the ground to feel more stable.
I was a huge fan of the older Umbro Speciaili's flex groove in the forefoot which made for a more natural running motion and I'd have loved to have seen it on the Umbro Tocco Pro as well. It does get our BOOTHYPE stamp of approval for FG/AG use, as the conical studs are at the right length of being long enough for FG, yet short enough to not give you stud pressure on AG.
Carving a niche on and off the pitch
From a performance standpoint, it's easy to dismiss it as just another attempt on a modern leather boot in a very saturated market. But what it really does is to fulfill a vacant spot – a comfortable padded control boot. This is an endangered species in today's market where lighter and thinner is the name of the game for most brands. I'm happy to share that the Umbro Tocco Pro is definitely an admirable first attempt and with some tweaks, a second generation model could definitely challenge the established players in the market.
But from a more macro look though, the Umbro Tocco Pro definitely fits well into the sort of audience that the Umbro brand seems to be attracting – your football hipsters who look to stand out from the crowd. With its slightly lower price point, unique looks and performance that ticks enough boxes, the Umbro Tocco Pro is definitely a strong step forward from Umbro as they look to reclaim their place in the football world.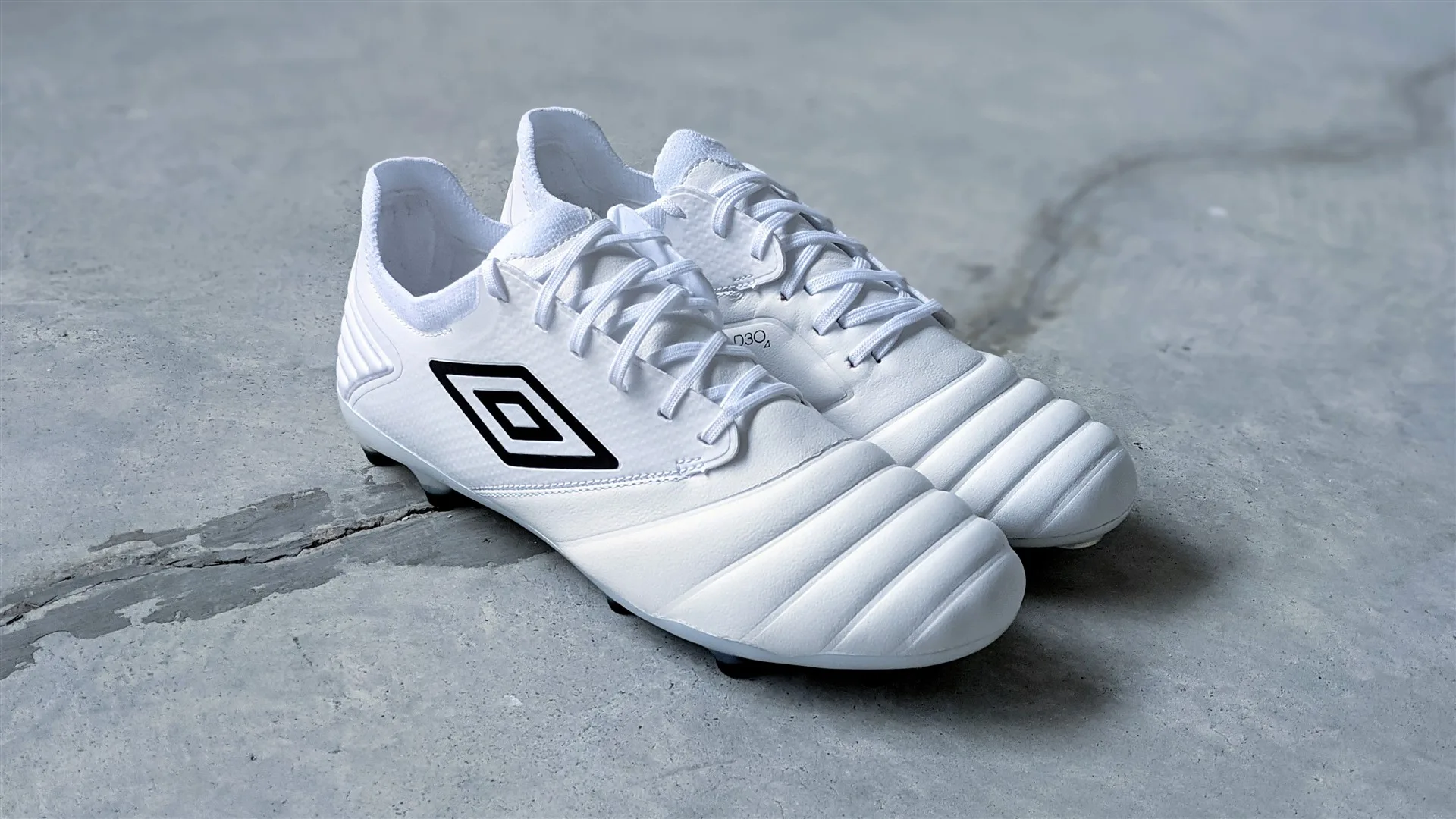 Umbro Tocco Pro Review: The Hipster's Leather Boot
Who is this for?
Players who want a thick, padded leather boot.
The Good
D3o adds to your control
Comfortable padded upper
Protective
Easier on the wallet
Good looks
AG-friendly soleplate
The Bad
Poor heel fit
Narrow and long fit
Check out the best prices below