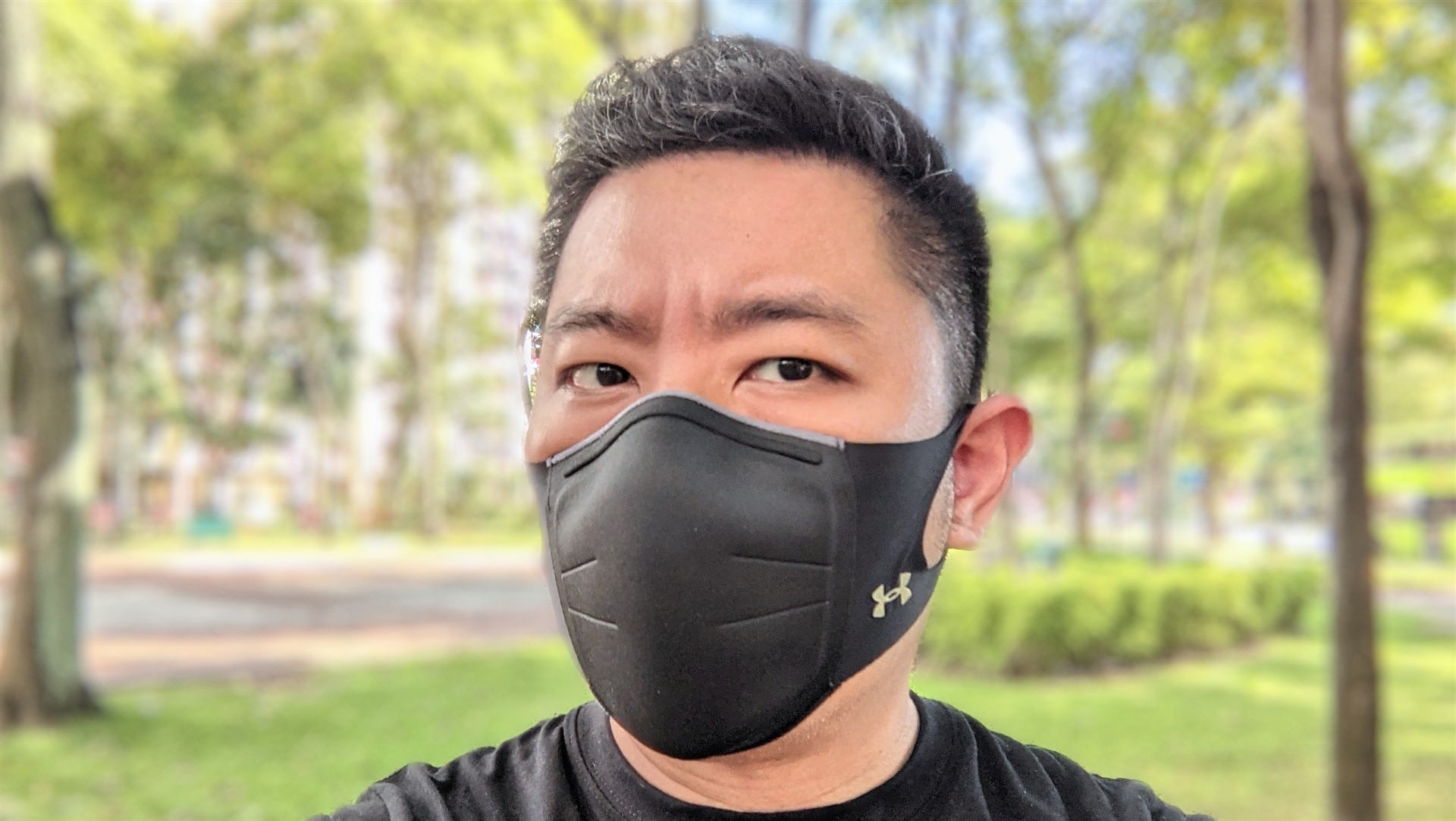 Check out the best prices below
The last year and a half has been a very unique time. Never would I have thought to review face masks on BOOTHYPE.com but here we are with the second review of a sports performance mask within the space of a year.
Our first was the Under Armour Sportsmask which was a critical and commercial success for the American sports wear makers as it balanced performance, breathability and comfort in a single package.
Fast forward to 2021 and Under Armour has developed a successor, the Under Armour Sportsmask Featherweight, which does everything the first version did, but better.
Under Armour Sportsmask Featherweight: Smaller but leaner
Conceptually, not much has changed in the much. A light, breathable mask for sports that fits well and creates a barrier for you and the environment against fluids.
However, gone is the thick, pillowy material. In its place is a thin, structured foam. The foam is the mask's secret sauce, being thin enough for air to flow through easily but resistant in allowing moisture to pass.
The foam is also fairly rigid for something this thin. This is because the foam's rigidity allows the mask to keep its structure during one's heavy breathing and not collapse inwards too much. Under Armour also altered the ergonomics of the Sportsmask, creating a protrusion around the chin area to wrap itself for a most secure fit.
Further up top, the wiring to personalise the fit across the nose bridge seems to be revamped as well. Gone is the flimsy wire for a much more dense mix of foam and fabric that is more comfortable to the touch and is more malleable to your face's shape.
Finally, returning to the fold is Under Armour's ultra thin elastic band which hooks the mask around your ears. It is thinner than ever and like in the last model, it always looks to be on the verge of snapping, but surprisingly, it never does.
Getting sizing right
Fit-wise, I have always found their measurements confusing. There is a size guide where you're tasked to measure the distance from your nasal bridge to your ear but I never get it. They always measure a little too long and I made a previous mistake of sizing up in the last model.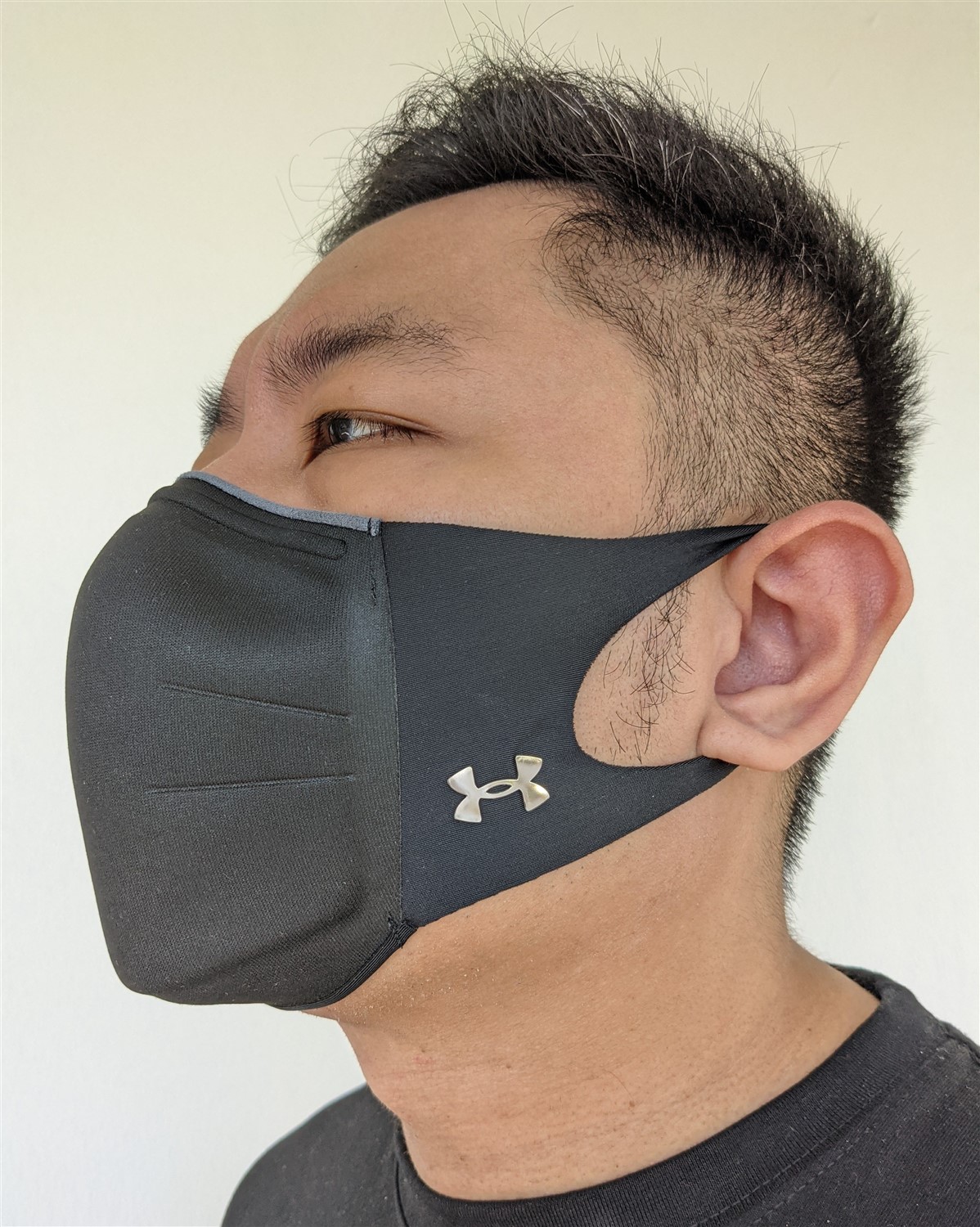 An approach which is a little less scientific is to just go with M/L for most of us. That should fit most people fine. More petite people can size down to S/M and slightly bigger ones can go for L/XL.
Extreme sizes like XS/S might fit kids or young teenagers and XL/2XL might fit someone on a more massive scale – think a pro basketball or American football player.
Taking out the Under Armour Sportsmask Featherweight for 5k runs
With Covid-19 cases and clusters forming rapidly in recent months in Singapore, I've put a pause on football for a bit and switched out to doing long runs instead. I would usually run 5-10k around my neighbourhood at a moderate pace of 6:30 minutes per kilometre.
I was pleasantly surprised at what a big upgrade the Under Armour Sportsmask Featherweight has been. The new pocket of space for the chin is most welcome as it has contributed to better lockdown on the under side of my face and the new wiring around the nasal bridge conforms across my face a lot better.
Expect the mask to fit very snugly when doing more aggressive workouts like HIIT or football too.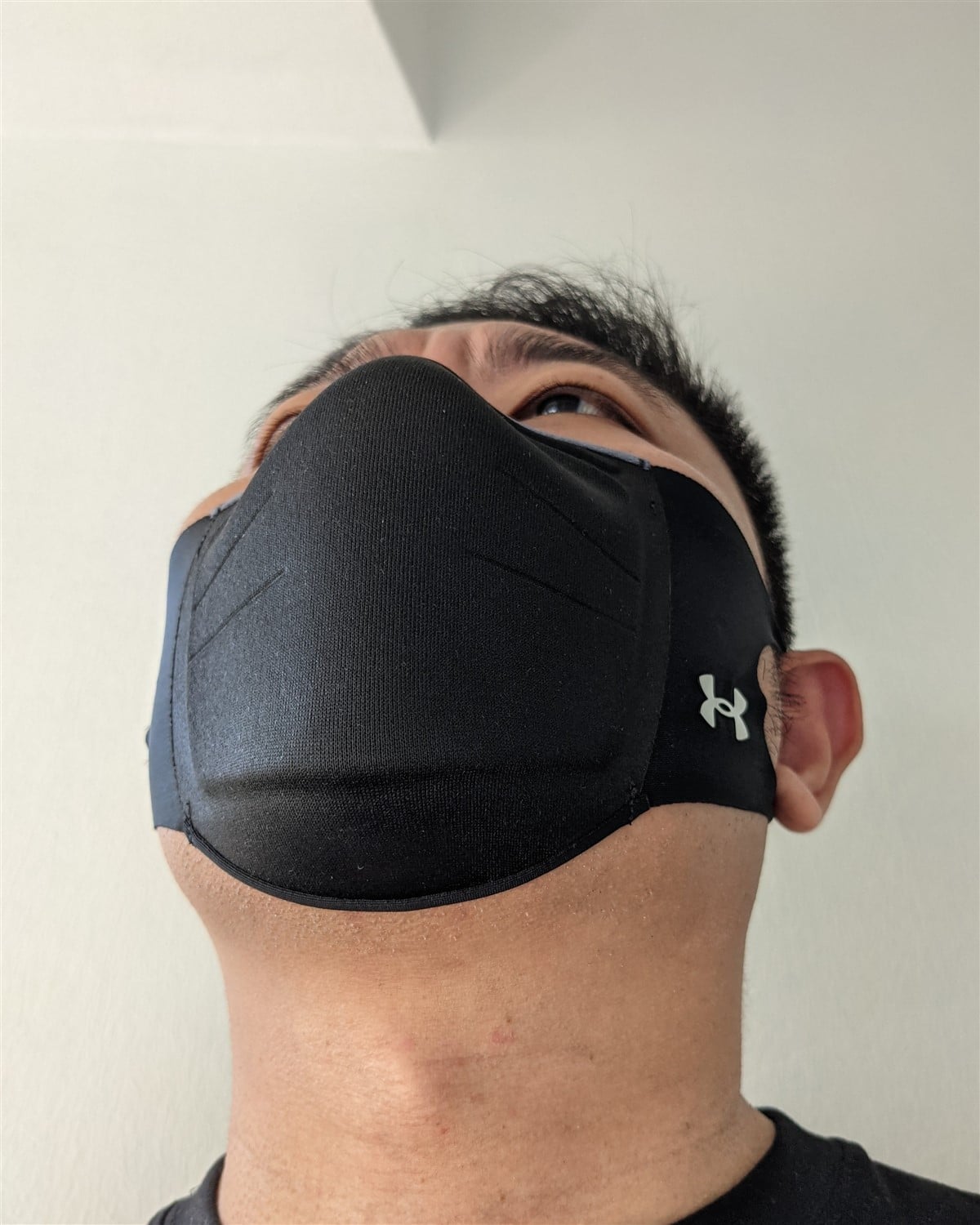 And just like the older mask model, the Under Armour Sportsmask Featherweight makes breathing in a mask relatively easy too. I wasn't straining for breath even in our hot and humid climate. The thin bands don't tug uncomfortably at the back of the ears, which is a positive when I do longer runs that last an hour or longer.
Unlike the first generation mask, this thinner foam material means that the mask won't soak up as much sweat in a workout and it dries much more quickly too after it's hand-washed. This a definite plus as I wasn't burdened with a sweat sponge by the end of my run and the mask dries quickly after my wash in time for my run the next day.
Outside of sports, the mask is works well for a safe day out. Your voice is audible, the fit is comfortable and the mask looks pretty sharp too. The shape looks really sleek and is worthy of being labelled a modern sports performance accessory.
Under Armour improves on the best sports mask in the market
This is easily the best mask I've worn during the pandemic where masks have been mandatory. It's good looking, it fits well and protects you against moisture whether you're out shopping or busting out a sprint.
I didn't expect Under Armour to have improved on the mask this much, but I was proven wrong. The Under Armour Sportsmask Featherweight is an absolute beast and I love it. Some might find it slightly expensive at SG$29 per mask but I believe it's worth the price due to its price and durability.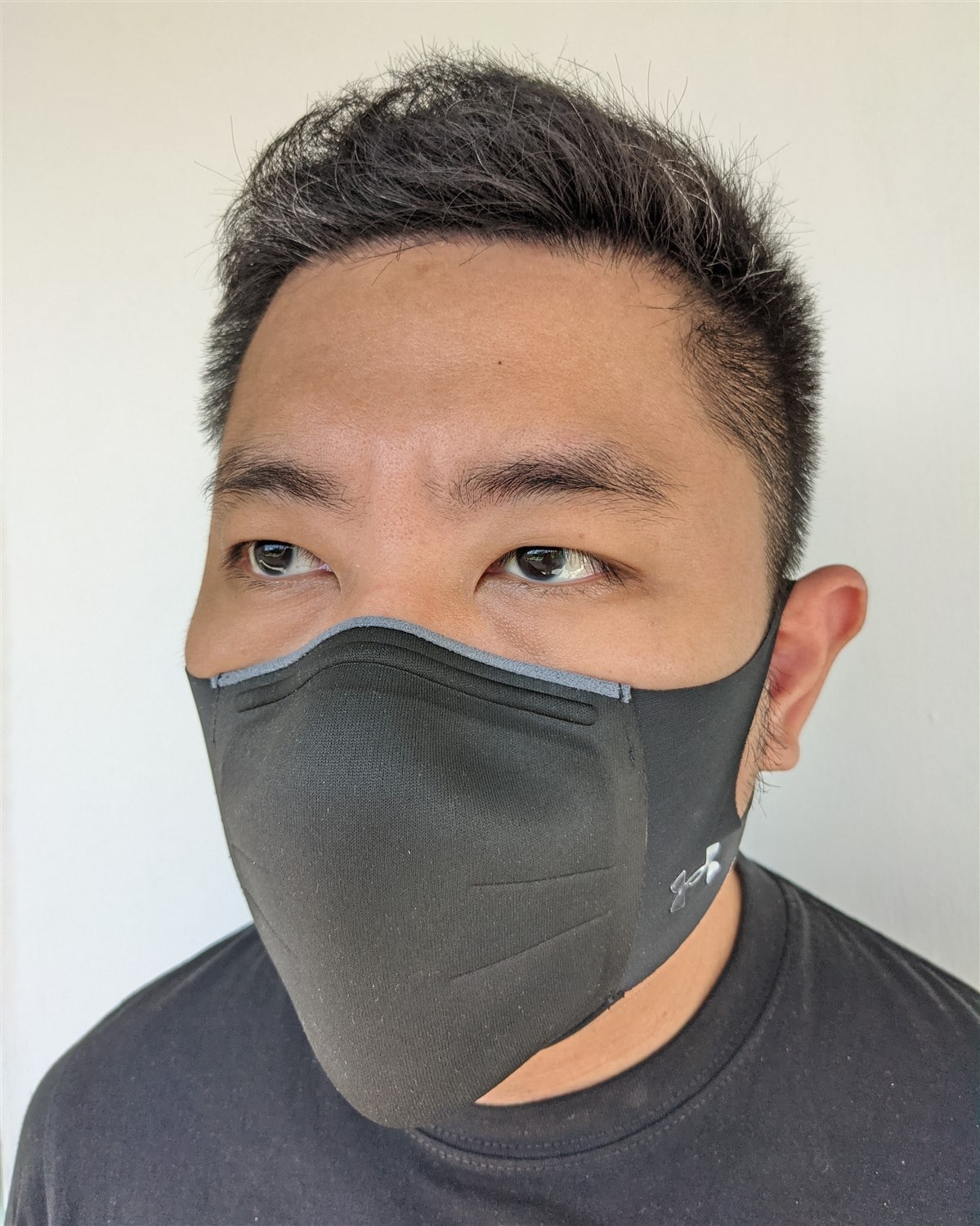 One minor gripe I have though is the lack of colours and design that come with the mask. Currently they come in black, dark blue and purple and I'd like Under Armour to have developed brighter colours or even do one better and work on design collaborations with Lego, Marvel and other big pop culture brands.
But these are small issues in the greater scheme of things. These masks sell out fast for good reason – they're excellent. I'm not sure how much more Under Armour can do to upgrade this version of their Sportsmask but I'm hoping to be pleasantly surprised in a year's time.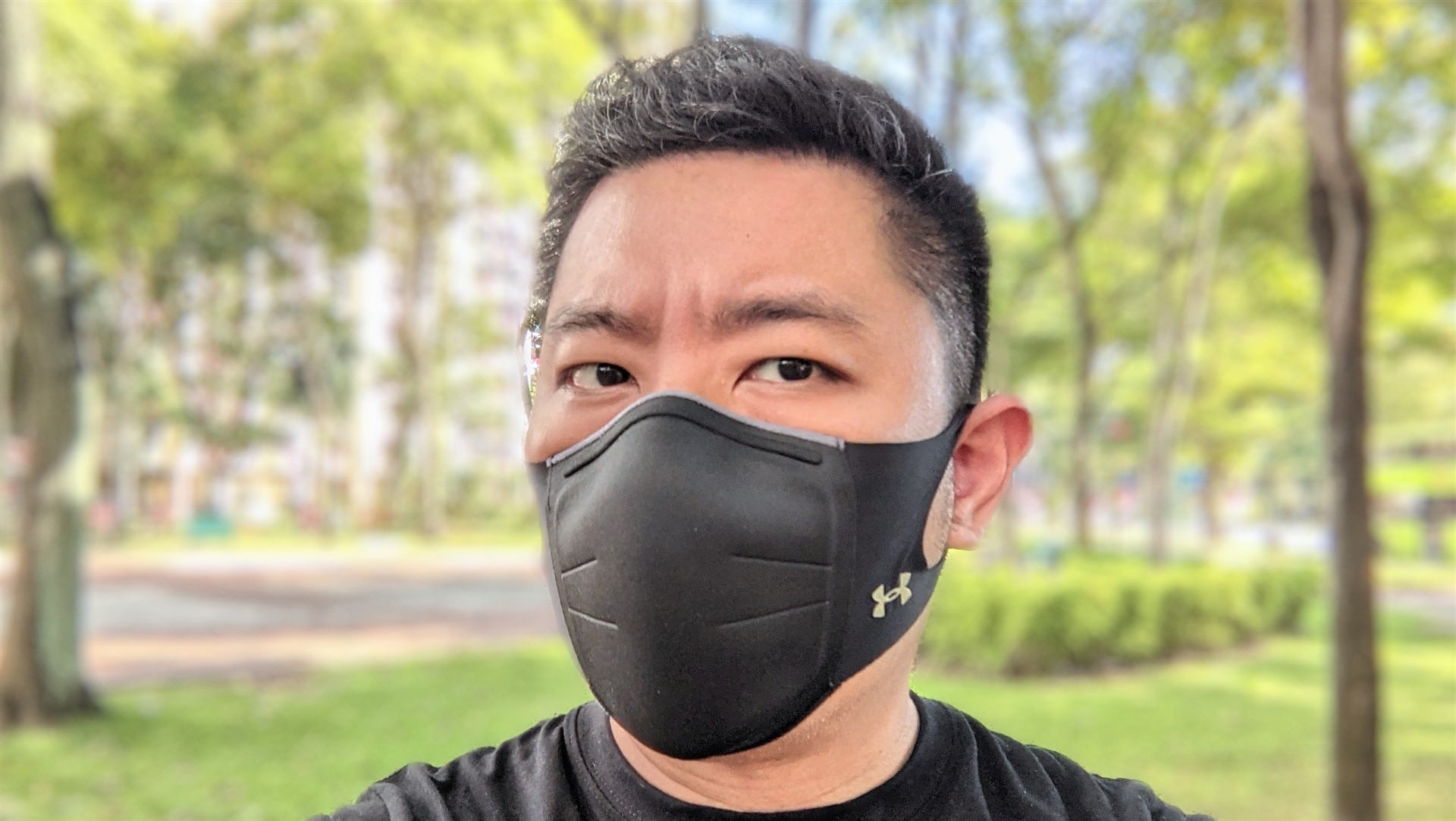 Who is this for?
Anyone looking to participate safely in outdoor sports during the pandemic.
The Good
Lighter than ever
Fits snugly and perfectly
Easy to breathe in
Doesn't soak up sweat
Good looking
Easy to wash and dry
Voice is sufficiently audible
The Bad
Lacking engaging colourways
Check out the best prices below