New body, same solid lockdown.
The Puma Future has been a curious silo. It's not one to be pigeonholed in one of the industry's common categories such as a "speed" boot, "power" boot or a "control" boot. Puma carved out its own path with the Future silo to meet a need that is often under-appreciated – a need for the perfect fitting boot.
Puma's venture with the unique Future has been successful for the most part, spearheading its strong push to challenge Nike and adidas since its inception just over 3 years ago.
The Puma Future has gone through many iterations and I was sad to see the Puma Future 5.1 (and its cosmetic update, the 6.1) go after just a year. It was one of the best football boots I've worn in the last few years. For the first time in a long time, Puma is taking a big risk in modifying the formula with their flagship football boot and I was unsure if Puma could pull off a major revamp in the Puma Future Z.
The Puma Future Z is still about the perfect fit
While the Puma Future Z has retained the "Future" DNA of providing the perfect fit, Puma's boot engineers sought to express that same DNA in a wildly different approach after 3 years of Netfit, their innovative technology that allowed you limitless lacing options to accommodate any foot shape. Instead of depending on laces, the adaptive FUZIONFIT+ compression band is the star of the show here.
Puma claims that "the band was developed using a special combination of polyester and spandex yarns, along with special technical yarns to create the perfect balance of compression, comfort and durability, giving the wearer that second-skin feeling."
Puma is so confident in this compression band that they have totally removed lace loops around the area where the band is. Expect half the number of lace loops on the Puma Future Z as compared to other laced football boots.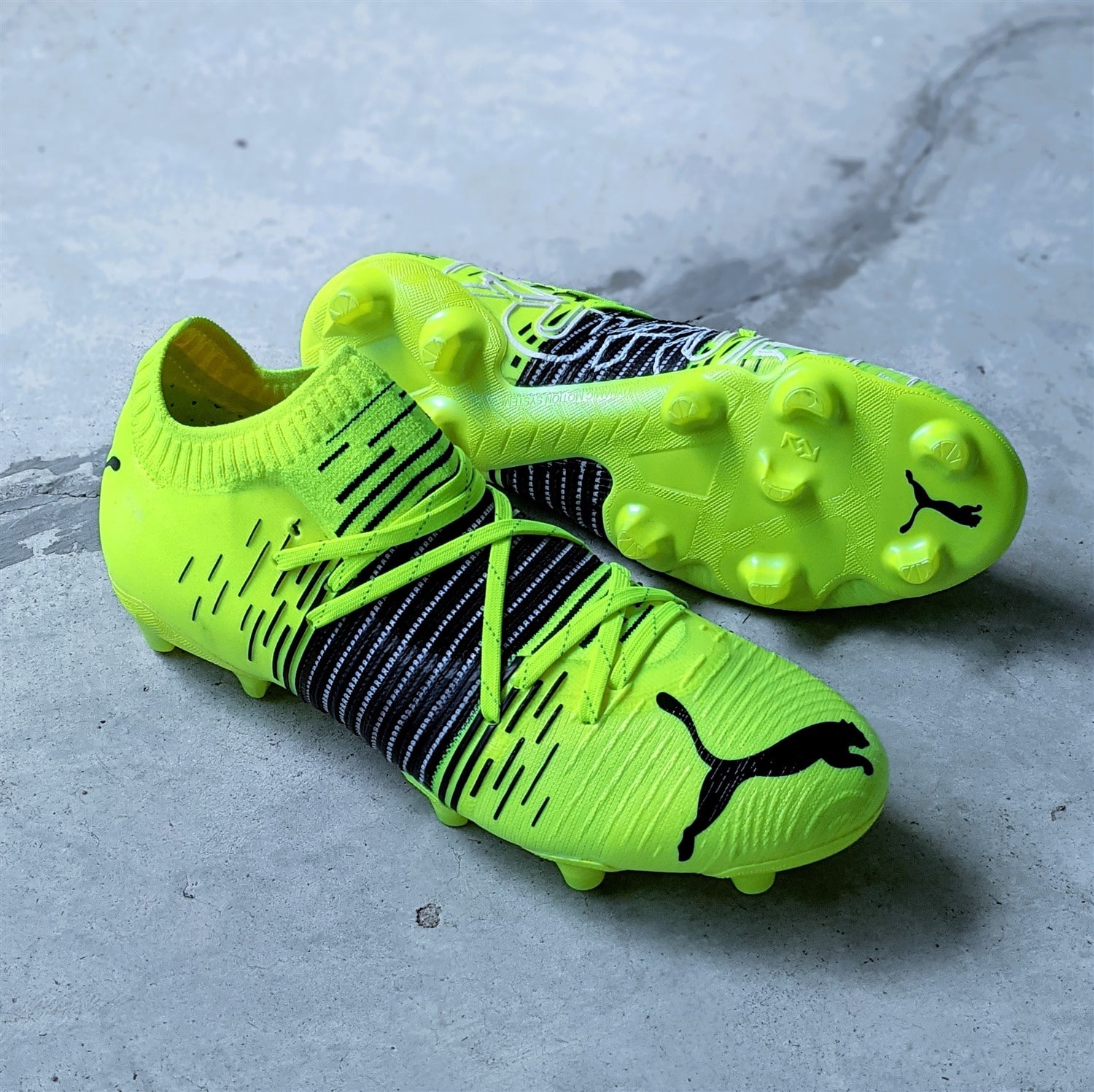 With great fit, security and lockdown, comes the promise of mobility. The "Z" from the name of the boot comes from the Z-shaped soleplate which is meant to flex laterally and diagonally when a player experiences a change in direction with his runs or dribbles.
The thinnest Puma Future upper yet
From a plush and sock-like upper material, Puma has gone with a much thinner knitted material (Puma's very own Evoknit) across the forefoot and midfoot though most of the surface is covered with TPU plastic save for the tongue area. That exposed Evoknit around the tongue and mouth area remains as soft and stretchy as ever but expect this to be thinner from the previous generation.
Speaking of soft, expect some light padding around the heel area and the forefoot while other parts of the boot's upper remain thin and bare.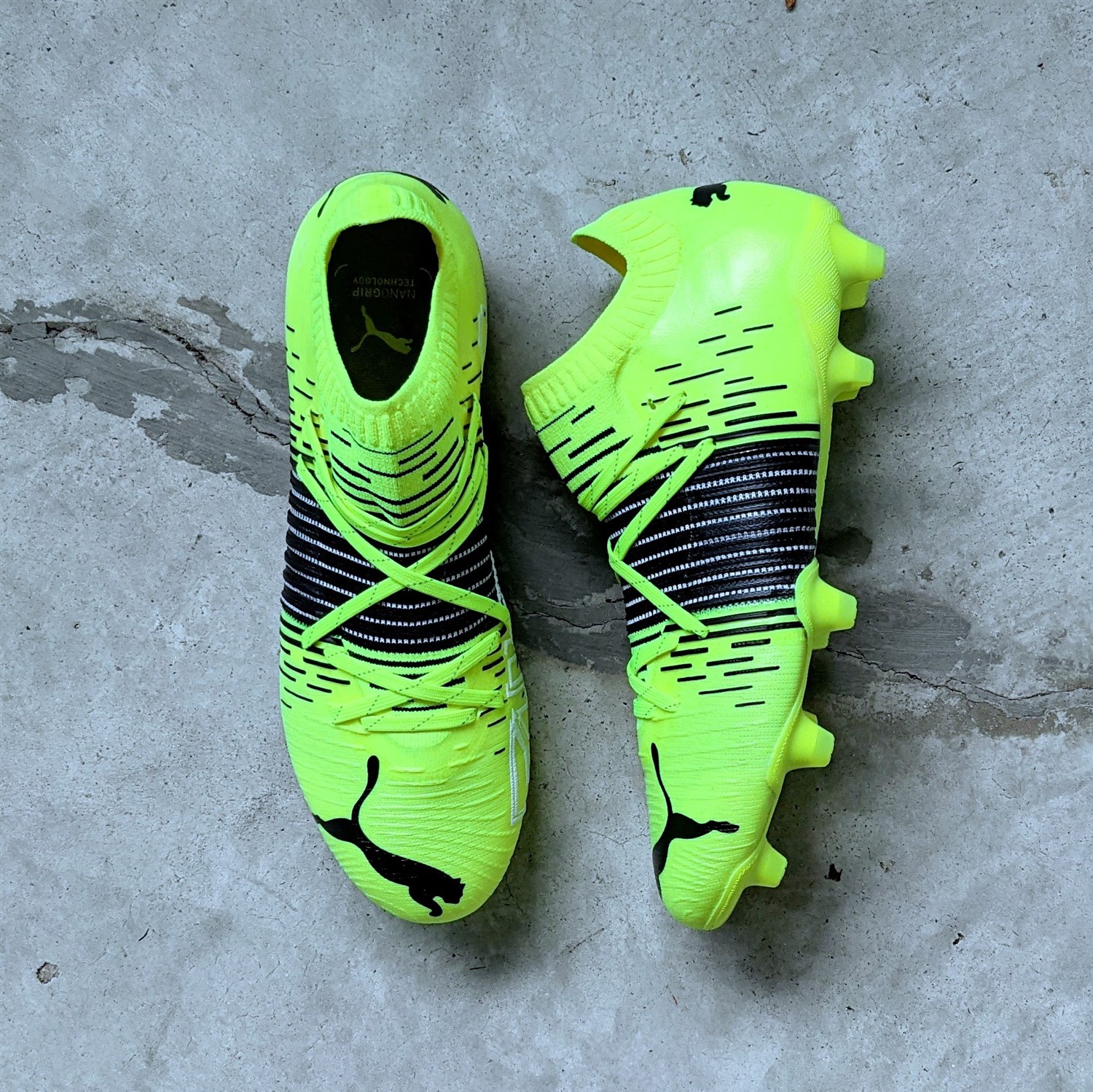 And finally, Puma included embossed strips all across the upper for improved contact on the ball when dribbling. With Neymar as the face of the Puma Future Z, this was a smart move to leave fans feeling like the Brazilian superstar when charging down on goal with the ball.
The compression band is comfy AF
While I may have loved how the previous generation Future felt, I thought it looked horrible. The Puma Future Z looks like an upgrade though it still can't hold a candle to his handsome brother, the Puma Ultra. That said, I'm not that big a fan of the plastic coating as I think it does make the boot feel a little too plasticky. I love my knit exposed as it just feels more premium that way.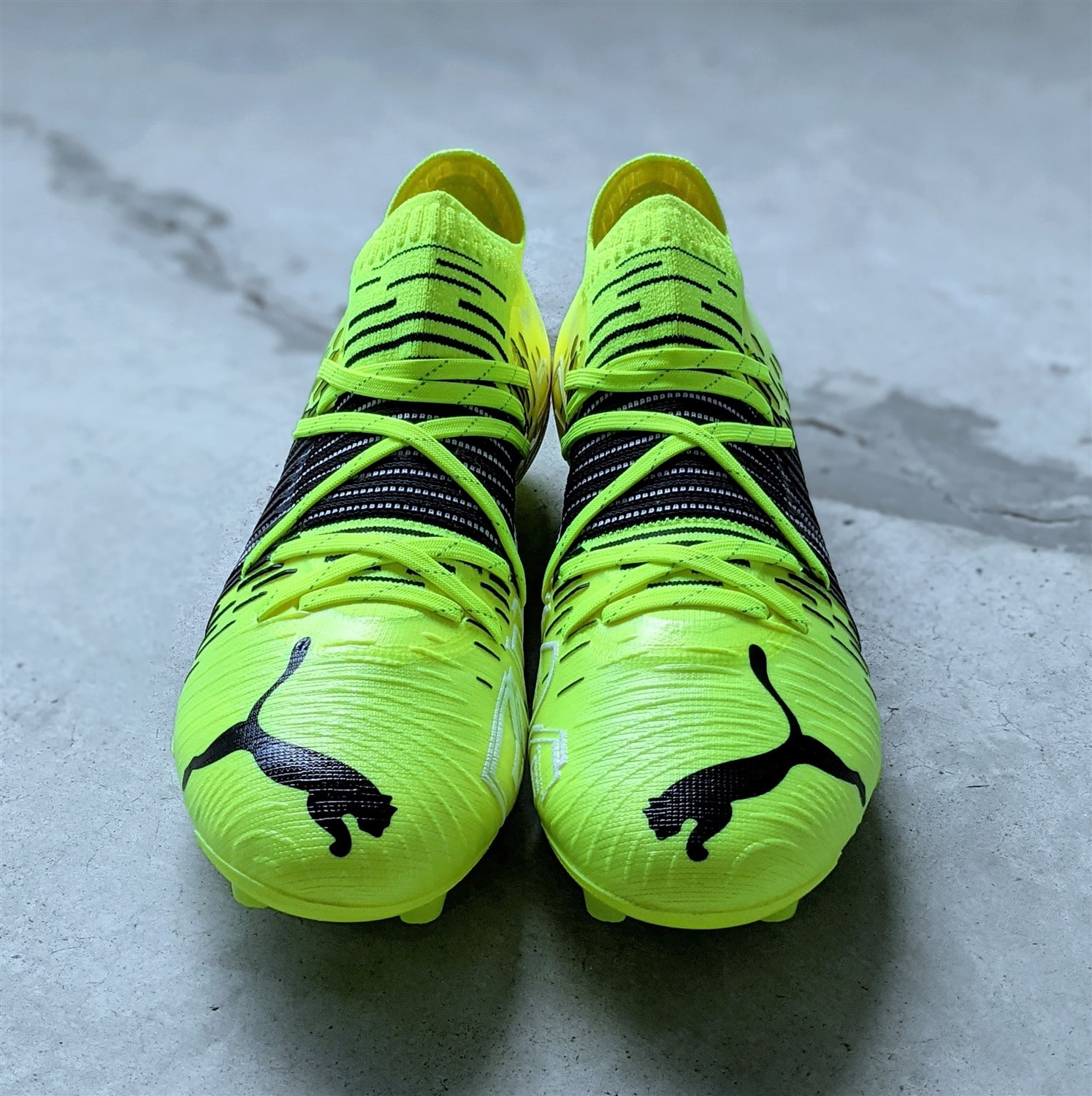 Putting on the boot isn't a chore despite how small the mouth looks. All you need to do is to loosen the top laces and in goes your feet. The Puma Future Z fits perfectly width and length wise when I went half a size down. Those with super wide feet should go true to size but for everyone else, go half down. The boots feel light on feet at 220g in a US 9 and you'd be hard-pressed to hear anyone having issues with its weight or how they fit especially when you take your first steps in them.
The first time I put the boots on, I thought the compression band was tight around my midfoot – if it was a little tighter, the band would have caused cramping in my feet. Within a couple of minutes of light jogging and warm ups, my concerns and the tightness melted away. The compression band is comfy AF.
The Puma Future Z is all about mobility
With such a promising first impression of the Puma Future Z's fit and lockdown, I wanted to put it to the test. I'm usually a Thomas Mueller-esque "raumdeuter". Much of my movement is economical but it requires me to go from 0-100 in a fraction of a second to sprint into space to receive the ball when the sliver of opportunity arises. I twist and run laterally past a defender a lot and the boot kept up with me on all occasions.
The compression bands held my feet firm and pivoting around in the Z soleplate is effortless, even on artificial ground (AG). Puma's firm ground (FG) boots tend to be quite AG friendly and the Puma Future Z is no exception, earning our seal of approval for AG pitches.
The lockdown on the compression band and the Z soleplate just work.
For those looking to be a ball hog like Neymar, the grippy textures across the boot do help you a little in keeping the ball close to your foot. Perhaps it's not grippy enough to help you add spin to your passes but it provides just enough traction to give you confidence when controlling at a moderate dribbling pace.
When it comes to touch, you do get a much closer feel of the ball as compared to any Puma Futures of the last 3 years. I felt quite connected to the ball when I make my passes, shoot or even when receiving it at pace. However, I can't shake off the feeling that the touch feels pretty… average and dull? It's not bad but it doesn't feel unique or special like some of the previous Puma boots I've worn.
It's not a deal breaker but I'd like the TPU coating to be thinner and to have a little more knitted material on that upper to provide a more luxurious touch on the Puma Future Z.
I did a Reus – I went laceless
I wanted to push the compression band to its limit so off the laces went. The Evoknit material around the tongue stretched easily to accommodate me putting it on, helped in part to the lack of laces that would have restrained that stretch.
I took it for a jog on the pitch and immediately, I noticed some heel slippage. It wasn't awful but it definitely didn't keep my heel as secure as when I had laces on. The midfoot and forefoot were surprisingly still locked down pretty well. My feet were not sliding around in the Puma Future Z and it was really comfortable.
I'm usually against removing of laces to get the "laceless" effect but I had no major problems in a laceless Future Z. Without laces, the boots may have lost only about 10% of its lockdown but it still worked well enough and didn't cause any lockdown issues throughout training where I participated in drills which had me striking, crossing, sprinting and pivoting.
The Puma Future Z is a worthy successor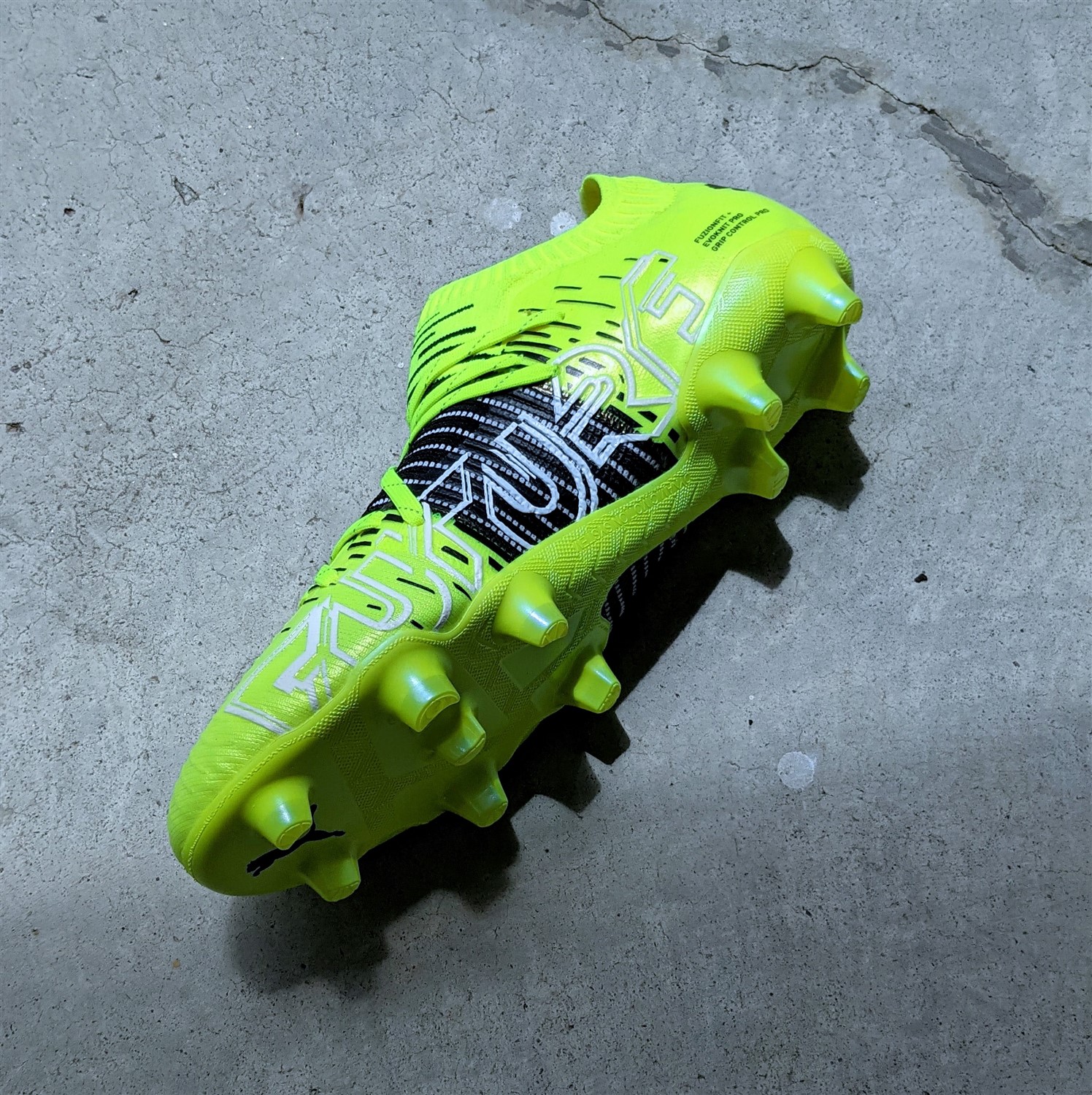 Despite the major concept change, Puma's bold new design has stayed true to the Future DNA by providing one of the best fitting and secure boots in recent years. With an improved design, top notch performance and a new star in Neymar promoting the boots, I'm sure the Puma Future Z will be a commercial success as much as it is a critical one.
I still feel it was a missed opportunity to not include a little more knit to provide that X-factor when it comes to the touch. For now, the Z-factor of fit, lockdown and mobility is good enough for me.
Who is this for?
Players who want an extremely good fit in their boots. The Puma Future Z is also a solid option for wide footed players who need only go true to size.
The Good
Improved design
Comfortable knit
Excellent lockdown
Close touch on the ball
Grip elements help with dribbles
AG-friendly soleplate
The Bad
Plasticky upper
Touch on the ball feels average