Pushing the boundaries for women and the freestyle community.
So here I was at ICC Singapore 2019, preparing to interview the likes of Tanguy Ndombele and Moussa Sissoko at an AIA/Tottenham event, when the emcee called our attention to the centre of the arena. A couple of freestyle footballers were going to put up a show for Christian Eriksen and co. Who'd be crazy enough to do it in front of one of the Premier League's top playmakers?
It was then where I saw Valerie, dwarfed by the relatively hulking figures of the Spurs players, doing keepy uppies – in heels. Not settled with just juggling the ball, she added 3 consecutive "Around the World" and more during her set. It was then when I knew that we had to speak to her and find out about her freestyle journey, her crew and her plans to grow the sport in Singapore.
BOOTHYPE: We're big fans of freestyle! How did you get started with the sport?
Valerie: It started, like with most kids, with peer pressure. Most of my friends were all guys and they loved football so I picked it up to play with them – and I enjoyed it! I was about 11 years old at that time. When I first started I was horrible but after a while I got the hang of it.
BOOTHYPE: How did that transition to something more skillful and artistic like freestyle?
Valerie: On top of playing football, I had a dream of being a dancer. I did a bit of hip hop and then was into break-dancing, salsa and social dance. So my friend (and current crew mate) Daryl, suggested that I combined both skill sets and try freestyle football. Daryl brought me to my first freestyle football event, Kilabala, a few years back. There were freestylers from Paris and it was my first time at such an event and seeing so many of the community in a single place.

At that time, with my football experience, I could juggle a bit and I was so excited at that event that I attempted some tricks too. The French freestylers were very supportive too.
BOOTHYPE: After the event, did it inspire you to pick up freestyle immediately?
Valerie: It was gradual. I knew I couldn't pick up everything but I left the event fascinated by a trick that I observed – "Around The World". Back then, if you can do it once, you were amazing. That's the first trick I tried to master.
BOOTHYPE: How hard did you work to master that move?
Valerie: It took me 3 weeks to be consistently good at it. And by that I mean to execute it flawlessly and by command in front of your friends. I also had to work on my basic juggling. I feel that to do "Around The World", you need to be able to juggle effortlessly 50 times.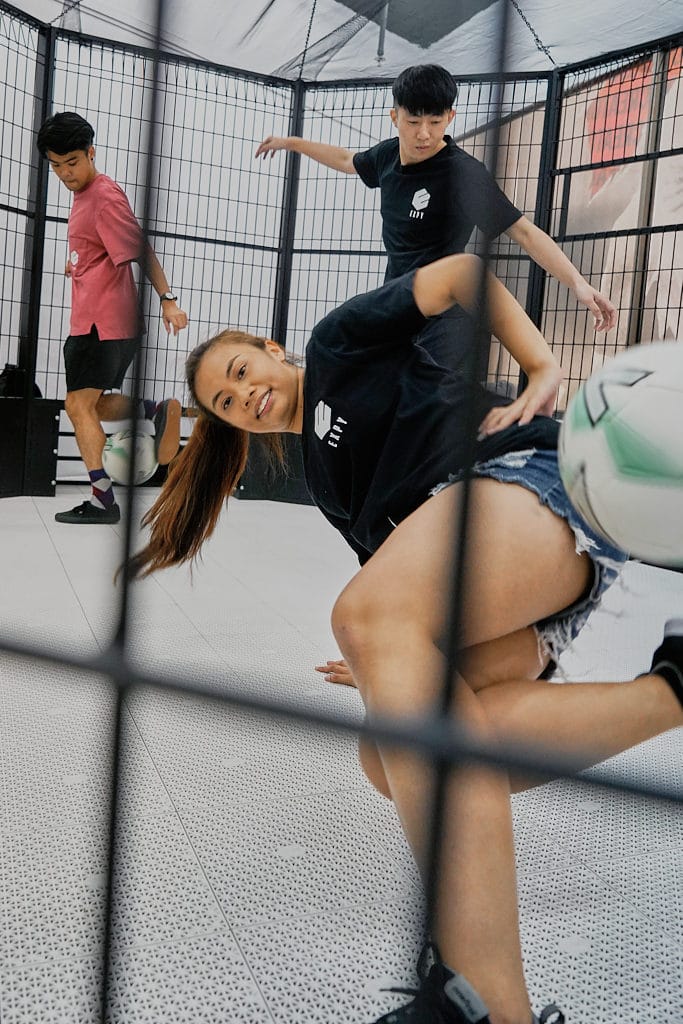 BOOTHYPE: What did you move on to after that?
Valerie: I really wanted to incorporate dancing into my tricks so that was my next step. I did a bit of break-dancing like pulling off a six-step on the ball and now many of my moves are very dance-inspired.
BOOTHYPE: Do you have any inspirations to help you develop your moves?
Valerie: I take inspiration from many places. Daryl's my first contact with the sport so I'm always learning from him. I like Tokura who is famous in Japan. He's famous for his backflips with the ball and his technique is clean. There Andreas who comes from a dancing background before embarking on freestyle, just like me.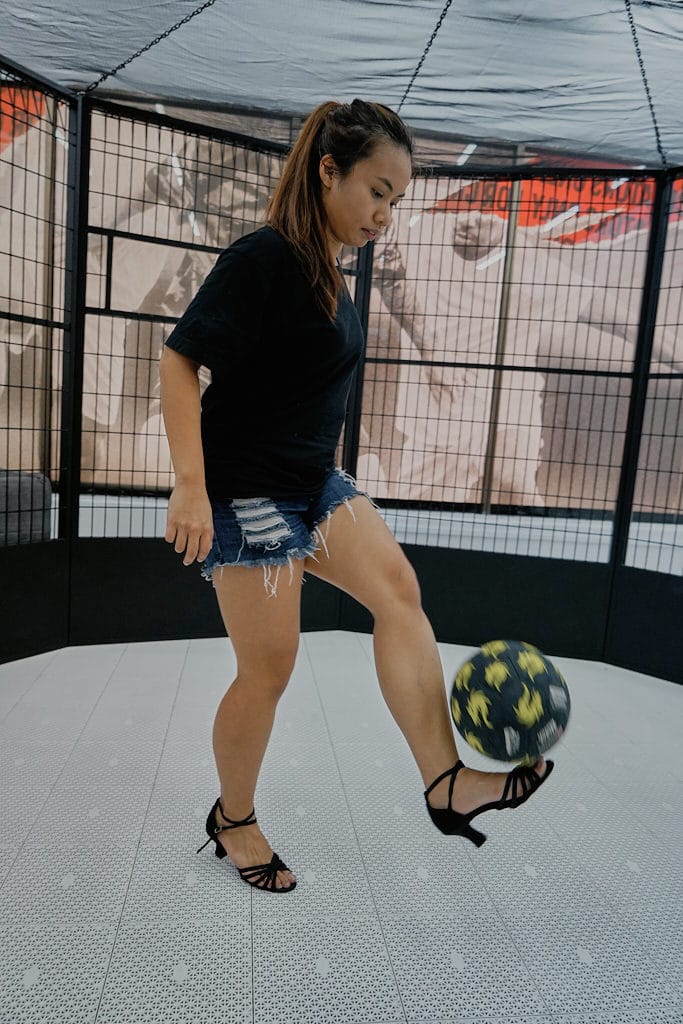 BOOTHYPE: What's your training regime like?
Valerie: When practicing for a competition, I train at least 3 times a week and a minimum of 2 hours a day. I have to make sure I can execute the trick well and consistently. It requires a lot of discipline and effort.
BOOTHYPE: Freestyle has taken you to many places. Tell us more about your travels.
Valerie: Freestyle football has taken me to Malaysia, Thailand, Brunei. Some were performance gigs and others were for freestyle competitions. My most recent one was at the India Premier League for Chennai FC. I was performing during the half time show. The atmosphere was electric and the crowd was excited. They asked for photos as I left the stadium and I had kids rushing to meet you. I was fortunate to perform next to Archis Patil who is big in India as well.
BOOTHYPE: Is there a reason why you have your heels on during your performances?
Valerie: The first time I tried juggling with heels was when a friend told me that he saw it online. I wanted to try it and I was already comfortable jumping and running around in heels from social dancing. When I was younger, I didn't like the image of me in heels, playing football. I thought that was too attention seeking but as I progressed with freestyle footballer and my art, I told myself that "I don't have to be one of the guys. I'm a lady and I want to show my art in my own way. Just like how dancing is different for men and women."
I don't have to follow what men do. I believe women can play football gracefully and in our own way. I'm looking to craft more choreography in my heels that shows that girls can do it in our style.
BOOTHYPE: Speaking about women in freestyle, have you seen more of them since you started?
Valerie: Not many. There are young girls who are keen at first but have short attention spans so they come and go. But I hope to see more of them. I'm training 3 girls and they also play in the Singapore national team. I approached the FAS (Football Association of Singapore) to be part of their international women's day festivities. I had a booth to seek out any interests in freestyle football and show how easy it was to pick up some of these tricks.
BOOTHYPE: How have you and your crew looked to expand freestyle football in Singapore since then?
Valerie: My crew, EXPY, created a regional freestyle event some years back and we got the community all the way from Japan and India to participate. Since then, we looked to create a platform for people who want to learn about the sport and even expand into panna.

This is why we set up EXPY THE LAB which carries on that mission. You can sign up for your class and also play some panna with your friends in the cage. We're looking to create panna leagues and we're keen to do more with the space.
BOOTHYPE: Finally, do you have any messages for girls who are keen in football or freestyle footballer but are shy or scared to try?
Valerie: If you never give it a try, you'll never be able to see if you enjoy the acitivity. If it's something you really like, just go on and try it and do not care what people think.
Thank you so much to Valerie and the EXPY team on inviting us to the EXPY THE LAB at Queensway Shopping Centre. If you're keen on some panna or freestyle classes, do give them a visit soon.