BOOTHYPE speaks with the future of Singapore football about their careers, family and the possibility of playing against each other.
The sons of the great Fandi Ahmad always had the spotlight shone on them early on in their careers. With the state of Singapore football languishing in the doldrums for the last decade, every snippet of news about Irfan and Ikhsan Fandi were gobbled up with anticipation by passionate local fans. From impressing in European trials to being the first Singaporeans to play in the Chilean first division, much have been expected on those young shoulders.
The brothers have now completed their 2-year National Service (NS) commitments and are ready to kick on with their careers. We spoke to them to find out what the future holds.
BOOTHYPE: What's the biggest difference playing in Singapore as compared to playing overseas?
Irfan: The players overseas (in Europe and Chile) are very well-trained. They know what to do with the ball in possession and all the basics so it's easier to play with them.
Ikhsan: They're more intense as well. Their passes are firm and they do play with greater conviction.
How is it like having a brother as a teammate and competitor?
Irfan: It's great because we've been playing together and lived together for years. Ikhsan and I have a telepathic connection on the field. I know where he wants the ball when he plays striker and it's easy to communicate with him.
How is it like then, having a coach as a father?
Irfan: There are pros and cons. We work very hard in training so as not to disappoint him. It's a good motivation for us to push harder.
Ikhsan: He gives us more tips in training and watches out for us too.
Is there a lot of pressure being "Fandi Ahmad's son"?
Irfan: Perhaps as kids but not anymore. After the Lions City Cup, where we wore the national colours for the first time, we proved to people that we can play football.
What about your mom? What role has she played in your careers so far?
Ikhsan: My mom always supports us and wants the best for our interests and makes sure we do well in everything that we do.
Irfan: She was always sending us to training when we were younger. She's there for us when we need to travel overseas.
Hypothetically, both of you are in the Champions League Finals representing different teams. Ikhsan is on through to score with only Irfan as the last man to defend. What would you guys do respectively?
Ikhsan: I know my brother's quite strong and he's going to whack me so maybe I'll do some tricks and try to beat him.
Irfan: I'll slide him and take him out.
No love lost there. But before we get there, what do you want to achieve in your career now with NS out of the way?
Irfan: Our goal for the past few years has been to get a contract overseas and play at the highest level we can.
Ikhsan: Yeah we want to go overseas, anywhere outside of Singapore, and work our way up quickly through better leagues and teams.
Irfan: It doesn't really matter where. We can't stay in Singapore as the league isn't the best. We can't improve playing here.
Any challenges faced when you were overseas?
Irfan: The language barrier was tough at first but we eventually learned Spanish to integrate in Chile.
Ikhsan: It wasn't too hard as everybody spoke it and we had to learn along the way.
Irfan, we've seen that you have played across all positions on the pitch. You're a defender now. Is this where your career lies?
Irfan: I am comfortable to play in any position and I play where the coach wants me. Being a centre-back is pretty easy for me as I've got the height and strength to win aerial challenges. Though I have played as a target man type of striker for the Young Lions.
Fandi Ahmad (who stepped in to chat): I think my son can play as a defender but if he can play striker I'd be happy. He can play both positions and if we need him upfront, he can be sent upfield for those physical challenges.
Boot makers are always launching remakes of classic models. What's a classic boot you'd wish to have owned?
Ikhsan: They've been remaking the Predators and I think they're nice.
Irfan: Oh yes I wished I had an Adidas Predator Mania. The strap and tongue were pretty cool and I wore them when I was really young. If there was another remake, I'd grab another set for myself. The Beckham ones were not bad as well.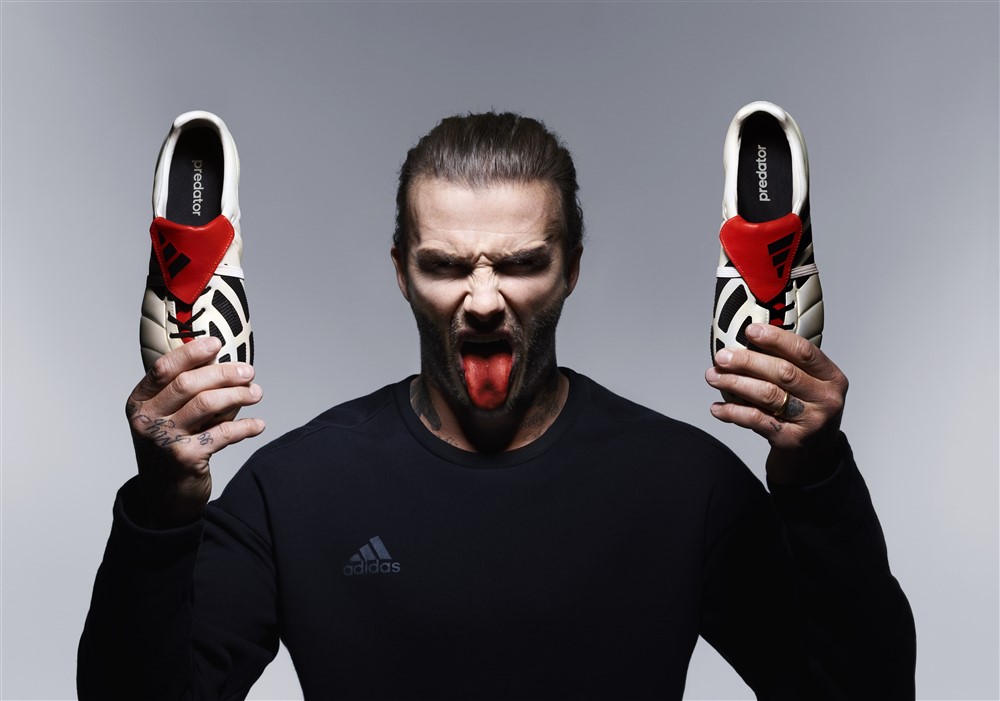 What's on your feet now?

Ikhsan: I alternate between the Adidas X and the Nemeziz. I can't decide which one I like more. But I would always prefer the laceless versions.
Irfan: I wear the Adidas Predator 18.1 though sometimes I switch to the 18+. I wear the laceless 18+ during my recovery training as it's very comfortable but in the games, I switch to laces to feel 100% secure. The upper feels extremely soft and that helps me keep my focus on the game.
Do you have any special superstitions or practices with new boots you receive?
Ikhsan: Sometimes, I get the laced versions of my boots but I take out the laces, like with the X18.1. Strangely, it fits me perfectly that way. Whether I change between the X and Nemeziz depends if I score with a certain boot. If I score, I'll keep the same pair for the next game. With new boots, I put them in hot water to soften the upper and try to wear them often in training before a match.
You guys are big on sneakers as well. Any favourite pairs?
Irfan: I collect the Yeezys but on a day to day basis, I wear the Stan Smiths as they're extremely comfortable. Any Ultra Boost shoes would also make a comfy pair.
Ikhsan: My collection isn't as big as Irfan's. Right now I'm into the Yeezys. My brother and I are almost the same size.
Irfan: When I don't wear or want my shoes, I give it to him.
Ikhsan: Haha yeah I do get some hand-me-downs but I got a new Yeezy Powerphase Calabasas in my collection now.
Special thanks to Adidas Singapore and Weston Corp for having us at the launch of Memoirs of Queensway. For our other interview with Weston Corp owner, Ami Chopra, click here.