BOOTHYPE caught up with the founder of Weston Corp to talk about obscure kits and football culture.
Weston Corp has been one of the true icons of Singapore's retail and football scene. Incorporated in 1992 at Queensway Shopping Centre, it remains an institution to lovers of the beautiful game as the place to get your boot and jersey fix. Ami Chopra, its founder, has now expanded the business across the island and has customers visiting from as far as Indonesia and Hong Kong. We speak to Ami on his role in building football culture in Singapore, his favourite boots and North Korea.
BOOTHYPE: How may stores have you opened in Singapore?
Ami Chopra: We have 5 Weston stores but we're opening a new one at Vivocity on Thursday, 14 June.
How did Weston Corp get started?
It's an old family business that started in 1949, back in Bras Basah. We then moved to Queensway in the late 80s. The Weston store came about around 1992 and evolved into a fully fledged football store. In the older days we were a mom and pop store selling sports equipments like tennis rackets, running accessories and it was my decision to change it to a football store. To this day, my dad is still one of my biggest influence in how I run my business.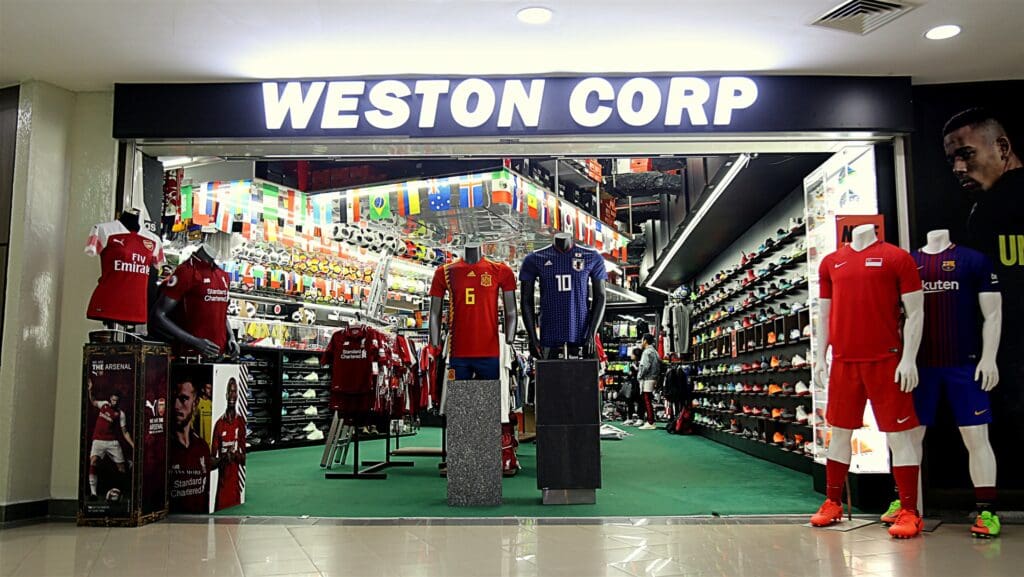 We're glad it turned out well in the end. What do you feel about your contribution to building the football culture here in Singapore?
When we opened Weston Corp, we changed the mindset about what a sports store could be. I believe a lot of people followed suit. And not just in Singapore but globally with now newer retailers like Unisport and Prodirect taking this direction with a football focus. It was not just me but it was a team effort. My cousin, Rajbir, played a part. We are very proud, we can always do more but I think we're doing a pretty decent job now. Customers can buy any manner of boots and jerseys on the market here at Weston.
Weston Corp is a pioneer in football retail. In the age of social media, how do you think this is changing the industry? We see people like Unisport running a Youtube channel…
Social media, especially our Instagram account, is the strongest way to drive people to our stores. We have a photographer and I personally manage the social media account and I have to tell you it's freaking hard work. Those posts you see of the account going to Champions League finals, that was me! Those interviews were done 20 minutes after I landed and I was super tired. We do our best to get audiences to feel the real match atmosphere.
They're (Unisport) really good too. Props to them, I've met some of them on my business trips. They have an entire production unit dedicated to their video channel. They have awesome videos and I think they deserve a lot of credit.
Retail business has also changed a lot. People are selling boots on Carousell and Instagram. How has Weston coped with this?
We're improving our website but Instagram is our strongest push. I think today, what makes us special is that despite these digital touch points, we still try to get them to walk in and experience the boots and jerseys physically. They can try and feel the boots and test a few different brands. Boots made for speed, comfort, we have everything that would appeal to customers. People can buy online but you can't beat touching and feeling the product.
It is also testament to our staff who are trained to know the difference between the top grade to the lower grade boots. Because people don't always understand the difference in prices of what may seem to be the same boot model – like the Predator 18+ vs the 18.2s for instance.
We have friends from Indonesia, Malaysia and Hong Kong who come to Weston just to get first grade boots that aren't available back home. Any plans to expand overseas?
We've thought about it for awhile. Sometimes it's not easy as there's red tape in setting up a new business overseas. Perhaps you don't want to step onto someone else's toes in that domestic market. But you know what? We're really positive about this and it's in the works. Right now, we can be said to be the biggest football store in South East Asia in terms of our selection and order quantity.
Not forgetting social media footprint as well.
For sure.
Best memories for your store?
Pele and Cantona came to Weston Corp to promote the New York Cosmos! Who would expect Pele to come to Queensway Shopping Centre out of all places? The old Malaysia Cup days were great as well. In the '90s, we had a few Singapore national team players involved in our store promotions. We had this really long queue from Weston all the way to the taxi stand. We had to call the police to manage the crowd and it was crazy. I wish Singapore football will be like that again.
What item did you not expect to sell but became surprisingly popular with customers?
We stocked the North Korean jersey during the 2010 World Cup (which they qualified for) and it sold out so quickly. Rajbir managed to secure the stock from an Italian supplier. I think we were one of the few countries in the world to have sold this. And this World Cup, we have all the 32 team jerseys as well including Nigeria….
North Korea and now Nigeria? The football hipster in us is loving this right now. When can we buy the popular Nigeria jerseys?
I'm sad to say we only got stock of the away ones. Check back on our Instagram (@westonsingapore) for the announcement of its release. I don't think Nike produced that many home jerseys despite the 3 million pre-order reports. Props to Nike though, those are damn cool jerseys.
That away jersey is still classy though.
Yes it definitely is. It's a simple design and maybe that's why it didn't get as much hype as the home variation.
Any other "hipster" jerseys that sells well at Weston Corp?
The Thai club jerseys are very popular and are bought by all types of customer. The Thai league has done an amazing job promoting their teams. Their stadiums are always full. No disrespect to the S-League jerseys but the Thai ones are way nicer and cheaper. At S$30+, people just buy them because they look dope and are affordable.
You've seen all the boot trends through the years. What's a trend that's coming up?
I see the brands moving back to the traditional low cut boots despite the hype around the "collar" or "sock" attached to the boots. They're expensive but also a bit hard to put on. The brands are reducing the length of the collar now if you notice. The Nike Mercurial Superfly, Puma Future 2 are good examples. Some people buy boots because they're buying it for a company tournament. "I'm just going to play 5 games. Can you just give me a simple boot which I can slip on and play my game without hassle?". Some just want simple boots.
What's your favourite jersey?
The Japan one with the flames from the 1998 World Cup. And also the Liverpool "candy" jersey from '89.
What about jerseys from this World Cup?
So many good ones. I like black jerseys so I'll go with Argentina away. That Japan home jersey is awesome too with the vertical stripes.
What boot is on your feet now?
My personal pair is the Adidas Predator 18.1 in the Skystalker colourway. I prefer it to the 18+ as I'm not used to a laceless shoe.
All time favourite boot?
The Lotto Stadio from back in the day. I recalled it to be so good on my feet and loved playing in them.
Underrated boots?
We have a lot of simple boots in store which are great but perhaps don't catch the customer's eye due to lack of hype. One of them is the Adidas Copa 18.1. It's not widely marketed but it has the classic leather feel. It's got an old school vibe, inspired and shaped after the legendary Copa Mundial, and blended with modern materials. The Copa is an unsung hero. The Puma Future is also pretty excellent. Super soft, light and great performance on pitch.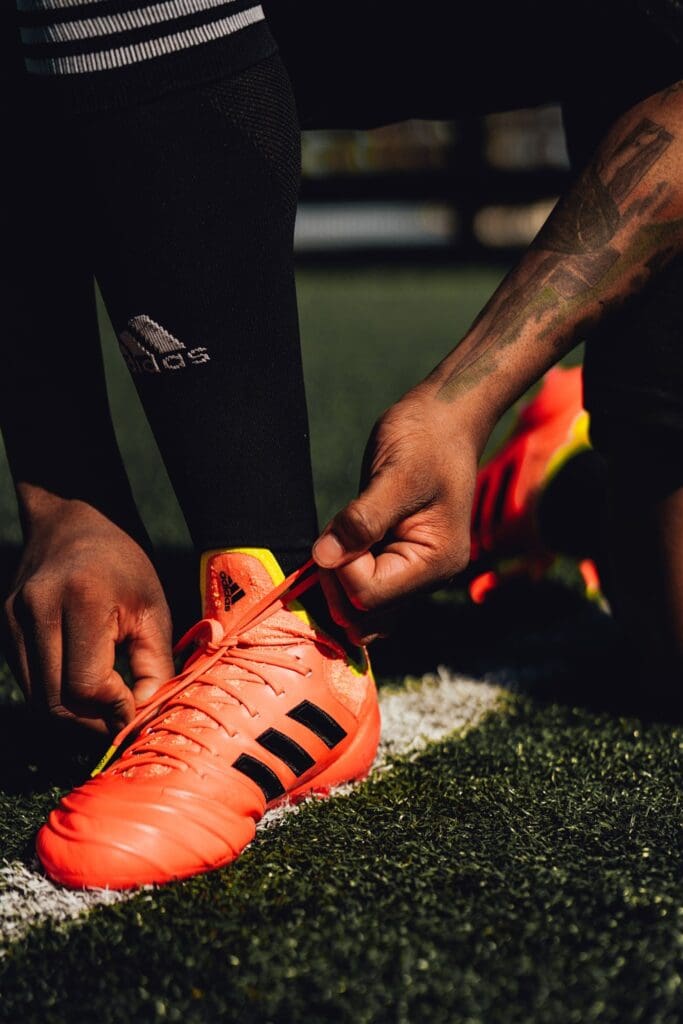 Favourite match ball?
The Telstar 18 is one of my favourites now. They went back to a simple black and white and I like the pixelated design. It's one of the best performing balls for a long time.
Coolest accessory you can buy?
We're selling Playertek which, from what we saw recently on Instagram, the Egyptian national team is using them in training. It's a vest connected to a mobile app to track and analyse your performance. Football is evolving with technology and this is a great way to keep up with the modern game. I believe we're the only one selling this in the region.
Special thanks to Adidas and Weston Corp for inviting BOOTHYPE at the unveiling of their video commemorating the heritage of Queensway Shopping Centre.