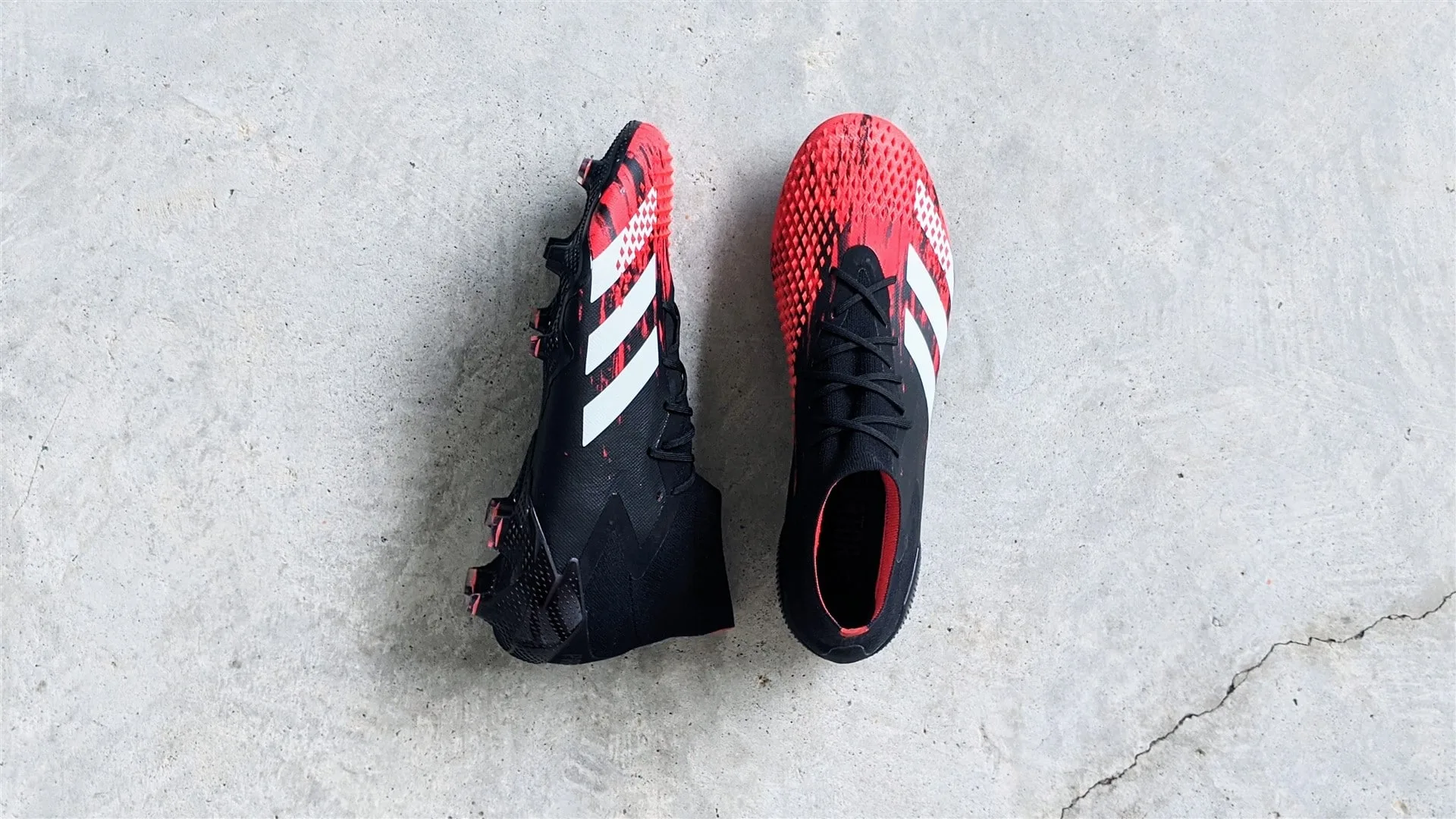 Check below for the best prices
It's all about the spikes with the Predator 20.1.
Editor's note (Oct 2021): Do check out our review of the adidas Predator Freak.1 for our thoughts on the latest version of the Predator silo.
Nostalgia's a funny thing. It can lead to people glossing over factual inaccuracies and fawning over the past with rose tinted glasses. Suddenly, everything from the past can seem great and every experience today is shit. It skews judgement.
This got me thinking about the history of the adidas Predator. It was a very popular football boot that made its debut in 1994. Many say it peaked in the early 2000s. Predator was all about that tongue, the tough K-leather, those rubber grip elements, aggressive design and of course, that red/black/white colourway. Slowly but surely, fans started calling out adidas for its losing of its "Predator DNA".
The adidas Predator X was the first to shed its iconic tongue. Then the Predator LZ launched the first Predator with a synthetic upper while also moving away from the red/black/white launch colourway. Fans were moaning about the loss of the Predator spirit. 2014's Predator Instinct brought back the colourway combined with great performance but it was too late – people lost their faith with Predator and it got discontinued.
The Predator was brought back late 2017 in the form of the adidas Predator 18. Everyone loved its modern look but again, fans panned it for not having rubber grip elements. In 2020, the three stripes revamped the Predator to finally give customers what they wanted – the rubber grips.
Which got us thinking: What is Predator DNA? We review the new adidas Predator 20.1 to find out if it contained more than just the Predator gene – we want to know if it has any soul.
A return to its feral roots
The first couple of Predator iterations were inspired by actual predatory animals and it's represented by its aggressive fins and almost scaley texture. That look soon gave way to more modern silhouettes with the Predator Accelerator in 1998 and has not looked back ever since. To compensate for customers' demand for something more aggressive, adidas went all out with a return to its more animalistic roots for 2020.
Visually, the adidas Predator 20.1 definitely catches the eye. Its more feral and organic aesthetic stands out in a sea of boots filled with clean lines and futuristic flair. Highlighting this look is the inclusion of "Demonskin", the spikes that cover most of the upper and around the heel counter.
Demonskin is also adidas' solution to customer demands for more "rubber grip elements" with over 400 rubber spikes said to be featured all over the top grade adidas Predator 20+. The laced Predator 20.1 however only contains 250+ but I don't think you'll feel too much of a difference. Most of the spikes appear on the forefoot area and instep where most contact is made. We didn't take time to count all the spikes but fascinatingly, the external heel counter is also adorned with spikes that are pretty sharp considering that they're made from plastic.
While the silhouette looked similar to the previous generation Predator 18/19, we were surprised to see that the knit material changed completely to feature one that felt thinner but is also more rigid. That's a big shame as I really loved how the previous Predator felt. It was soft and comfortable and definitely much preferred to the material used on the Predator 20.1.
A wild fit on the Predator 20.1
I was excited to put on the boots but almost immediately, I realized that this Predator would not be easily tamed. I went true to size in my US 9.5 and the fit was ridiculously tight around the mid-foot and caused pain after a mere few seconds in them. A combination of that rigid upper material, a supremely narrow mid-foot and an arch-hugging insole that tries to mimic the Nike Mercurial Vapor's anatomical soleplate felt shockingly unwearable on the first try. Coupled with a toebox that provided too much space, I found the entire fit of the boot to be problematic.
So I devised a plan with our other writer, JayC, to slowly break in the Predators. If you're looking to get a pair, I'd greatly recommend doing this before you take them to the field.
Loosen up the laces right down to the last notch. Make sure that the boot can stretch really wide.
Put on the boots slowly and gently secure the laces back in place. You don't need to tighten them, just ensure you remove all the slack.
Wear them at home or in the office for about 30-60 mins to make sure the upper conforms to the shape of your feet.
I think this helped the boot expand though I could feel my feet throbbing as I had the Predators on through this process. After 60 minutes in them, they were ready for a playtest.
Predator on the prowl
I was very cautious about injuring myself after my challenges with the Predator 20.1's fit so I decided to warm up my feet in one of adidas' most comfortable boots available – the Copa 19.1. After 45 minutes in the Copas, it was time to let the animal out of the cage.
The mid-foot remained tight but not uncomfortable though I noticed minor heel slippage as I took my first steps in the Predator 20.1. I also couldn't stop noticing the gaping space between my toes and the upper which mean that both hardly made contact.
The first playtest was a slow paced five-a-side game (my third match in five days) which got me to really focus on fundamentals like touch and short passes. The results were pretty decent. The boots were not at all uncomfortable and you could feel those spikes working hard for me. The Demonskin spikes hilariously made squeaky noises with my touches on the ball – emphasizing its grip. And for the first time in a long time, there was a solid oomph when I put some effort behind my passes.
The lateral side of the upper, which doesn't have any spikes on it, softened up after this first session though don't expect it be anywhere near as soft as the Predator 18/19.
Subsequent playtests allowed me to switch gears at a proper training session and full on matches. The Predator did not disappoint. I can confirm that the grip on the spikes really do work as advertised and unlike some bloggers online, I did not feel like I needed much of a learning curve to adapt to the new sensation. Passes remained crisp and shots had a nice punchy feel to it. I couldn't resist putting my foot through the ball, that's how much I loved the effect of the Demonskin spikes.
This felt like a true throwback to the heights of the power boot. If you've got good technique, you'll really enjoy putting some spin in those strikes and passes to catch your opponent off guard. Granted, the Demonskin spikes won't solve all your issues if you've got a bad first touch but they do help with some grip when you're receiving the ball at pace.
That said, I can't shake off the empty space around toes. Despite the upper being covered with spikes, my lack of contact with the ball did become an issue when attempting a toe poke or an outside of the boot curler – both of which require contact with at least half the toebox area. That lack of contact meant that I couldn't feel as much of the ball and it required more effort to generate more power. It's not a deal breaker but for a boot that is all about grip and contact, the toebox is a big flaw in the design.
Flexin' in the Predator
adidas are infamous for having the same soleplate on all their models, save for some cosmetic changes and different stud patterns. They're usually all-rounders with moderate stiffness in its mid-foot. The adidas Predator 20.1 looked to have bucked the trend slightly as it came with a very flexible forefoot and a mid-foot which was stiff as hell when we tried bending it with our hands. A stiff mid-foot results in a snappy sensation that aims to propel you forward with every flex of your foot.
The Predator 20.1, however, didn't provide any significant tension in the mid-foot when I played in them. Strangely, it flexed like any other adidas soleplate (with moderate stiffness) though I appreciated the natural bend around the balls of my foot. I don't have any issue with this but those who love their responsive soleplates might be in for a slight disappointment.
Playing on an AG surface also didn't provide any stud pressure which is testament to adidas' consistency in creating an FG/AG compatible soleplate. Those who swear by an AG-exclusive soleplate will be happy to know that adidas has a variation with an AG stud pattern which you can buy here. It doesn't look nearly as sexy as the FG one but it should serve you well if you're sensitive to stud pressure.
Worth the hype? It depends…
My experience with the adidas Predator 20.1 has been a mixed bag. It started with an unbearable fit before morphing into an aggressive power boot that really helps you with control, as advertised. It's a boot that provides that amazing sensation that I've not felt in awhile and is definitely unique in an environment where football boot developers aim for a closer touch to the ball.
However, for a top tier football boot, which happens to be the flagship brand for adidas no less, it needs to do better with fit, right out of the box. When you're paying SG$300 for a pair of boots, it should not require an hour's break in time at home before being ready for the game. It should come with a much softer upper that won't feel like a python's grip. And it shouldn't have a toe box built from a mould of a clown's shoe.
When you get into the zone of your game, I can assure you that the Predator 20.1 performs exceptionally well but it's got these rough edges that it needs ironing out to justify its big price tag.
So what forms "Predator DNA"?
Back to the big question at the start of the review. What is "Predator DNA"? And does the adidas Predator 20.1 have it?
It's hard to define what makes up the DNA because much of it has been set by marketing and nostalgia. The Predator 20.1 definitely brings back the punchy power boot vibes of old and quite possibly, surpasses its predecessors in this respect.
But my issues with its fit reminded me of another key attribute past Predators had – they felt amazing to put on and made you feel ready for battle straight out of the box. adidas have taken a step forward with Demonskin but might have tripped in their sprint to "make a Predator inspired by the old days".
The adidas Predator 20.1 could have been the boot of the year but that large toe box, crippling mid-foot and rigid upper threw a spanner in the works. Those factors are pretty basic and if adidas could just make tweaks to them in the "21" refresh variant, I think we would really get our Predator back.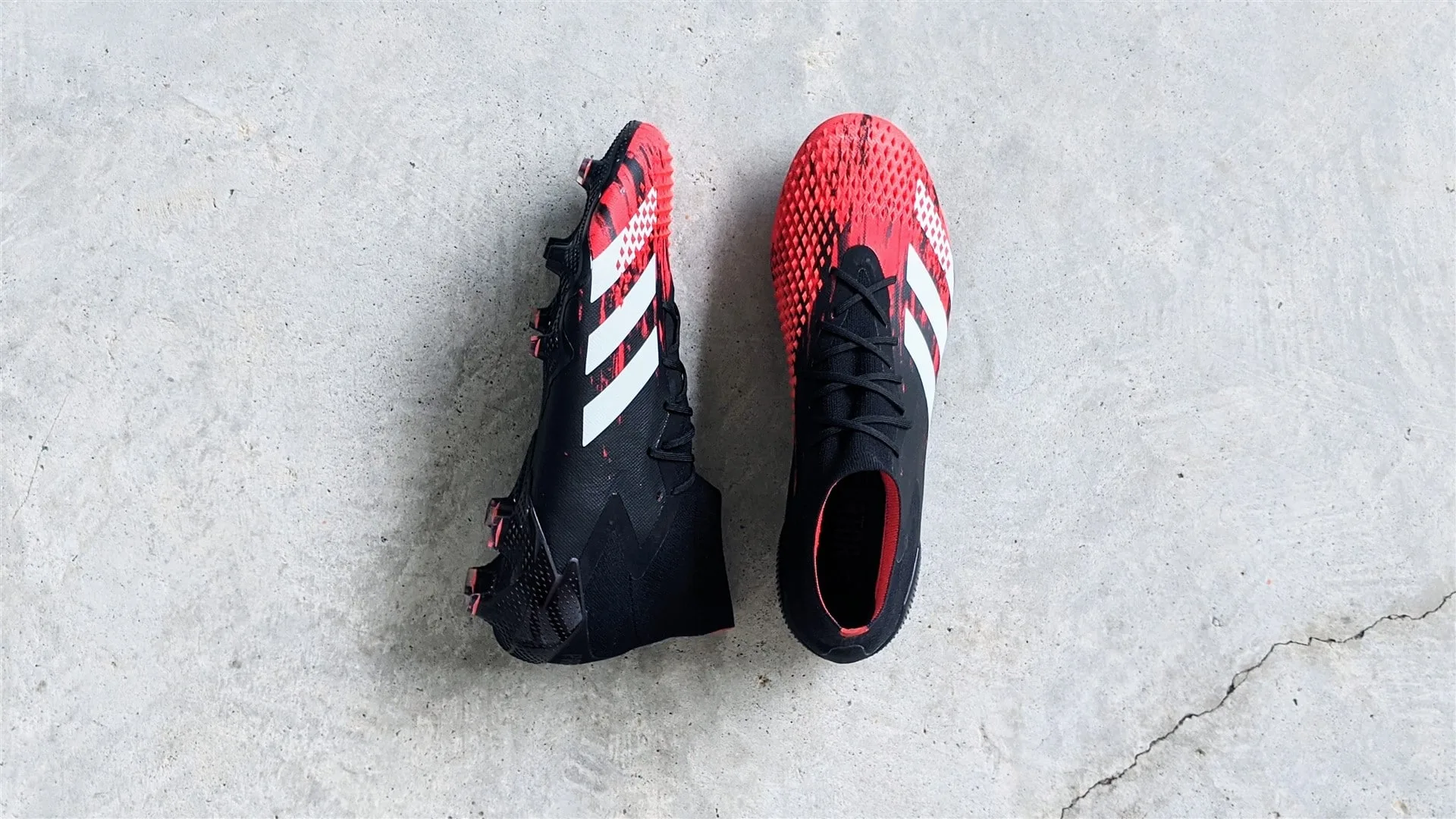 Final Thoughts
A good return to its power boot roots but requires improvements on its fit.
The Good
Unique, aggressive design
Demonskin spikes very grippy
Punchy sensation when striking
FG/AG compatible
The Bad
Requires a lot of break-in time
Crushingly tight mid-foot
Rigid upper material
Too much toe box space
Check below for the best prices