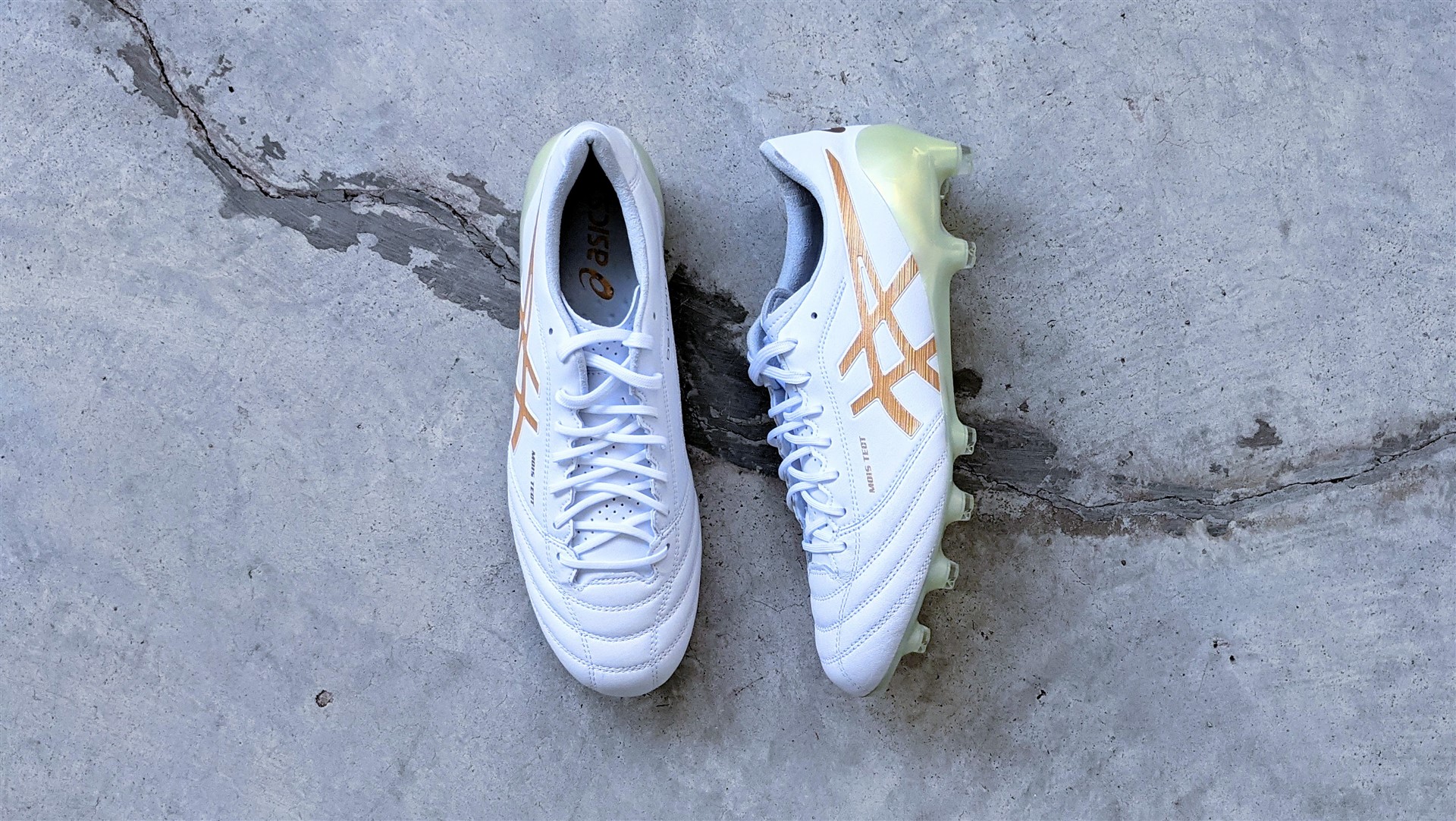 The smallest details make the biggest difference.
First launched in 2012, the ASICS DS Light X-Fly series was ASICS' attempt to compete in the super light category. Despite the presence of its DS Light model, which was a more modern and lightweight take on its traditional leather boot, ASICS wanted its own super light speed boot to compete with the likes of the leather adidas adizero.
The first ASICS DS Light X-Fly model was and still is one of my all-time favourite boots. It had a unique stitching pattern in the forefoot which puffed up and created a nice padded touch. Subsequent models have seen ASICS return to a more traditional stitching pattern similar to the countless other lightweight leather boots in the Japanese market.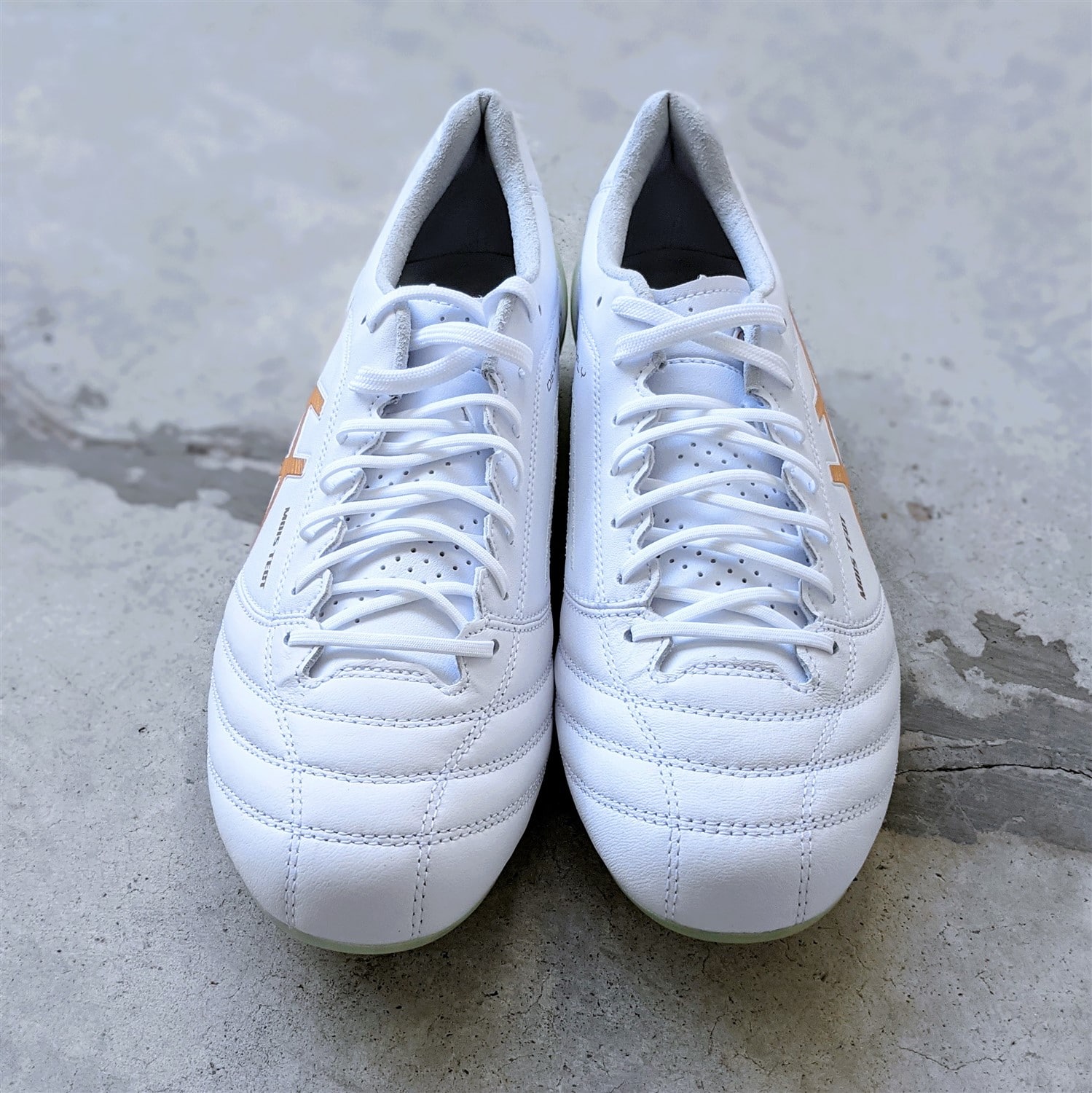 What's helped the X-fly silo stand out have been the little elements that ASICS has improved the boot with, a running theme that you'll notice throughout this review.
Not just another lightweight Japanese leather speed boot
Unlike typical Japanese boot announcements, the ASICS X-Fly 4 launched to a huge bang. ASICS had captured the signature of legendary Barcelona and Spanish midfielder, Andrés Iniesta, who became the face of the boot. As a boot nerd, I was intrigued by how Japanese reviewers consistently rated the ASICS X-Fly 4 over the Mizuno Morelia Neo 2 MiJ The Mizunos, in my eyes, have been one of the best boots available at that time.
As with most Japanese leather speed boots, the ASICS X-Fly 4 had a K-leather forefoot and synthetic midfoot, along with a lightweight plastic tooling. Dig deeper though, and you'll notice the little elements that ASICS have added to elevate the boot over its competition.
Using what ASICS calls "platinum" kangaroo leather, the upper has a unique finish that adds a classy gloss. It is not only for aesthetics, but it also helps to reduce the amount of water it absorbs. Additionally, there's also a 3mm layer of rebound foam underneath the leather upper to provide a slightly more padded touch.
In the midfoot, ASICS added in a "grip element, with rubberised strips similar to what we've seen previously on some of the control boots. They've also carried over the unique lace loop design from the previous model. Observe closely and you'll notice that the material holding the loops are separated from each other for better customisation and lockdown when you pull the laces.
Interestingly in the heel, while they've gone with the typical suede heel liner, there's no padding to lock your foot in like most other boots, which worried me at first in terms of potential heel slippage.
Locked in with the ASICS DS Light X-Fly 4
The ASICS X-Fly 4 felt incredibly comfortable on my feet. There were no visible hot spots that had me worried about potential blisters and I happily took it into a training session without going through my usual break in process of walking around my office in it.
This was also helped by ASICS adding in a SOLYTE insole. SOLYTE, which is adapted from its running shoes, is an improved EVA foam commonly used to add additional cushioning without adding too much bulk or weight.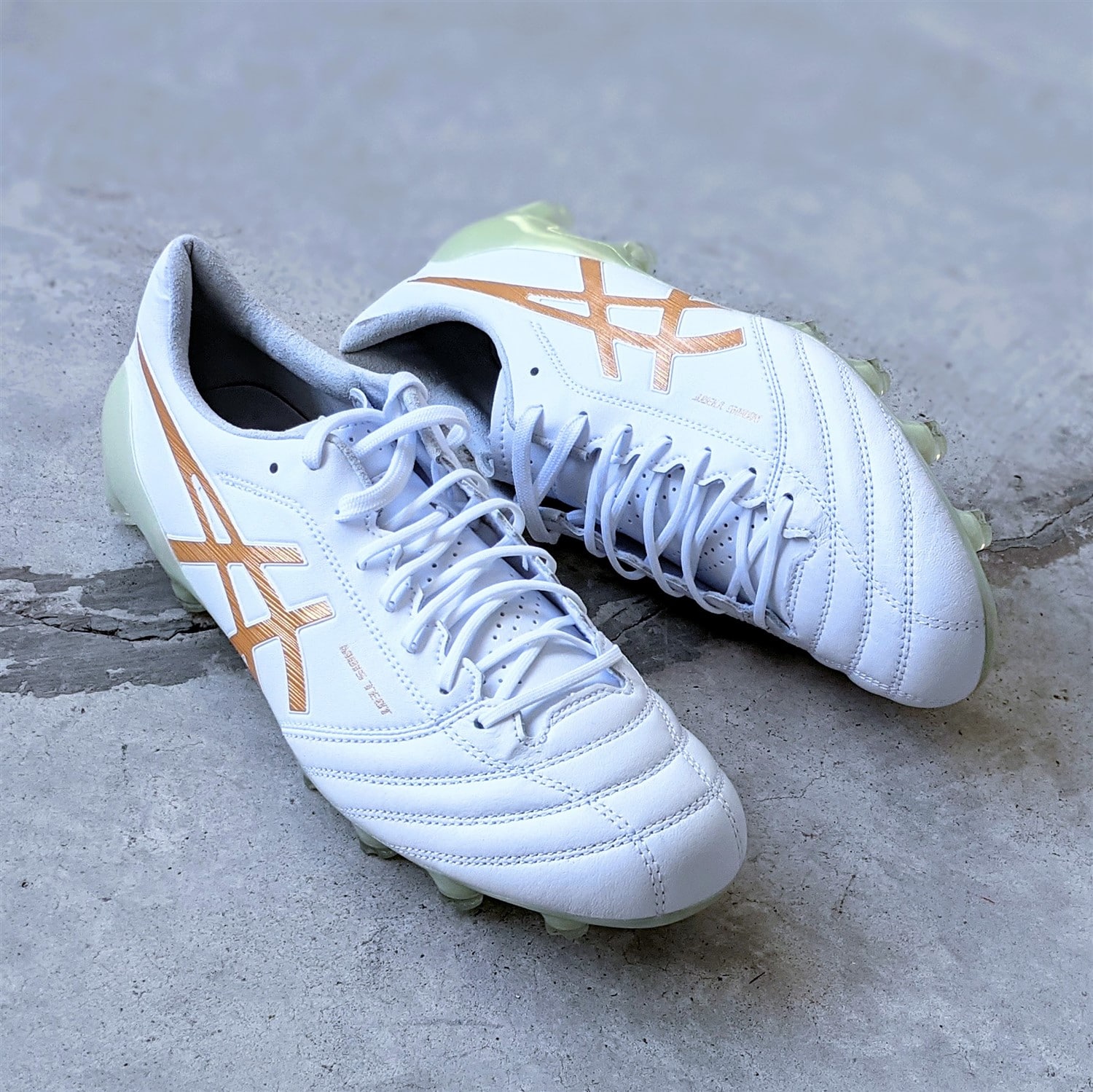 I went down half a size from my usual US 9, similar to my ASICS DS Light AG. Here, the lacing system on the ASICS X-Fly 4 deserves special mention for how it contributes to the fit. I've already mentioned about how the laceholes assist to give an extra secure fit, but ASICS have also engineered two lace loops in the tongue. Players are encouraged to run their laces through these loops to prevent the tongue from sliding around so you can concentrate fully on your game.
What I loved in particular, was how incredibly well the heel fit. I have no idea how ASICS have done it, but despite the lack of padding in the heel, the fit was incredibly secure. I never had any issues with slippage even when making quick cuts , turns or when planting my feet. Having had issues with heel lockdown with certain boots due to the heel pads not securing my foot properly and causing blisters instead, I definitely think more brands should look towards what ASICS have done here.
Soar in the ASICS DS Light X-Fly 4
As the use of a 3mm rebound foam would suggest, the touch on the ball feels more barefoot as compared to your typical padded leather uppers. You can still find a hint of padding to take away the sting of the ball when you're manipulating the ball. Shooting in the X Fly 4 feels natural, with a slight punchy feel due to how thin the boot is. You get a nice full-on contact to feel like there's nothing taking away the force put into the ball.
Controlling and side-footing the ball was equally straight forward, with the thin yet super soft and pliable synthetic midfoot mimicking the feel of a leather material extremely well.
Unfortunately, the grip elements on the midfoot are too minimal to have any effect touch-wise. While I appreciate ASICS including in a grip "upgrade" in the area that was previously an ASICS logo for extra stability, they'd have been better off going all the way and making the grip element more pronounced.
It should come as no surprise that the ASICS X-Fly 4 come with a typical 9×4 conical stud pattern. The studs are short enough that they don't overly cling on AG, giving them our BOOTHYPE stamp of approval for FG/AG use.
What I enjoyed about them in particular, despite being a typical stud pattern, is that the stud shape and layout makes the entire boot feel exceptionally stable. When you have it on feet, the boot makes you feel more grounded and less prone to twisting your ankles, another great little detail by ASICS.
An all-rounded boot with the best fit for Asians
With its focus on the local domestic market, ASICS caters solely to the Japanese market, which means that their boots tend to fit extremely well to the quirks of a stereotypical "Asian feet" – flatter arches, thicker toes and bridge as well as a wider foot in general. We've had the pleasure of reviewing a number of ASICS boots to date, and I've had no complaints with the fit thus far. For me, this is where the ASICS boot truly shines.
What's ASICS has done exceptionally well too, is with its attention to the little details. From the unique design of the lace loops, the lace loops in the tongue, the super locked-in heel construction and even its Solyte infused insole, ASICS has ensured that its boots perform at the highest level, even if it may look more ordinary than its modern counter parts.
With that and its Asian-centric fit, ASICS could and should cast an eye towards dominating the Asia market.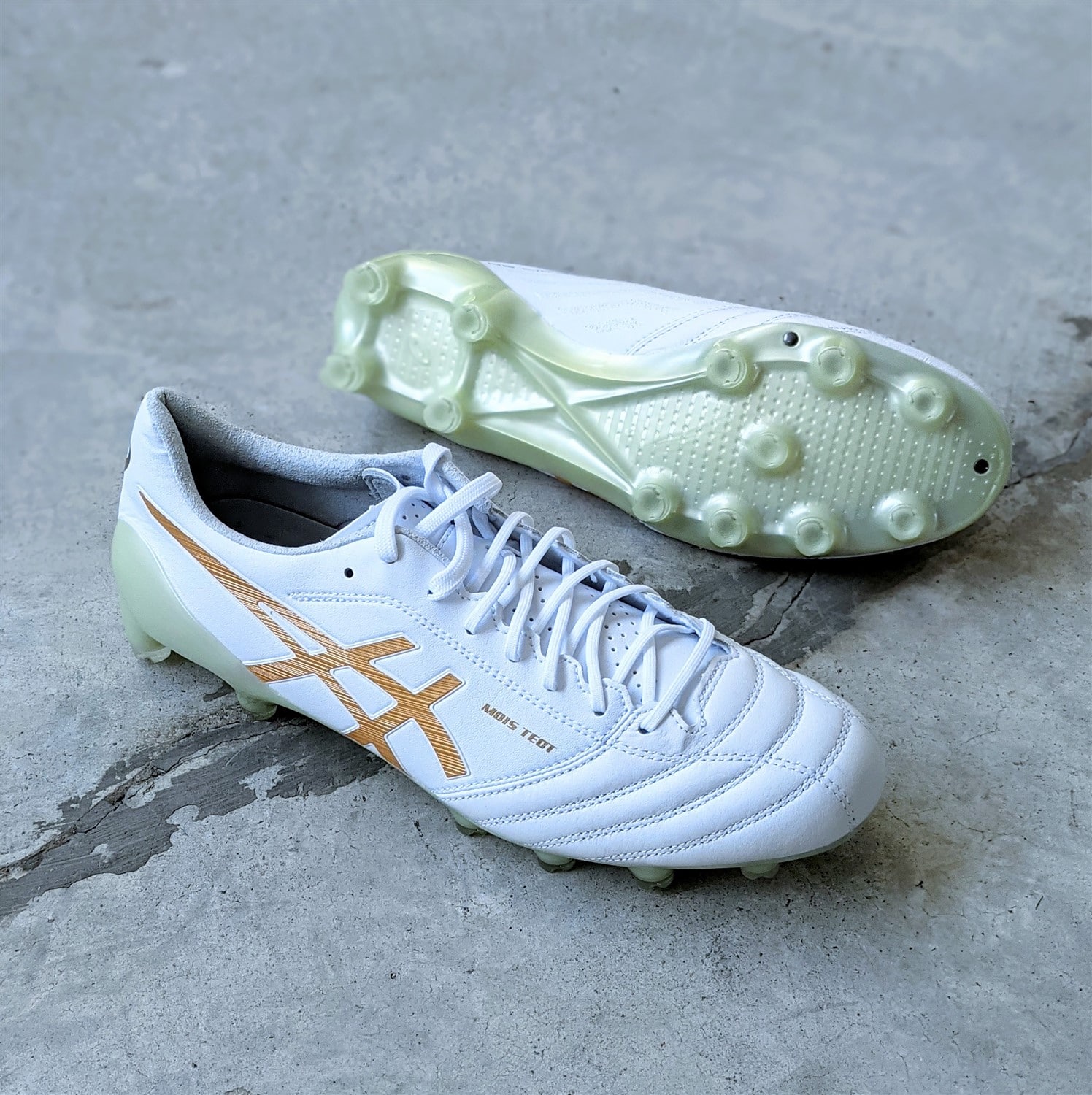 Its recent revival in the running shoe department, with the likes of its Metaspeed Sky and NovaBlast 2, is a good indication that we should also expect an improvement with its football shoe line. ASICS are giving the big boys a run for their money when it comes to the leather boot department.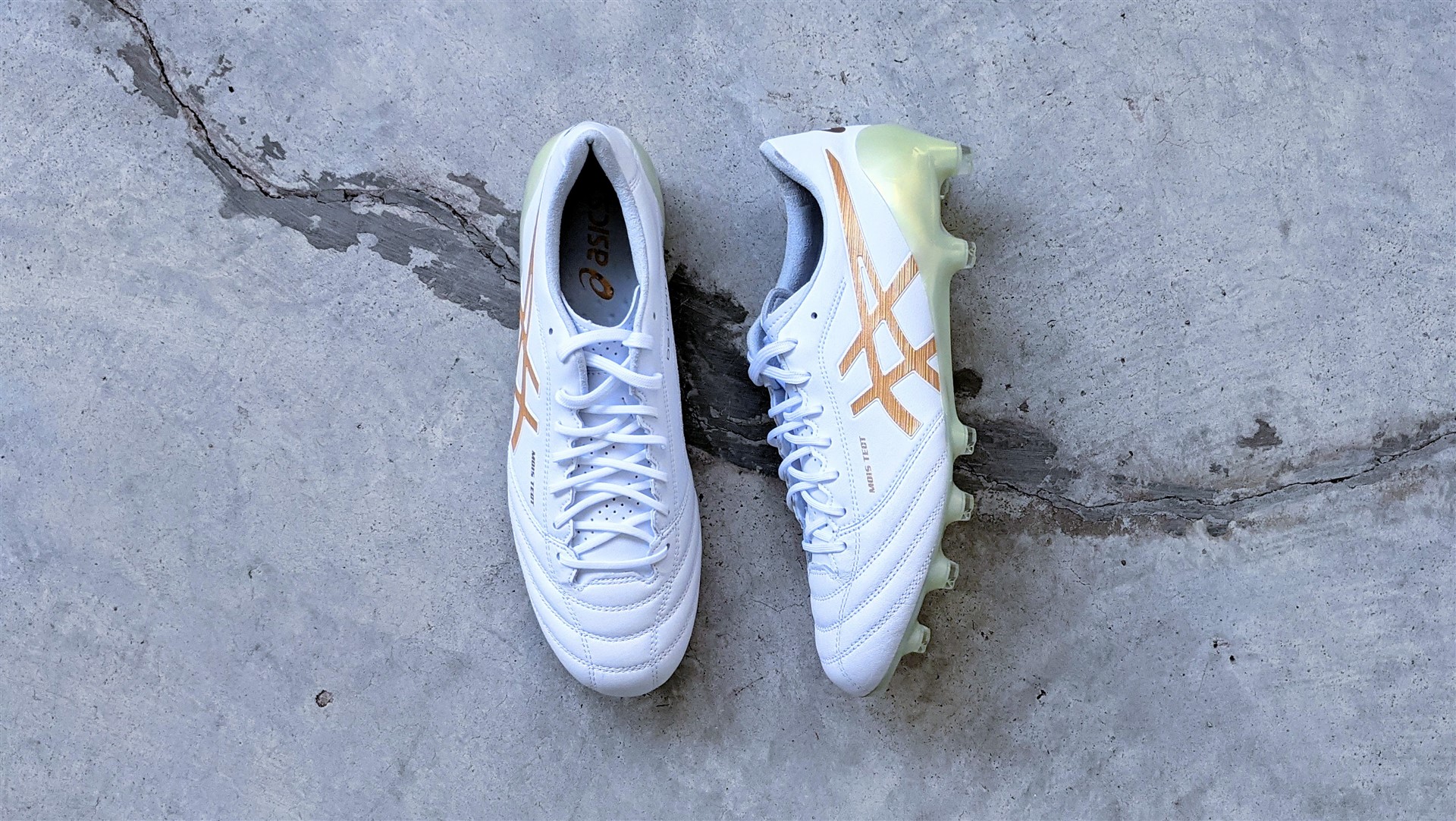 Who is this for?
For players who want an affordable, lightweight leather speed boot.
The Good
Superb heel lockdown
Premium and comfortable insole
Nice barefoot touch
Stable outsole
Lightweight
Affordable
The Bad
May not be as grippy on softer FG