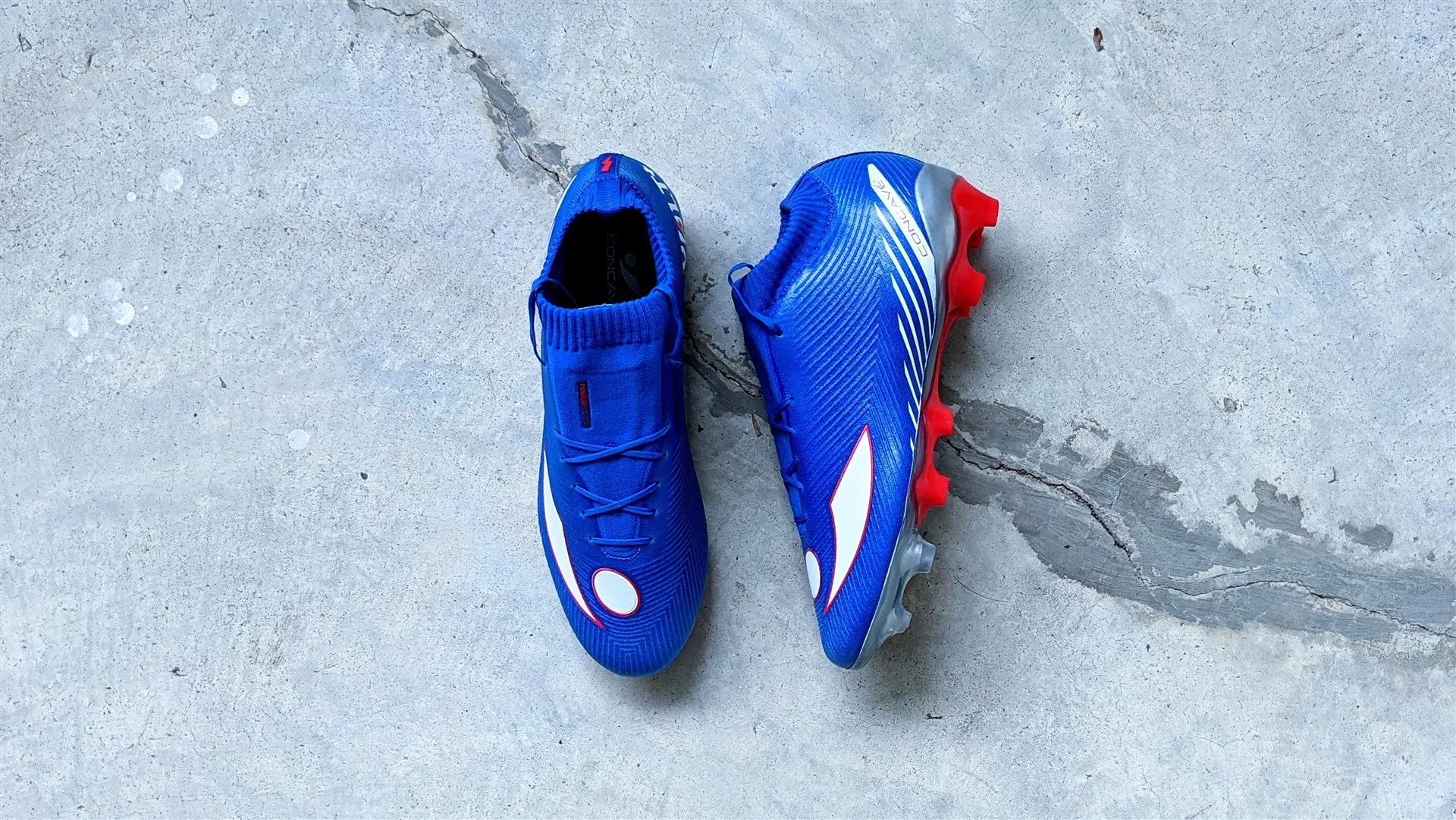 A padded boot for strikers.
Concave football boots aren't really made for football to begin with. It's built for Aussie Rules Football, a modified form of rugby that's played in Australia. It comes as no surprise that Concave is an Australian brand, and while I did not enjoy my time in the Concave Aura+, I was hoping to give the Aussie brand another go.
With the Concave Volt + Knit, I had my reservations but tried to keep an open mind.
What is the Concave Volt + Knit?
The "+" signifies the most premium version of any Concave silo but this version is more than just a +, it's also developed as a knitted boot. The Volt line is actually Concave's speed line but this knitted version of the + has thoroughly transformed the boot that is far removed from anything speed related.
For the sake of brevity, we shall still name this the "Concave Volt +" though technically this is the "Concave Volt + Knit".
The Concave Volt + is mainly constructed of heavy padded knit with a ribbed, synthetic outer layer. And of course, no Concave boot is complete without their "PowerStrike" zone around the lace area to give you some oomph with your strikes. The boot also comes with a short, sock-like collar as is the trend with football boots today.
Despite the bulk, the Concave Volt + is a pretty handsome boot that caught the eye of many of my fellow teammates during training. It also comes in many bright colours and players who love to stand out with loud boots will be pleased at the selection available for the Volt.
Weight wise, it came in at about 250g in a size US 9.5, slightly above average by today's standards but not hefty by any measure.
The Concave Volt + Knit fits pretty large
Despite the one piece construction, the Concave Volt + was pretty easy to slide on. This is because the boot cuts pretty large, width and length wise. I believe I could have gone down half a size and if I wanted it really snug, I could have even gone a full size down. For those with wide feet, I think it is possible to go half a size down in these boots.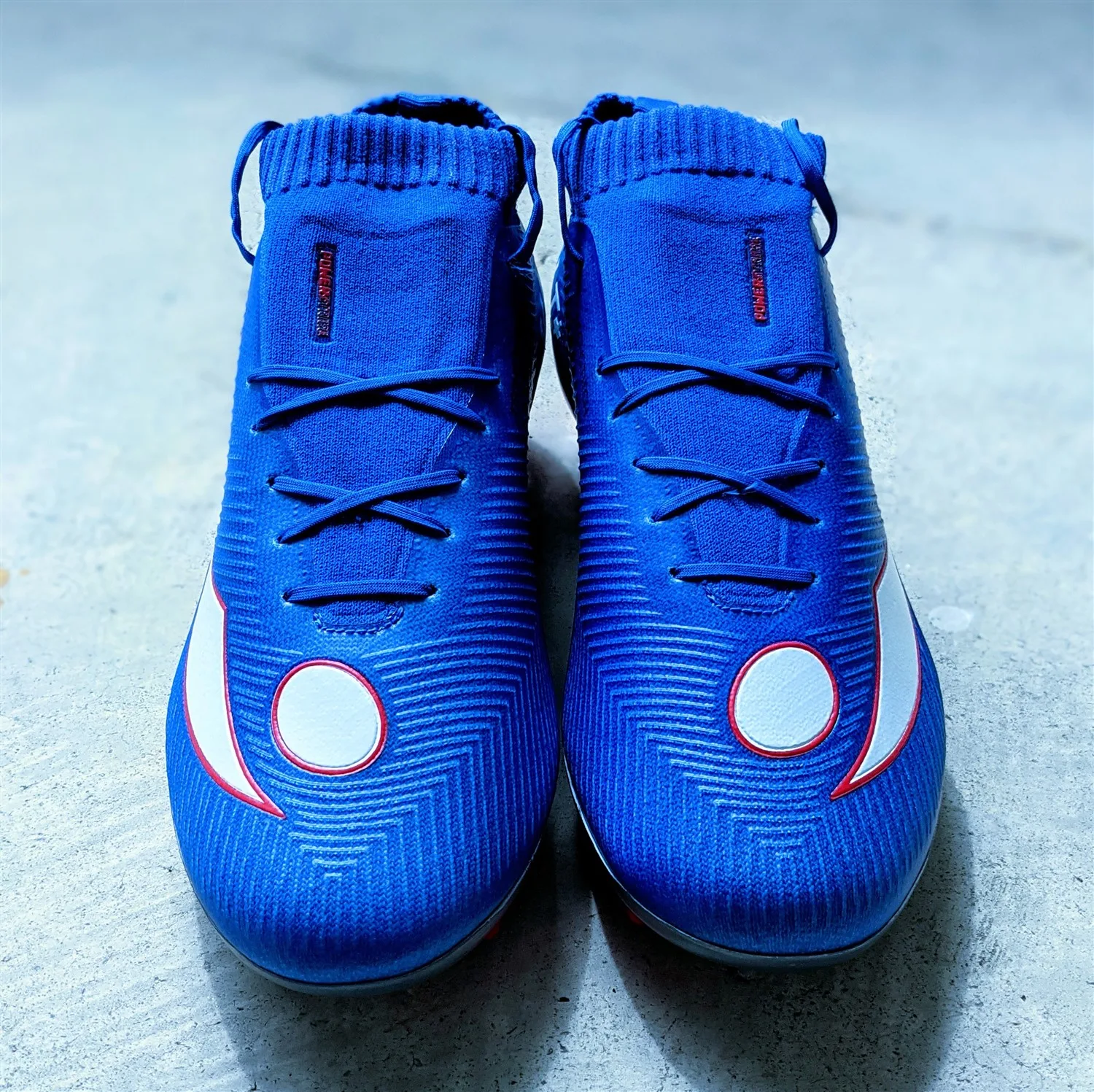 The extra room was evident around the toe box and the medial (inner) part of my foot, especially around the latter when I flexed my feet.
Unlike in the Concave Aura +, I found the Concave Volt + to be padded and comfortable, with no friction zones anywhere around the foot. I didn't enjoy the extra room but I got used to it. Lockdown was alright but as you can imagine, it would have been better in the right size though wearing grip socks helped me reduce slippages during my play tests.
Comfortable but lacking a close touch
My first steps in the Concave Volt + felt stiff, mostly due to the soleplate. It was stiff around the forefoot but oddly enough, it didn't provide that "spring back" effect I would usually expect from a stiff soleplate. It eased up by the end of my first session but the rigidity was pretty evident within the first hour.
Passing and control-wise, the Concave Volt + did its job with little fuss. I never felt that I had issues controlling the ball and passes went where I intended for it to go. This could be attributed to the pretty flat and large surface area on the medial and lateral sides of the boot – the high volume and height creating a bigger surface area to control the ball. The ribbed texturing helped a teeny bit with grip but don't expect to have Iniesta levels of control with the boot.
The large (and clean) surface areas and the ribbing also made dribbling feel easy and secure. That very same surface area proved useful when putting through shots during my striking drills.
However, despite my relatively good impression of the overall touch and performance, it did feel hampered by how bulky and thick the entire upper was. In the Concave Volt +, I often felt disconnected from the ball even when there was good contact. If Concave took some time to reduce the amount of knitted padding by half, I think the touch on the ball would be much more engaging.
It's such a shame because there are some positive ingredients in there, especially with the light textures and the clean and large surface areas to help you master control.
And lastly, a word about the PowerStrike zone. It is built on top of the lace area, meant for drop kicking rugby balls in Aussie Rules football. I didn't see myself using this feature a lot as I don't play as a goalkeeper nor do we have opportunities to play 11 a side now during Covid-19.
If Concave were to develop a variant for strikers in football where a modified PowerStrike zone was placed off centre where footballers strike the ball with, it might prove to be a popular gimmick for the footballing market. But for now, this feels unnecessary unless you play Aussie Rules football.
A surprising amount of bite
The studs on the Concave Volt + are surprisingly eye-catching and aggressive. For a design that looks to be inspired by the floating wax in a lava lamp, I found it to have a decent amount of traction and bite when kicking off and changing direction. The studs maybe have rounded edges but carry a relatively slim profile which feels more like a bladed stud rather than a conical one.
The studs do work fine for artificial ground, not clinging too deeply with every stride and I hardly felt stud pressure, earning it the BOOTHYPE seal of approval for AG. The early rigidity might be a small problem for some but it'll ease up in time.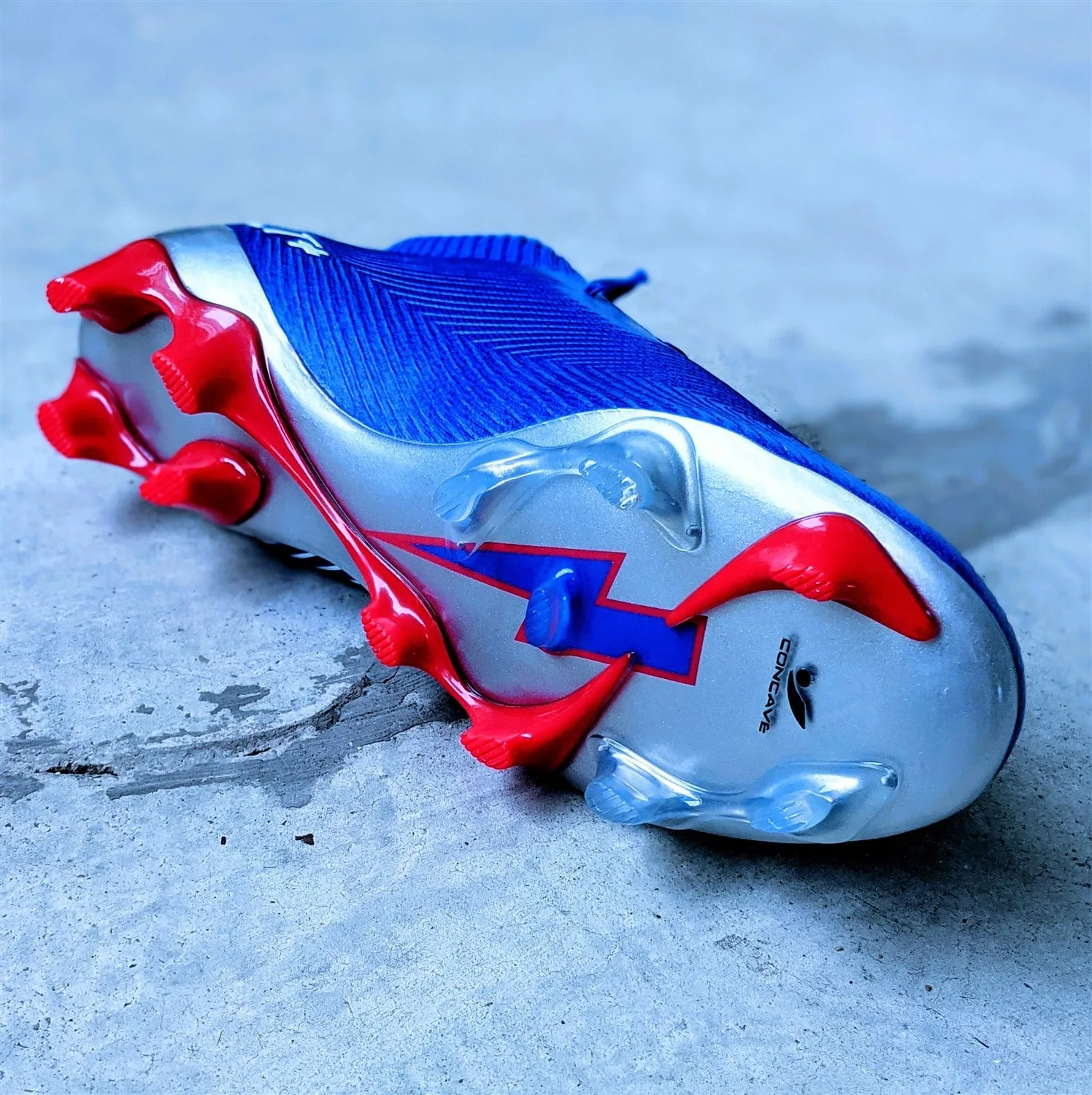 A decent boot by Concave
I'm pleasantly surprised by my second experience with Concave. My first was awful but my second attempt via the Concave Volt + Knit has led me to think that it is a thoroughly serviceable boot that is decent enough to rival the second tier of football boot brands like Umbro and Lotto.
It is strange that a boot that is based on a speed boot feels anything but one. The final product feels more like a modern striker's boot that has been padded up to the max. If Concave found a way to shed some of its padding and improve the cut to fit true to size, they might have just developed the right formula to develop a pretty good control boot. Modify that strike zone and you'll develop a dynamite product.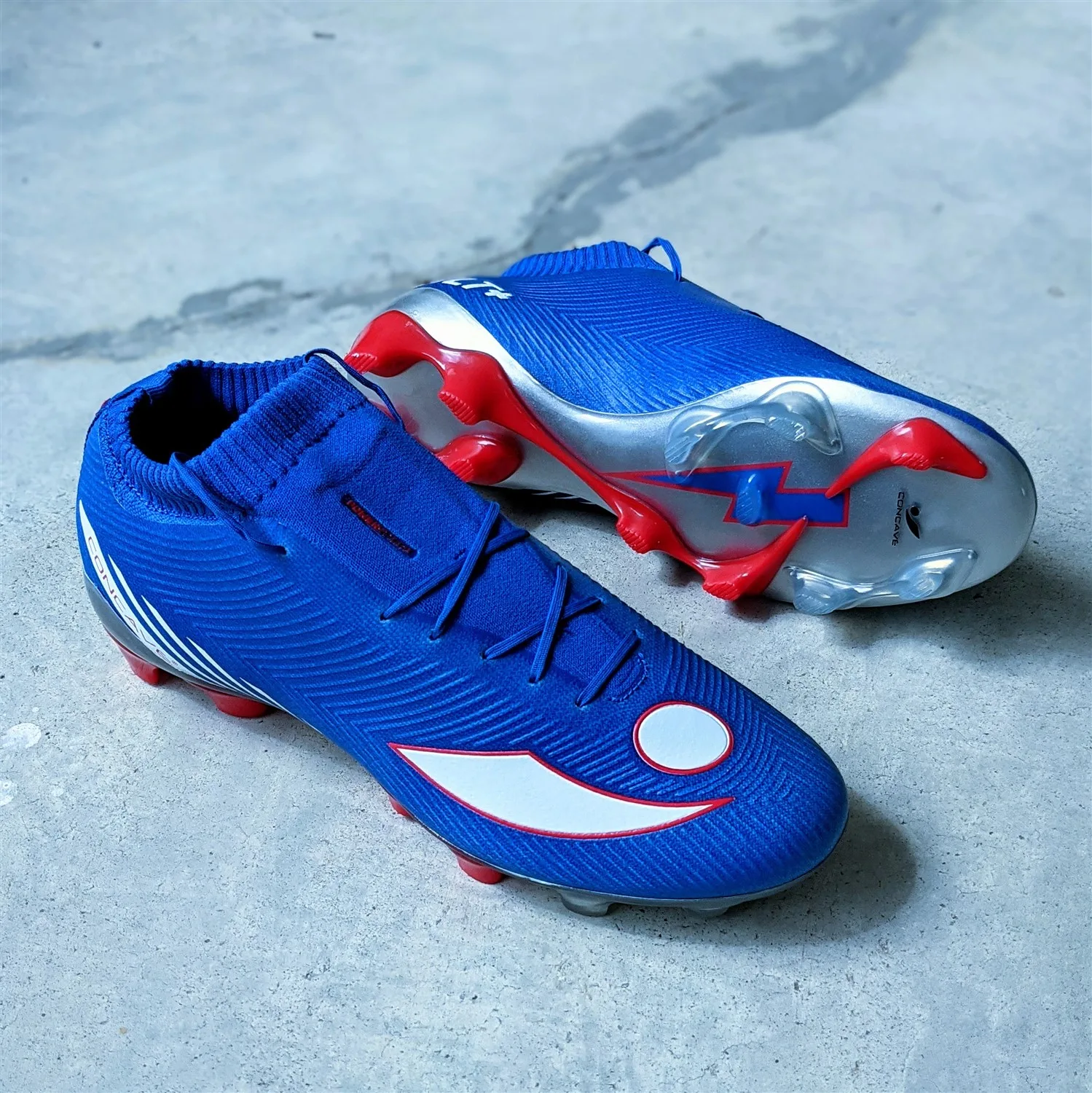 The price isn't too bad considering how they're perpetually on massive 50-70% discounts, allowing you to buy them for as low as £60 on Prodirect Soccer. And if you live outside the EU, US or UK you get a further 16% off at checkout too which makes this a pretty good budget option.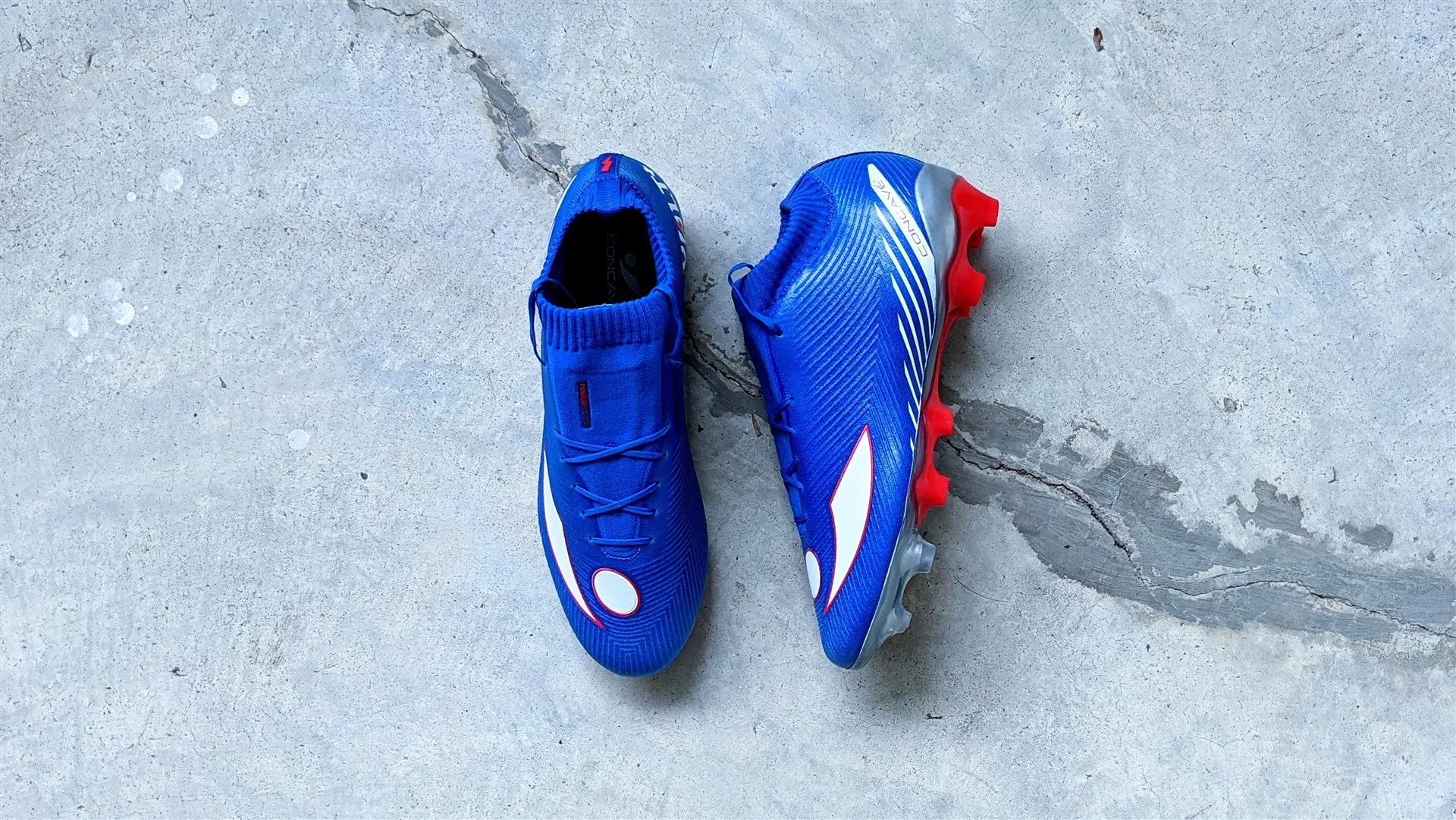 Who is this for?
Players who want a padded knitted boot on a budget.
The Good
Nice design
Comfortable
AG friendly studs
Good traction
Clean and large surface area for control
Affordable
The Bad
Too wide and long
Too padded
PowerStrike Zone has little use in football