A quantum leap in technology for Puma.
Puma has made a big return to the speed category in the form of the Puma Ultra. Their last "pure" speed concept was the evoSpeed series which made way for the quasi-speed silo, the Puma One.
The Puma One was a really good boot but never full convinced as a speed option. It's no surprise that Puma is attempting to enter the speed boot market again as it's easily the most popular and marketable concept within the boot industry. And with most speed boots, Puma's Ultra packs the latest tech on offer – and it took our breath away.
Ultra light
At the point of writing, we've only received a display set to try on feet and we've yet to take this to the field. The first impression you'd get with the Puma Ultra in your hands is how light they are in your hands. In a US 9, they weigh at approximately 150g which is ridiculously light even by today's standards. With established counterparts like the Nike Mercurial Vapor and the adidas X being strong competitors, an ultra-light boot is a hugely beneficial selling point to turn heads.
The technology behind the light upper is pretty fascinating too. Puma worked with French company, Chamatex, who have great experience with woven and knitted materials. The result was MATRYXEVO, a pretty thin but strong and structured material that seems perfect for a speed boot.
Despite being an uber thin upper with an almost raw knitted finish, you'd be surprised that the Puma Ultra remains relatively rigid. It's not uncomfortable by any measure but you'd have thought something this knitted and raw would be softer.
This rigidity is key to the performance of the Puma Ultra as a speed boot. The fastest players expect to make explosive movements, including quick deceleration and swift changes in direction which requires lateral support from their football boot. To keep the boot's shape and structure during all these movements, MATRYXEVO includes these fine colourful threads that are woven into the lateral side of the upper. They're mainly made from carbon and aramid fibers – extremely durable, strong and light.
These fibers are also slightly embossed and you can expect some grip when it comes to dribbling your way past an opponent.
Personally, I think this technology displays a quantum leap in Puma's research and development team. They've produced fascinating concepts like the Puma evoPower and Future but I've not seen anything like this from them. The Puma Ultra could possibly push them alongside the standard bearers, Nike, in terms of implementation of cutting edge technology.
Sole improvements – Puma Ultra
The past few soleplate iterations of the Puma One and Puma Future have been pretty average. They worked well but never stood out. The Puma Ultra looks to up the game by embracing its position as a speed boot with aggressive chevron-shaped bladed studs all throughout the soleplate. This is lovely for many who are based in temperate climates with softer grounds.
However, as someone who plays regularly on artificial grounds, the long length of the studs do concern me, even if the soleplate is marketed as FG/AG compatible. This is something that I'll definitely have to explore during my playtest.
I've also noticed that the soleplate is pretty flexible, especially in the forefoot, which may be something that puts off traditional speed boot lovers. Many players are used to speed boots with more rigid soleplates for that spring-back effect that makes them feel like they're being sprung forward.
Personally, I prefer a softer, more natural flex in my soleplate for mobility but for them to appeal to and convince the wider market of being a "proper" speed boot, a more rigid soleplate should be on the agenda on the next update.
The Puma Ultra is very promising
All in all, I've been very impressed with the Puma Ultra. The boot feels premium in hand and its light weight could prove to be a very marketable factor for those who want to try a new speed boot option.
Puma haven't been this tech forward in a long time and deserve kudos in finally creating a boot that can challenge the best in the industry. They shouldn't have axed their speed line and I believe this is them realizing that and making amends.
It's such a shame to see the Puma One go. I personally liked the boot but Puma needed something that is more clearly defined. It's high time Puma challenged the speed market and I look forward to see how this can perform against the very best.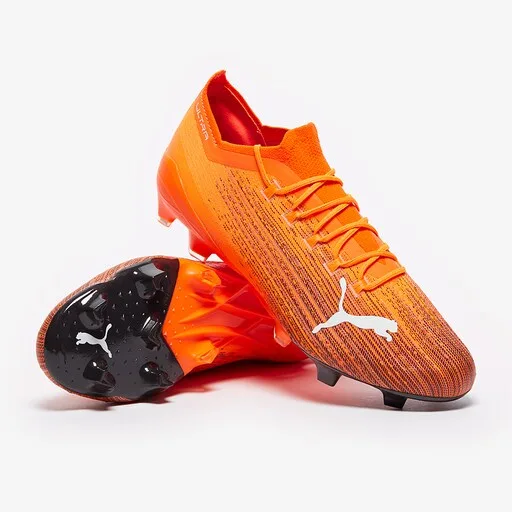 Puma Ultra 1.1 FG/AG – Shocking Orange/Black
Prodirect Soccer
£180.00
Race away from opponents wearing PUMA Ultra 1.1 FG/AG football boots in Shocking Orange/Black, featuring a lightweight, speed-focused design with an ultra-fast outsole inspired by running spikes.