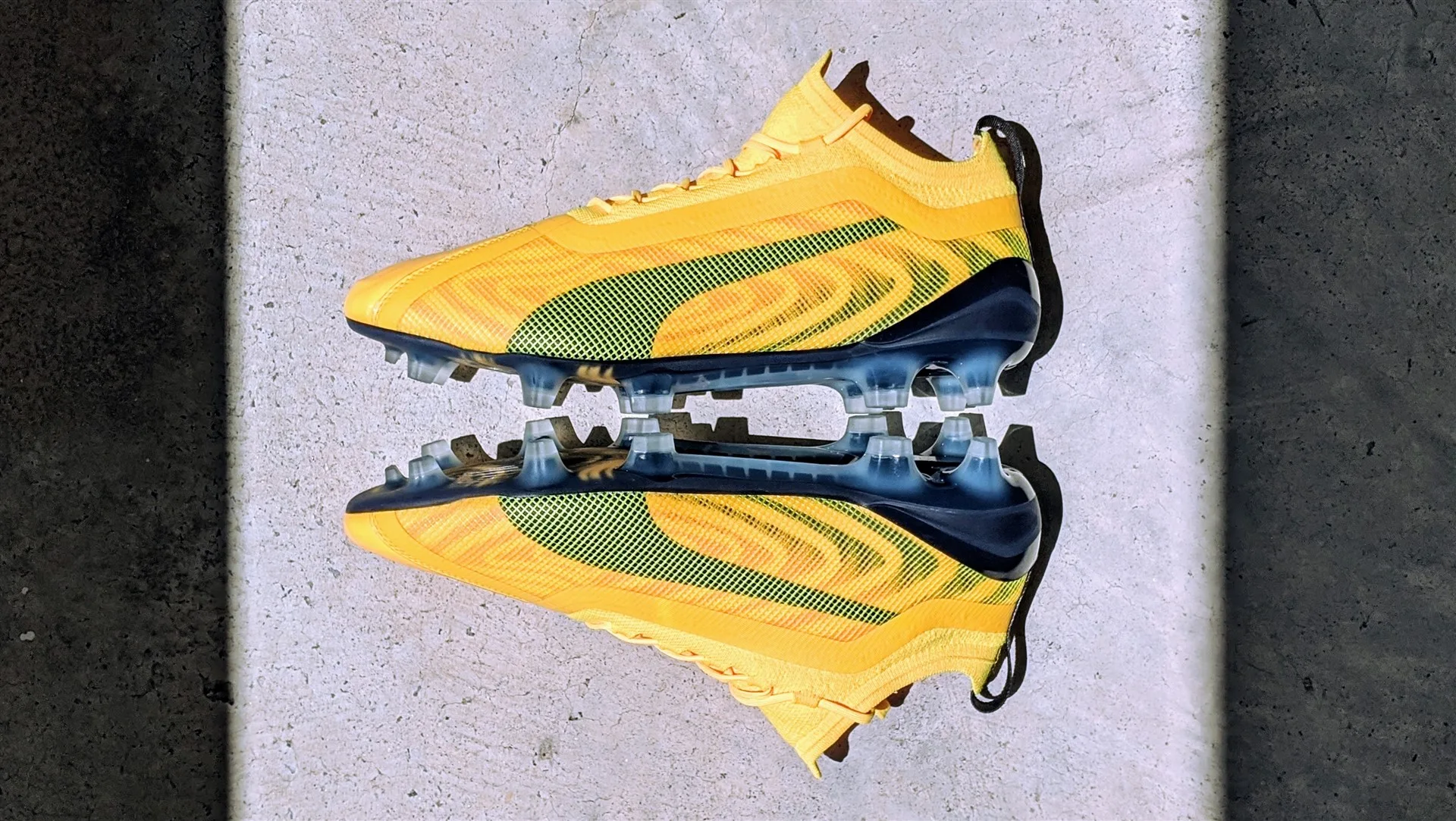 Check below for the best prices
The Puma One 20.1 is a good boot that doesn't get enough credit.
The Puma One is an odd football boot. It's meant to appeal to every type of customer out there with its leather instep, speed boot design, knitted lace area and a slightly wider width. However, this also means it doesn't really have a unique selling point despite ticking so many boxes.
We quite liked the Puma One 5.1 when we reviewed it in June 2019 and the Puma One 20.1 is a refreshed variant to kick start 2020. The One hasn't changed much in half a year but my perspective has in that time. The Puma One is a very good boot and it's a shame many won't get to enjoy wearing them.
Deconstructing the One
While the Puma One started out as a pseudo speed boot, the existing version of the boot carries a little of everything. From the outset, it looks like a very sleek and modern speed boot with its external heel counter, slim silhouette and the return of Sprintweb on its lateral sides. For the uninitiated, Sprintweb is a reinforced lightweight mesh that keeps your feet stable during those quick changes in direction in a game.
The best knitted material in the game, evoKnit, also features around the lacing area to provide lockdown, comfort and more lacing options closer to the ankle area.
However, the star of the show has to be the leather instep which was oh-so soft in the last version. The leather used in the current Puma One 20.1 is equally plush with a slight change in the embossed pattern that forms its internal cage. It now carries a wavy design that reminds me a little of the Umbro diamond logo. No ground breaking changes here.
Almost no flaws in the One's performance
Like the Puma Future 5.1, I was surprised to see that the Puma One 20.1 was cut a little larger. I'm a US 9.5 but somehow I managed to fit into a US 9 for a snug fit. Go down half a size if you have moderate or narrow width feet.
The boots were snug and extremely comfortable especially around the areas covered by leather. After two games, expect the leather to stretch out to fit your feet perfectly and for the leather to soften up like butter. Oddly enough, it fits like a US 9.5 despite being half a size smaller. I was quick to fall in love with that upper as every touch I made felt almost barefoot-like but still very comfortable – all thanks to leather that is relatively thin.
Trapping the ball, passing and pinging long passes were the most favourite sensations I had with the Puma One 20.1 as I constantly craved for more contact with the ball.
The Sprintweb did its job of keeping my feet steady when I changed direction though I found a new use for that surface. It's a little more waxy and sticky to the touch as compared to the previous generation and that is something the more advanced technicians can look forward to. Sprintweb added that little bit of grip when receiving with your outer foot and is especially useful to generate some extra spin if you've mastered the art of the outer foot pass.
The taut yet soft evoKnit continues doing a great job of keeping my feet comfortable yet planted in the boot though it couldn't do enough to reduce heel slippage. It's not very obvious or damaging to your performance but I felt that it was something that Puma should have done better especially when they have done such a great job with the other aspects of the boot. Put on a pair of grips socks like the H3 Superb Socks and you should be fine for your game.
Lastly, the Rapidsprint outsole does its job and remains unchanged from the early versions of the Puma One. Its flexibility sits right in the middle of the scale between a natural flex and a rigid snappy one. It works without standing out too much. The FG/AG soleplate's mix of bladed and rounded studs do make twisting and turning easy but it's the length of the studs that worries me a little bit. If your feet are sensitive to stud pressure, you might want to think twice before wearing the Puma One 20.1 on shallower AG surfaces as it can cause discomfort for some players.
Why is there little hype for the Puma One?
I think the Puma One 20.1 is a really good boot and I like it. A close touch on the ball with minimal padding. Great all-round comfort and lockdown (though with minor slippage in the heel). Unfortunately, its brother, the Puma Future 5.1, does all of that better with no heel issues.
The One also sits in the Future's shadow when it comes to hype and marketing. It doesn't have a very distinct feature or position when you compare it with other boots in the market. It's an all-rounder. The Future is an all-rounder too but positioned to fit the modern attacker.
The Puma One however is worn by everyone from Sergio Aguero to Harry Maguire. It's a great boot but it's doesn't wholly appeal to the speed boot freak nor the leather lover. The Puma One is due a concept revamp. They can take the conventional route by revamping it into a speed boot or control boot. Or be creative and create something totally different, the way they did for the Puma Future. Perhaps something more technical like the first evoPower with its focus on a natural flex to help you strike harder by improving your form.
Either ways, Puma needs a more focused approach. They have proven again that they can produce great football boots. Now, they need to ensure that they produce a good boot that is interesting enough for people to want to buy.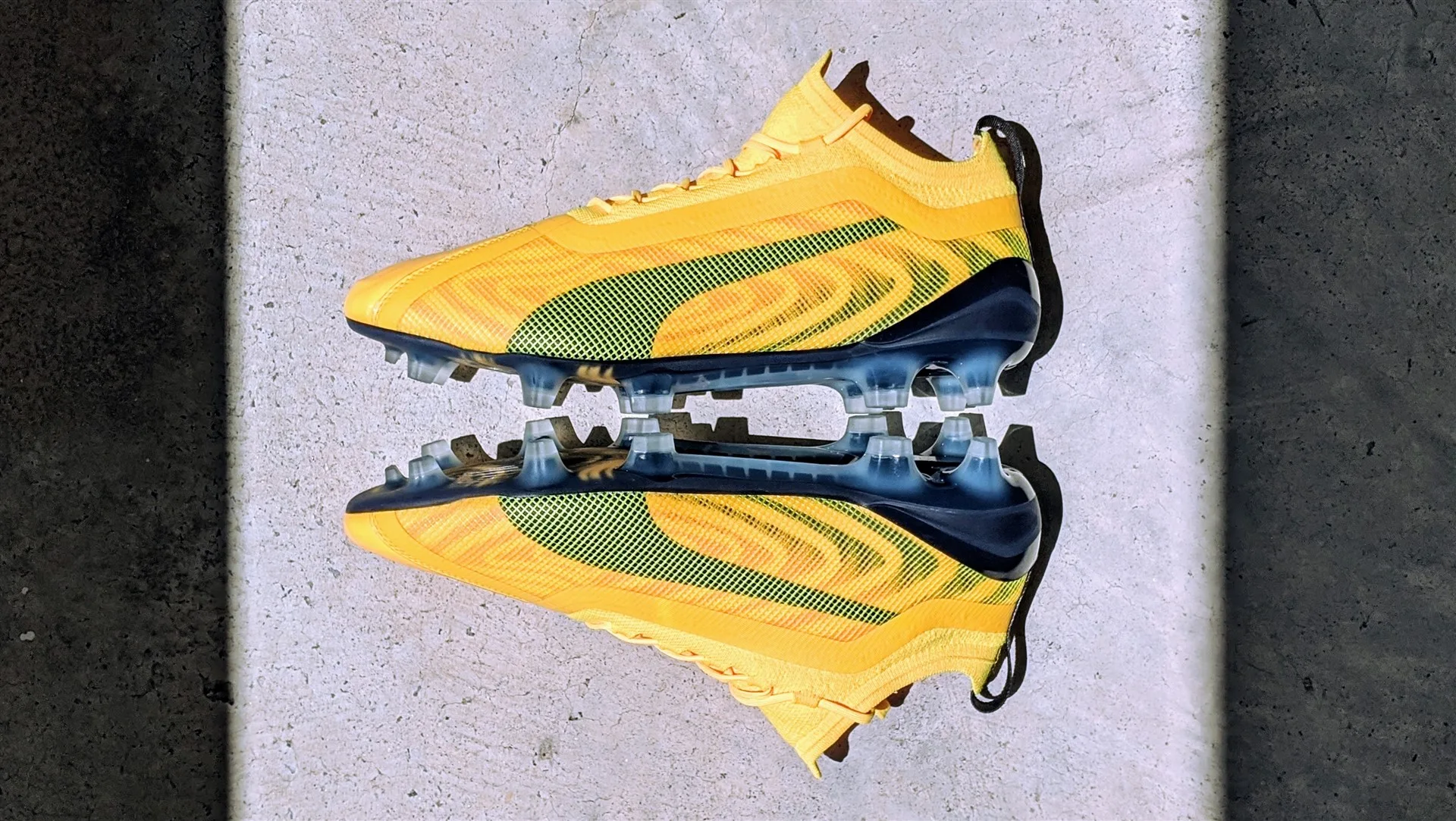 Final Thoughts
An excellent all-round boot with a close touch on the ball.
The Good
Soft, thin leather upper
Sprintweb keeps feet in place
Comfortable
Almost no break in time
The Bad
Minor heel slippage
Not suitable for shallow AG surface
Check below for the best prices