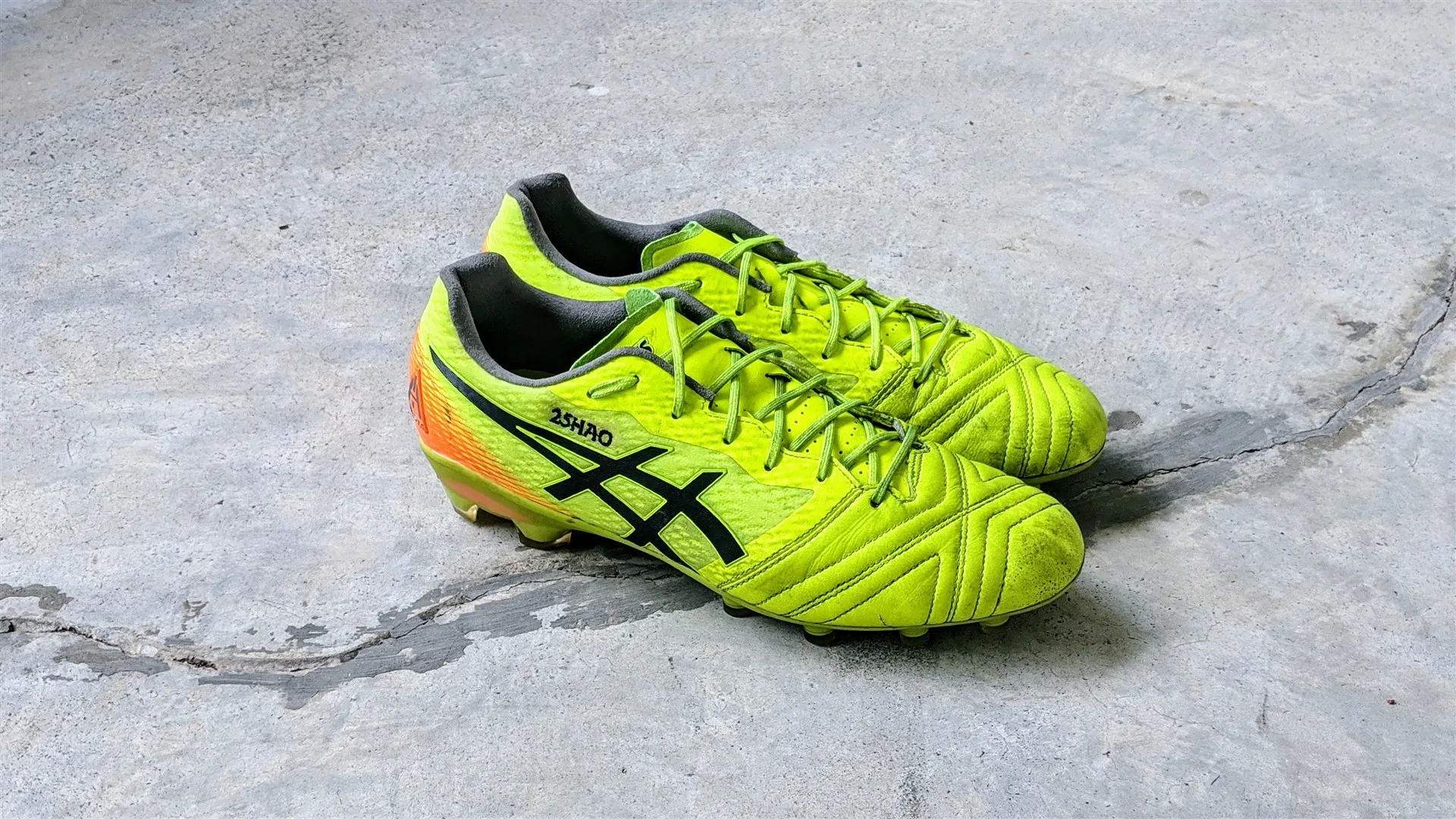 6 months in, the ASICS Ultrezza AI is still one of the best options for the creative midfielder
Post hype reviews is a new series where we revisit some of our previously reviewed football boots and see if they hold up after months of wear. Do they over-stretch? Do they still give you blisters? How do they feel after continued use?
As someone who's always dreamed about having his own customised boot, the ASICS Ultrezza AI instantly had my attention, despite the lack of marketing outside of Japan. It's not a secret that brands often indulge professional players with unique customisations to their specific requirements which aren't available for the public. The Ultrezza AI was therefore a great opportunity to test out what the Spanish legend liked in his boots.
Interestingly, the Ultrezza AI wasn't built on or inspired by the other boots in ASICS's lineup, but instead conceptualised from the ground up. A new mesh synthetic material was used for the midfoot, a unique soleplate with bladed heel studs, an x-stitching pattern on the leather and a 5mm heel lift with their FuzeGEL technology. I was excited to understand what why Iniesta had specifically picked out these features for his first signature boot.
What I first said about the ASICS Ultrezza AI
Comfort. Comfort. Comfort. While most brands have gone the extra mile to make their uppers as barefoot as possible, ASICS lined it with a 3mm layer of high rebound foam. That extra foam went a long way in providing extra comfort throughout the boot and there was little to no break in time.
This also ensured that the boot had a very consistent touch throughout the boot, from the forefoot to the midfoot, despite the differences in material. Touch on the ball was a familiar plush sensation that only leather provided, even in the non-leather sections. Passing, dribbling and controlling the ball felt like second nature and the boot made you want the ball even more. I cautioned that shooting the ball didn't have that nice pingy sensation that some people like but you felt right at home placing those Thierry Henry-esque bottom corner finishes.
Lockdown on the boot was also excellent, thanks to the suede heel liner and padding that grips your sock and secures your heel. The "zig-zag" lacing system allows you to tighten specific laceholes without affecting the other ones for a very customised fit.
Unfortunately, despite the addition of FuzeGEL, ASICS' proprietary blend of their GEL technology and EVA (a typical running shoe cushioning foam) from their running line up, I never felt any added cushioning. However, the 5mm heel lift that left me on my toes was a refreshing change when making quick changes of direction. The soleplate felt pretty par for the course as well, did its job, but nothing game-changing, working well on both FG and AG surfaces.
How does the ASICS Ultrezza AI hold up?
Six months on and the Ultrezza AI has seen a lot of stiff competition for my match day games, thanks to the number of solid boot options in my personal rotation. However, on training days or casual games with friends, I've always gone with the Ultrezza AI because of how comfortable they are. I called it the most comfortable boot I've used in the past 3 years and I still stand by that opinion 6 months on, it remains a solid 10/10 on the comfort scale.
One of the things that I was worried about back then was the stitching on the forefoot. I prefer my stitching patterns to "puff up" and provide a more cushioned sensation, much like the quilted sensation on the Nike Ronaldinho Tiempo Dois. The ASICS Ultrezza AI has a very unique X-stitching pattern that "flattened" the forefoot. However, the rebound foam under the leather ensures that the upper still feels padded for that plush touch on the ball. The foam hasn't compressed in anyway after extensive use over the past six months.
The boot however, does have one issue. While the fit in the mesh synthetic midfoot is the same as day one, the soft leather forefoot has overstretched and become less responsive, despite the unique X-stitching pattern. It's now a quarter size too long but doesn't affect comfort in anyway and not something most people would notice it.
However, I'm very particular about the fit in my boots and the extra space was an issue when toeing off to accelerate. If you prefer to have a very close, one-to-one fit with no space between your feet and the boot, I recommend going half a size down. It'll start off extra tight, but will mould to your foot after some break-in time. I've not seen any major durability concerns, but as with all soft leather boots, you will see scuffing of the leather in the toe area eventually.
Interestingly, while I found the soleplate unextraordinary, I began to notice a difference when testing out boots that did not have an extra stud. Turns out that the extra stud provided that bit of extra manoeuvrability when turning and pushing off. It's a very small difference on paper and I was very surprised at how much I grew to enjoy having it when performing those futsal-esque ground moves or when making quick cuts.
If there was something I'd improve in the boot, it would be the 5mm FuzeGEL heel lift. The FuzeGEL is too firm to feel any cushioning, and I'd have preferred to see ASICS implement their cushier GEL instead for that extra step in comfort.
Iniesta approves and so do we
It's not often that we get to use boots that are customised to a player's exact requirements, which makes the Ultrezza AI an interesting experiment. Iniesta clearly knew what he wanted and the boot very much reflects him – an unfussy catalyst of play, focusing on comfort and the little details to let you play your game. Every detail has been focused purely on performance enhancement and not aesthetics.
Perhaps there's some placebo effect involved, but my teammates have suggested a difference in my playstyle when wearing the Ultrezza AI. I ask for the ball more, I'm quicker to play one-twos and take more risks dribbling past players who press me. The boot didn't turn me into Iniesta, but it definitely made me feel like him.
I've owned many leather football boots, but this is one of the few that achieves that balance of performance, responsiveness and comfort. Even the weight is nicely balanced at 225g, light enough to not weigh me down, yet hefty enough to give that nice oomph when threading longer passes.
The Ultrezza AI is that reliable friend who comforts you in a warm embrace, assures you that everything is going to be alright, before standing side by side in all your battles. And I go into every match that much more confident, knowing that I come prepared with a friend who won't let me down.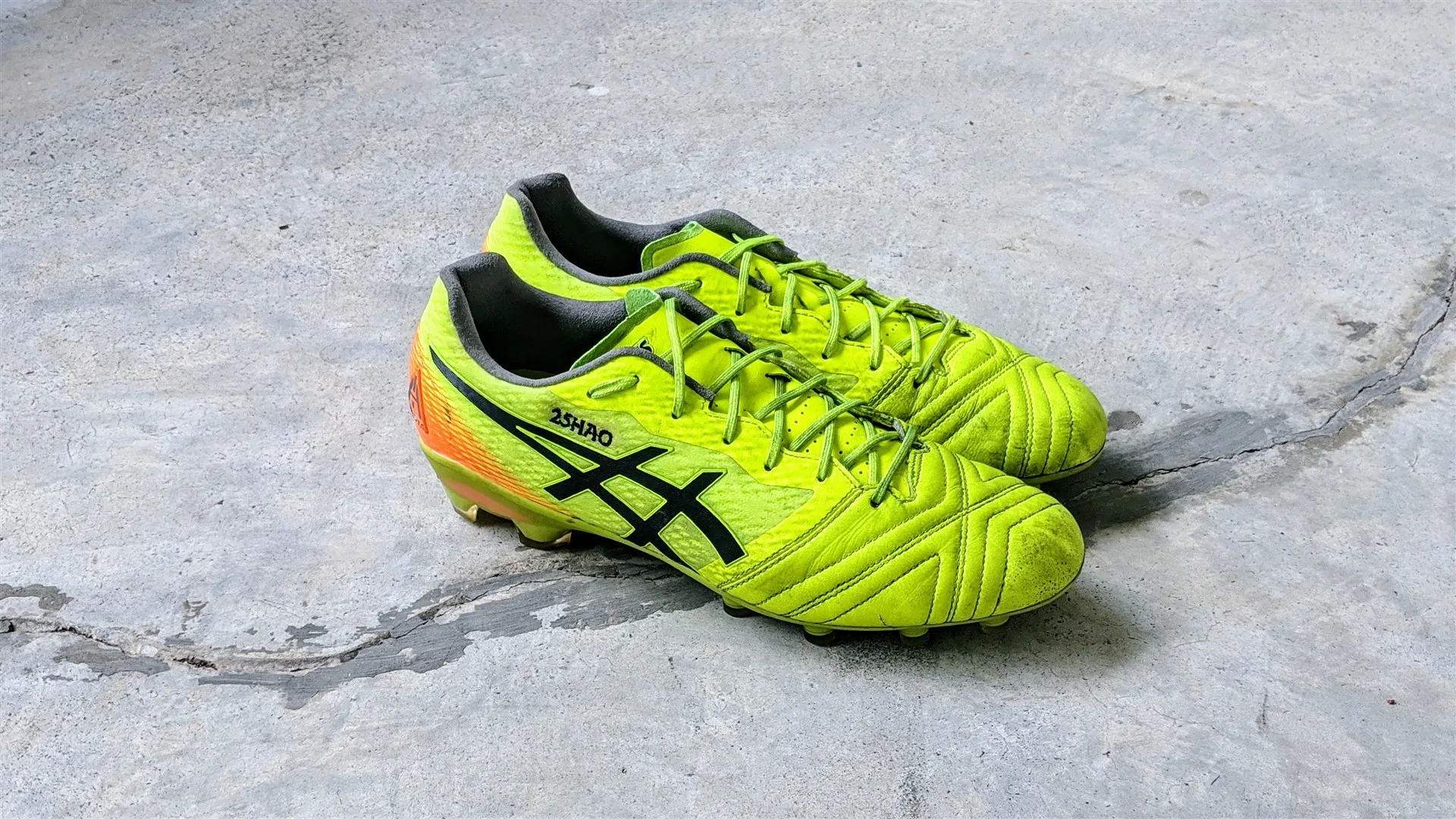 Post hype review: ASICS Ultrezza AI
Final Thoughts
The ASICS Ultrezza AI is potentially the most comfortable boot in the market that is built for creative players who love the ball at their feet.
The Good
10/10 Comfort
3mm foam lining gives a great touch
Consistent feel throughout the boot
HG/AG compatible soleplate
Good lockdown
The Bad
Overstretches in the forefoot
Studs too short for wetter grounds