We take a look back at the best jerseys and boots of 2018.
It's been a big year of boots and jerseys that has collided with one of the biggest World Cups ever. This year saw bold colourways and designs that will be remembered as modern classics in years to come. From that Nigeria jersey to the tons of boot remakes, BOOTHYPE presents you our favourite selections of 2018.
Best Club Jersey – Manchester United Away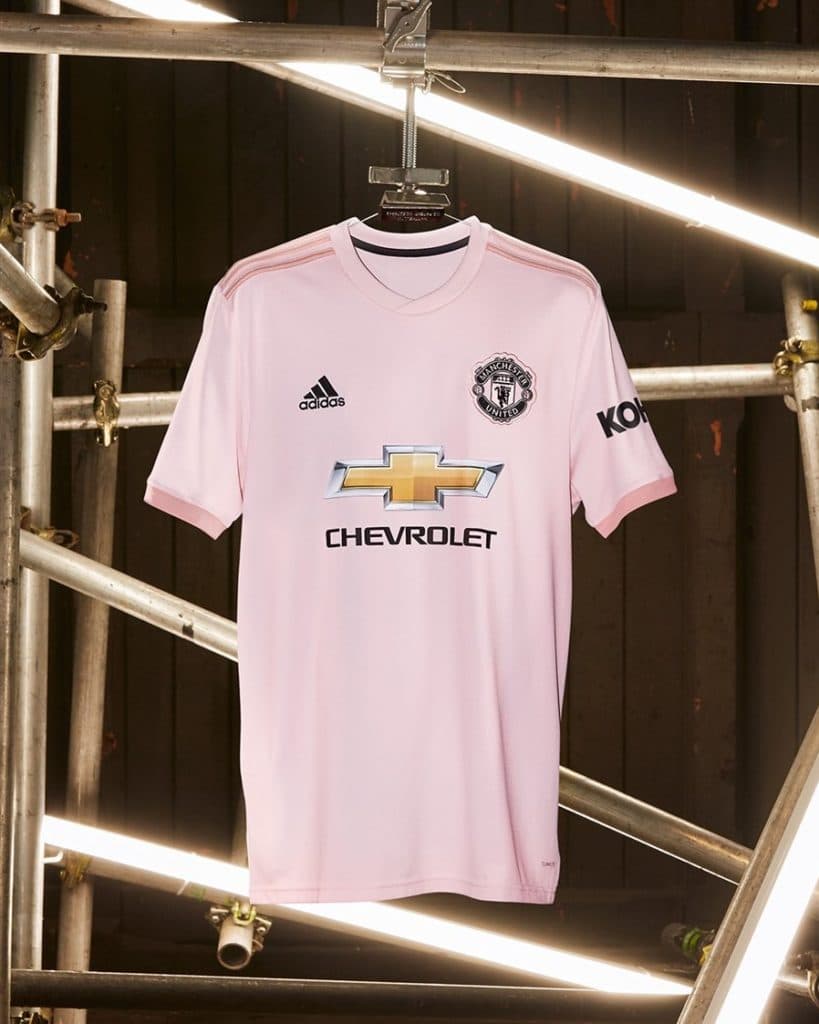 It had to be the pink jersey. A brave decision by adidas to launch a pastel coloured shirt considering how it may have been deemed too feminine by some fans. Their gamble paid off with a focus on designs that could also pass off for really cool casual wear.
The jersey has been selling like hotcakes worldwide but you can still get them at Ultrafootball.com at 10% off with the voucher code "BOOTHYPE10". Get this modern classic while stocks last.
Honourable mention: Chelsea's Third Kit which comes with a NikeConnect technology.
Best International Jersey – Senegal
This was a tough category with a number of contenders in the Germany Home, Japan Home, Panama Away, France Away and Russia Away. And that's before we talk about the hipster favourite Nigeria Home kit.
But our personal pick would be the Senegal Away kit, complete with that brilliant lion graphic. Pity it couldn't scare their opponents into submission to get them into the knockout stage.
Honourable mention: Nigeria's Home Jersey that made waves worldwide. View the collection here.
Best Boot Colourway Pack – adidas Spectral Mode
There was only going to be one winner here. adidas' attempts to move into lifestyle-centric designs also meant that they took great risks with their boot colourway.
The standout boot has to be the pastel pink adidas Predator which got everyone purring. The Nemeziz is a little underrated with its faint green hues while our personal favourite at BOOTHYPE is the mint green on the Copa 18.1.
The Spectral Mode collection is still available at Ultrafootball.com. Get it at 10% off with voucher code "BOOTHYPE10".
Honourable Mention: New Balance's Ostruska Pack. We couldn't resist that blood red soleplate.
Best Boot Remake – adidas Predator Accelerator Electricity Yellow
We loved the Predator Accelerator and when they reproduced a like-for-like remake with a modern soleplate, we went absolute bananas for this. We have a soft spot for power boots and the Electricity Yellow adidas Predator Accelerator remakes were just a trip down nostalgia lane for us.
Forget playing in them in a match, the Accelerator was reserved for free kick practice where we tried to bend it like Beckham with those killer swerve rubber elements.
Honourable Mention: Mizuno Wave Cup Legend (Made in Japan)
Boot of the Year – Nike PhantomVSN Elite
We're lucky to be living in an age where are all the boots released are of a pretty high standard. There was a good shout for the likes of the eccentric Under Armour Magnetico Pro and the innovative Puma Future 2.1 with their Netfit concept.
It came down to the Nike Mercurial Superfly 360 which blew us away with its anatomical soleplate, the adidas X18.1 with an upper like butter while staying true to its speed roots and finally, the Nike PhantomVSN.
That Quadfit mesh on the PhantomVSN proved the decisive factor as it managed to wrap your feet tightly while providing maximum comfort no matter your feet's shape. We also loved the textured grippy surface and the softest treatment of Flyknit on any Nike football boots. We're willing to give the dynamic fit collar a pass as the boot performs exceptionally well on pitch.
Get the Nike PhantomVSN at 10% off at Ultrafootball.com with voucher code "BOOTHYPE10".
Honourable mention: The adidas X18.1 comes in second place for being the most comfortable speed boot ever made.
Jersey of the Year – France Away
Surprise surprise, our choice for jersey of the year isn't one that was listed earlier. That's because while we do love the designs of the Senegal jersey and the pink United jersey, performance wise, nothing beats a Nike Vaporknit kit.
A Vaporknit kit comes with the comfort of a T-shirt but it doesn't stick to your body when it gets drenched with your sweat. Throw in a wonderfully clean white template that's sprinkled with blue and red drops of colour, and the France away jersey in our Jersey of the Year.
Feel differently about our "Best of 2018" list? Share your thoughts in the comments below.