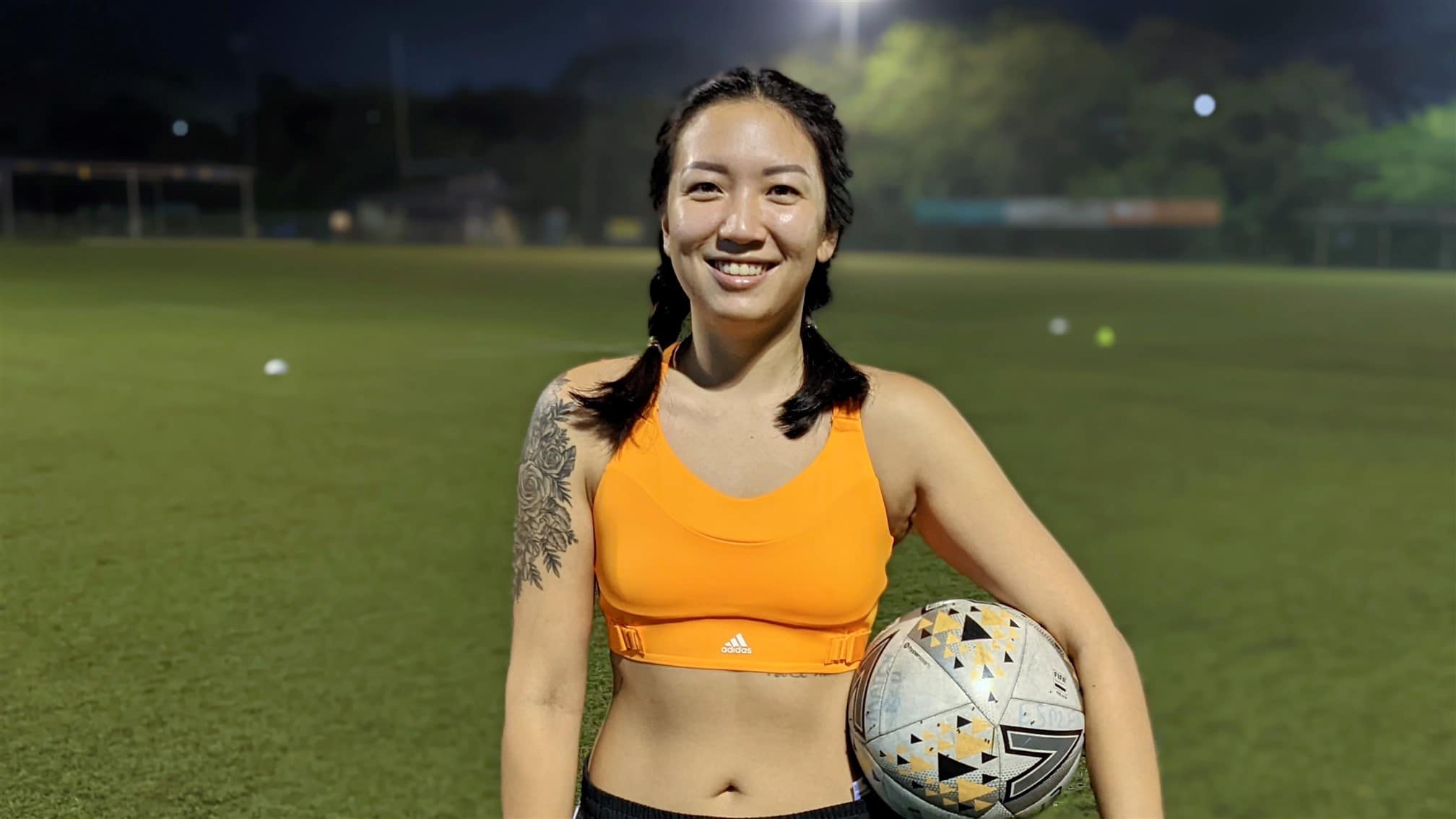 Check out the best prices below
Perfect for football, to be worn by women of all sizes.
Sports bras are arguably the most essential piece of sportswear equipment for women. They support women while exercising to reduce pain and discomfort caused by excessive breast movement.
Historically, women's needs in this department have always been underserved. They've found it challenging to buy sports bras that not only fit but also provide the necessary support for their chosen activities.
It's 2022 and you'd think that finding a suitable sports bra isn't difficult.
Surprisingly, most women still find it challenging to purchase a sports bra that fits their needs. More so, Asian women have it tougher as they often find themselves to be "between sizes" due to manufacturers serving designs that cater more toward fit requirements of western women.
To alleviate this problem, adidas has unveiled its new collection of sports bras that intends to be inclusive for women of all shapes and sizes.
The adidas Fastimpact Luxe Run High-Support Bra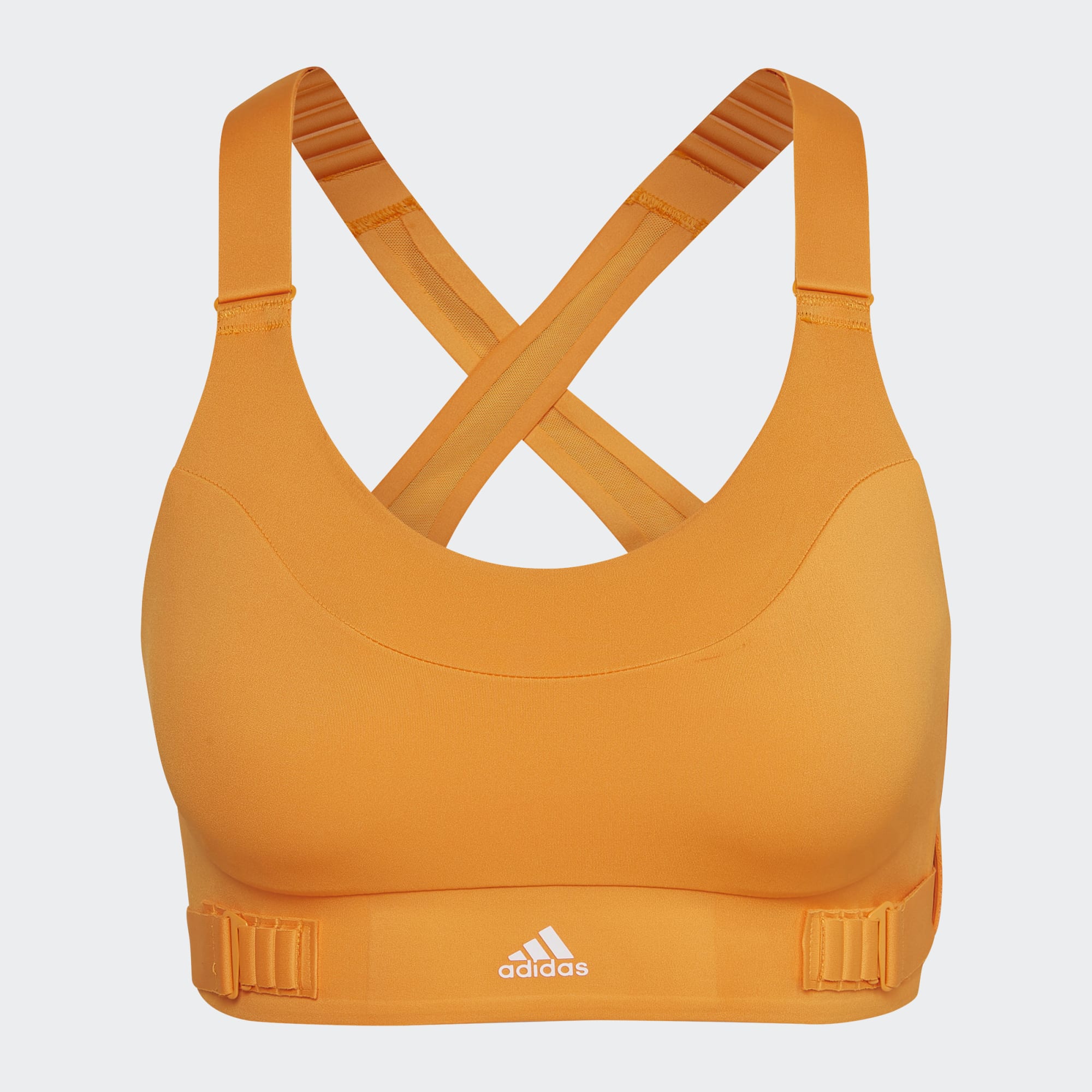 In collaboration with experts in breast health, adidas designed a new collection of sports bras to suit the needs of women of all body types and sporting activities
Among the new collection's highlights is the Fast Impact Luxe Run High Support Bra, designed for high-impact activities such as running and football. This sports bra is designed to provide a high level of support for the chest and reduce discomfort caused by bounce – a common complaint among women.
It provides that support through adjustable straps and an adjustable chest band with swan hooks for a more personalized fit.
Grace – Our reviewer who plays football, boxes, and boulders
As a man, it would have been impossible for me to evaluate and review the adidas Fast Impact Luxe Run High-Support Bra. We were happy to have Grace join the team to review the bra with us.
Grace lives a very active lifestyle and exercises 4-5 times a week. She often attend boxing classes, boulders and of course, she plays football too.
Grace also has had a lot of challenges finding the right sports bra for herself. It isn't just a fit issue but also a price issue – they're very expensive and she needs to get it right with each buy.
"There is no way you can walk into a store and be confident that the size you are looking for is the same as the last one you bought from another brand, and this extends to even within the same brand itself," she said.
Grace also owns her clothing line, and she has experienced the sizing disparity first-hand while trying to develop clothes herself.
"Because companies produce their sizing charts, sizes vary dramatically between them. A size M at Brand A can be very different from a size M at Brand B. So, starting off, that's very frustrating for women," Grace shared.
Comfortable for cups A-DD
To cater to as many sizes as possible, adidas created the Fastimpact Luxe Run High Support Bra to be available in sizes ranging from A to DD cup.
The bra comes in 2 main cups– A-C and D-DD. For each cup variation, they come in sizes ranging from 2XS to XL.
The bra also comes in three unique colourways: grey, black, and orange. However, do note that the D-DD cup only comes in black.
Sizing wise, Grace comes in at a 34A and fits comfortably in a size M A-C.
"The Fastimpact sports bra is up there with the most comfortable of sports bras. The fit was great, and the material feels really soft on the skin. Even with the chest band hooks being at any point, it still feels comfortable," said Grace.
Noteworthy, however, was the appearance of "fat rolls" gathering relative to the positioning of the hooks.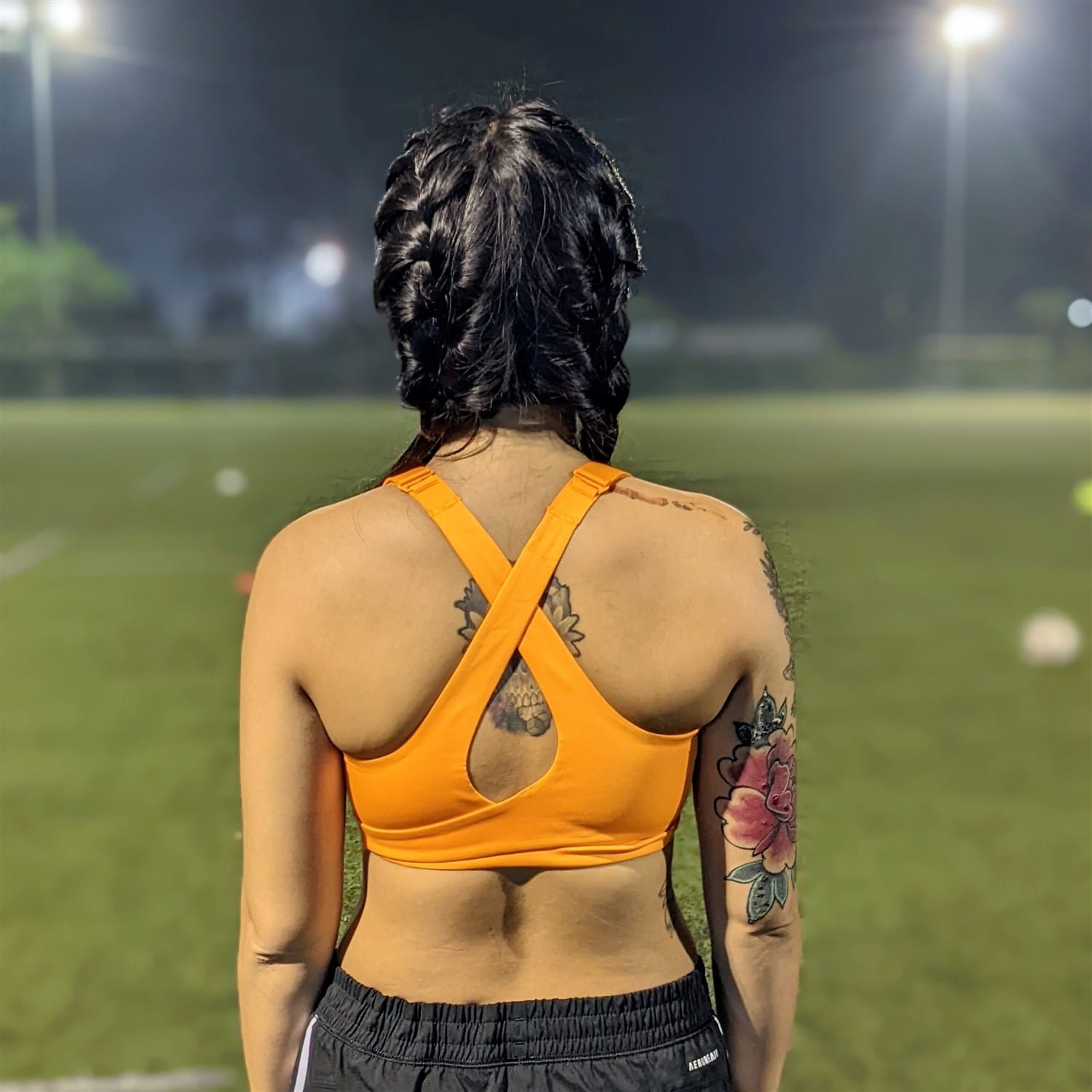 "I didn't feel any discomfort when I adjusted the hooks. However, I noticed it does affect how the fat gathers at the back, which can be of concern for some women," Grace shared.
Material wise, the Fastimpact Luxe Run High-Support Bra uses a slightly thicker fabric than most sports bras on the market, according to Grace. Nevertheless, it still offered a cool and soft touch on the skin, and there were no notable issues with its breathability.
Freedom to Perform
adidas built the Fastimpact Luxe Run High-Support Bra for high-intensity workouts.
For Grace, the sports bra provided excellent support during football. "Having the bra on, I didn't have to worry about my breasts causing me any discomfort during my football sessions. It supported me well in doing sprints, jumps, and some quick changes in directions," said Grace.
She also added " Overall, I felt comfortable and supported wearing the bra. For women to perform at their best, I feel they need to feel comfortable physically and mentally, and this bra did a great job of making me feel that way."
Padding or No Padding?
With sports bras, padding is often included to cover nipples and improve the fit for women. However, depending on a woman's breast size and shape, padding may or may not prove to be useful.
Women of smaller sizes may find padding helpful in filling the gap between their chest and the bra,. Conversely, women with fuller breasts may feel suffocated from having padding pushed against their chest.
To accommodate all shapes and sizes, adidas included removable padding to suit individual preferences.
In Grace's eyes, it didn't really affect her.
"I always opt to exercise without padding. Based on my personal experience as someone who has smaller breasts, I don't notice any difference in functionality in terms of performance or comfort levels when the padding is on or off," said Grace.
However, she did add that "I do know that some women are concerned about their breast shape. When wearing a sports bra, your breasts may look all 'squished in'. Having the padding on can help create a fuller shape."
Grace was also given a pair of Fastimpact Running Tights to train in, and she absolutely loved them though she preferred them for boxing and bouldering.
When it came to football, Grace prefers wearing shorts as she feels a greater sense of flexibility and mobility in it. Though, she did mention that the skin-tight feel of the tights made her feel battle-ready for rock climbing, and the coverage from the tights as opposed to shorts does help in preventing scrapes and abrasion on her legs from the textures of the bouldering wall.
Overall, a very comfortable pair of tights to have on.
A step in the right direction, but needs even larger sizes
Overall, the bra has worked as advertised and does provide the necessary customization of fit to support women during high intensity sporting activities.
It has alleviated challenges that women have been facing when it comes to finding the right sports bra fit. However, with sizes available only from A-cup to DD-cup for the adidas Fastimpact Luxe Run High-Support Bra, we would have loved to see them produce even larger cup sizes.
"I'm always hearing from my larger breasted friends (with E or F cups) complaining about having limited or no options when it comes to buying a sports bra locally. Even for regular bras, it has always been challenging for them as brands do not produce or carry larger sizes in stock. They often have to resort to buying their bras online or overseas, which creates a whole range of other issues relating to fit and sometimes, they wear 2 layers of sports bars to compensate for their size," Grace shared.
However, supporting sizes up to DD cups are a big step forward for women and we hope they will continue to support women of larger sizes.
Specific to football, we believe this has been an excellent move to help women feel more comfortable, especially with the growing popularity of the sport with women.
Football as a sport is pretty intense and the adidas Fastimpact Luxe Run High-Support Bra goes some ways to make sure there are less barriers to adopting this sport among the ladies.
Special thanks to Grace and the good people of Boulder Movement for allowing us to shoot at their facility.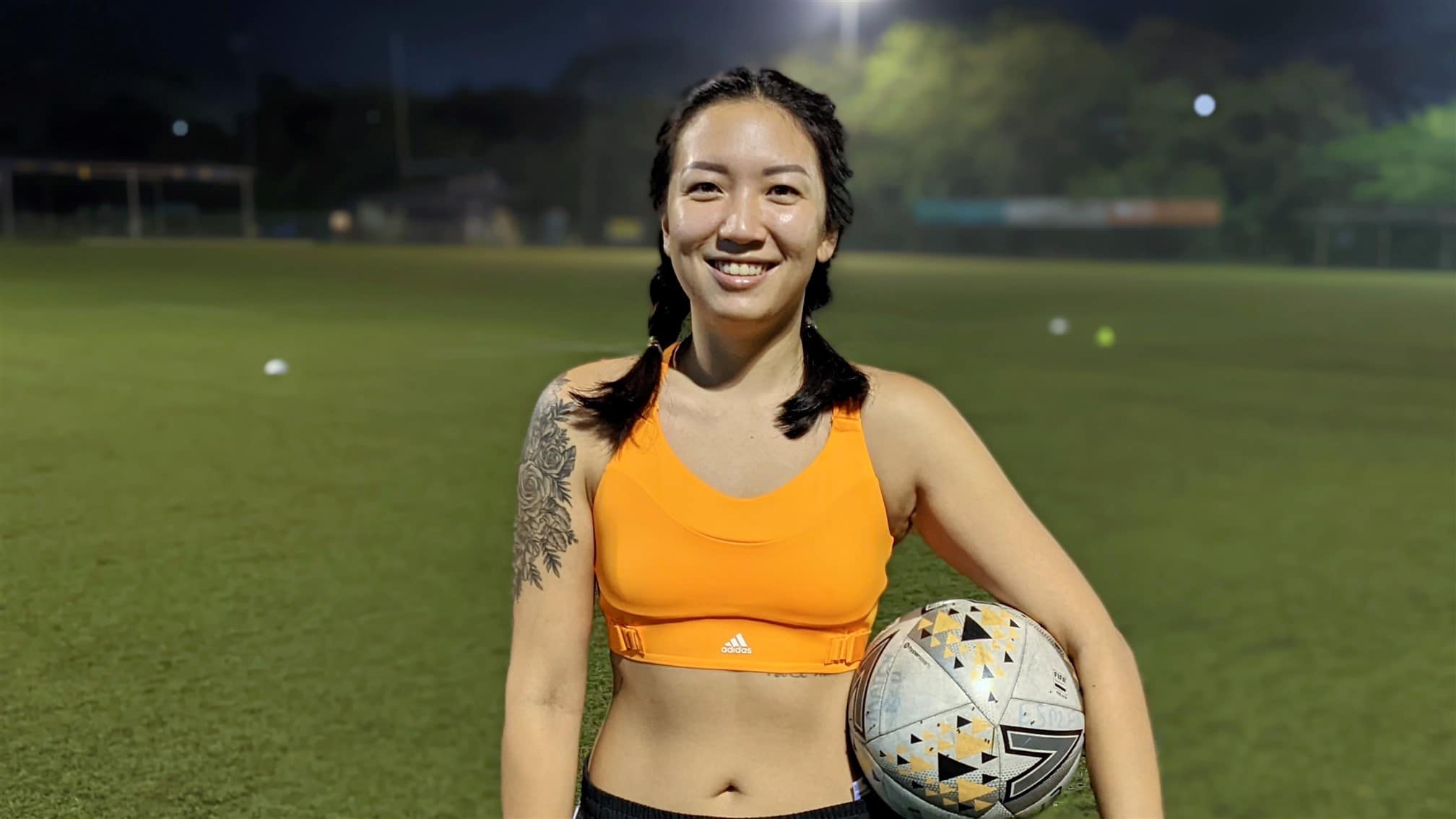 Who is this for?
Women who participate in high intensity sports like football, with cup sizes ranging from A to DD.
The Good
Adjustable fit
Comfortable
Fast to dry
Caters to most breast sizes
Great support for breasts
Removable padding option
The Bad
Creates some "back fat" effect
Should offer larger sizes
Check out the best prices below