A chance for brands to allow customers to build their dream football boots.
When it comes to design, some ideas seem to be in fashion for some time with companies and designers trying to figure out how to make the best use of certain ideas. This is true for modular design as well. Car designers, architects and of course, boot designers have all been trying to figure out how best to make use of the idea for people to "build" what they want based on prefabricated pieces.
In the football boot industry, there are two great examples of this. The first and probably most notorious of these was adidas' F50 Tunit series, which let people choose the upper, insole and studs that they wanted on their boots. More recently we had adidas' Glitch series, though those were not made for the mass market. Just by looking at these two silos, people might think that this was just something adidas has played around with, but Nike also patented an idea that relied heavily on the idea of modular design.
Nike's idea was that you could insert different inserts, with one being for power, another for control and one for touch all put into the upper of the boot across the top of the feet. This idea as far as we can tell, never made it past the patent stage and given how long ago the idea patented, it's probably safe to assume Nike dropped this idea a long time ago. Nike's patent and adidas' release are also remembered for being somewhat bulky and heavy compared to other boots at the time. But that does not have to be the case.
New ideas, new ways of thinking
Today, football boots seem to be designed in similar ways and brands are accused of copying or having ideas that are too alike to each other.
Modular design can give brands a new way of looking at things. Perhaps, Nike could develop a classic leather boot like a Tiempo with the soleplate of a Mercurial Vapor. Or a speed boot with the insole comfort of a control boot. With modular design, the possibilities open up. Here are some things we have come up with to make this possible.
Insoles to your liking
We can start with the easiest part first which would be exchangeable insoles. Adidas has done this in the past even with the non-Tunit F50s. But those were limited to things like a comfort or a speed insole. We can take those ideas to the next level.
One type of insole could be created for responsiveness – made from carbon fibre or a rigid and snappy material similar to what Nike current uses for the current Mercurial Vapor. Alternatively, a heavily cushioned insole with a premium gel layer could be produced for those looking for comfort.
Thin or padded tongue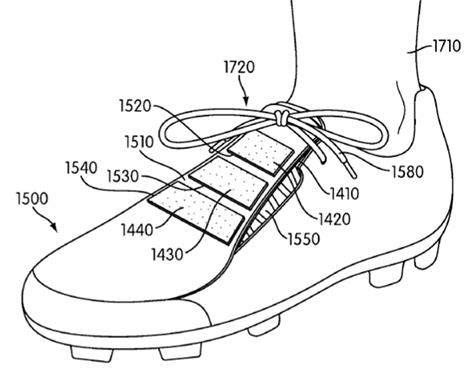 The next part of the boot that would be relatively easy to modify is the tongue. Again, this allows for many different options to become available. Besides the obvious comfort and speed versions with padding or a light material respectively, we could also offer something along the lines of a split tongue for people who don't like feeling pressure on the front of their tongues.
Fold-over tongues could also make a return if that fits the player's fancy.
A heel for different types of feet
The heel is one part of the boot where companies go a little wrong on occasion. With a modular boot, we could allow for different options to be offered in the heel, especially on the inside.
For example, the option of being to insert a brushed liner instead of having the heel lock in by a run-of-the-mill synthetic. There could also be the option of having different types of cushioning for the heel. For someone like Coutinho, who has notoriously felt pressure on the back of his heels, we could look to shave off the padding in the area. Another option would be to offer a type of heel insert that allows for more lockdown.
Of course, the problem you would run into with trying to use different heel inserts is how to keep them in place. The first and more obtrusive option would to be to use something like Velcro, but the best option would be to use a glue similar to the one that is currently used by most cobblers these days.
Customizable Soleplates
Now for possibly the most challenging part, which is figuring out how to make interchangeable soleplates. One solution could be to use a combination of countersunk hexagonal sockets and a glue similar to shoe glue.
Using a hexagonal socket, made of a thermoplastic polyurethane, would allow us to include a small wrench to help tighten the sockets, similar to some prefabricated furniture you might buy at IKEA. Again, our proposed boot could offer two types of soleplates with both having unique stud layouts. One geared for speed and one for a more classical style.
Modular studs
Lastly, the studs. This is where adidas has constantly tried to offer some varieties over the years and while the Glitch didn't suffer from the same issues the Tunit did, adidas had a great idea in terms of being able to swap out different studs easily and quickly.
However, where adidas took inspiration from the traditional SG stud to accomplish this, our purported boot would take a slightly different approach. Instead of simply screwing the studs onto a soleplate, our boot would insert them through the inside of the soleplate. This could be accomplished by using a TPU twist turn locking mechanism that would keep the studs in place.
This means that unlike the Tunit system, the new boot's studs would be locked in from the inside and less susceptible to falling out during playing. Instead of offering just your typical rounded stud, not having to tighten in place the same way as the adidas system did means that we can experiment with different types of studs which could allow us to create studs more geared for speed rather just a traditional stud.
A bold future
Of course, brands have more options for a modular boot that isn't limited to what we just listed. Nike could, for example, use their upcoming 3D printing technology called "Flyprint" to help you design your ideal boot. You could possibly orderthrough an app that allows you to customize the different parts of the boot.
Taking the ideas we have come up with, I would personally go for a more traditional padded upper with a snappier outsole. I'd also go for the thinner tongue since I have never had issues with lace bite. In addition, my preference would be more a more cushioned heel with a brushed finish, while still having more aggressive studs.
These are all just examples of that kinds of ideas that brands could use to create a modular boot system that helps you build the perfect boot. The potential is incredible, and it allows brands to think more outside the box when it comes to boot design. Considering how stale the boot market can seem at times, this would freshen up the market and make a real push for other brands to do more experimentation.