Introducing 5 of the most spacious boots available.
Updated on 26 Sept 2021 to reflect latest boot models and reviews.
If you're cursed born with wide feet, now's probably the best time to be playing football. Unlike the old days where your only choices were leather boots (due to its ability to stretch), brands these days seem to have "upsized" their offerings. Many boots on the market now tend to err on the wider side, with even the notoriously narrow Mercurial series being able to accommodate medium width feet.
Before we begin though, some disclaimers here. "Wide feet" is a very vague term as there are many parts of your feet that can affect the fit and how "wide" your feet really is. For example, Asians tend to have flatter arches, which leads to a wider and higher midfoot. Our list serves as a very general guide for people with wider forefeet based on boots we have reviewed before.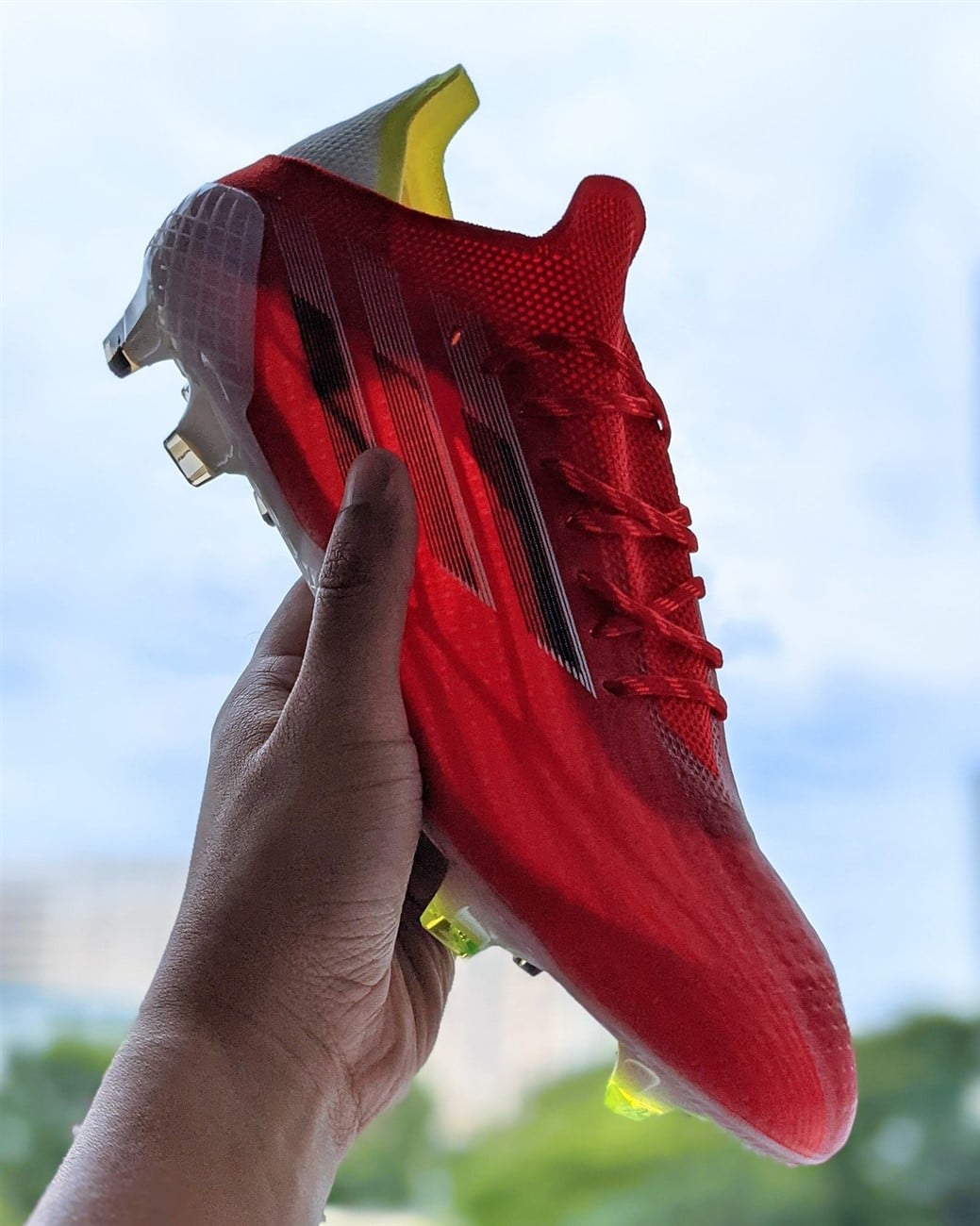 A wide speed boot
adidas X Speedflow.1
Multiple stores
The People's Speed Boot returns
The adidas X Speedflow.1 is what we affectionately call "The People's Speed Boot". This was quite the surprise as its predecessor, adidas X Ghosted.1 was one of the more narrow fitting boot on the market.
What's really changed on the X series, is it's upper. The new upper material is still as thin, but is ridiculously soft. This means that it easily stretches to accommodate most feet shapes. We'd recommend most players to try it on half a size down, with players of moderate width, to even consider going a full size down due to how wide the boot can go.. That said, it keeps many features usually associated with speed boots such as a feather-light weight (190g for a size US9) and a thin, barefoot sensation.
What really separates the Speedflow.1 from all the other speed boots on the market, is that incredible carbitex inflused tooling, which makes the boot feel incredibly responsive, and gives you that speedy spring back feel to push yourself forward when making those quick sprints.
For those who always wanted a speed boot but could never fit in one, give the adidas X Speedflow.1 a go.
Nike Phantom GT 2 – Ample toe room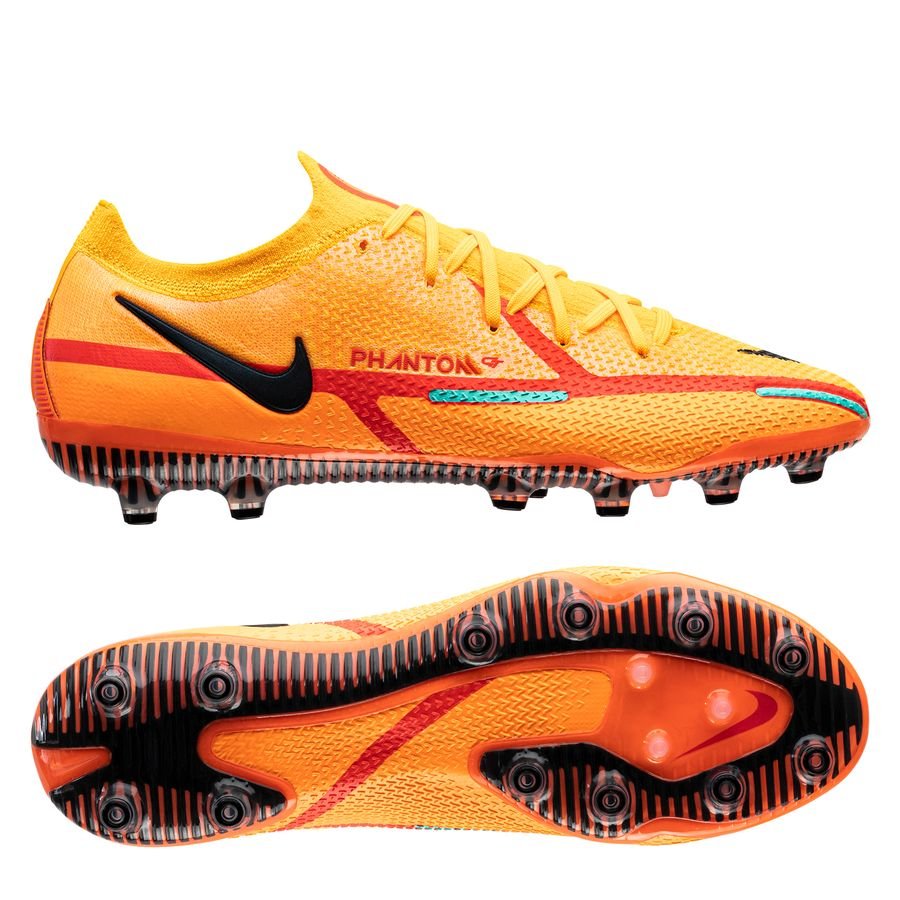 All round grip with wiggle room
Nike Phantom GT 2 Elite
Multiple stores
The widest Nike boot in ages, the Nike Phantom GT also features a grippy "generative texture" for enhanced touch and precision ball strike.
The Nike Phantom GT 2 merges both the past control and power boot silos, the Nike Phantom VSN and Phantom VNM, into a lean mean grip machine. The Phantom GT 2 is covered in generative textures (GT) to help you with your touch on the ball whether it's a powerful strike or when receiving a pass.
The Phantom GT 2 cuts wide but surprisingly, also is longer than previous Nike football boots. For many who have slim or moderate feet, they still get ample toe room when going half a size down so if you have really wide feet, this might just be the roomiest boot on the list.
Puma Future Z 1.3 – The best all-round comfort and performance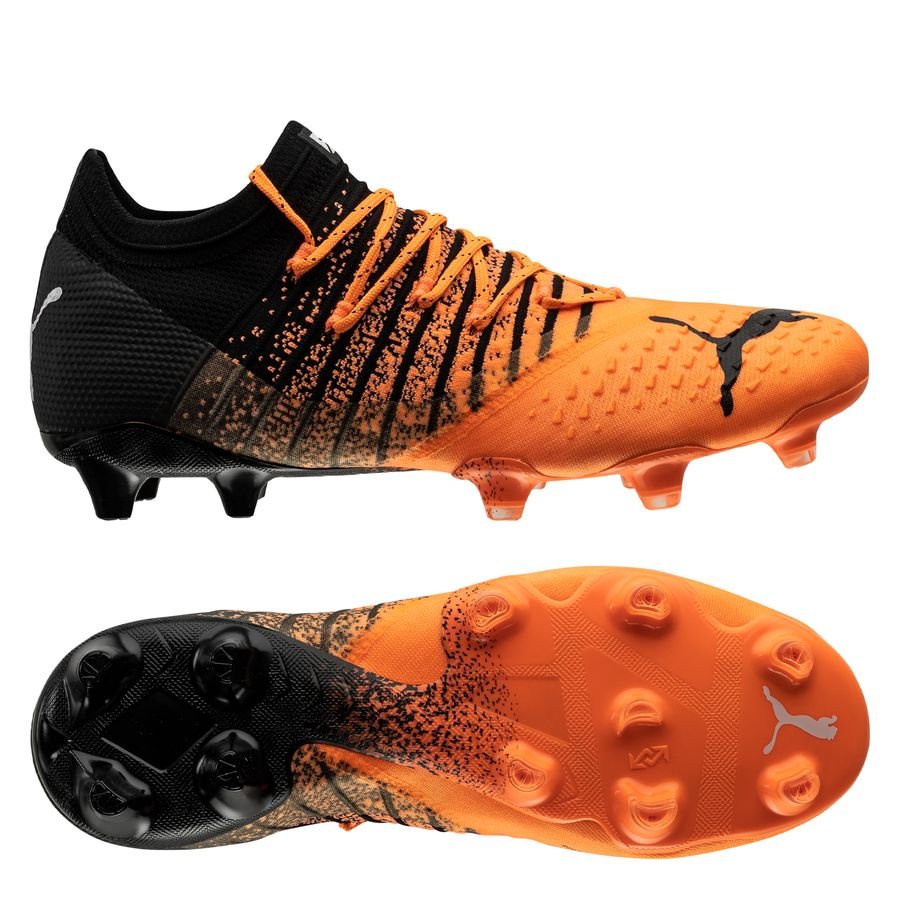 Sock-like comfort
Puma Future Z 1.3
Multiple stores
Best fitting boot on the market
Featuring one of the more popular features among wide footed individuals, Puma's latest edition on the Future Z line, the Puma Future Z 1.3, sees a new upgrade on its FUZIONFIT+ technology, where the compression technology is now integrated into and extends fully from the midfoot to the collar opening as opposed to it just being a midfoot compression band.
This is complemented by Puma's excellent knit technology, which gives the entire boot a very sock like feel – one of the few boots on the market to still have a knit upper.
Performance-wise, the Future Z provides a close, natural touch on the ball. The boot feels nimble, which perfectly fits the lead endorsee Neymar's tricky playstyle.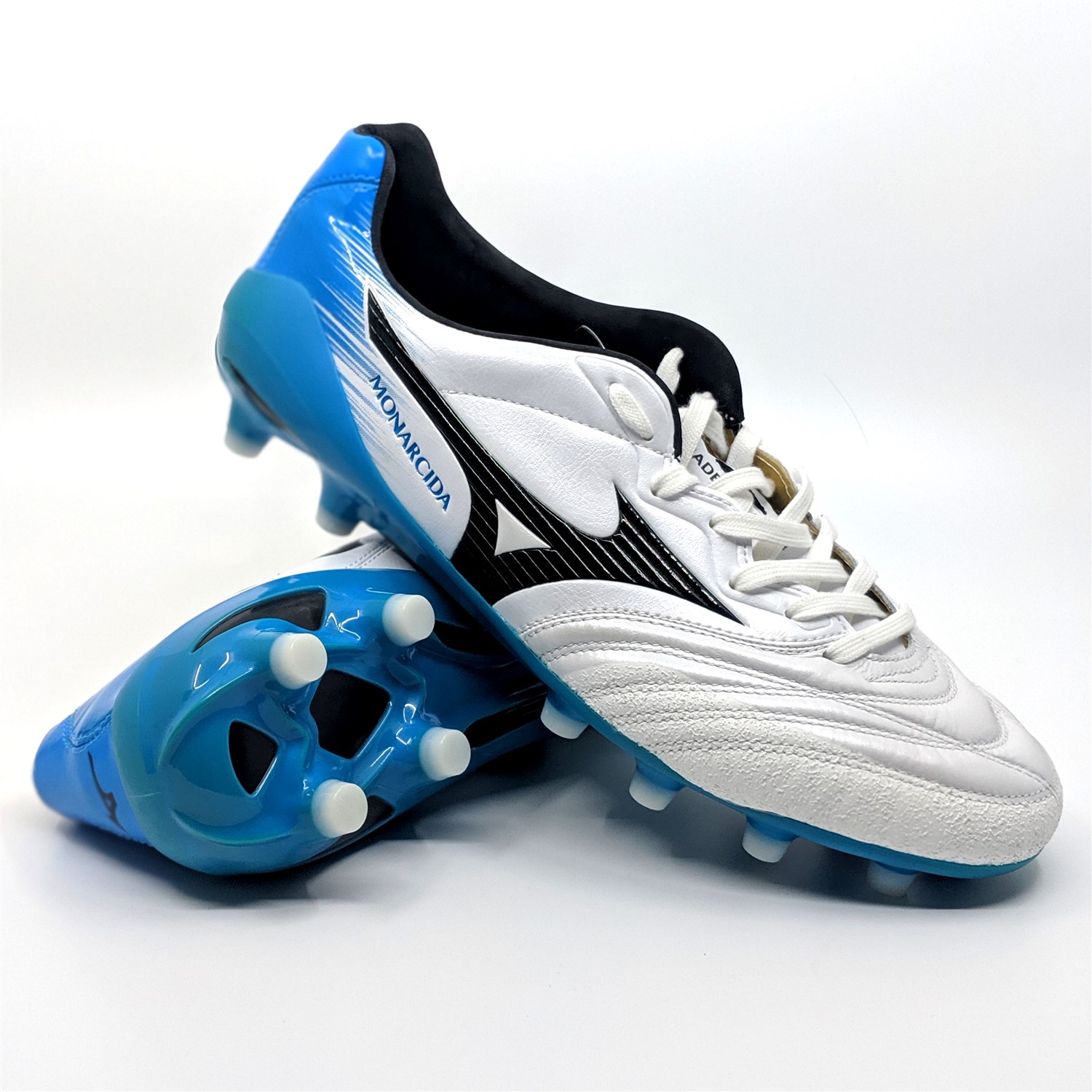 For those hard-hitting training sessions
Mizuno Monarcida 2 Neo Japan
Prodirect Soccer
A wide, soft and durable leather boot that's meant to last the distance through training and match days.
While we've plonked for the Mizuno Monarcida 2 Neo, the truth is that there are several Mizuno boots that could have been on the list such as the Mizuno Wave Cup Legend or the Mizuno Morelia 2 (2015). This is because they are all leather boots, which in time will expand and mould to your feet's shape.
The Monarcida 2 Neo, however, takes the crown thanks to its value. At S$179, it's great value for money as it has the added benefit of being part of Mizuno's Made in Japan series, which sees it lasted for 24 hours to improve the fit and longevity. While it's a speed boot, its also got a slightly padded leather upper that moulds to your feet and gives a natural touch on the ball.
It's perfect for the Sunday football warrior because of its durability and how protective and solid it feels despite only being 185g. We love the extra touch of a rubberised lip to prevent the leather from wearing out as well as the grippiest outsole in the business to save you from purchasing grip socks.
Nike Premier 3.0 – No frills, old school charm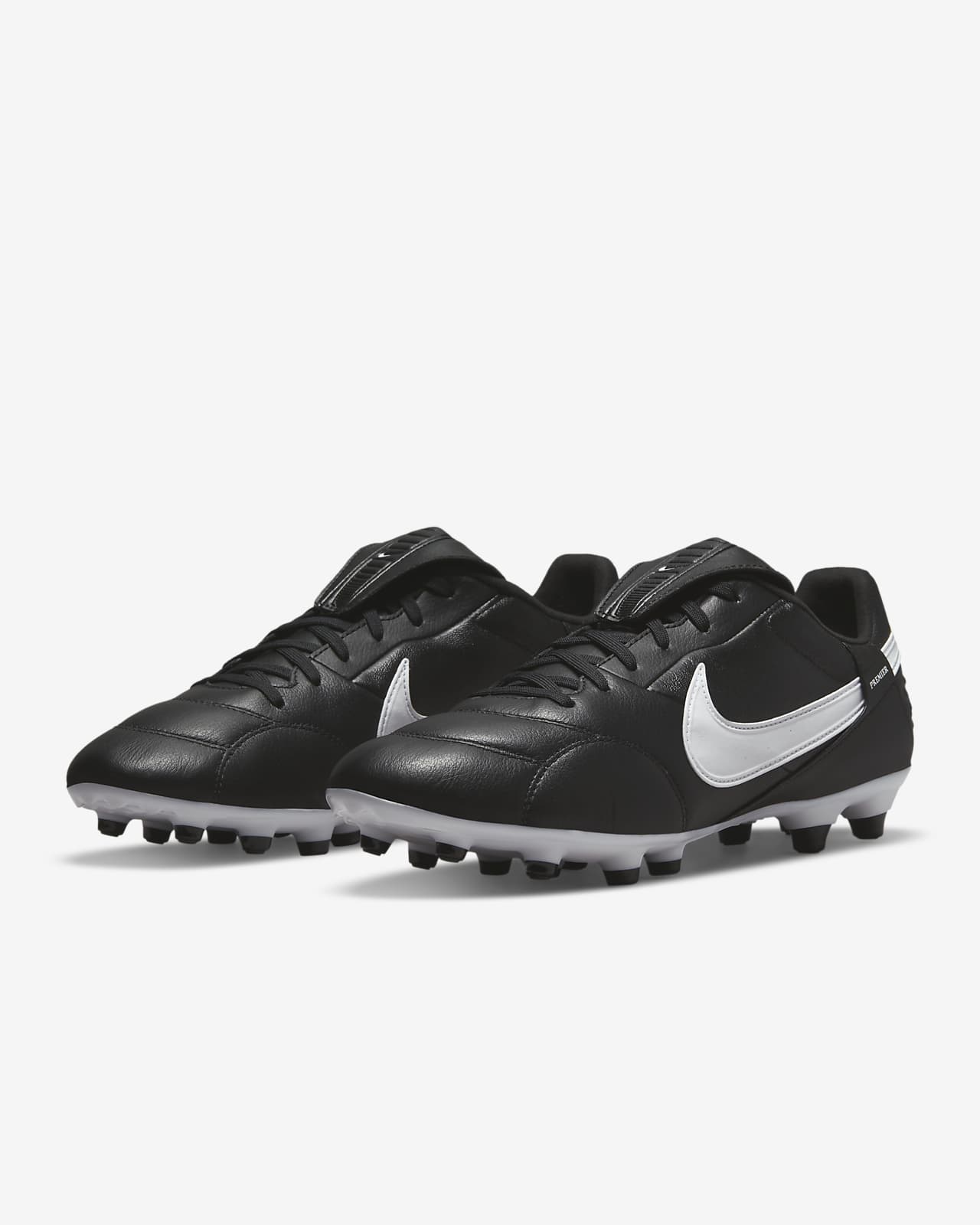 A Classic, Modernized
Nike Premier III FG
Multiple stores
Timeless performance in a stretchable, premium leather upper that offers out-of-the-box comfort for wide/flat footed players.
One of our Resident Boot Nerd's all-time favorites, the Nike Premier can do very little wrong. The modern-day classic features a classic kangaroo leather construction which Nike calls "Premier" leather.
As with all leather boots, the Premier 3.0's kangaroo leather upper will stretch over time to form to the shape of your feet, making it an ideal solution for individuals who have difficulty fitting comfortably into other materials available on the market. In addition, the tongue makes it easy to slip on and off the boots while the suede lining around the heel ensures a luxurious feel and adequate lockdown.
The touch on the ball feels soft and padded just like any traditional leather boot would feel. The FG studs are also very short, making them suitable for AG pitches. And about S$120, it is excellent value for money.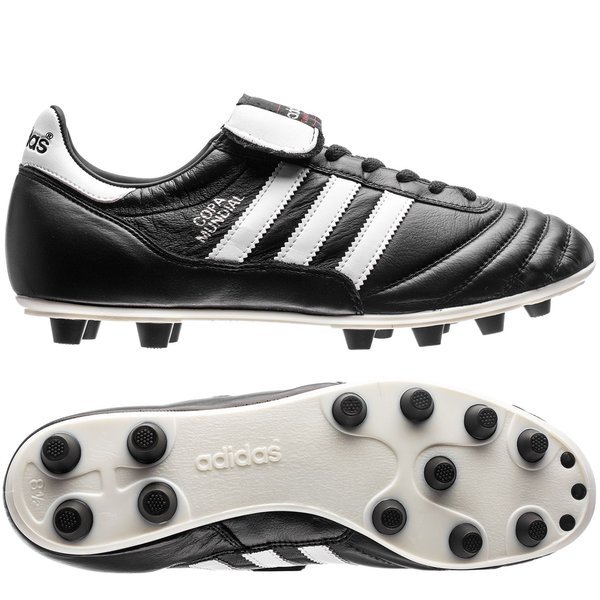 A large boot for wide and flat feet
adidas Copa Mundial
Multiple stores
Easy to put on with a very wide and long cut, perfect for flat feet.
Moving on from boots inspired by the old school to a boot that is literally from the 1970s. The adidas Copa Mundial is timeless classic and adidas has hardly changed a thing from their heritage boot.
The Copa Mundial cuts really wide and long. My feet are or regular to slightly wide and even so, I've had to go a full size down in them. In retrospect, I believe I could go a further half size down. The boot also comes with a classic tongue that helps stretch open the mouth of the boot for easy entry. The boot's so old school that they come unlaced so you can customise the fit across your feet too.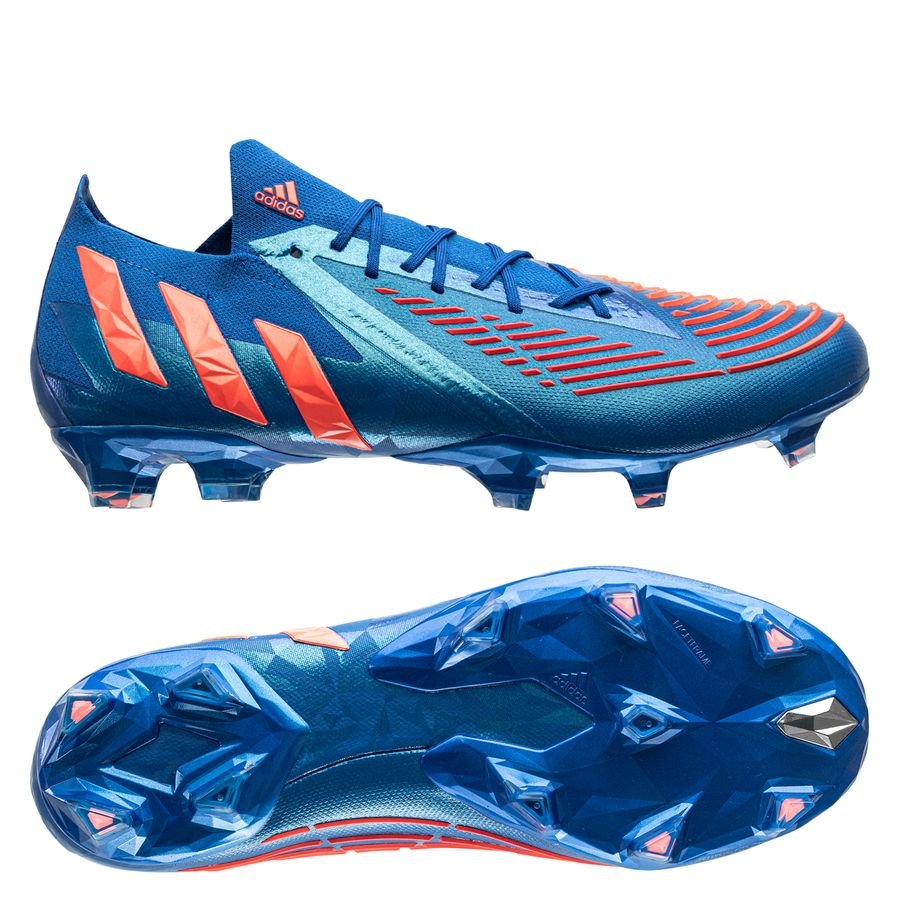 Roomy toebox
adidas Predator Edge .1
Multiple stores
An innovative Zone Skin upper helps to deliver unrivalled bend on the ball and total control all over the pitch.
The adidas Predator Edge .1 has legitimately been one of our favourite boots to play in. The adidas Predator Edge.1 has come to fix the figure eight shape issue of its previous generation, the Predator Freak.1. With a more forgiving shape, the Predator Edge.1 accommodates a moderate width foot.
However, the reason why this makes the honorary list is that it has a roomy toebox for those who have large and/or wide toes. If you're someone with a wider forefoot, getting the adidas Predator Edge.1 in true size could just be a perfect match.
We never quite realised how much we've missed shot enhancement elements until we whipped in a cross with help from the ribbed sections on the Zone Skin upper. Those ribbed sections really, REALLY add a ton of grip when curling those shots. Striking the ball in it felt like a dream and we found ourselves taking potshots from all over the field thanks to the rubber elements taking the sting off the shots. Interestingly, despite its weight (263g in a US 9.5), we felt nimble in the boots, as if we were wearing speed boots with which every shot you take is destined for the top corner.