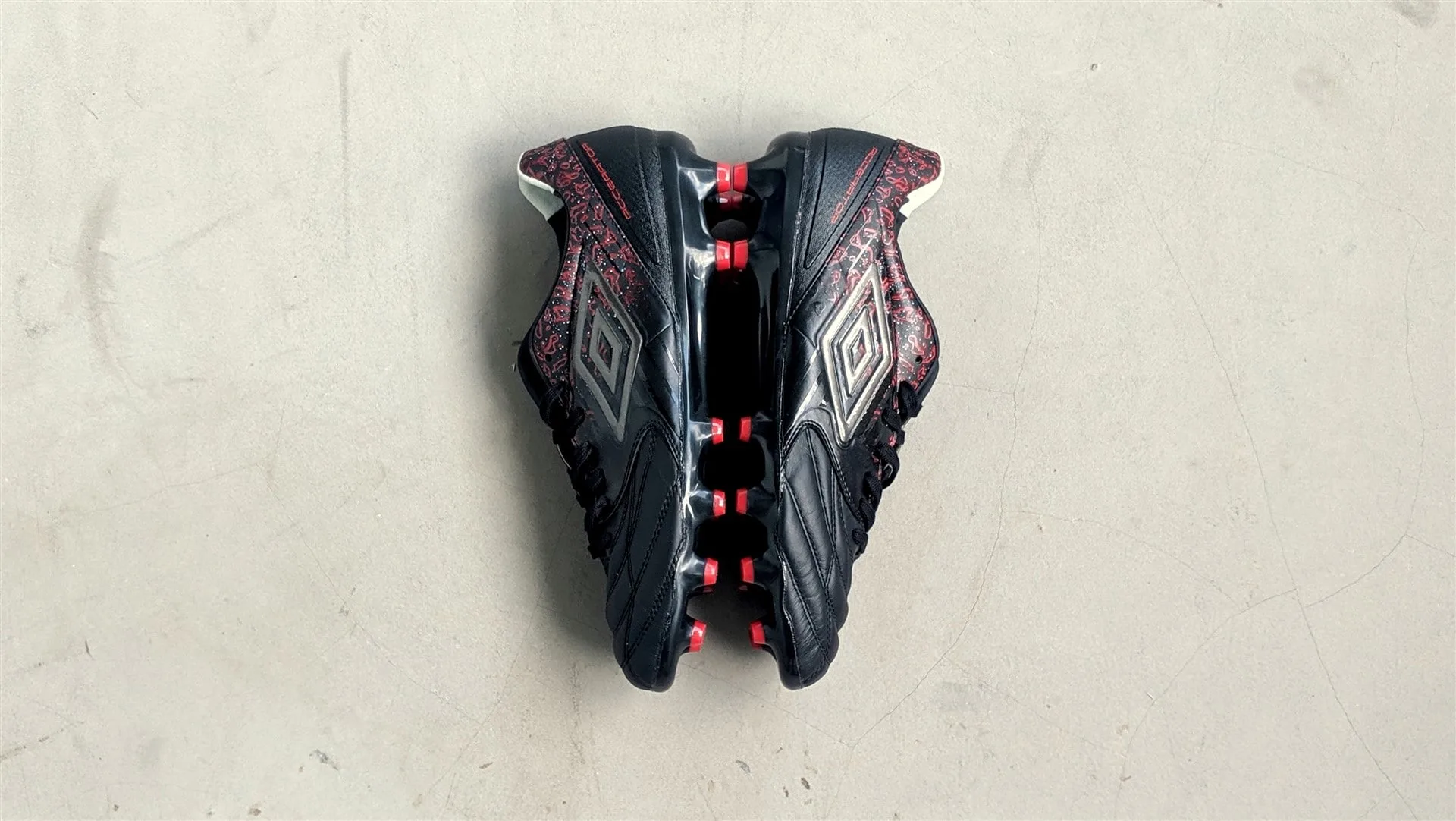 Umbro Japan raises the stakes with a top notch outsole.
Writing this review was particularly challenging as I was beginning to feel the fatigue of "Japanese football boots". Like potato chips, you sort of know what to expect after your first bite – a comfortable leather upper, in a lightweight package. Sure, they've all got small differentiating factors, such as a 5mm heel lift in the ASICS Ultrezza AI, or a rubberized lip for extra durability in the Mizuno Monarcida Neo 2, but on feet, they all perform fairly similarly.
So what did Umbro do? They produced the Japan-exclusive Accerator Pro (2019) and blew the competition away with a focus on its outsole.
Not just another Japanese leather speed boot
The Umbro Accerator Pro (2019) is Umbro Japan's take on a lightweight leather control boot. And yes, that isn't a typo but just a hilarious bit of "Engrish" for the local Japanese tongue.
On the forefoot you find a typical cross-stitched leather upper that offers a soft padded touch on the ball. On the instep, the Umbro diamond logo is equipped with puff pads to act as a control element when or passing the ball. Surprisingly, Umbro Japan opted not to carry over its A-Frame technology, which helped to secure and add lockdown in the midfoot.
While most Japanese leather speed boots tend to use a standard lightweight Pebax outsole with a reinforced spine, Umbro Japan dropped their trump card – reinforcing the standard outsole with KaRVO, giving it a unique feel unlike anything we've seen on the market in-awhile.
KaRVO – Self-Reinforced Plastic for Impact Resistance
In 2010, as part of their World Cup pack, Nike gave all their silos an "Elite" facelift, equipping them with a full carbon fiber outsole. This gave the boot an extremely snappy and responsive feel, making the boots lighter yet sturdier.
Unfortunately, use of carbon fiber was discontinued soon after but there was a lingering demand for the "snap back" sensation and the rigid properties it carries – evident in the existing use of carbon fiber inserts by Nike athletes.
Enter KaRVO. It is made by Diatex Japan and it a fiber reinforced plastic that is composed of thermoplastic, giving it similar properties to carbon fiber. Just like that, Umbro Japan brought players an amazing solution that, while not as eye-catching as carbon fiber, provides the same responsive sensation demanded of a speed boot.
Accerated Performance
On the ball, the Accerator Pro feels exactly like how you'd expect them to feel. You get a soft natural touch on the ball that only leather can provide. Sure, it's not as premium as a Mizuno Morelia Neo 2, but it gets the job done. Little dinks, flicks and tricks come off naturally as the boot helps you to feel as one with the ball.
You do feel a little sting when shooting or striking those longer passes, but that's to be expected with these lightweight uppers. That stiff KaRVO outsole also means that you lose less energy when planting your foot, so your strikes feel more powerful.
Sadly, the instep control element doesn't live up to expectations. It ends up being too thick and stiff and you feel a much more dampened (and different sensation) to when you touch the ball with other parts of your forefoot. A softer foam such as Poron or even D30 foam, something that the Umbro Accuro Pro 3 utilizes, would have been a better choice.
The Accerator Pros also come with an internal heel counter, which does a good job locking and securing your heel. It works in tandem with the suede heel-liner and slight padding to cup your heel and I'm confident that you won't be getting any heel blisters from it.
And then of course, there's the star of the show, that gorgeous KaRVO outsole.
Setting New Outsole Construction Standards
It shouldn't come as any surprise that the studs come in an 8 x4 conical pattern with a braking stud in the middle. Despite being slightly longer than I'd prefer, they penetrate and release easily on both natural and artificial surfaces, earning it the BOOTHYPE stamp of approval.
The magic happens, when you begin to run in it. Out of the box, the KaRVO outsole feels stiff, and gave me minor foot cramps at first. After breaking in though, it was an entirely different story. The outsole had a pleasant snappiness to it, much like the old carbon fiber soleplates. I'm a huge fan of the Nike Zoom Fly 2, which comes with an internal carbon fiber plate that propels you forward with each step. It's not as pronounced in the Accerator Pros, but not that far off either.
As a box-to-box midfielder, the snappiness was a welcome feeling as it felt less tiring when making those lung bursting runs up and down the pitch. Unlike the adidas Nemeziz 19.1 though, the lightness of KaRVO meant that you didn't get that same dissonance of a light upper and a heavy bottom, allowing you to concentrate on your game and nothing else
Umbro's Best Kept Secret
I've said it before and I'll say it again, it's a huge shame that many of these boots are only available in Japan and not the wider global market, especially when they're sold by an international brand like Umbro. Put this out on the market, sans the padded instep, and this could easily be Umbro's leather offering, outperforming even the Medusae 3 Pro.
And whisper it quietly (again), this *feels* very much like one of the most beloved leather boots of all time – the Nike Tiempo Legend IV Elite.
Launched in 2011, the Nike Tiempo Legend IV Elite was the first leather boot to come equipped with Nike's Flywire cables and carbon fiber. Like the Accerator Pros, both boots had a very snappy and responsive feeling throughout the boot, something that you don't typically expect from boots with a soft and luxurious leather upper. I still have fond memories of playing in the Tiempo Legend IV Elite and the Accerator Pros definitely brought some nostalgia factor back, albeit in a package that's nearly 40g lighter.
If you're one of those who miss the Nike Legend Elite 4 and have them high up your remake list, perhaps it might be time to plan a trip down to the Land of the Rising Sun and experience the Legend again.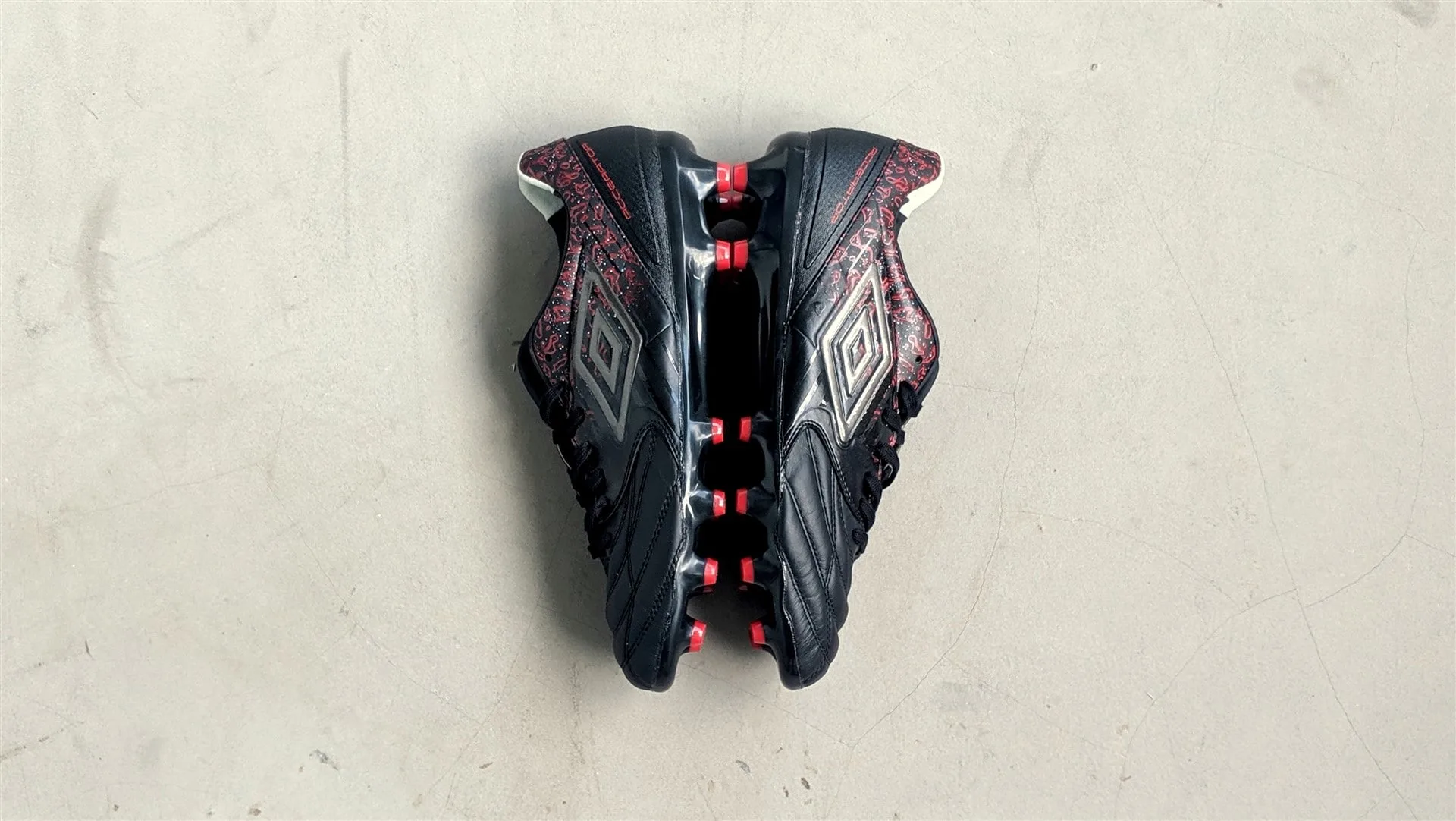 Umbro Accerator Pro (2019) Review: All about that snappy soleplate
Final Thoughts
Another solid lightweight Japanese leather boot that raises its game with the carbon fiber-esque KaRVO outsole.
The Good
Soft leather upper
Comfortable weight
Good lockdown
Responsive, snappy KaRVO outsole
The Bad
Midfoot could be softer
Cushioning pads are too stiff