Indomitable Lions' most iconic and controversial jerseys from the last 20 years.
In a surprising announcement, FECAFOOT Acting President, Seydou Mbombouo Njoya announced that Puma and Cameroon will be ending their 20 year partnership in 2019 after negotiations to extend the contract beyond 2018 broke down.
For us football equipment enthusiasts, it's a slight shame because Puma have traditionally given the African kits a lot of thought and love. Back in 2010, Puma launched the Africa Unity Football Kit 2010 – 'Play For Life', which became the official 3rd jersey of ALL African Puma sponsored teams in the 2010 World Cup. Designed as a show of Unity for all the African teams and to raise awareness about the importance of environmental issues, Puma showed that their partnership was not a commercial, but one of mutual growth.
However, their 20-year relationship with Cameroon has also brought up some err… shall we say, questionable moments as well as some really gorgeous ones. We at BOOTHYPE take a look back at Puma's Cameroon jerseys of yesteryear.
Dual Purpose Uniforms
Ever played in a hot summer day and wondered why you couldn't play in something with better ventilation, like a sleeveless kit? So too did Puma, who provided Cameroon with a sleeveless top, as they headed into the 2002 African Cup of Nations in Mali.
The kit seemed to do the trick, as Cameroon went on to win their fourth African Cup of Nations title with Rigobert Song picking up the tournament's best player award. With a stacked squad featuring the likes of a young Samuel Eto'o, then Real Madrid midfielder Geremi, a pre-Invincible Lauren and Rigobert Song in his prime, the African Champions were all ready to cause a stir in the 2002 World Cup.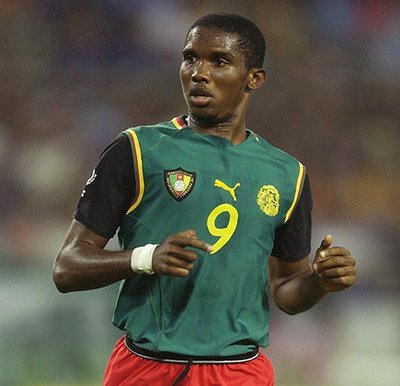 Unfortunately for them, FIFA banned the jerseys with spokesperson Keith Cooper going as far as to call them 'vests'.
To keep FIFA happy, the Cameroon team stitched black sleeves on their team 'vests' for the 2002 World Cup which obviously limited their ability as they failed to make it out of the group stages. Puma though, had another card up their sleeves (pun intended).
Single Purpose Wear
2 years after 'Sleeve-gate', Winfried Schafer's Les Lions Indomitables headed to Tunisia defend their African Cup of Nations title where they produced this stunning piece (literally) of apparel.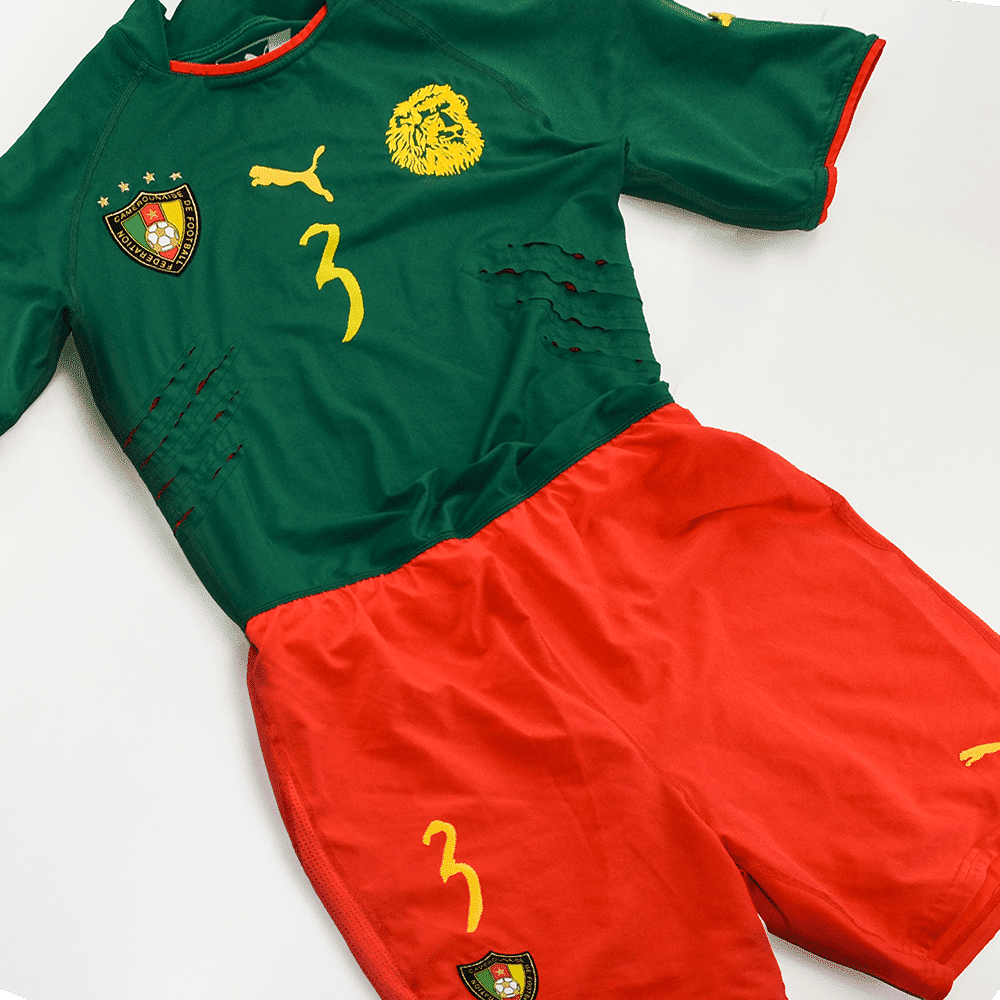 That's right boys and girls, the Cameroon squad had gone to the tournament… in a onesie. Then FIFA President Sepp Blatter was absolutely furious, declaring that "It goes against the laws of the game. The rules are very clear, there is one shirt, one shorts and one socks. They cannot do it. You cannot play a game against the laws of the game. We are the guardians of the laws of the game – the laws are universal."
The fun didn't end there. Cameroon took FIFA's laws and blasted it out like a Ramos penalty as they wore their one-piece jersey throughout the 2004 African Cup of Nations until they were knocked out by Nigeria in the Quarter-Finals.
Embed from Getty Images
In response, the FIFA handed Cameroon a $154,000 fine and docked six-points from their 2006 World Cup qualifying group. The story then took another twist as Puma insisted that the kits had been presented to both FIFA and the Confederation of African Football and that it was another FIFA bigwig, Jerome Champagne, who hadn't communicated it to FIFA and Sepp Blatter.
In the end, FIFA backtracked from the punishment after Puma brought forward a lawsuit although the mystery remains on how the players were convinced to wear a onesie to play football.
Wakanda Cameroon Forever
This amazing jersey, while lacking the controversy of its predecessors, more than made up for it in style.
When it came to the 2014 World Cup, Puma produced this beauty for the proud African nation. Inspired by Cameroon's moniker, "Les Lions Indomitables", the nickname is beautifully combined with graphics of a lion, all woven into a motif that reminded me of the various tribal designs in Marvel's Black Panther.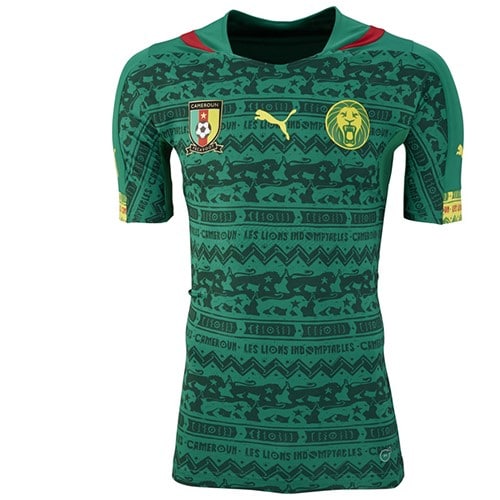 Unfortunately, the jersey didn't grant them any special powers as they were knocked out from the group stage without a point to their name.
Drawn To 'Perfection'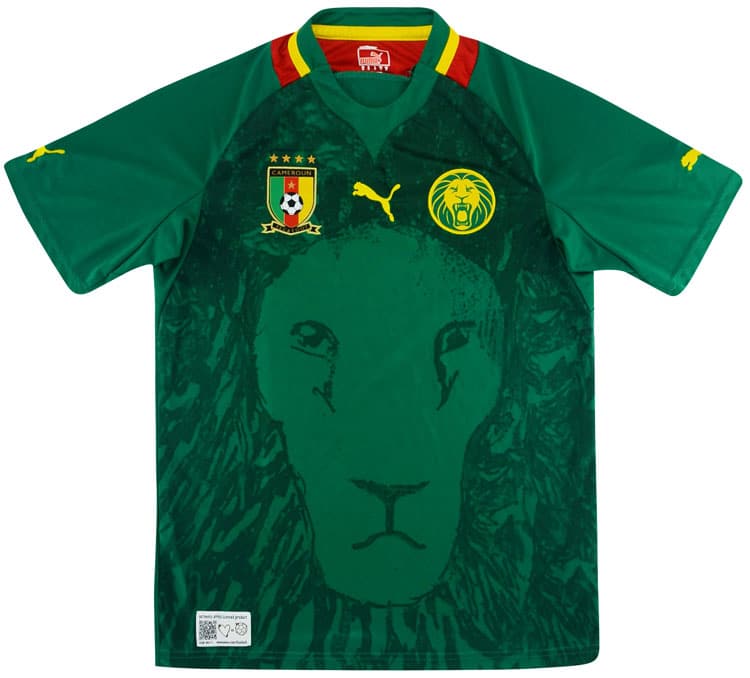 I mean, I can see where Puma was going with this but the design of the lion just looks amateurish? To be fair though, the kit looked pretty decent on pitch and that's where it really counts.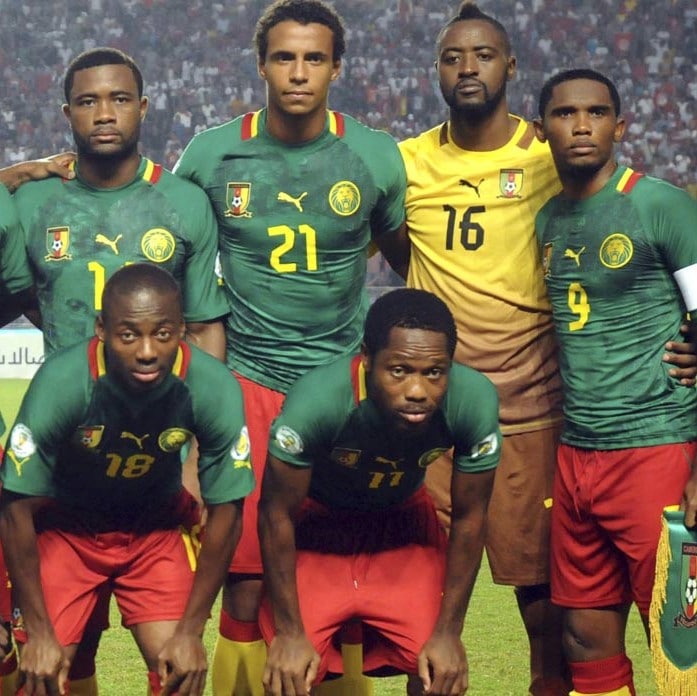 But surely, there has to be a better way of incorporating a lion onto a football jersey, isn't there.
A Roaring Finish
Puma saved the its best design for last, celebrating the 20th anniversary of their partnership with this gorgeous number.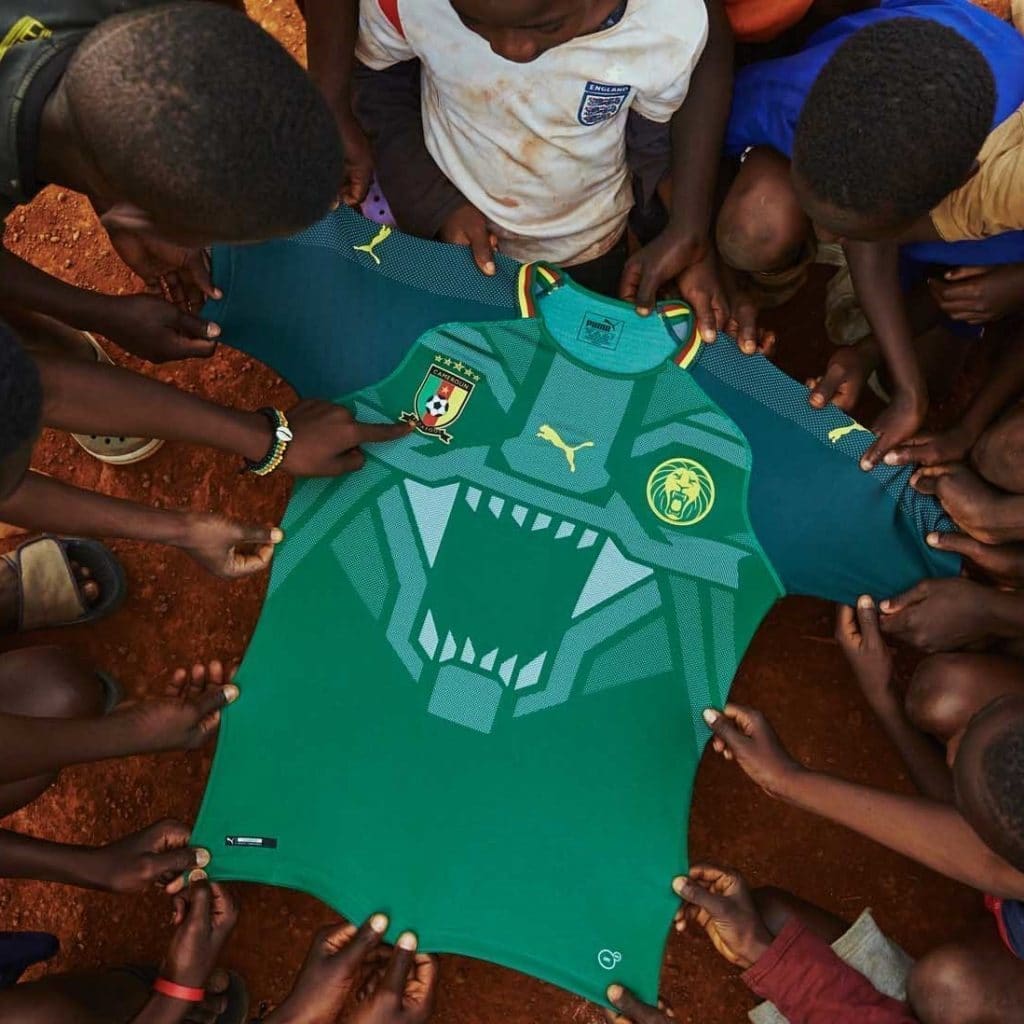 Featuring a modern-day (and proper looking) interpretation of the magnificent lion weaved into the front of the jersey and a collar detailing the Cameroon flag, this was a jersey fit for the African Champions. This was seriously 10/10.
To top it all off, Puma roped in African football legend, Roger Milla, Afro-trap artist, MHD, and the Cameroon squad to film a jersey launch video which signified a handover between the old and the new generation.
What a way to bow out, Puma.
It's Time For Africa
Puma's been making some big moves in the footballing world, signing up Manchester City and increasing their arsenal of sponsored athletes so it does come as a surprise for them to drop the Cameroon national team.
Having seen the huge splash that the 2018 Nigeria World Cup kit made, I'm sure brands will be alert to the potential that an African nation can bring to the football jersey game. Surprisingly, it was French brand Le Coq Sportif who swooped in and signed upIndomitable Lions. Expect to see them suit up in the new design in Egypt when they look to reclaim their African Cup of Nations 2019 throne in June.