As I prepared for this interview with Lila Tan, I had no idea what to expect for my first meeting with the Singapore international. You see, she's not just a good football player, she's a model too.
We've seen our share of footballers turned models (Freddie Ljungberg, David Beckham etc.) but never one who straddled both worlds from the start of their nascent careers.
Having spent weeks arranging a meet through her modelling agency, Lila came through amidst her busy school and training schedules. In an industry full of prima donnas and divas, Lila came across as some who was mature (she's only 20), smart and a total team player.
So, more than just a pretty face then.
We spoke about balancing both modelling and football, her aspirations in life and women in the sport.
BH: Tell us more about yourself and how you came to reside in Singapore
Lila: I was born Singapore but my family moved us out to Shanghai when I was 2. I studied there though I'd come back to Singapore to meet family every year for Chinese New Year. I came back to study at a junior college (JC) sometime back in 2020. JC's not for me so I shifted to an international school instead.
I'm now pursuing a degree in business. Entrepreneurship is something I'm passionate about which is why I also have a clothing line now.
BH: How did you get started with football?
Lila: It started with my family. My dad is crazy about football. I have 3 younger brothers too who love the sport. We kicked around a lot and I joined a boys' club to play with them, and then I joined the women's football team in the international school I studied in.
I wanted to raise awareness for it as well because despite us having a school team it wasn't something that was that significant and wasn't always well supported. We didn't have a lot of people come watch us play so from there, I felt a strong calling not just to the sport but also to raise awareness of women's football.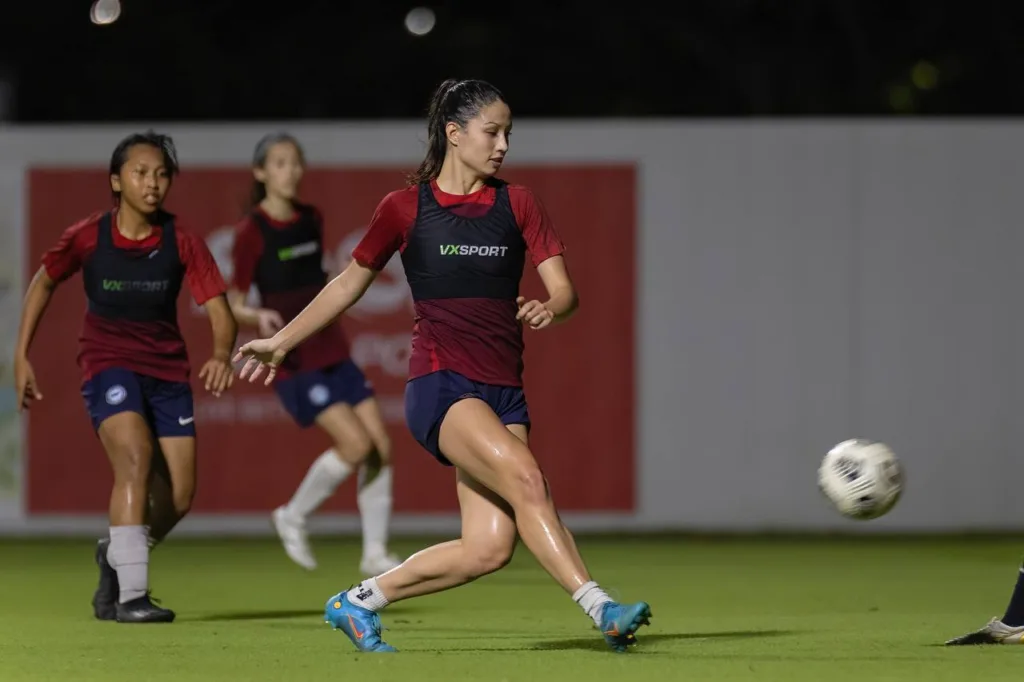 BH: Moving into a new environment in Singapore, how'd you get noticed here?
Lila: My dad knew someone at FAS and they recommended I trial at Home United, now known as Lion City Sailors. We had a friendly game vs the National U-19 team and the national team noticed me. I got called up to represent them not long after that.
I've also been loyal with LCS. Been playing for the club for all 3 years I've been here.
BH: What are you like on the pitch? What position do you play?
Lila: I'm quite an attacking player so I often play as a forward. So I alternate between a 9 and a 10 though I prefer playing as a 10. Playing as an all out striker can be pressurising so I like the freedom of playing just behind the lead striker.
I'm taller than most girls here so I feel that my physique is one of my strengths. But I think I could be a better finisher and be more selfish on the ball.
BH: How did modelling come about?
Lila: My agency slid into my DMs on social media to ask me to try out for a shoot. They scouted me on Instagram and we have a few mutual friends. And I decided to give it a shot. I used to model freelance anyways, doing projects for friends, but I never took it seriously.
BH: This agency you're working with, Misc Management, has got quite a diverse portfolio of models. Was this what attracted you to work with them?
Lila: Its inclusivity was the main reason as to why I joined because I wouldn't want to join a conventional modeling agency where I have to fit in a certain category.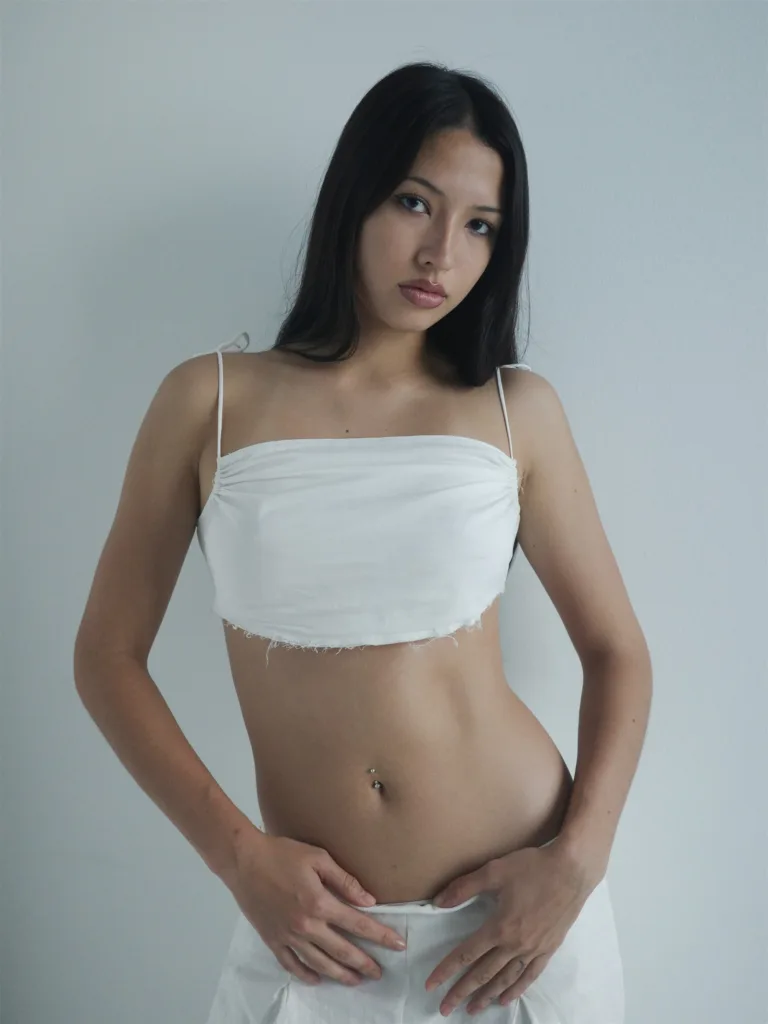 BH: You have more muscle definition as compared to a "traditional" model who are tall and skinny. Was this the inclusivity you were looking out for?
Lila: Yeah exactly. And I hope it's (the fashion industry) changing soon. There has been some issues with fitting in to some clothes and with zippers. But with our agency, our models don't have to fit within certain measurements when we work with brands. It doesn't always make me feel good, not fitting in, but being in modelling with an athletic body is something I want to put out there. And be proud of it.
BH: What lessons from modelling can you use in football, and vice versa?
Lila: I try to not put that much pressure on myself for everything. That it's okay to make mistakes, and it's okay to not be perfect all the time. Both worlds can be mentally taxing. In a match or training, when I make an error, I'm very hard on myself. I can have negative thoughts so that's something I have been working on – being more positive on the pitch and in front of the camera.
BH: So how do you balance all your commitments right now?
Lila: It's tough but I train a lot. The women's league can have a lot of continuous weekly matches and then a long break in between which may not be good for generating momentum. During the season, we have 4-5 training sessions a week. So they're usually after working hours. If our game's on Sunday, Monday's our recovery session. Then we'll have Tuesday, Thursday and Saturday as training sessions before another match on the next Sunday.
BH: Do coaches, teammates and even fans look at you differently because you're a model?
Lila: Starting out with the National U-19 team was tough. Not because anyone excluded me or anything like that but I guess there were some cultural difference, especially for me who grew up overseas. I don't always sound Singaporean.
Sometimes there would a sarcastic joke about me – about not wanting to get injured as I have a model shoot after. I take it light-heartedly.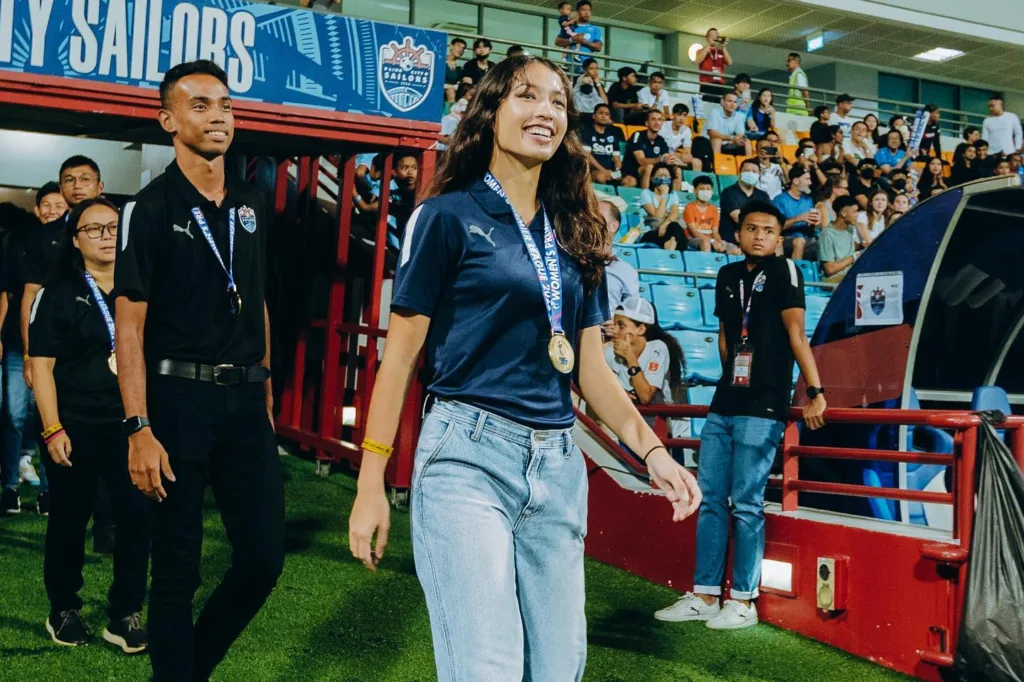 BH: Football is a contact sport. Do you fear injuries or perhaps a bruise or scarring that could affect your modelling gigs?
Lila: I've never gotten an injury, touch wood! I do worry about injuries, not because I'm a model but because I don't want to get hurt, just like any human being would. I do get bruises and scratches after my matches. If you want to hire me for your shoot, that comes as a package with me.
BH: Who are your closest friends in football?
Lila: I love all my girls. Some notable names are Stephanie Dominguez from the national team. She's been there for me since day 1. We go out after training and we have a lot of heart to heart talks.
BH: Who have been your toughest opponents?
Lila: Last year, we played Australia in the ASEAN Football Federation (AFF) Women's Championship. Their stamina, fitness, power – they just stand out. They were always one step ahead physically. They could run and run and run. It was a tough game and we fought really hard. We lost 4-1.
We also played Thailand in the Olympic qualifiers. The Thais are not as strong but they're extremely fast with the ball. It just goes by so quickly and they have such a strong connection between each players, they know where to be to receive and move into space.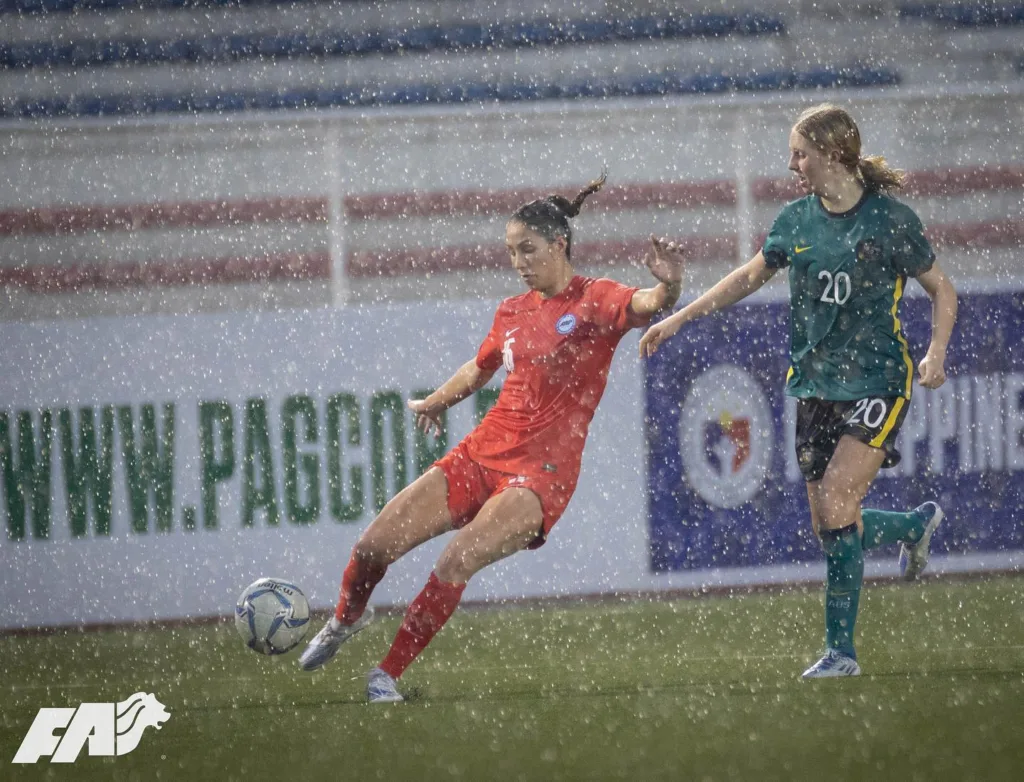 BH: Why do you think these teams are so strong?
Lila: In terms of the quality of the training, our coaches have a lot of passion and love and knowledge about football. So I believe they're giving us the same quality of training as any other coach could.
But these ladies (the Thais and Australians), just have more time to train. They're full-time. They train twice a day and it's just going to be hard to match up with the pure volume of hours they put in. We do our best.
BH: Your coach at LCS is also a woman. How important is that in regards to how she relates to you and your teammates?
Lila: I feel that there is a very open two-way street when it comes to communication. If I have questions about tactics or my position, she explains it clearly on the board. No sarcastic comments, she doesn't berate me for asking such questions.
I've experienced giving a suggestion to other coaches and it was conveyed to me that I was trying to go against the team's plan. With her, there's nothing of that sort.
She's honest, straight to the point. And that's how a coach and player relationship should be like.
BH: If you have to choose a five-a-side team with the teammates that you have played with, who would they be?
Lila: Umairah is a very strong defender. Venetia has good vision, she knows where to pass and she does it at the right moment. Miray from LCS is a good winger, fast and can shuttle up and down. I'd have Wati as goalkeeper. Very vocal, so everyone can hear her instructions.
And Izzati – she's a goal-scoring machine.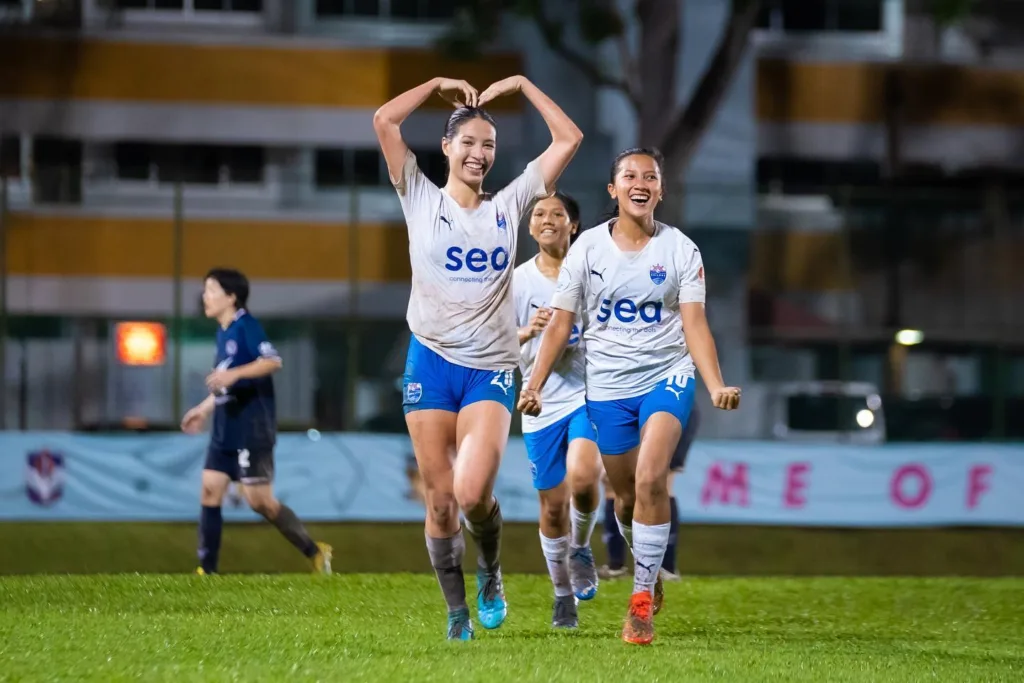 BH: What football boots are you into?
Lila: I don't have one specifically. I like to try them all! I'm currently using the adidas Predator Accuracy though I go through many pairs due to my many training sessions.
I've found the Nike Phantom Luna to be interesting too.
BH: What are you aspirations for your football career?
Lila: Full-time football (careers) is not the norm here in Singapore, especially for women. It's hard to sustain a career here, as of now. In Europe and the US, that's more likely. Having a career there was my initial plan. Perhaps get a scholarship in the US, play professional football. But as you can see today, we're nowhere close to that!
Over the course of my gap year, I realized I do have other passions in life too that I would like to pursue. I want to pursue my academics, fashion, and modelling too. But I've no major plans set yet after I'm done with my degree.
In the meantime, I just want more people to recognize the players and our hard work and dedication. Most of us are not doing this for the money. We're doing this for the passion of the game.
I have the utmost respect for Danelle (a Singaporean female footballer who is pursuing a full time career at Borussia Dortmund). It's a great privilege to be able to do that. I don't think I could do that but I'm so proud of her. And I'm sure the whole nation is too.
Maybe if a big opportunity opens up for me in the future, that'll be great. Maybe one day.
Photos taken from @lilaatan